Georgia vs. Nebraska: Is Taylor Martinez Even Close to Aaron Murray's Level?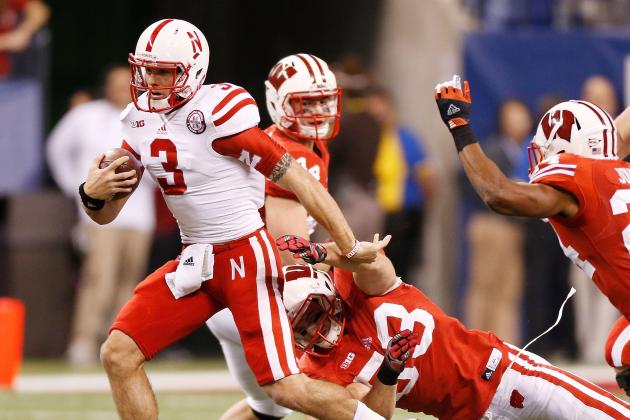 Gregory Shamus/Getty Images

The Nebraska Cornhuskers are set to take on the Georgia Bulldogs in the Capital One Bowl in Orlando on New Year's Day at 1 p.m. ET. The game will be televised by ABC.
Taylor Martinez will guide the Nebraska offense, while Aaron Murray will lead the Georgia Bulldogs. Both have won a lot of games for their teams, but wins alone won't put Martinez on Murray's level as a starting quarterback.
Martinez brings a dynamic running threat to the game, while Aaron Murray shreds secondaries with his arm. Both can be successful, but this bowl game will be the final test to see who is the better offensive leader.
Looking at the careers of these two signal-callers, here is how they stack up against one another heading into the Capital One Bowl.
Begin Slideshow

»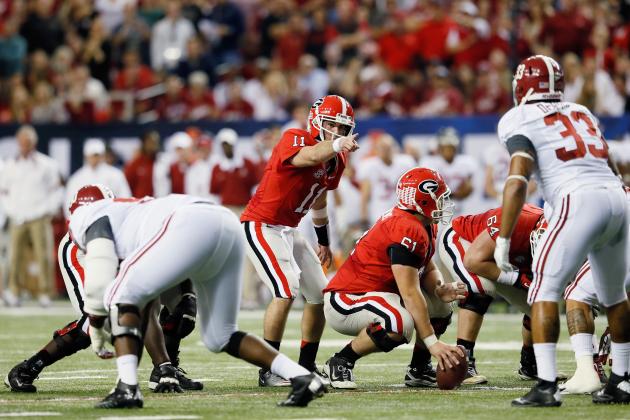 Kevin C. Cox/Getty Images

Aaron Murray is a pocket-style quarterback that has grown into the Mike Bobo offense over the past three seasons.
He brings a balanced, traditional approach to the position. Murray is selective with his targets, and is a constant threat to drop a well-placed deep ball on any defense.
Murray has been surrounded by a load of talent at receiver, but he has been able to be a strong individual performer regardless of his surroundings. He pushed through 2011 with virtually no backfield help, almost single-handedly putting the Bulldogs in the SEC title game.
Taylor Martinez can throw the ball moderately well, but his ground game is what makes him unique. Martinez has rushed for over 870 yards in all three seasons as the Nebraska quarterback.
Martinez has placed the Nebraska offense on his back often, attacking Big Ten defenses on the ground and through the air efficiently.
Despite his woeful accuracy at times, Martinez is completing 62.2 percent of his passes this year. It has been his best passing performance in three seasons with the Cornhuskers.
Both guys bring unique approaches to the game that work for their teams.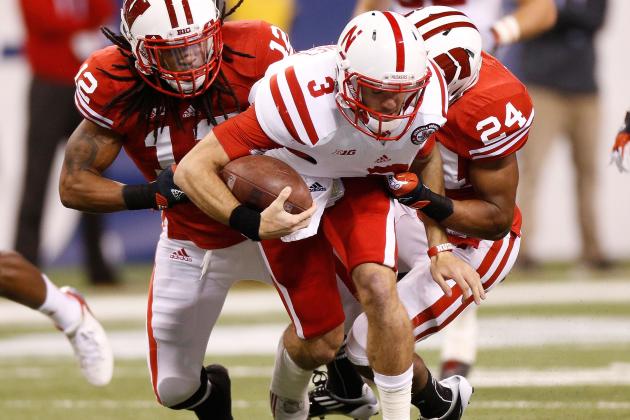 Gregory Shamus/Getty Images

One of the major knocks on both of these players has been their inability to perform at high levels in big games.
Just this season in games against top competition, Martinez has struggled. Against UCLA, he threw for only 179 yards and tossed an interception. Against Ohio State, he was held to only 40 yards rushing, and threw three interceptions.
Throughout his career, Martinez has been extremely unpredictable.
As for Murray, he has followed the same path. He played extremely well in the SEC title game, but in other tight contests, Murray struggled.
In the loss to South Carolina, he threw for only 109 yards. In a win against Florida, he only completed 50 percent of his throws and finished with 150 yards through the air.
Neither guy has been the clutch quarterback that their team needs. They both have put together the best years of their careers this season, but there is room for improvement in big games.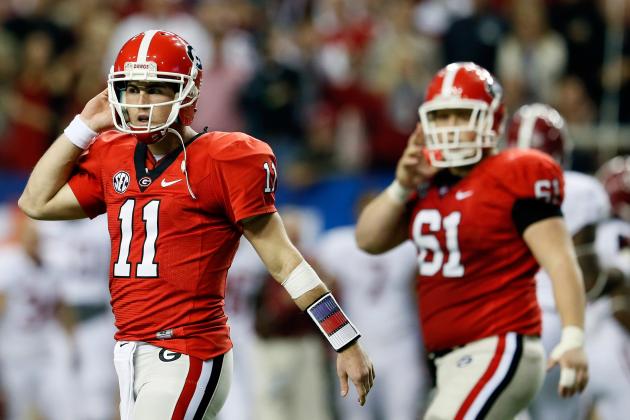 Kevin C. Cox/Getty Images

Where the separation begins to show between these two is the level of competition that is faced on a regular basis.
Nebraska played well in most conference games this fall, but the Cornhuskers were destroyed mid-season by conference foe Ohio State and got bounced by Wisconsin in the Big Ten title game. Neither game was close, and Martinez couldn't get it there with the effort he put forth.
Those losses look really bad considering how down the Big Ten was this year.
The Bulldogs play in the toughest conference in the country, and despite having some struggles, Murray is still considered to be one of the best quarterbacks in the SEC.
The level of competition that Murray faces on a regular basis is far stiffer than what Martinez squares off with on Saturdays.
Murray's struggles are equal to Martinez's, but they come against much tougher competition.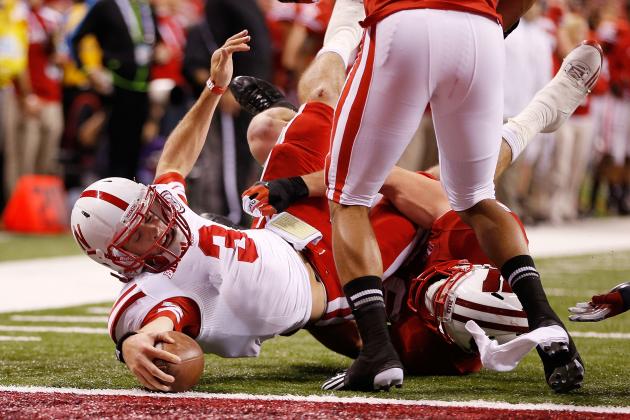 Gregory Shamus/Getty Images

Taylor Martinez Starting Record: 29-11
Aaron Murray Starting Record: 27-13
Both Murray and Martinez are winners.
They may have letdowns that come in some big games, but overall they have put away a lot of teams and guided their programs to 56 combined wins in the past three seasons.
Murray has helped guide the Bulldogs to two straight 10-win seasons and two consecutive SEC title game appearances.
Martinez has guided the Cornhuskers to two 10-win seasons and a Big Ten title game appearance this fall.
Three seasons and almost 30 wins for both quarterbacks are very impressive. They are among the winningest starting quarterbacks in the college game.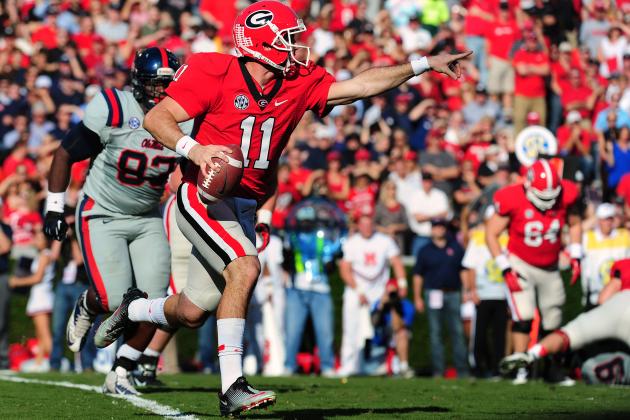 Scott Cunningham/Getty Images

When looking at the accomplishments of these two players, they appear equal on the surface—the separator is level of competition.
Martinez has won a ton of games for Nebraska, but he has lost big in a lot games as well. Martinez has led nastier losses consistently against lesser competition.
As a pure passer, Murray is clearly better, but the ground attack that comes from Martinez makes up for the difference in overall yardage production.
At this point, Martinez is a notch below Murray. A win over the Bulldogs in Orlando would shift the favor slightly, but a stronger season against the Big Ten is needed in his senior year to make it to the level of one of the SEC's most elite signal-callers.