Benson Henderson vs. Gilbert Melendez: Head-to-Toe Breakdown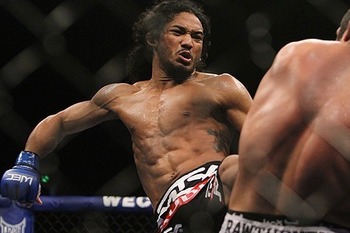 courtesy / MMAWeekly.com
On the heels of lightweight champion Benson Henderson's destruction of Nate Diaz, the mixed martial arts world is abuzz with the thought of who the next challenger could be for the 155-pound crown.
Will the UFC do what many fans and media are calling for and parachute Strikeforce champion Gilbert Melendez in for an immediate shot?
Melendez has long been considered one of the best, if not the best lightweight in the world for the last three years now, and here is a head-to-toe breakdown of how he measures up against the current UFC champ.
Striking

courtesy / ufc

Benson Henderson does damage when he puts his hands and feet on you, and that is the biggest difference between him and a lot of fighters who can hit for points in the UFC. His ability to mix speed and power separates him from Melendez in the striking realm of the game.
Melendez may have a slight speed advantage and have the ability to get off quicker shots, but he isn't as quick and effective as Frankie Edgar, so I give the complete edge in hands and kicks to Henderson. He also has a one-inch reach advantage, but Henderson handled his last opponent's reach easily.
Wrestling

Courtesy / Иван Попов

Wrestling is the category that is the most evenly matched between these two fighters. Henderson is the more accomplished amateur wrestler, but in straight MMA wrestling terms, both of these men have the highest pedigree.
Melendez can explode every bit as much as Henderson with his takedowns and uses it as the foundation to his game. Henderson has better takedown defence and overall wrestling and is the bigger man of the two, and that will play a difference when these two clash. Henderson has been tangling with the very best, and Melendez simply hasn't, and he will feel it when he locks up with Benson.
Submission / Grappling

courtesy / MrToothrot

Predicting submission prowess is always a crapshoot because it is always one mistake away with the very best fighters in the world. A quick look at both these fighters shows that Henderson has eight submissions in his 18 career wins, while Melendez has one in 21 wins.
Henderson is rubbery and as elusive as anyone can be, and he has submitted the likes of Jamie Varner and Donald Cerrone. Melendez's submission was by punches and was a long time ago, but he has never been submitted in his career.
Again, it comes down to level of competition for me, and I think Henderson is much more likely of the two to pull off a submission.
Intangible and Prediction

courtesy / MovieMaker76

Benson Henderson is the undisputed man in the lightweight division and the world, and his biggest intangible is his mental strength and belief in himself to get through the man on the other side of the cage.
How can you have that same belief when you have never fought one fight under the pressure, lights and obligation that is the UFC? Yes, Melendez is one of the best in the world, but everyone needs a tune-up fight to get their bearings in the biggest show in the world.
Carlos Condit got it with Martin Kampmann when he came in to the UFC, and so did Jake Shields. Dominant middleweight Hector Lombard got a nice tune-up in Tim Boetsch and then a second in Rousimar Palhares.
The biggest intangible in this fight would be that it is Melendez first in the UFC and a title fight, and that mix is a recipe for disaster for any fighter coming in.
Dwight Wakabayashi is a featured columnist for Bleacher Report UFC and regular contributor to Sportsnet.ca's UFC section. Follow him on Twitter @wakafightermma.
Keep Reading