NFL Coordinators in Line for Head Coaching Jobs in 2013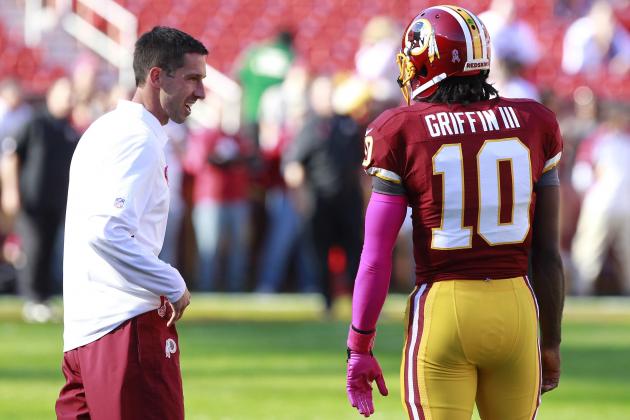 Geoff Burke-USA TODAY Sports

Fire up the coaching carousel, Black Monday is almost here!
That's the Monday after Week 17 every season. This year, that's going to be New Year's Eve, December 31, as teams (fittingly) start the process of forgetting the failures of last season and looking forward to new beginnings and the eternal optimism of a new year.
In the meantime, young coaches all around the league and even deep into the college ranks start padding their resumes. A strong finish to the season could mean the difference between a top-ranked unit and tons of phone calls or a middle-of-the-road statistical finish and a re-signed lease on their modest apartment.
It is with this mindset that we take a look at some of the top NFL coordinators in line for head coaching jobs in 2013.
Begin Slideshow

»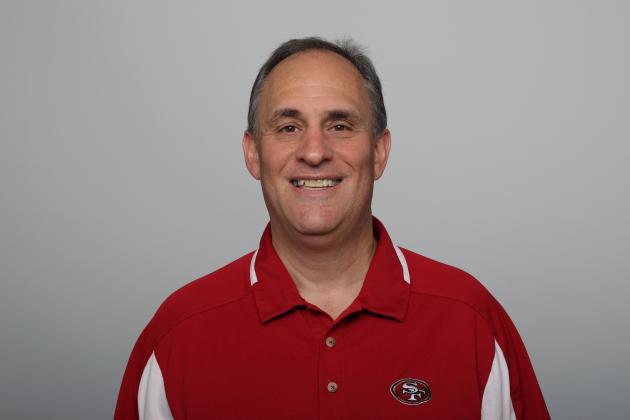 Handout/Getty Images

Vic Fangio has coached under some pretty great defensive minds.
In 1986, under Jim E. Mora, Fangio coached the "Dome Patrol"—one of the best linebacker units to ever play the game—as linebackers coach of the New Orleans Saints. There, he saw firsthand what it's like to turn a franchise around from almost nothing.
Fast forward to 1995 and Fangio got a similar experience when Dom Capers brought him over to help start the expansion Carolina Panthers. Capers would extend a similar hand to Fangio in 2002 with the brand-new Houston Texans franchise.
When things didn't go well for Capers in Houston, Fangio would land on his feet with Rex Ryan as a special assistant in Baltimore before heading to Stanford to link up with his current boss, Jim Harbaugh.
In short, Fangio (a young 54 in NFL coaching terms) has seen it all and has been around more franchises that needed fixing than most coaches could ever hope for. He hasn't always been 100 percent successful, but one look at the 49ers defense in 2012 tells you everything you need to know about his coaching ability.
He's not as young or as flashy as some other potential hires out there, but the 49ers success will earn him some interviews and his impressive command of NFL X's and O's (not to mention plenty of contacts to fill out a staff) could make him an easy hire.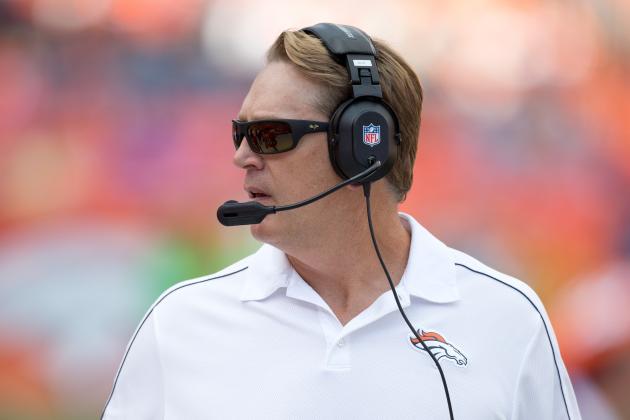 Justin Edmonds/Getty Images

Jack Del Rio is 49 years old and has a Super Bowl ring from his time coaching the Baltimore Ravens' linebackers. This year, he's put together a ridiculously fearsome defense in Denver. Without a real huge influx of talent, Del Rio has coordinated a jump from the 20th-ranked defense to fourth.
As a head coach in Jacksonville, Del Rio was 69-73—not exactly impressive. A fair look at his tenure, however, would include plenty of blame for the general managers that never really gave him a ton of talent to work with. This year, Gene Smith even admitted the team's problem was a lack of talent! Yes, the general manager said that! No, surprisingly, he wasn't fired on the spot.
Last year, Del Rio intimated to me that he and he staff were scapegoats and that Blaine Gabbert was an albatross hung around their necks. He knew the Denver offer was coming and that he was going to knock it out of the park to springboard to bigger and better things.
Maybe one year isn't enough of a "waiting period" for people to forget his Jacksonville teams, but there are enough teams that could use a change at head coach (not to mention his alma mater, USC) that teams will want to talk to him.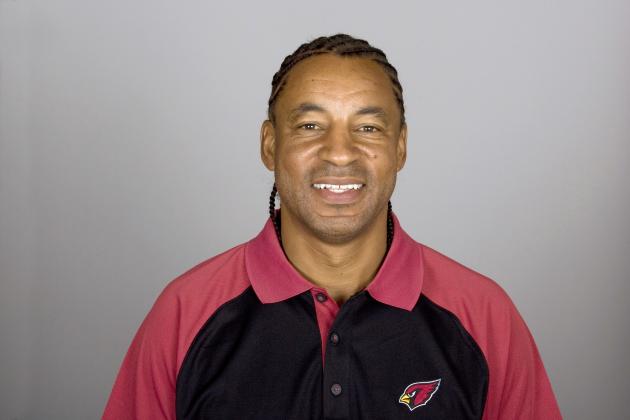 Handout/Getty Images

Arizona has been one of the worst teams in football this season. Its defense hasn't been the problem. In fact, it's hard to really quantify the Cardinals' efforts in any real statistical way because so many turnovers on offense and short field positions have put the defense behind the eight ball in some pretty significant ways.
Know this: Horton has done a phenomenal job building and coordinating a defense in the desert with very little help.
As a player, Horton won a Super Bowl ring with the Dallas Cowboys. He has since won two as a coach (both with the Pittsburgh Steelers). He's known as a defensive backs guru and learned scheme from one of the best (Steelers DC Dick Lebeau).
Moreover, Horton is a generally likeable guy and is loved by his players. He's already interviewed for a head coaching position (the Rams job that later went to Jeff Fisher) and he's almost certain to get another few interviews this offseason because of the league's Rooney Rule that forces teams to interview at least one minority coaching candidate before hiring.
Like his former boss Mike Tomlin, Horton should be able to walk into one of those interviews, impress the heck out of a bunch of people who never really planned on hiring him and land a job.
Of course, there's also a very real chance that the Arizona Cardinals just decide to keep him around to replace Ken Whisenhunt, who has both failed as head coach and lost his luster as an offensive guru.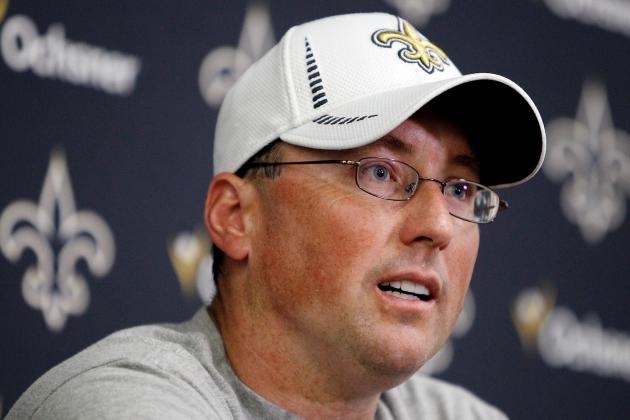 Sean Gardner/Getty Images

Carmichael has done a stand-up job running the Saints' offense in Sean Payton's absence. While he's taken some heat for the Saints' play-calling, he's also been a part of some of the most prolific offenses in NFL history.
Somewhat interestingly, he's also worked at two franchises that might be looking for help this offseason—Cleveland and San Diego.
At only 41, Carmichael is a "baby" in NFL coaching services and would be one of the league's youngest head coaches. He's ready for the job, however, and carries a massive amount of respect not only with the Saints players, but also with the front office that installed him as a coaching leader on this team during Payton's suspension over more tenured men.
Rumored to be a candidate for the Boston College head coaching job (a job that has since gone to Steve Addazio), Carmichael will draw interest from plenty of teams this season as teams will want their young quarterbacks to have be mentored in a similar system that Drew Brees found so much success in.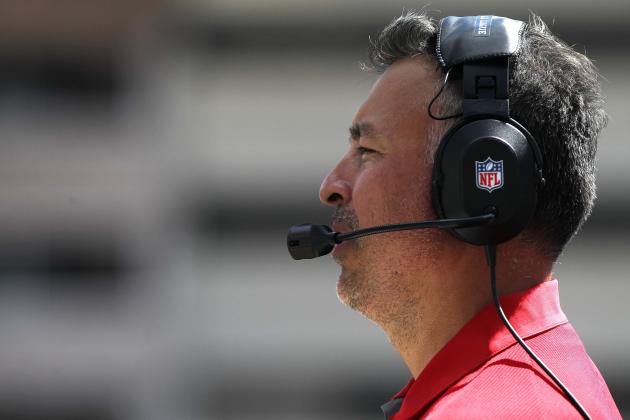 Kim Klement-USA TODAY Sports

Want a leader for your football team? How about a U.S. Army Ranger?
The 45-year-old Sullivan has experience on both sides of the ball during his career. He played defense and special teams for Army. He coached wide receivers in his first coaching gig (as a graduate assistant while getting his master's degree at Humboldt State). He moved to the defensive side of the ball and all the way up to the NFL when he was a defensive quality control coach in Jacksonville in 2002. In 2003 he moved back to offense and has been there ever since.
Before being hired as the Bucs' OC, he spent two years as Eli Manning's quarterback coach and five years as the Giants' wide receivers coach.
This year, the Buccaneers' offense jumped from 21st to 13th in the league and has been one of the most balanced. All this, of course, in the first year of Greg Schiano's rebuild.
He's only been a coordinator for one year, but do not be surprised if your favorite team comes calling for a coach who commands respect wherever he goes.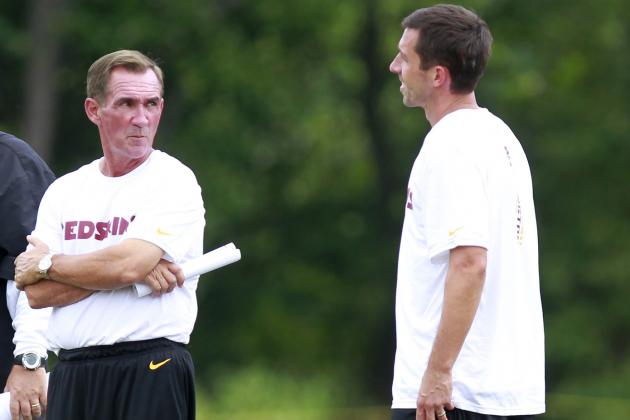 Geoff Burke-USA TODAY Sports

Having just turned 33 last week (December 14), Kyle Shanahan would be one of the youngest head coaches in the NFL. It's only fitting for a guy who was also the league's youngest coordinator when he began running the Texans' offense in 2008.
Shanahan has been in the NFL coaching circuit since 2004 and turned down jobs (or at least removed himself from consideration) at Minnesota and Texas A&M because he wanted to follow in his father's footsteps as an NFL coach.
This year, Washington has one of the best offenses in the entire league. Remember, though, Shanahan was able to piece together a 16th-ranked offense in 2011 with Rex Grossman and John Beck under center. Sure, Robert Griffin III has been a huge part of the 'Skins' success, but Shanahan deserves credit for getting not one, but two rookie quarterbacks ready to win this season.
Kyle's dad, Mike, has enough friends around the league that Kyle will field some calls this offseason. As franchises look toward their eventual drafts knowing they'll be bringing home a rookie, they'll look for Kyle Shanahan to work his magic for their team as well.
Michael Schottey is the NFL national lead writer for Bleacher Report and a member of the Pro Football Writers of America. Find more of his stuff at The Go Route.