The Worst Sports Christmas Gifts Imaginable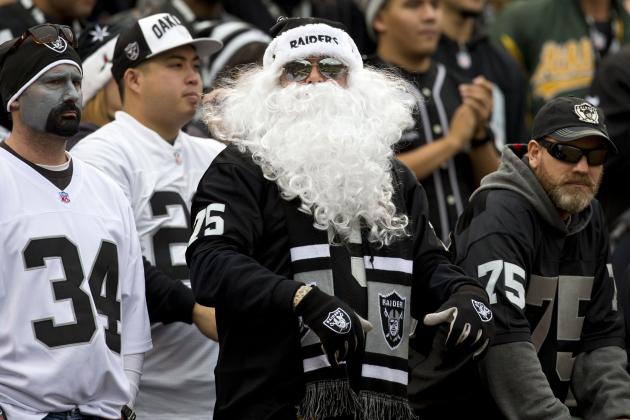 Jason O. Watson/Getty Images
Raiders fans may be hoping to find Jon Gruden under their Christmas tree.
With Christmas just a week away, many people are still scrambling to squeeze in some last-minute shopping. You might think that it's hard to go wrong with a sports-related gift, but there are plenty of ways to screw it up.
Knowing your significant others' favorite teams and athletes is often more important than remembering their birthdays—or even your anniversary. All that knowledge will got waste, however, if you ruin the holidays with a terrible gift.
For those still waiting to make a fourth quarter, game-winning drive to your nearest mall or department store, here are some sports Christmas gifts that are worse than a stocking full of coal.
Begin Slideshow

»
Kevin C. Cox/Getty Images
There are creative ways to incorporate the logos of rival teams into a great Christmas gift.
I have to admit that the idea of wiping my tush with some soft, three-ply toilet paper with the Duke logo is extremely appealing. But let's be honest, toiletries don't usually fill me up with holiday cheer.
This might work well as a gag gift, but there better be a real gift that comes along with this.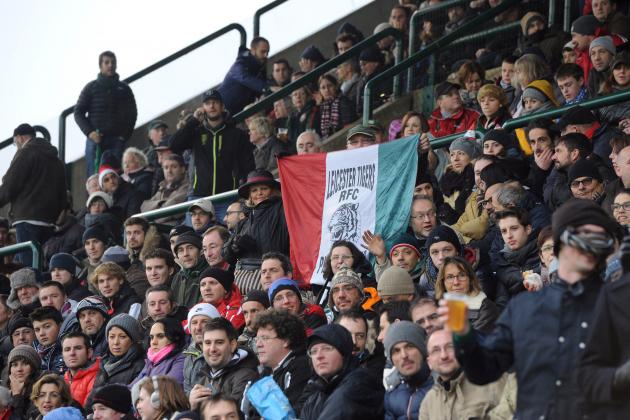 Dino Panato/Getty Images
The birds-eye view of a live sporting event is vastly overrated.
Better televisions and interactive technology are just a couple of reasons why the home viewing experience has become the preferred choice of many sports fans. But there are times when nothing can replace the experience of being in the stadium for the big game.
Blessing your favorite sports fan with game tickets can result in an unforgettable experience as long as you don't stick them in the furthest, darkest corner of the stadium.
You don't have to spring for courtside seats, but make sure the tickets provide a good view of the action. Otherwise, you may as well watch the game at home or head off to your nearest sports bar.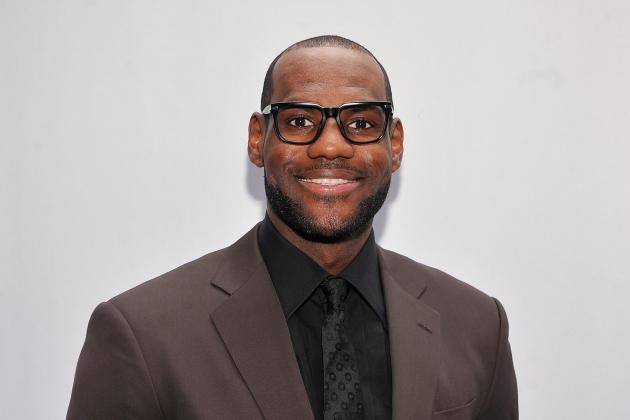 Stephen Lovekin/Getty Images
LeBron James is a genetic freak but he got skipped on the good-hair genes.
LeBron James should be marketing gold for any product that he chooses to endorse. Fresh off his first NBA title, an Olympic gold medal and being named Sports Illustrated's Sportsman of the Year, James is arguably the world's most recognizable athlete right now.
He is also a genetic freak, but he drew the short end of the stick in at least one area: James has the hairline of a man in his mid-40s.
If he ever decides to endorse the Hair Club for Men product line, there will be a lot of angry customers demanding a refund.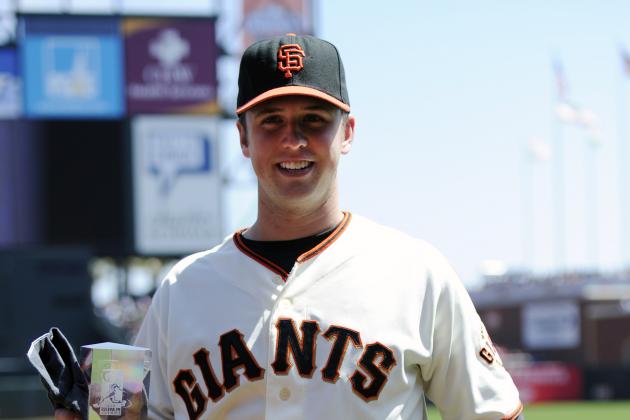 Thearon W. Henderson/Getty Images
Uh, this was not the image we had in mind.
Your mother surely had the greatest of intentions. She saw the phrase "Rookie of the Year" and assumed she was getting you signed memorabilia from MLB's latest phenom.
Unfortunately, mommy dearest failed to realized that this was also the title of a not-so-phenomenal movie starring Daniel Stern and Gary Busey. Fail.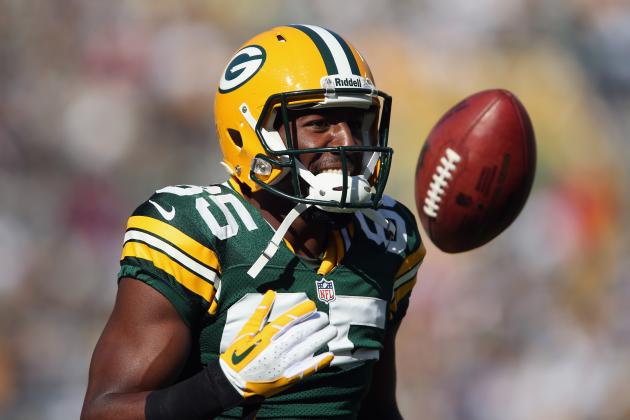 Jeff Gross/Getty Images
Who knew Greg Jennings had a future in Hollywood?
Greg Jennings has laid the groundwork for a future in Hollywood when his NFL playing career has ended. His series of Old Spice commercials are absolutely hilarious, but that doesn't mean that your man will be impressed with a body wash/deodorant combo pack.
If I didn't make this clear with the toilet paper, I'll say it again here: Toiletries should only be given as complimentary gifts to something more substantial.
Speaking of combo packs...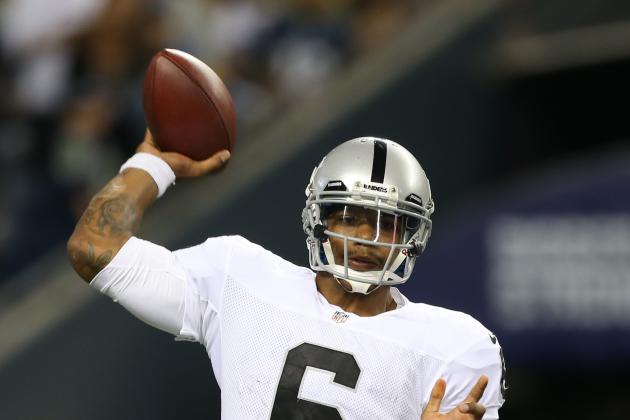 Otto Greule Jr/Getty Images
The sight of former Ohio State quarterback Terrelle Pryor brings up painful memories for Buckeye fans.
If you thought that a Terrelle Pryor Oakland Raiders jersey and a red Ohio State sweater vest would make a great gift for your favorite Buckeyes fan, you thought wrong.
Students and alums are left wondering "what if?" after sanctions from "Tattoogate" leave the 12-0 Buckeyes sitting on the sidelines during college football's bowl season. No need adding salt to the wound by giving out paraphernalia representing the most famous culprits involved in the scandal.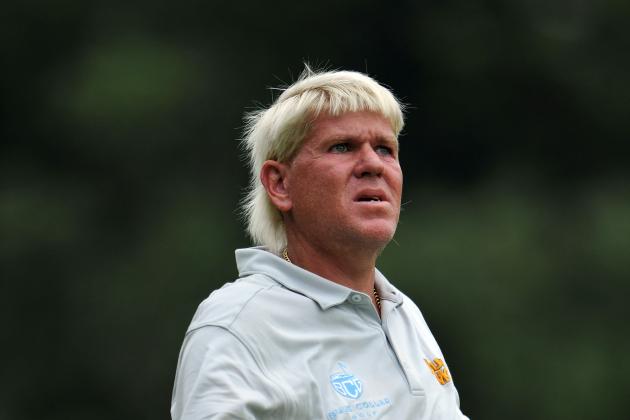 Stuart Franklin/Getty Images
What? You though John was kidding about that $1,000-per-hole bet?
What could be more entertaining than 18 holes of golf with the PGA Tour's most colorful character? The stories alone would be worth a lifetime of laughs, and make you the star of your next holiday party.
Just be sure that drinks are included in the package, because if not, the gift recipient will end up paying well above face value if forced to pick up the tab at the clubhouse.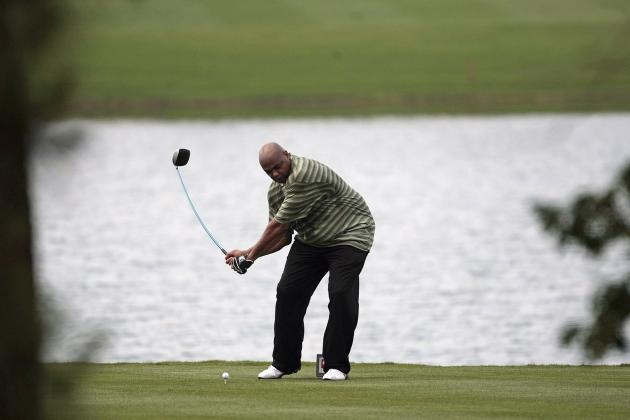 Dave Martin/Getty Images
C'mon man! What are you paying a swing coach for Chuck?
A round of golf with the Chuckster might be worth it just for the pure hilarity and the chance to hear epic stories about partying with Michael Jordan. On the other hand, if you actually care about making it through the round in reasonable time, waiting on Barkley could be brutal.
Just looking at his swing for 18 holes would make my brain hurt, and I don't even play golf.
Grant Halverson/Getty Images
You don't want to draw inspiration from Cam Newton after a loss.
Morale is down at the office after a tough quarter. Trying to end the year on a positive note, your boss hires the charming and dynamic Cam Newton to deliver a pep talk to the employees to kick off the new year.
This is one of those high risk, low reward decisions that is best left on the sideline.
First of all, the employees will likely point out that the money could have been better spent on year-end bonuses. Times are tough and Cam Newton won't come cheap.
There is also a high probability that Newton will actually bring company morale down even further. Have you seen one his press conferences after a loss?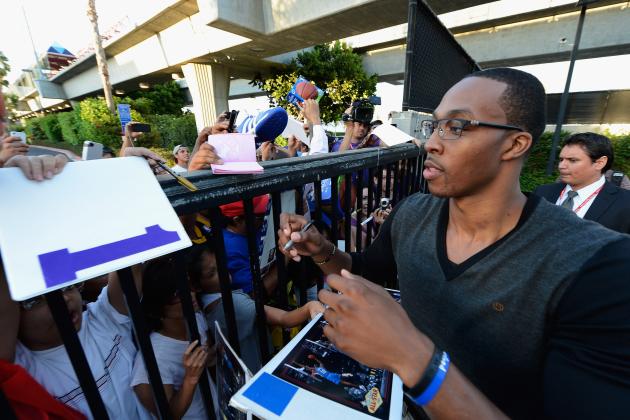 Kevork Djansezian/Getty Images
I hope those aren't books on career advice that Dwight is signing.
Assuming the Cam Newton pep talk is a dud, you may head into the holidays planning to search for a new job after the new year. Knowing this, and also knowing that you are a huge Lakers fan, your wife decides to buy you Dwight Howard's latest business book.
Thank God this thing does not actually exist.
Anyone that loves their job but hates their employer should do the exact opposite of everything Howard did last season as a member of the Orlando Magic. In the real world, your reputation is more valuable than you skill set, so following Dwight's blueprint could be career suicide.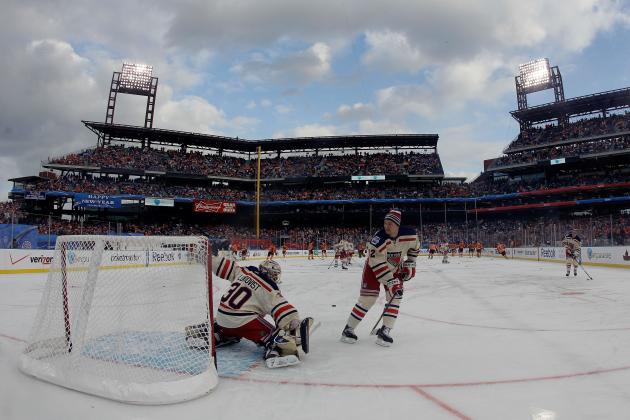 Rob Carr/Getty Images
It was all a dream.
If you've been doing more important things like eating and sleeping, you may not have noticed that the NHL players have been locked out. The stalemate in negotiations between the league and the NHLPA has led to the cancellation of all regular season games through the end of December.
It also means that there will be no NHL All-Star game and no 2013 Bridgestone NHL Winter Classic between the Detroit Red Wings and Toronto Maple Leafs.
Hockey is the most underrated sport from a live viewing perspective among North America's big four professional leagues. It is a shame that the NHL's premier event is forced into hibernation for another year.
Ralph Freso/Getty Images
Dale Sveum is a little less handsome after a hunting expedition with Hall of Famer Robin Yount.
If the man in your life is an outdoorsmen and a baseball fan, a chance to go hunting with a major league manager and a Hall of Famer would seem to be a perfect gift.
Not if you value his life.
Chicago Cubs manager Dale Sveum was accidentally shot by his good friend and former teammate while on an offseason hunting expedition in Arizona. Luckily the incident only resulted in some cosmetic damage Sveum's ear, but there's no sense taking a chance with these two.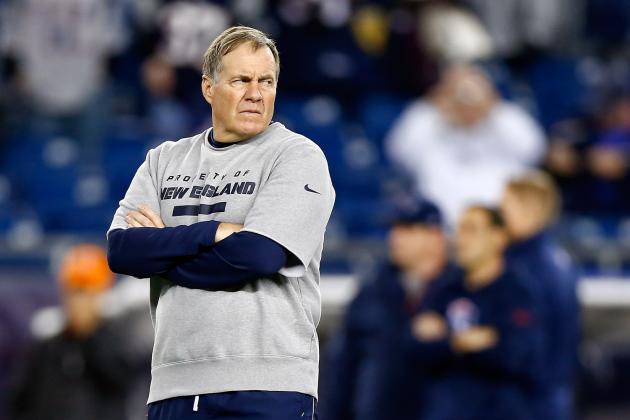 Jared Wickerham/Getty Images
Smile Bill. You won.
For the up-and-coming football coach in your life, spending a few hours with two of the sports smartest and most successful leaders would seem like a great way to spend a few hours. The coaching tips alone would be worth it, not to mention the free food and booze.
Don't expect either of these guys to share any trade secrets, even if you're highest level of coaching is your son's second-grade Pee Wee League team. And if you ain't getting valuable career advice, there isn't much reason to be hanging out with two of the biggest sourpusses in sports.
Sam Greenwood/Getty Images
Sanchez and Tebow could be selling instructional videos out of necessity in the next 12 months.
So your little guy has a rifle for an arm and has dreams of one day leading the home team to the Super Bowl like the cute kid in this NFL Play 60 commercial? I really hope your son is not a Jets fan.
Mark Sanchez put on a clinic last night in a 14-10 loss to the Tennessee Titans on Monday Night Football. Unfortunately, his five-turnover performance was a 60-minute, nationally televised case study in how not to play quarterback in the NFL.
His backup, Tim Tebow is not much better. No wonder Rex Ryan is turning to third-stringer Greg McElroy to start Sunday's home finale against the San Diego Chargers.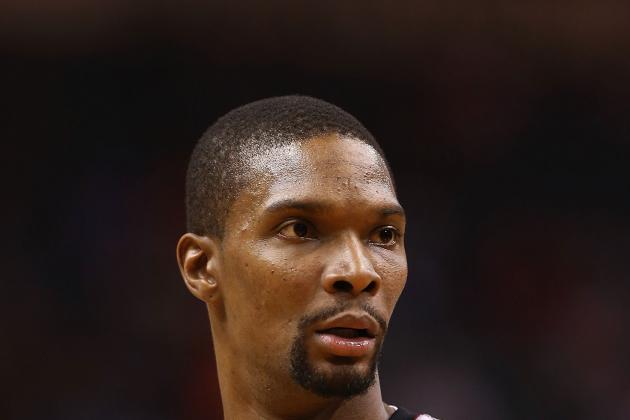 Christian Petersen/Getty Images
A face that only a mother could love.
Chris Bosh is an All-Star-caliber NBA player. Chris Bosh is a good teammate. Chris Bosh played a major role in the Miami Heat's 2011-12 championship run.
Based on this creative YouTube video, Chris Bosh is also very funny.
But Chris Bosh is not what most would consider handsome. So why would anyone want a life size image of him on their wall?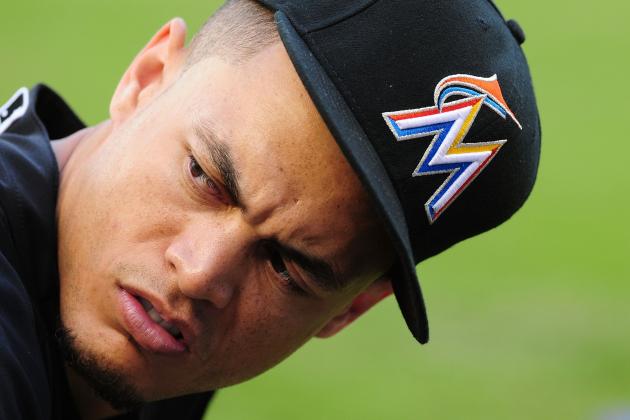 Jason Arnold/Getty Images
Giancarlo Stanton expresses his displeasure with seeing half of his teammates trade away in the past six months.
In the sequel to Will Smith's 2007 sci-fi thriller I Am Legend, Giancarlo "Don't call me Mike" Stanton stars as the last major-league-ready player on the 2013 Miami Marlins roster. He spends the entire moving trying to maintain his sanity as he attempts to will his team to 30 wins while surrounded by a bunch of minor leaguers.
No reports on whether or not Smith had any involvement in the film's making, but early reviews are not good. I Am Marlin is scheduled to open in major league ballparks in early-April.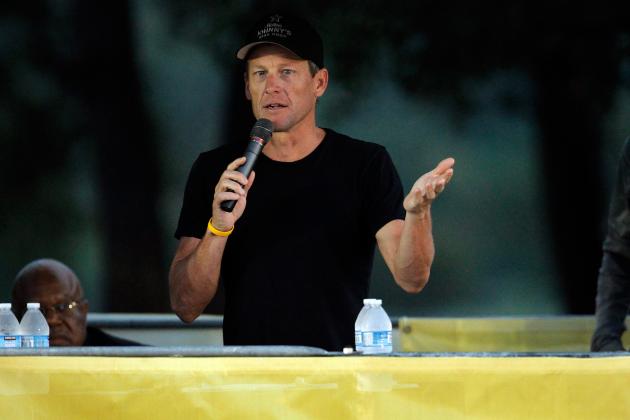 Tom Pennington/Getty Images
The curtain has been pulled back on Lance Armstrong's wizardry, and the truth is not pretty.
A series of books written by a world-class athlete who overcame testicular cancer to win seven consecutive Tour de France titles should be extremely inspirational right? It would be even more moving to discover that said athlete used his fame and celebrity to raise more than half a billion dollars to support cancer research.
That story would collapse like a house of cards in the eye of a tornado, however, if it was discovered that that same athlete perpetuated an intricate plot to cover up his use of illegal performance enhancing drugs. It would be more shocking and disturbing to discover the level of arrogance and hubris required to pull off his level of deception for so long.
This is Lance Armstrong's story.
As a person who has been touched by cancer (indirectly) for most of my life, I have long avoided coming to any kind of conclusion about Armstrong. But the details of his drug use released over the past several months make it hard to remain neutral on the subject.
I'm no saint, but if honestly and integrity are values that matter to you at all, it would be difficult to buy what Armstrong is selling.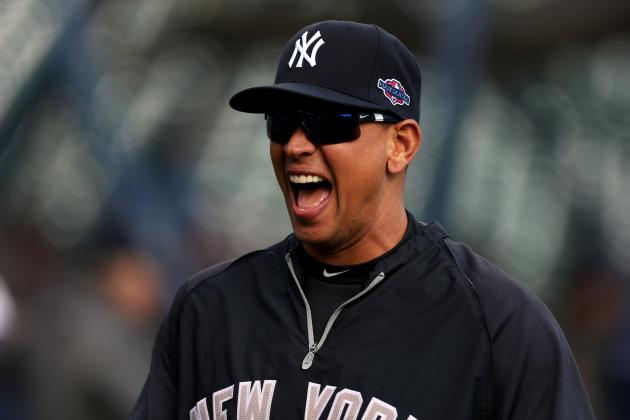 Jonathan Daniel/Getty Images
Tone it down Alex. It will make your life a lot easier.
The most popular athletes and celebrities make it easy for us to love them, despite their out-sized levels of fame and wealth. They seem to live a fantasy life without making us feel small for not having access to their world.
Alex Rodriguez is not one of those athletes.
We all have that one friend or family member that we love to death, but could stand to take a few lessons in tact and discretion. Giving that person life advice from the New York Yankees third baseman would be a horrible way of getting that point across.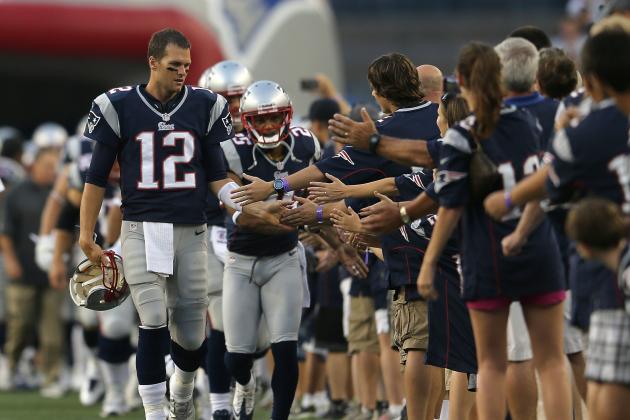 Jim Rogash/Getty Images
A Man-purse with the New England Patriots logo on it will not make you as popular as Tom Brady.
I own a satchel, and I wear it quite often. Not the Zach Galifianakis in The Hangover kind, but the brown leather Indiana Jones version.
I love my satchel, but it does not stop my friends from making fun of me. Whether you own a satchel or "murse" (man-purse for the fashion illiterate), it will not make it any cooler if you customize it with the logo of your favorite sports team.
Embrace your inner metrosexual and hold your head high, but don't make it any worse than it needs to be.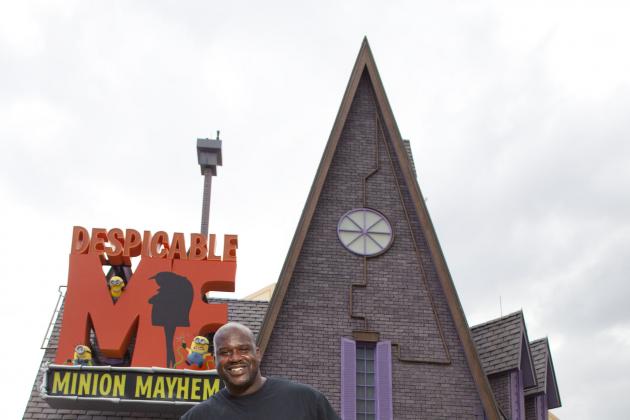 Handout/Getty Images
This photo is considerably less embarrassing than Shaq's 1996 film debut.
If you haven't seen Shaquille O'Neal's 1996 film about a rapping genie, consider yourself lucky. If you have no idea what I am referring to, resist the temptation to Google it and embrace the idea that ignorance is bliss.
Shaq has always been one of my favorite athletes, largely because of that fact that he never seemed to take himself to seriously. This was clearly one decision that he should have put more thought into.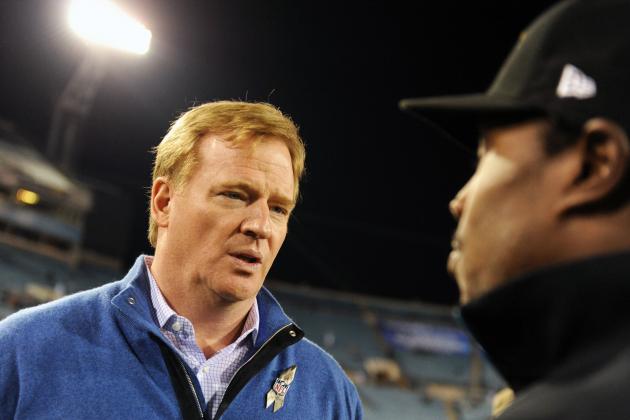 Al Messerschmidt/Getty Images
Goodell often finds himself explaining his actions to NFL players and fans.
This should not be confused with the classic treatise written by 16th-century Italian political theorists Niccolo Machiavelli. While borrowing the same name, this latest version encompasses NFL commissioner Roger Goodell's philosophies on how to be an effective ruler.
While the league as a whole continues to flourish, Goodell's leadership and dictatorial approach to disciplining players' misconduct has come under a great deal of scrutiny.
His handling of the New Orleans Saints "Bountygate" scandal was the latest example of the disconnect between the commissioner and the players that he governs. If you want to give someone valuable lessons in leadership, you might be better off looking elsewhere.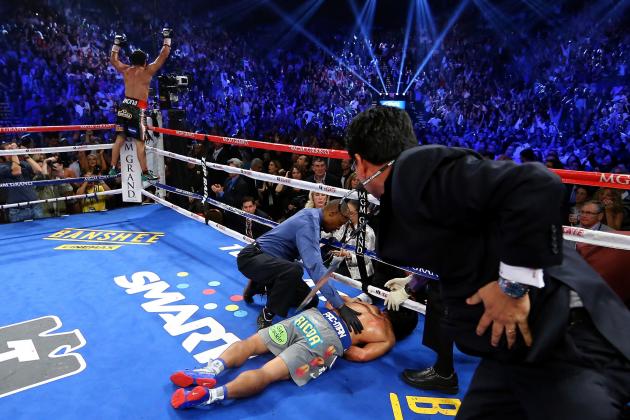 Al Bello/Getty Images
Juan Manuel Marquez's stunning KO of Manny Pacquiao likely cost Pacman and Floyd Mayweather Jr millions of dollars each.
It's time for boxing fans to come to the realization that this fight is never going to happen. And after Manny Pacquiao suffered a sixth-round knockout at the hands of Juan Manuel Marquez on December 8, this is no longer the marquee event it was once predicted to be.
Floyd Mayweather Jr will be released from jail soon and he's already eyeing two potential opponents for next year. Too bad Pacman won't be on the fight card.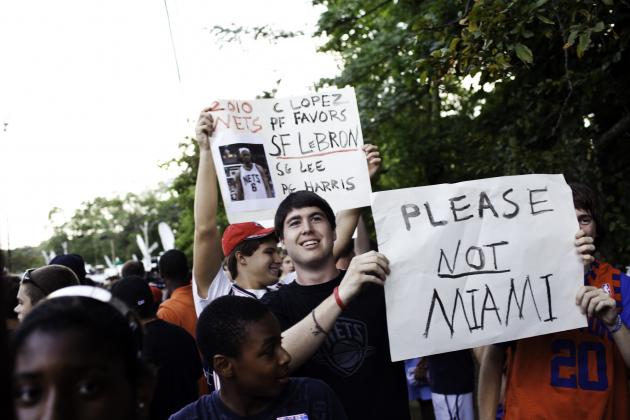 Christopher Capozziello/Getty Images
Sorry kid. You obviously didn't get your wish.
I have never been to Cleveland, so I don't personally have anything against the Midwestern city. But there is simply no denying that it is the unluckiest sports city in America, and quite possibly the entire world.
International soccer fans may take their losses more to heart, but no city has had to suffer through such an extended run of athletic futility by multiple pro franchises.
From "The Drive" to the "The Decision" to Art Modell stealing their NFL team in the middle of the night, Cleveland sports fans know heartbreak like no others (maybe, Seattle, but it's really not that close).
If you wake up Christmas morning and find a one-way ticket to Cleveland among your "gifts," someone is trying to send you a very strong message-or playing a really cruel joke.