South Carolina Football: How Steve Spurrier Can Replace Marcus Lattimore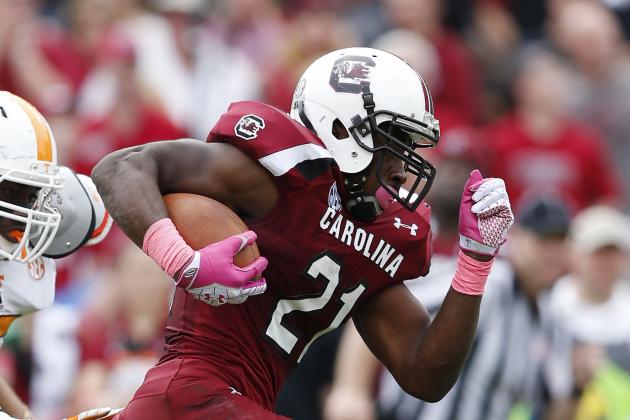 Joe Robbins/Getty Images

As most of you are well-aware, Marcus Lattimore has declared for the NFL draft. The team must look towards the future. How can Steve Spurrier replace Marcus Lattimore?
To begin with, you can never actually replace a high-character player like Lattimore. Not only was he ultra-productive while healthy, he maintained a high level of integrity that helped the team in every aspect of the game.
His presence made the team lift harder, run faster and give more effort. He was the heart and soul of the team. That will be the most difficult part to replicate.
However, the team must move forward and must assimilate an offensive attack that closely mirrors the production of a healthy Lattimore-led unit.
While they've done an excellent job up until now with Kenny Miles, Miles is a senior and will also be leaving the team. So what can be done?
Begin Slideshow

»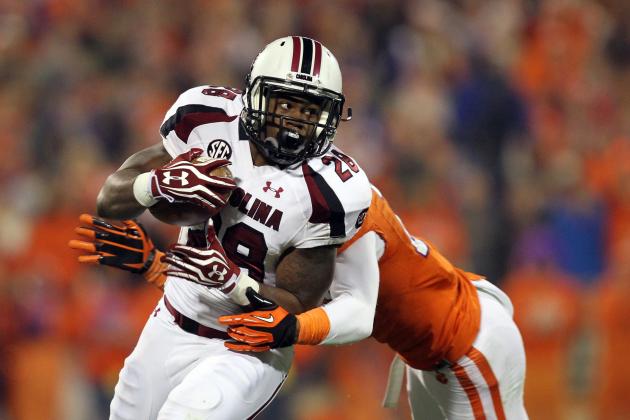 Streeter Lecka/Getty Images

The team cupboard isn't exactly left bare when it comes to running back talent. Mike Davis, Shon Carson, Brandon Wilds, and Kendric Salley all have the potential to be elite runners. Each one of them brings something completely different to the table.
Mike Davis is probably the most exciting of the players. He was a top rated back coming out of high school. He has speed, power and attitude. He runs hard and showed some bursts of brilliance in 2012.
His biggest drawback is that he wasn't used much this year. He had 52 carries for 275 yards. His 5.3 yards per carry average was actually the highest of any of the running backs. He's a good player who has the opportunity to become great.
Brandon Wilds may be the frontrunner for the starting position going into 2013. He's big (6'2", 220) and started five games his freshman year. He rushed for 486 yards on 107 carries with three touchdowns in 2011. He added 136 yards on 15 pass catches.
Needless to say, he was an impressive freshman. A nagging ankle injury led to a red-shirt year in 2012. He'll be back and ready to roll in 2013.
Shon Carson has terrific speed, but injuries have absolutely decimated his career thus far. In 2011, he was so impressive in camp that he jumped to the number two spot on the depth chart behind Marcus Lattimore.
His impressive speed would be the perfect change of pace from Lattimore's bruising style. He tore his ACL in the second game of the year and hasn't been back since.
Not much is known about Kendric Salley other than the "word on the street" that he's been practicing very well. He has tons of talent and unique size at 5'9" and 205 pounds. He's built like a bowling ball and could utilize the low center of gravity to gain tough yards.
Needless to say, the Gamecocks will be fine there.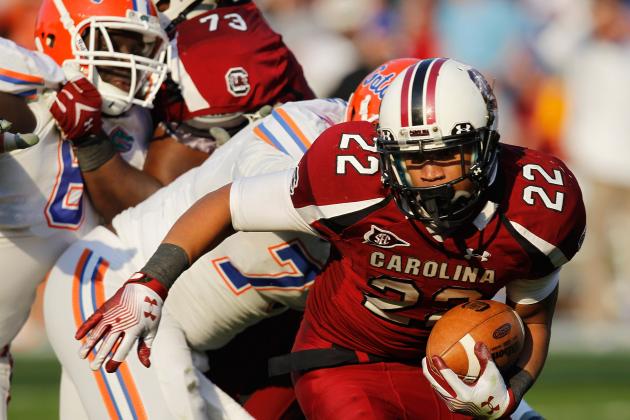 Streeter Lecka/Getty Images

Again, with the plethora of talent in the backfield, the Gamecocks could keep more weapons on the field by having two of the ball carriers out there together a larger majority of the time. Imagine having the starting back (whoever that may be) out there with someone like Shon Carson as a speedy option threat?
Or how about having Mike Davis and Brandon Wilds out there together? Two bruising powerful guys who can also catch the ball?
How about lining Kendric Salley up as a fullback while Carson gives defenses severe speed to worry about? The possibilities with this type of offense are endless.
Each back should get his fair share of carries in Lattimore's absence.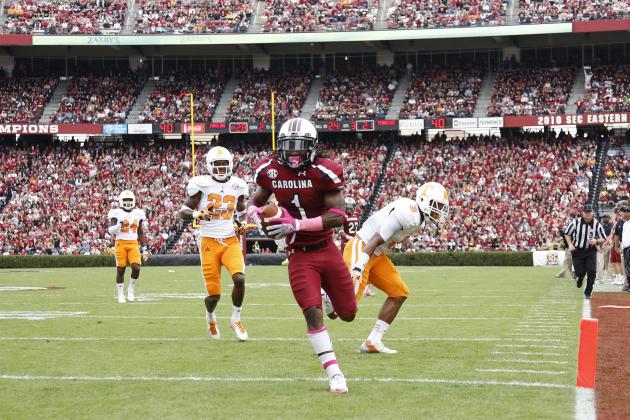 Joe Robbins/Getty Images

Steve Spurrier loves to pass. We know this.
With Lattimore leaving, now could be the best time to utilize a pass-first four-wide set as the basis of the offense. However, I don't necessarily mean the spread offense.
The Gamecocks are also looking good at wide receiver for 2013. Ace Sanders and Bruce Ellington have been very good. Damiere Byrd had moments where he looked like a major deep threat. Shaq Roland will have one more year of development and should be able to improve on a disappointing freshman campaign.
Connor Shaw and Dylan Thompson both have the ability to sling the ball around the yard. When Shaw is healthy, he's a major dual-threat quarterback. Add one of the afore-mentioned explosive backs in the backfield, and you have an offense that is even more dangerous than any squad that handed the ball to Lattimore 25 times throughout the course of a game.
With speed all over the place, this could be a highly effective method of making up for Lattimore's loss.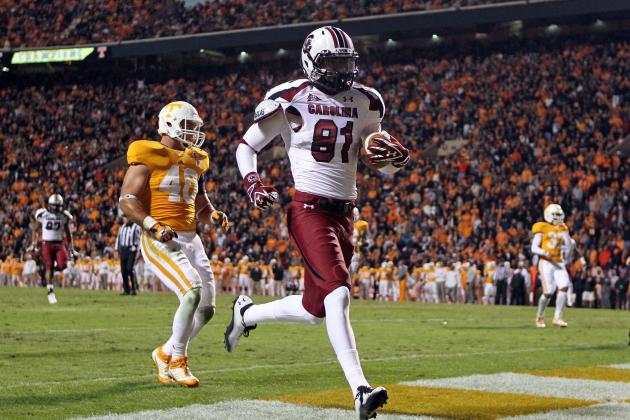 Andy Lyons/Getty Images

The Gamecocks are in a unique position. They have two legitimate tight ends with wide receiver skills. While there is little doubt that the team will miss the versatility and blocking of Justice Cunningham, Rory Anderson and Jerell Adams are both explosive players.
Anderson is 6'5". Adams is 6'6". They're both fast and have excellent hands. Adams was named to the All-SEC freshman team. Anderson caught five touchdown passes.
These two guys are also above-average blockers. They should be on the field a great deal. You could always have them lined up in two tight end sets. The threat of their receiving would make for even more matchup issues. No linebackers can really cover them.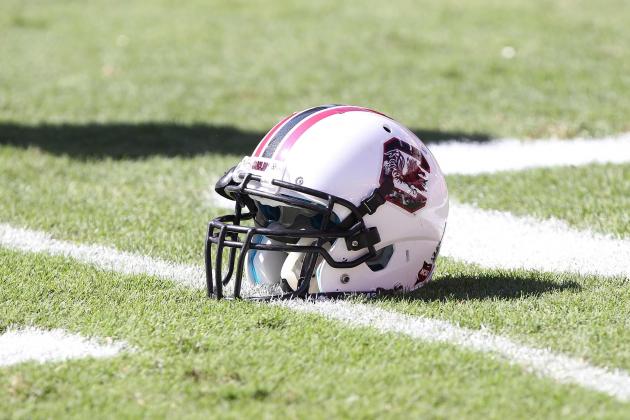 Kim Klement-USA TODAY Sports

If the team utilizes the talent that sits on the roster and exploits mismatches, the Gamecocks will be able to overcome the loss of Lattimore. The offense should grow into a more multi-dimensional and creative unit.
The speed of the team should scare defenses.
However, the team will never truly replace the leadership of Lattimore. His character won't be forgotten and his impact will never be undervalued.