Junior Dos Santos: Where Does He Rank Among the Top Brazilian Fighters Ever?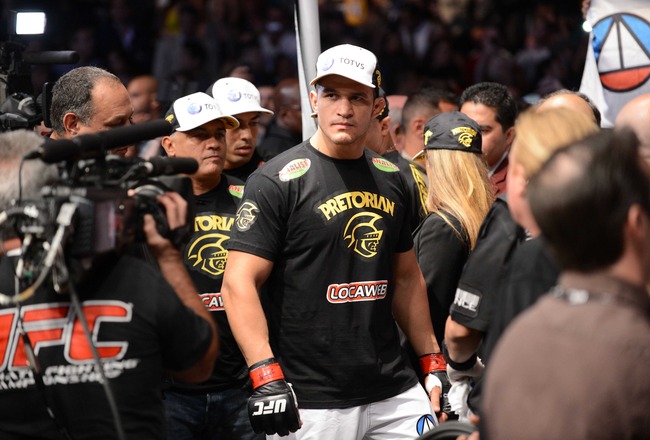 Ron Chenoy-USA TODAY Sports
There are few countries which have done more for the development of mixed martial arts than Brazil.
Many would trace the roots of the modern sport to the Vale Tudo tournaments of the early 20th century which saw jiu-jitsu—in particular, the style developed by the Gracie family—as the nation's dominant martial art.
With such a deep history and the sport's growing popularity in the country, it's not surprising that almost half the UFC's current title holders are Brazilian, including its heavyweight champion Junior Dos Santos.
In nine fights in the UFC, Dos Santos has decimated every opponent put before him, anointing himself the moniker "the baddest man on the planet" in the process. He's earned that title in an era when the sport is the most popular and most competitive it's ever been.
And, as with any sport where the money keeps pouring in, the modern MMA athletes are the best in the sport's history. Which is why, when ranking the top Brazilian fighters ever in this list, you'll see a conspicuous absence of mixed martial artists from the sport's nascent days.
Men like Royce Gracie, for example, which many consider responsible for introducing the world to MMA, cannot be counted as a pound-for-pound equal to the likes of Dos Santos, even when differing eras are taken into account.
Gracie's record speaks for itself—ascendant against rank amateurs without a clue about submissions, as soon as professionalism came into the sport, the Brazilian was quickly surpassed and left by the wayside.
The men of the last decade are the best MMA has ever seen, and this list poses the question as to where Dos Santos stands among these Brazilians.
10. Murilo Bustamante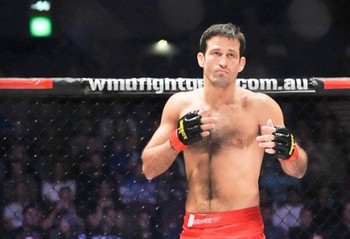 Murilo Bustamante was, for a brief period, considered one of the best middleweights in the world for his accomplishments in the UFC and Pride.
A dangerous striker and a very dangerous grappler, Bustamante took Chuck Liddell the distance, won the UFC middleweight championship in 2002 and defended it against Matt Lindland the following year.
His star quickly faded in Pride, however, against the likes of Quinton Jackson and Dan Henderson, but he nevertheless continues to fight into middle age.
9. Paulo Filho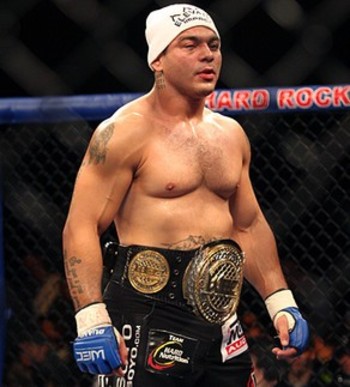 Paulo Filho is among the most accomplished mixed martial artists never to have fought in the UFC.
Between 2000 and 2007, he went undefeated in 16 fights, cutting through the competition in Pride and the WEC.
He had every potential to be great in the UFC after the parent organisation Zuffa purchased the WEC where Filho was middleweight champion. However, he fell into a long battle with substance abuse, leading to fight cancellations, hospitalisation and ultimately, his retirement in September this year.
But not before he capped his legacy with a 47-second first round knockout of another great Brazilian fighter, Murilo "Ninja" Rua, at Best of the Best: Filho vs. Ninja II.
8. Vitor Belfort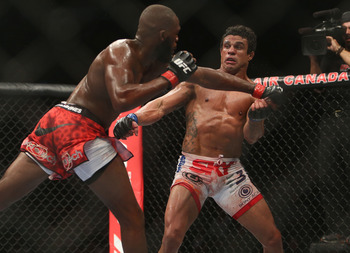 Tom Szczerbowski-USA TODAY Sports
Known as "the Phenom", Vitor Belfort transformed the sport of MMA when he burst on the scene at just 19, becoming the UFC's youngest champion and winning the promotion's light heavyweight championship several years later.
And today, after more than 16 years as a professional, he still looks as strong as ever. Since 2007, in nine fights, he's only lost twice—to the sport's most dominant fighters, Anderson Silva and Jon Jones.
He's due to face Michael Bisping in January in his native Brazil, where he hopes to re-emerge as a threat in the middleweight division.
7. Wanderlei Silva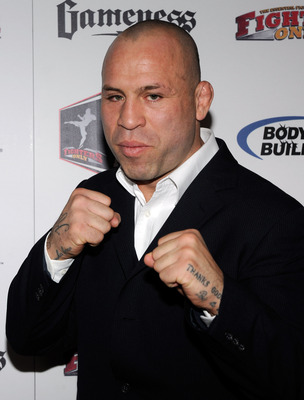 Ethan Miller/Getty Images
A true legend of the sport, Wanderlei "The Axe Murderer" Silva is one of the most ferocious fighters MMA has ever seen.
His early foray into the sport was most notable for a short lived first round knockout at the hands of Vitor Belfort, but after that defeat, he went on to making his name in Japan where he terrorised the middleweight division.
There has never been a fighter as fierce as him—a style of fighting which led him to five Pride middleweight titles as well as becoming the 2003 Pride middleweight tournament winner.
However, his aggressive fighting style has taken its toll on the fighter, who, since returning to the UFC, has had a chequered history.
He's gone 3-5 in his last eight fights, but unwilling to hang up his gloves, Silva continues to fight and is due to face Brian Stann at UFC on Fuel TV 8 in March.
6. Lyoto Machida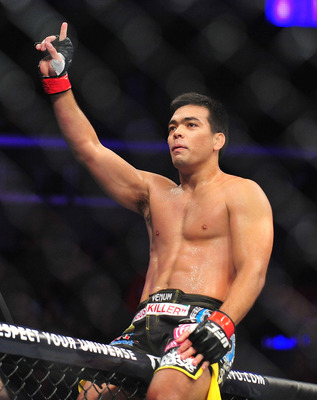 Gary A. Vasquez-USA TODAY Sports
Lyoto Machida went on an unparalleled 15-fight undefeated winning run in MMA's light heavyweight division, which ended with him winning the UFC title in 2009.
At the time, he was being considered as one of the most dangerous fighters in the world, with a cryptic Karate-style of striking which could defeat everyone.
He's been brought back down to earth more recently, however, having lost three of his last five fights. But Machida remains a force to be reckoned with at 205 pounds. He gave Jon Jones his toughest test yet and destroyed Ryan Bader in his last fight.
Machida is so highly regarded that, despite losing to Jones only a year ago, the UFC was all set to offer him a rematch in the place of the injured Dan Henderson.
5. Mauricio Rua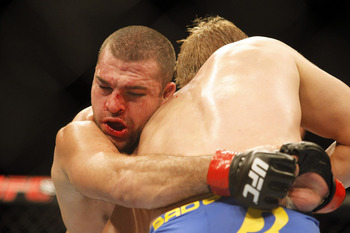 Joe Nicholson-USA TODAY Sports
With an aggressive, power-hitting style of striking honed from the famed Brazilian Chute Boxe Academy, Mauricio Rua has often been talked of as one of the most dangerous light heavyweights of all time.
He has wins over Lyoto Machida, Mark Coleman and Chuck Liddell and is a former Pride Middleweight Grand Prix champion.
But Rua is another Brazilian struggling to assert himself late in his career and has often been criticised for turning up to fights out of shape and badly prepared.
That shouldn't take away from what a great fighter he is. He has the guts and warrior spirit that has seen him through such bloodthirsty contests as his fight against Dan Henderson last year and Brandon Vera this year.
4. Jose Aldo
Ethan Miller/Getty Images
One of only two men in this list to be considered the best pound-for-pound fighters in the world, Jose Aldo has been utterly dominant as a featherweight like no other fighter in history.
That's not as impressive as it sounds considering that 145-pound division is not as well established or as deep as some of the others. Still, his performances speak for themselves.
With world-class Muay Thai and dogged takedown defence, he's destroyed men like Chad Mendes, Kenny Florian, Mark Hominick, Manny Gamburyan and Urijah Faber.
Aldo seems worlds ahead of the competition at featherweight and is one of the best mixed martial artists Brazil has every produced.
3. Junior Dos Santos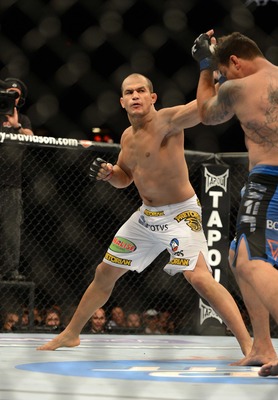 Ron Chenoy-USA TODAY Sports
The reigning heavyweight champion, Junior Dos Santos, is arguably the best heavyweight the country has ever produced.
Except he's only been fighting for six years and still needs time to prove himself the best Brazilian fighter ever.
He's well on his way, however. He's destroyed the who's who of the UFC's heavyweights, with only men like Alistair Overeem and Daniel Cormier casting doubt on whether he truly is the "baddest man on the planet".
In front of him is Cain Velasquez, a man he's already beaten once but who still poses a significant threat.
Dos Santos' keys to victory have always been, like Aldo, exceptional striking combined with unshakeable takedown defence.
But he also has a rarely seen, but solid, submission game too.
2. Antonio Rodrigo Nogueira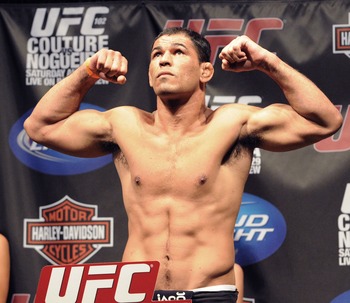 Jon Kopaloff/Getty Images
Few fighters in this list, except perhaps Vitor Belfort and Wanderlei Silva, have transcended eras like Antonio Rodrigo Nogueira.
If it wasn't for Fedor Emelianenko, he would be considered the greatest heavyweight of all time. He won the Pride title twice, as well as coming a close second in the heavyweight tournament. Later he would capture the UFC's heavyweight title as well as defeat the legend Randy Couture.
He's gone 3-2 in his last five fights, but one of those losses, against Frank Mir, could be put down to an unfortunate decision to go to the ground against a man he was clearly beating in the stand-up.
That, by rights, puts him among the top five heavyweight still, if his recent record wasn't as chequered as it is.
In the new era of heavyweights, Nogueira is holding his own and is due to face Fabricio Werdum in June after the pair coach the next series of The Ultimate Fighter in Brazil.
1. Anderson Silva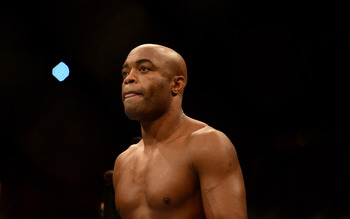 Mark J. Rebilas-USA TODAY Sports
There could have been no doubt in anyone's mind that Anderson Silva would top this list as the greatest fighter Brazil has ever produced.
No mixed martial artist has dominated the sport or broken as many records as Anderson Silva, and even today, at 37-years-old, he makes the rest of the field look completely ordinary.
Keep Reading