Seahawks vs. Bills: Key Statistics from the Decisive Victory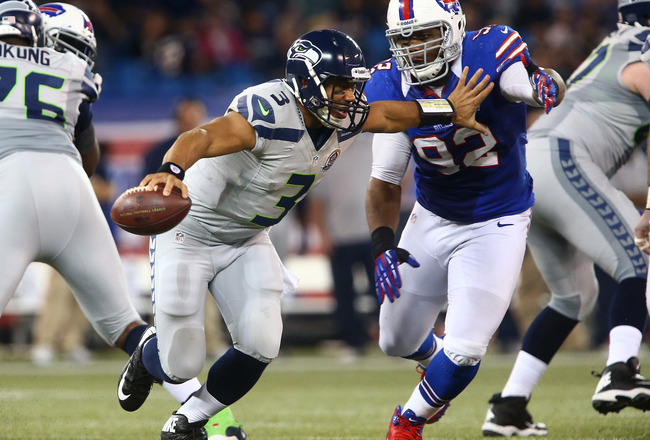 Tom Szczerbowski/Getty Images
The Seattle Seahawks are rolling right now. Is that an understatement?

One-hundred-and-eight points in two games in pretty impressive, even if the opponents are not the top teams in the NFL.

The Seahawks went through a three-game stretch earlier in the season where they scored 14, 13 and 16 points. At that point in the year, fans were wondering if the offense would ever get going.

I guess it got going.

Perhaps the 'Hawks will drop 50 on the San Francisco 49ers, but cooler heads will caution against that kind of expectation.

Still, Seattle put together another impressive performance against the Bills, and here are some key statistics from that game.
Rushing Touchdowns for Russell Wilson: 3
Tom Szczerbowski/Getty Images
As a general rule, a quarterback that runs on a regular basis makes me a little nervous.

Sure, the play can be very exciting, but inevitably there will be a linebacker on the other end of the run that makes the QB regret their mad scramble.

Just ask Robert Griffin III.

That said, Russell Wilson has shown himself to be a very effective runner. He is generally smart about sliding or getting out of bounds.

In addition, Buffalo made it pretty easy to run as Wilson got used to seeing a lot of open real estate.
This will likely not continue against San Francisco, but Wilson certainly took advantage of the situation and was able to rack up some impressive running stats.
Rushing Yards for the Seahawks: 270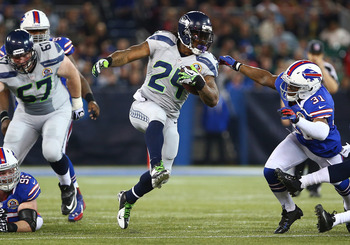 Tom Szczerbowski/Getty Images
Seattle did not match the 284 rushing yards that it put on the Arizona Cardinals last week, but 270 is still a big rushing number for any team.

What can you say about Marshawn Lynch? Beast Mode just keeps on rolling, as the bruising back had 113 yards and a touchdown to lead the running game.

The last two games have been such big wins that the Seahawks have not even needed Lynch to maximize his yardage.

The yards-per-carry award goes to Michael Robinson, who averages 29 YPC. Granted, he only ran once, but he certainly made the most of his opportunity.


Sacks for Chris Clemons: 2.5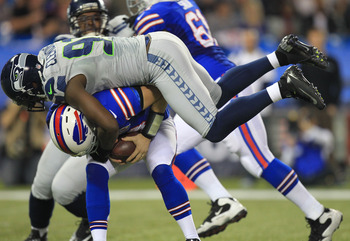 USA TODAY Sports
It would be fair to suggest that Chris Clemons has been a bit up and down this season.

He was a monster against the Green Bay Packers with four sacks, but then he only recorded three sacks over the next nine games.

Clemons also had a sack against the Cardinals last week, which gives him 3.5 in the last two games.

Sacks are not the only measure of the pass rush, but when the ends are getting to the quarterback, it is a sign of how well the offensive line is containing the defense.

Hopefully Clemons has regained some of his swagger so that he can chase Colin Kaepernick on Sunday night in Seattle.
Interceptions for Russell Wilson: 0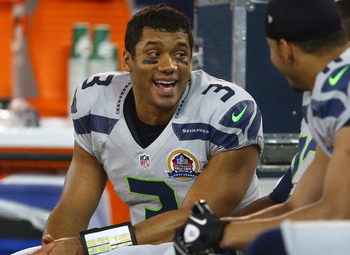 Tom Szczerbowski/Getty Images
Russell Wilson did not necessarily dominate as a thrower against Buffalo. He did double the number of completed passes against the Bills (14) as compared to the Cardinals (seven).

More importantly, Wilson did not throw any picks.

Wilson only has nine interceptions on the season, and he has only thrown one in the last six games. That number is even more impressive when you look at the fact that he threw five interceptions in a two-game span against the Rams and Panthers earlier in the season.

Russell is taking care of the ball and it is leading to wins for Seattle.
Penalties for Seattle: 4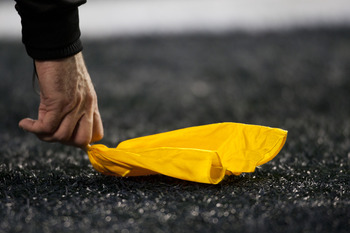 Jay Drowns/Getty Images
This team has had some games where penalties have piled up. Not this game.

Four penalties for 32 yards is quite good, particularly when you compare that to the 10-penalty, 97-yard performance last week.

In addition, the penalties in Toronto did not have a negative impact on the outcome of the game.

Penalties are maddening for both fans and coaches, particularly when a team has the talent to win but makes mental errors.

For this team to keep winning, it has to maintain focus. If this game is any indication, the Seahawks are on the right track.
Tackles for Bobby Wagner: 12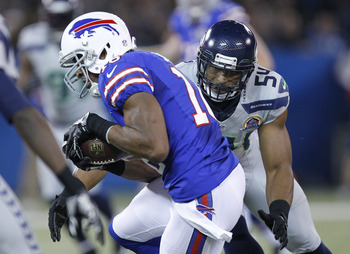 USA TODAY Sports
Bobby Wagner is a tackling machine.

Wagner added 12 more tackles to his season total, and he now has 121 in 2012.

Seattle has a lot of individual talent on defense, but the 22-year-old linebacker has shown himself to be an intuitive tackler that consistently has a nose for the ball.

Wagner's 121 tackles is ninth in the NFL this season, and while he may not eclipse the current leader (Chad Greenway, 140), Bobby is certainly establishing himself in the stat column.

He may not reach the single-season franchise record of 153 tackles set by Terry Beeson in 1978; however, he may in the near future.

Follow @tpheifer
Keep Reading

Seattle Seahawks: Like this team?