Most Embarrassing Dunk Fails in NBA History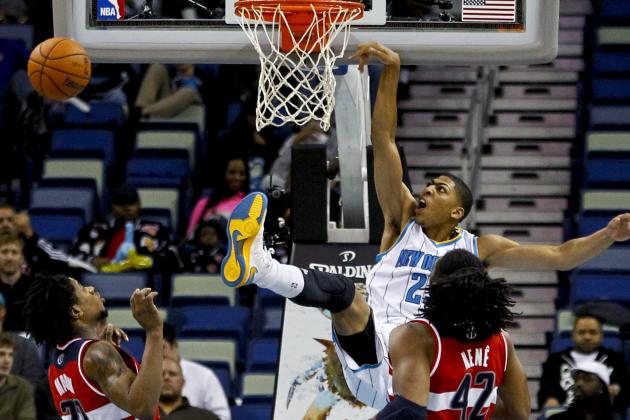 USA TODAY Sports

Nothing is more embarrassing than a failed dunk, and I've compiled 10 of the worst (best?) ones you'll ever see.
Sure, we all laugh and chuckle at the failure of power dunks gone awry, but let's put ourselves in the sneakers of the failed dunker for a moment...
Imagine that you're galloping down the court on a fast break, or perhaps you've beat a defender off the dribble in the half-court. There's nothing between you and the rim except sweet sweet glory.
You plant both feet on the floor, and together, they propel your body skyward to the heavens.
The crowd, teammates and opponents are all anticipating a righteous tomahawk slam. And so are you.
The hammer is thrown down, and a thunderous noise is made. The only problem is that the thunder resulted from the crowd, opponents and even teammates laughing at your epic fail of a dunk. Dejected, you hold your head in shame.
Remember that sinking, awful feeling as we take a look at the most embarrassing dunk fails ever.
Begin Slideshow

»
Dwyane Wade's vicious throwdown on Anderson Varejao is one of the more remembered dunks from recent memory. The Brazilian defender had little chance of thwarting Wade's will in this November 2009 matchup.
Never forget, though, it was LeBron James' missed dunk at the other end that created this opportunity for Wade. LeBron incorrectly sized up Jermaine O'Neal who, despite being antiquated even then, could still provide ample resistance around the basket. King James compounded his fail by lazily trotting back on defense while Wade rocketed down court for his slam.
For the initial miss and for leaving his teammate to clean up his mess, LeBron should be embarrassed.
If you've ever seen Glen Davis play, you know that "lift" and "Big Baby" don't go very well together. His shot attempts and rebounds never involve much hang time. For one breathtaking moment, though, "Big Baby" Davis believed he could fly.
Well, not only did he fail to touch the sky, his hands didn't even reach the rim. Despite gathering all his might for this flight, Big Baby's fingertips struggled to lift the ball to rim level. A shocked Boston crowd and bench reacted with disbelief. This embarrassing blown dunk is one of the saddest sights ever.
In his second return to the NBA during the 2001-02 season, Michael Jordan took up residence with the Washington Wizards. His entire tenure there can be considered a failure in many regards, but perhaps the most shocking one was this breakaway dunk in the 2002 All-Star Game.
It'd be understandable if Jordan had blown a dunk while trying to climb Mount Mutombo. However, this was a breakaway dunk. Not a single soul around to bother Jordan's attempted throwdown.
The blown dunk wasn't even that ambitious. The 39-year-old Jordan realized his limitations and didn't try anything too crazy. Just a simple one-handed dunk. No frills, no thrills. But still, he missed. An embarrassing moment for one of the game's all-time greats.
At least he could laugh at his temporary humanity.
Nate Robinson infamously took 23 attempts to complete one dunk during the 2006 Dunk Contest. Well, this regular season game in the 2008-09 season didn't allow for infinite attempts to get a dunk right. You only get one chance, and Robinson blew it in spectacular fashion.
Feeling LeBron James breathing down his neck, Nate Robinson rushed his dunk attempt here. As Walt Frazier notes in the video, Robinson could have benefited from another dribble to get in closer. Instead, he jumped from too far out and lost control of the ball, which flew into the stands.
As we can see from his reaction, Robinson is more angry than embarrassed from his failure. This reaction makes the situation all the more hilarious. If given a second chance, the diminutive Robinson wouldn't temper his expectations. You know if put in the same situation again, he'd try to fly in for another jam.
Pigheaded stubbornness never made up for a dunk fail, though. Sorry, Nate.
Having your car stall out on a railroad track as a locomotive is approaching. Being aboard an airplane mercilessly attacked by a giant shark. Standing between JaVale McGee and the basket on a fast break.
These are basically the most frightening moments any person can endure. Unfortunately, James Jones of the Miami Heat found himself in the third scenario in 2010.
After making a decent hustle play, JaVale McGee secured possession for the Washington Wizards and began a fast break. McGee could have (should have) passed off to Josh Howard immediately to center the ball. McGee could have then run the left wing and received a return pass for a layup or dunk. Simple high school scheme, really.
Or McGee could have (should have) passed to Nick Young, who was wide open on the right side of the basket, and Young could have hit a layup or an easy bank shot.
Instead, JaVale did what JaVale does best, and that's make a mess of everything. He kept the ball the whole break and made up his mind to jump completely over James Jones. Jones had stoically planted himself to take the charge. Both men regretted their decisions.
McGee can jump high, but not that high. He smashed right into Jones who lay on the ground in pain and walked away limping. Jones was the one physically hurt, but McGee felt pain too. JaVale's pain came through the wave of embarrassment from such an unbelievably awful dunk attempt.
By the way, this isn't the last we'll see of McGee on this countdown.
Yao Ming is one of my all-time favorite players, but I can't defend what happened here against the Portland Trail Blazer.
OK, the first missed dunk is somewhat understandable. Joel Przybilla did make a pretty good attempt to thwart Yao's dunk. Ming still should have made it, but it's an understandable miss.
The second missed dunk just seconds later is unbelievably bad. Yao did an excellent job to re-post and get prime position. Making another great move, Yao spun away from his defender and had a wide-open slam attempt.
Well, that spin must have made Yao a bit dizzy and disoriented. It's the only explanation for how he blew that easy dunk. The nausea in his gut clearly impacted his ability to firmly hold the ball. The result was a lazy throwdown that didn't actually go down and left everyone embarrassed.
But Yao is so affable, bless his heart. Don't laugh too hard at his misfortune here.
"Air molecules, feel thy wrath!"
Marreese Speights must have been thinking that with this inexplicable dunk attempt in December of 2008. The former 76er was obviously too far out to dunk the ball, but that didn't stop him from trying.
Judging from how much vitriol Speights had in his air dunk, though, this could have been one of the all-time sledgehammers. Denver's Nene wasn't having any of that, however. The Nuggets big man planted himself firmly in the lane and gave a nice stiff forearm to Speights.
Speights didn't adjust too well to that forearm shiver, and the result is what you see. A whole lot of displaced air. Embarrassing.
It's our dear friend JaVale McGee again!
Coming the same month (December 2010) that he tried to obliterate James Jones, McGee tried to obliterate any sense of decency here. There's just a whole lot of embarrassment to dispense here, so let's take it point by point:
1. The Sacramento Kings are absolutely spanking the Wizards in this game. The score was 116 to 91. It's the fourth quarter and just around 20 seconds left to play.
2. McGee, admirably, doesn't simply hold his head in shame at the game result and wait for the clock to run out. He does make a pretty nice steal on defense. That commendable behavior evaporates just moments later.
3. Not only does McGee go for a showboat dunk, he goes for a free-throw line dunk. Being down by 25 points isn't the time to try and show up the opponent.
4. And if you're going to showboat, at least have the gumption to pull it off. McGee doesn't even make a good attempt of it. He losses control of the ball, and it rockets off the backboard and back into the possession of the Kings.
The glee from the crowd that McGee failed so miserably is palpable. The disgust from the Kings broadcasters is clearly felt as well. Truly one of the worst dunk attempts ever.
JaVale makes yet another appearance, but this time, he's merely a bystander for the embarrassment. Seriously, did you see how McGee didn't even rotate to stop Von Wafer's dunk attempt?
Anyway, Von Wafer of the Boston Celtics flies in to the paint for the dunk attempt and throws it down hard. Wafer mean mugs to the crowd after his vicious play. Only problem is that the dunk didn't go in.
And everyone but Wafer knows it.
Returning in bounds to get back on defense, Wafer stumbles into teammate Jermaine O'Neal, who had corralled the missed dunk. Wafer's bungling move forces O'Neal into traveling, and the Wizards get possession of the ball. It's bad enough that Wafer missed the dunk and pranced around as if he had made it. Forcing his own teammate into a travel was the cherry on top of this sorry sundae.
At least Wafer gives the most sorrowful pained expression after soaking in his blunders. There's a hint of remorse. Luckily for Wafer, he is spared the worst dunk fail ever by another former Celtic: the great Tony Allen.
This is the worst dunk fail ever.
The refs blow a whistle-stopping play in this January 2007 game. Allen decides to waltz into the lane for an unnecessary dunk attempt. However, it fails badly. The result was a serious knee injury that cost Allen the rest of the 2006-07 season. His teammates weren't even sure if they should go help him out after he lay injured. No one could believe he had hurt himself while missing this dunk. I still can't believe it after all these years. I'm embarrassed just watching the video.
So to recap: Allen hurt himself. On an uncontested dunk .That he missed. That wouldn't have counted.
Embarrassing.