Week 16 NFL Predictions: 8 Shockers for Sunday's Biggest Games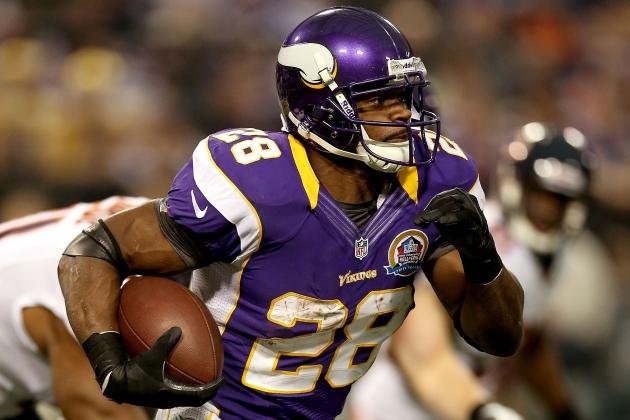 Matthew Stockman/Getty Images

With only two games left on the schedule and a few playoff spots up for grabs, Week 16 will certainly be entertaining.
Thanks to Roger Goodell's strategy of pitting divisional opponents against one another at the end of the season, there are some awesome matchups headlining this week's slate of games, and I've got some crazy ideas about what will go down.
Who in their right mind picked the Atlanta Falcons to shut out the New York Giants last week?
Did any of you predict a four-interception performance from Josh Freeman against the New Orleans Saints?
Who among us believed that the Seattle Seahawks would put up 50 points against the Buffalo Bills just one week removed from shutting out the Arizona Cardinals by a score of 58-0?
With these outcomes in mind, prepare yourself for some shocking predictions for this week's biggest games.
Begin Slideshow

»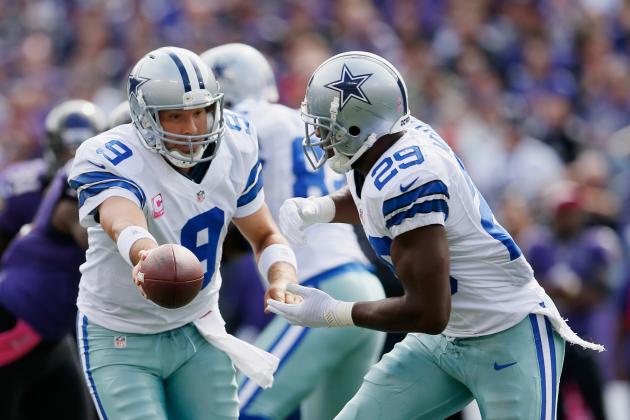 Rob Carr/Getty Images

Shocker: DeMarco Murray Rushes for 150-Plus Yards and Two Touchdowns
The Dallas Cowboys haven't had a 100-yard rusher since Murray ran for 131 yards in Week 1 against the New York Giants.
That's about to change.
Murray had a big game against the Pittsburgh Steelers in Week 15, averaging almost six yards per carry and scoring a rushing touchdown, and he's primed to go off on the New Orleans Saints—the No. 31-ranked rushing defense in the NFL.
Prediction: Cowboys win 31-28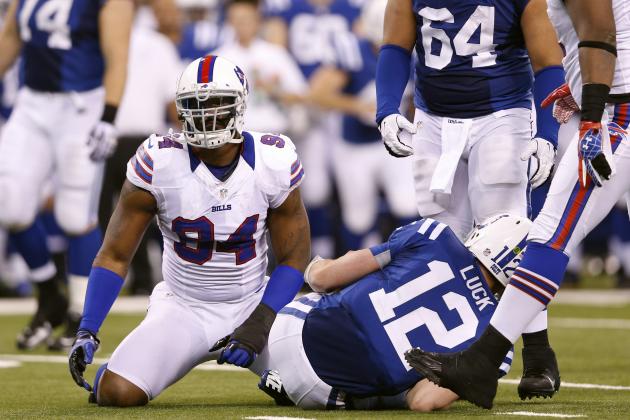 Joe Robbins/Getty Images

Shocker: Mario Williams Will Sack Ryan Tannehill Thrice
Super Mario has actually played well in the second half of the season after starting out the year with a whimper. He's tallied seven sacks in his last seven games, and I predict a furious finish for the NFL's highest-paid defender.
Nate Garner has done a solid job on the right side of the line for the Miami Dolphins since Jonathan Martin was moved to the left side in place of the injured Jake Long. He's going up against a powerhouse of a man this week, though, and it'll garner different results.
Prediction: Bills win 21-17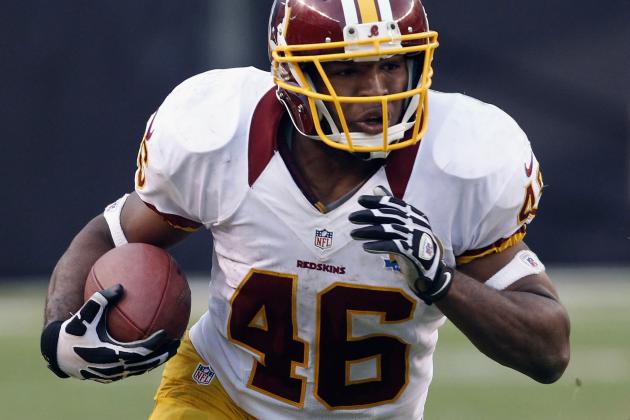 Matt Sullivan/Getty Images

Shocker: Alfred Morris and Bryce Brown Will Combine for 250-Plus Rushing Yards
Brown has been shut down the past couple of weekends by the Tampa Bay Buccaneers and Cincinnati Bengals, but he's going to have a big game at home against the Washington Redskins in Week 16.
Morris has been chewing up yardage all year long, and whether it's Robert Griffin III or Kirk Cousins behind center, Mike Shanahan will be counting on his rookie running back to carry the load on offense in a critical road game.
Prediction: Redskins win 31-24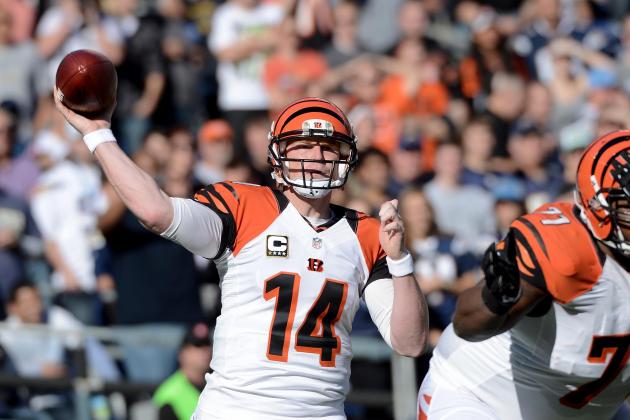 Donald Miralle/Getty Images

Shocker: Andy Dalton Will Break Out of His Slump To Pass for 300-Plus Yards and Three Touchdowns
Dalton hasn't been sharp the past three weeks. During his latest slump, Dalton has passed for just 544 yards with three touchdowns and three interceptions.
The last time these two teams met was back in Week 7, and the Pittsburgh Steelers shut Dalton down to the tune of 105 yards passing with one touchdown and one interception.
This doesn't paint a pretty picture, but Dalton will break out in Week 16.
The Steelers defense has regressed badly in the past couple of weeks, allowing 541 yards and five touchdowns to Philip Rivers and Tony Romo. Dalton will pick up where they left off and break out of his slump in spectacular fashion on the road.
Prediction: Bengals win 31-21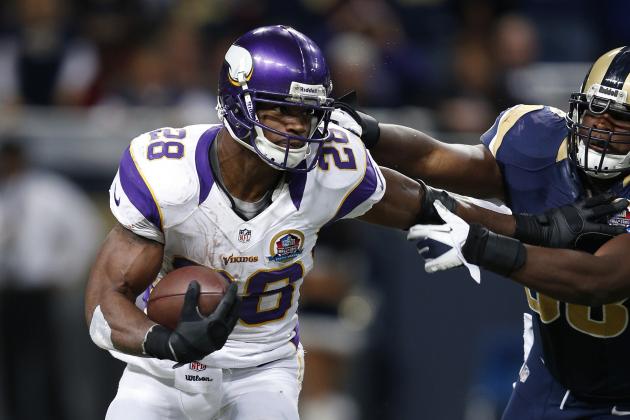 Joe Robbins/Getty Images

Shocker: Adrian Peterson Eclipses 200 Once Again, Dragging the Vikings to Victory
Peterson is on a legendary tear right now.
In his past eight games, Peterson has rushed for 1,313 yards and nine touchdowns. If he had been playing this well at the beginning of the season, Eric Dickerson's record would have already been broken.
Chew on that for a minute.
I realize that the Houston Texans feature one of the best front lines of any team in the NFL, but that won't stop A.D. from making them look silly as they try to stop him—the key word here being "try".
Prediction: Vikings win 28-24
Jonathan Daniel/Getty Images

Shocker: Jay Cutler Will Throw Two Picks and the Bears Will Lose
The Chicago Bears have lost five of six games of late, but they've been losing to really good teams. During this time, Cutler has thrown five touchdowns and six interceptions.
This week will mark a season low for Cutler and the Bears, as the Arizona Cardinals will summon the same effort that allowed them to beat the Detroit Lions in Week 15 and put the Bears out of the playoff race for good.
Barring the team's lone victory against the Minnesota Vikings during this six-game stretch, the Bears have only managed to put up 11.4 points per game. The Cardinals feature an underrated defense that will continue to make life miserable for Cutler, and he's going to have a terrible game.
Prediction: Cardinals win 17-13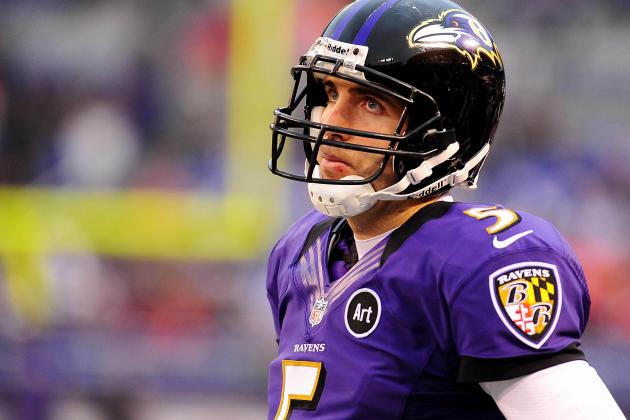 Evan Habeeb-USA TODAY Sports

Shocker: Eli Manning and Joe Flacco Will Combine for 700-Plus Yards and Six Interceptions
Is it possible to have a game where offensive output is sky high but defense reigns supreme?
Yes.
This game will be crazy. Both quarterbacks can light up the stat sheet, but both are also prone to making some head-scratching decisions.
We'll see plenty of big plays, but many of them won't be positive for the offenses involved.
Prediction: Ravens win 28-17
Note: Anyone who tells you they know what's going to actually happen in this game is lying.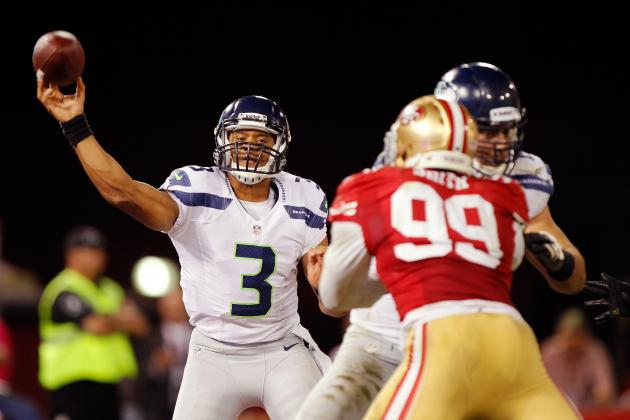 Brian Bahr/Getty Images

Shocker: Russell Wilson Will Be Shut Out, Colin Kaepernick Will Shine
The Seattle Seahawks have put up 108 points in the past two weeks, and Wilson has accounted for five touchdowns—two passing and three on the ground.
The San Francisco 49ers shut him down in Week 7 at Candlestick Park, holding the Seahawks to just six points. They'll do it again in Week 16—this time in Seattle.
On the other side, second-year quarterback Kaepernick will continue to back up Jim Harbaugh's decision to start him over Alex Smith by putting together another masterpiece on the road—this time against one of the NFL's best defenses.
Prediction: 49ers win 23-9
Follow me on Twitter @JesseReed78 and check out my weekly NFL picks at Pickfactor.com