10 Signs L.A. Lakers Are Destined to Make the NBA Playoffs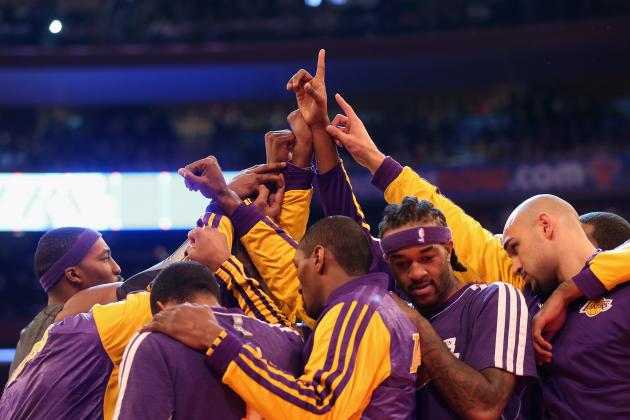 Bruce Bennett/Getty Images

Even the most faithful of Los Angeles Lakers fans would admit this season hasn't started off as well as they'd hoped. This team was expected to compete for an NBA championship, let alone a playoff berth. Now, more than a quarter of the way through the season, they're struggling to get back to .500.
Despite the slow start to the season, all is not lost for the Lakers. In fact, the team is starting to show signs of getting back on track. The players have finally started to become acclimated to coach Mike D'Antoni, some key stars are close to returning from injury and the team's statistical output now more closely resembles a contender than a pretender.
At this point, it's mathematically impossible for the Lakers to be one of the best regular-season teams in NBA history. But it's not too late for them to qualify for the playoffs and still reach their goal of an NBA title. In fact, here are 10 reasons why the Lakers are destined to make the NBA postseason.
(Note: All stats used in this slideshow are current in games played through Dec. 17.)
Begin Slideshow

»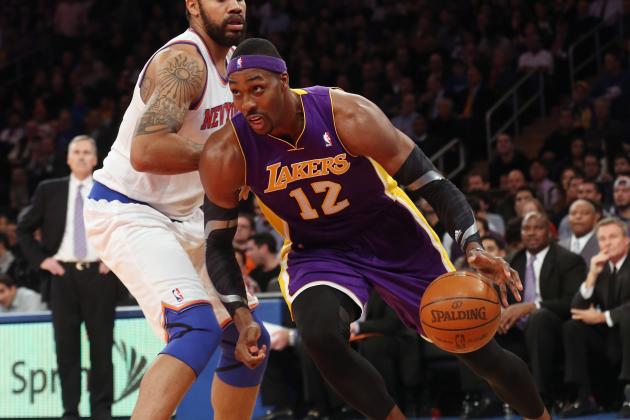 Bruce Bennett/Getty Images

We live among a sports landscape where grace periods are non-existent and rushes to judgement are commonplace. In a lot of respects, there's nothing wrong with that, especially when you consider the money invested and, at least in the case of the Lakers, the expectations we place on our teams.
That said, it's still fair to point that we're barely more than a quarter of the way through the season. This is important to note for a couple of different reasons.
First, it means we still haven't seen a large enough sample size to give us definitive answers. There are too many examples of teams getting off to fast starts this late into the season, only to see fall off the map as they get deeper into the campaign. Likewise, we've seen teams get off to slow starts this deep into the season, only to get rolling as they spend more time together and build chemistry.
Second, and most important for the Lakers, it means there is still a lot of time for the team to make up ground when and if it gets it going. For as bad as L.A. has been in the early part of the season, it's still only two games out of the playoffs with more than 55 games left in the season. It doesn't take a genius to figure out that's more than enough time to make up ground.
Rob Carr/Getty Images

It would be one thing if we were talking about Major League Baseball, which only has 10 of its 30 teams qualify for the playoffs every year (33 percent), and even then, four of those 10 teams are only guaranteed a one-game playoff (the wild-card game) to actually qualify for the Division Series.
In the NBA, however, 16 of the 30 teams earn playoff berths. That's 53 percent of all teams. That's tied with the NHL for the highest percentage in the four major North American sports leagues; the NFL allows 12 of 32 teams into the playoffs (37.5 percent).
For the purist, this means the value of the regular season is diminished in the NBA. For the sake of this argument, it means theoretically that each team has a 53 percent chance of making the playoffs at the start of each new season.
Of course, this doesn't even consider the Lakers, who are an immensely talented team. Given their talent and their experience, it's hard to envision a scenario where Los Angeles doesn't qualify for the playoffs, especially considering how many NBA teams earn playoff berths.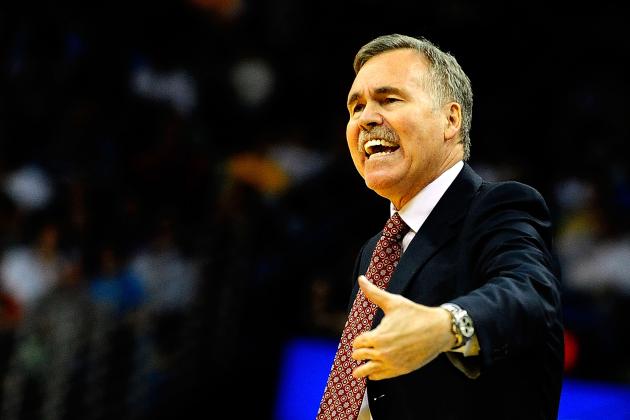 Stacy Revere/Getty Images

On the one hand, now that we're over 25 percent of the way through the season, one would think enough time has passed for a lack of continuity or chemistry to not be a valid claim. On the other hand, the Lakers' situation is a bit different than your average team, although in fairness, it is of their own doing.
For one, the Lakers have already played with three different head coaches this early into the season. They started the year with Mike Brown, but he was fired after a 1-4 start. While the team searched for a permanent replacement, Bernie Bickerstaff went 4-1 as the interim coach. Now L.A. has Mike D'Antoni running the show.
On top of that, after spending all training camp gearing to run Mike Brown's implementation of the Princeton offense, the Lakers have had to totally switch directions on the fly in learning D'Antoni's high-paced offense. Thus, they weren't able to physically prepare for the demanding up-tempo style or mentally prepare to the nuances of running his scheme.
As they get more time in his offense, they'll surely become more accustomed to their roles, expectations and the physical demands that come with it. They're still having to think about their next moves when they're out on the court. Soon enough, it will all just become reactionary.
If the Lakers had made the switch to D'Antoni in the offseason, they'd be much better off than they are now. And given how quickly they pulled the plug on Brown, it's clear there wasn't a ton of faith in his abilities to lead this team. But they didn't. Now they've got to weather the storm until everyone becomes more comfortable.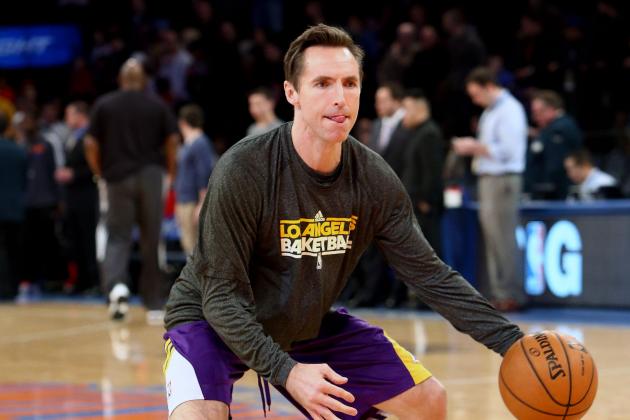 USA TODAY Sports

The Lakers as a team haven't had much of a chance to familiarize themselves with Mike D'Antoni's offense. There is one player, however, who is more than comfortable running his scheme. That player is Steve Nash, who has been out since Oct. 31 with a fracture in his left leg.
D'Antoni has said that he expects the team to turn it around once Nash returns from his injury.
"In the short while our offense is anemic right now," D'Antoni said, according to the L.A. Times. "It's not very good. The ball doesn't move. We don't do a lot of things we should be doing."
But he did go on to say, "I expect a lot of this stuff to go away," once Nash returns from his injury.
Nash is reportedly hoping to return to the court for Saturday's game against the Golden State Warriors, according to ESPN Los Angeles. If he can't make that game, Nash said he's hoping to return for the Christmas Day contest against the New York Knicks. Either way, he figures to return to the court soon enough.
Considering Nash played his best basketball while playing under D'Antoni for the Phoenix Suns, if there's anybody who can help this team hastily transition to D'Antoni's offense, it would be Nash. In four full seasons with D'Antoni as his coach, Nash averaged 17.5 points per game and 11.2 assists, also collecting back-to-back MVPs in the process.
The Lakers desperately need him back on the court. But when he's ready, he should kick-start this team back towards the playoffs.
Ronald Martinez/Getty Images

Steve Nash has been out since Oct. 31. But it's not just Nash. With the injury to Pau Gasol, the Lakers have been without either Nash or Gasol for all but two of their games. Like Nash, however, Gasol is expected to return to the court soon, according to ESPN Los Angeles, with a Dec. 18 game against the Bobcats as his target date to return.
If the Lakers are still struggling once all of their key players have had a chance to play together, then you can start to freak out about the possibility of them not making the playoffs. But that's not the case right now.
Granted, Gasol was struggling in D'Antoni's offense before he missed time with injury. However, one of Nash's stipulations to agreeing to a sign-and-trade to the Lakers is that he wanted an opportunity to play with Gasol, according to Sam Amick of USA Today. That largely hasn't happened up to this point. Furthermore, Nash wouldn't make that demand if he didn't think the team could be successful with Gasol as one of its key members.
It's unrealistic to expect this team to be rolling considering its injuries and the 180-degree turn it did from Mike Brown to Mike D'Antoni. Once everyone returns, those excuses fly out the window, but chances are it won't need to make excuses because its play will vastly improve once it gets a chance to play together.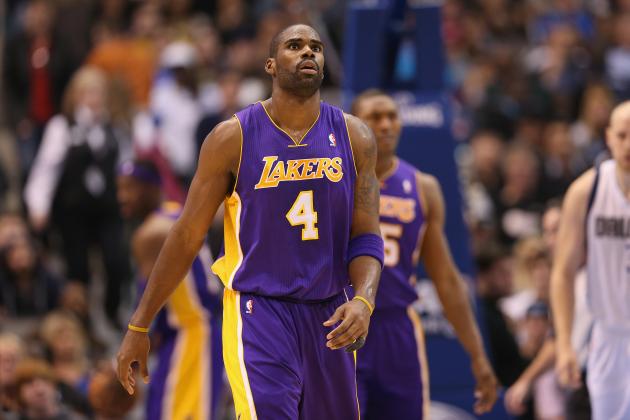 Ronald Martinez/Getty Images

One thing the Lakers were severely lacking last season, and also one of the things that was supposed to be improved this season, was a legitimate scorer off the bench. After getting off to an extremely slow start to the season, Antawn Jamison is finally starting to provide that.
For the first 12 games of the season, Jamison averaged only 3.8 points per game. That's a far cry from what the team thought it was getting when it inked the veteran this offseason. Over his last 13 games, he's averaged 10.4 points per game. That's still not stellar, and it's below what most expected of Jamison entering the season, but it's a step in the right direction.
With the return of Nash and Gasol, the roster figures to get deeper for the Lakers. This may cut down on Jamison's minutes a bit, but it should also provide for better opportunities when he does get on the court. For one, he'll have one of the best facilitators if he's on the court as the same time as Nash. Secondly, it will diminish the level of focus opposing defenses give him because he'll fall even further down the team's offensive hierarchy.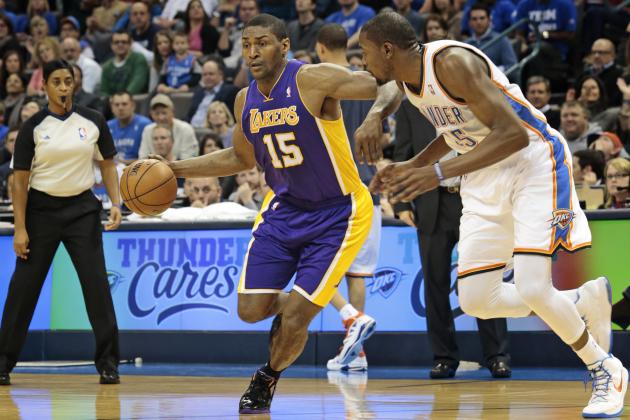 Brett Deering/Getty Images

Despite their subpar record, the Lakers are actually above average in a lot of their statistics. This doesn't guarantee they'll turn their season around, but it implies they've played better than their record demonstrates, which is something that should manifest into better results in the win-loss column.
For all we've heard about Steve Nash needing to return to get the offense going, the Lakers are currently sixth in offensive rating at 108.5. They're also sixth in points per game at 102.08.
Their defense, while not yet where it needs to be, is also performing better than perception would indicate, as they're 17th in defensive rating at 105.6. In terms of points allowed, they're a bit worse, ranking 21st at 99.32 points per game.
The same can be said of their simple rating system, which rates teams based on their strength of schedule and their point differential. Based on that, the Lakers should be the seventh-best team in the NBA.
When you put all of those factors together, you can see it's only a matter of time before their play on the court translates to more wins.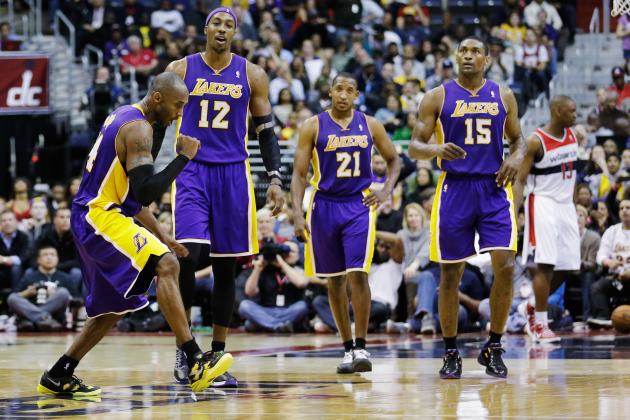 Rob Carr/Getty Images

This kind of goes along the same lines as the last slide—that the Lakers are playing better than their record would indicate. Only instead of providing statistics to make the point, this slide provides some historical context.
Remember how the Lakers are averaging 102.08 points per game and are giving up an average of 99.32 points per game? That obviously means they've outscored their opponents throughout the duration of the season. In fact, the Lakers have scored 2,552 points and their opponents have scored 2,483 points.
Well, ESPN's Marc Stein recently made an interesting point about teams that outscore their opponents through the entirety of a season.
Hope for Lakers: Elias says 95.4 percent of teams with positive scoring margin have made playoffs since current format introduce in '83-84

— Marc Stein (@ESPNSteinLine) December 13, 2012
Assuming the Lakers keep up this trend of outscoring their opponents during the regular season, history would indicate they have a 95.4 percent chance of qualifying for the playoffs.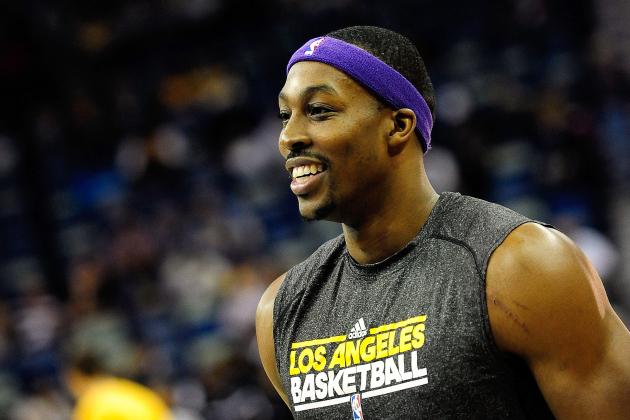 Stacy Revere/Getty Images

After undergoing offseason back surgery, Dwight Howard still isn't playing up to his full capabilities. You can see it when you watch him on the court, but Howard's decreased production also shows up in box scores.
One example of this is his win shares, which are down from his career averages. This is a telling stat because it measures a player's production on both offense and defense. Because Howard's minutes fluctuate from year to year, and because he hasn't yet played a full season in Los Angeles, we'll go off of win shares per 48 minutes, which measure a player's production in 48 minute stints. In this stat, Howard is averaging .146 win shares per 48 minutes. That's the lowest he's posted since the 2005-06 season.
Despite staying pretty steady in his blocks and rebounds per game, Howard's also struggling to produce up to his capabilities on defense. His defensive rating of 101 is also the worst he's posted since the 2005-06 season. In fact, he averaged a defensive rating of 96 from 2006-07 through the 2011-12 season, so to see such an increase indicates he's still not quite back to his normal self.
As time goes on Howard will become stronger and stronger. That's a scary sign for the rest of the NBA and one of the reasons the Lakers are destined to make the playoffs.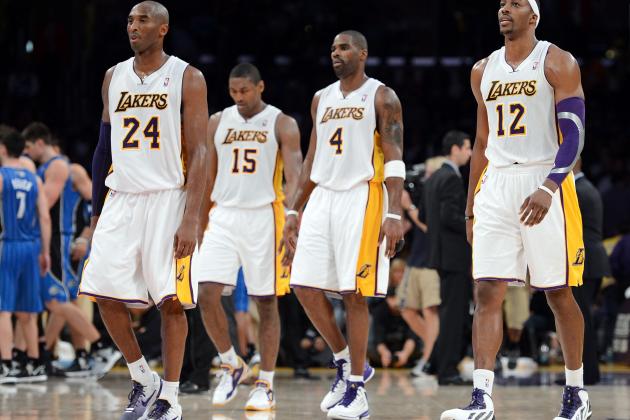 Harry How/Getty Images

There are no guarantees that assembling an ultra-talented roster will translate into results on the court. Ultimately you have to play the games, because playoff berths and NBA titles aren't won on paper. That said, there are just too many good players on this team for it not to result in making the postseason.
Just looking at the teams ahead of them in the Western Conference playoff picture, only the Oklahoma City Thunder and Los Angeles Clippers are arguably as deep as the Lakers from top to bottom. Even then, neither of those teams can boast a starting five as solid as L.A.'s
San Antonio and Memphis also have pedigrees for success, and you could make an argument that their whole is better than the sum of their parts, especially in the case of the Spurs.
Outside of those four teams, there's nobody else in the Western Conference that should finish above the Lakers, even with their slow start.
Golden State is playing out of this world so far. But does anyone expect it to keep up its torrid 67 percent overall win percentage? Minnesota and Utah both have talented rosters, but both teams are short on experience. The Denver Nuggets are a solid team; nothing more and nothing less.
That still leaves Dallas, Portland and Houston ahead of the Lakers but also out of the playoffs at this point. Of those, Dallas and Houston seem the most legitimate; even then, there's no reason the Lakers shouldn't overtake them given their talent and their pedigree of success.
With how much time is left in the season, the fact that the Lakers aren't yet fully healthy or on the same page, and the sheer number of playoff berths handed out in the NBA, there's no reason to think Los Angeles won't make the playoffs, especially with all of the talent on its roster.
Follow me on Twitter: @SimRisso