Power Ranking the 2013 UFC Events so Far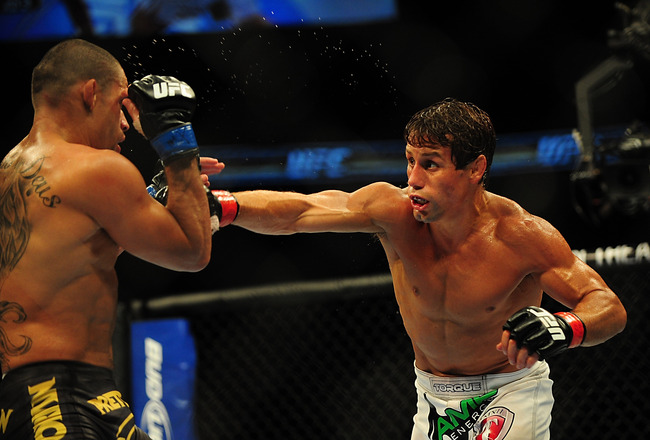 Anne-Marie Sorvin-USA TODAY Sports
2013 is already shaping up to be a great year of fights, just be the fights announced in the first quarter of the year. Seven cards have been formally announced for 2013 with main and co-main events put in place.
With that, an examination of each announced card should be given. The stars are already finding themselves busy in the gym for next year, which is exciting to MMA fans.
Here is a power ranking of next year's announced cards.
UFC on FX: Bisping vs. Belfort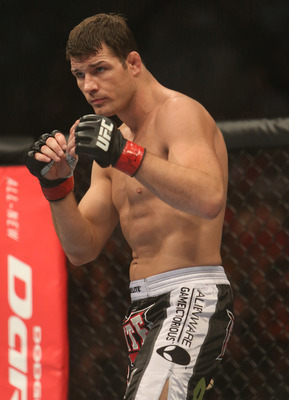 Tom Szczerbowski-USA TODAY Sports
Main Event: Michael Bisping vs. Vitor Belfort
Co-Main Event: Daniel Sarafian vs. CB Dollaway
From head to toe, the UFC on FX card in Brazil promises to be super exciting. A good number of Brazilian prospects and entertaining counterparts will participate in mid-January.
The main event will see a possible No.1 contender's bout in the middleweight division when Michael Bisping meets Vitor Belfort. Both men are strikers that have the tools to beat most men in the division.
Other than that, the star power does not have as much of a draw as most of the other cards announced thus far.
The main event has up-and-comer Daniel Sarafian and low-level middleweight CB Dollaway. Having Dollaway in any co-main event is questionable at best.
UFC on Fuel: Silva vs. Stann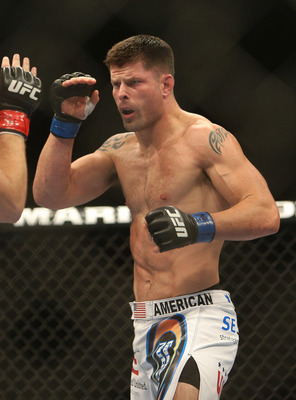 Tom Szczerbowski-USA TODAY Sports
Main Event: Wanderlei Silva vs. Brian Stann
Co-Main Event: Stefan Struve vs. Mark Hunt
The UFC's return to Japan looks to be solid, especially for a Fuel TV card. It rides on the back of the main event between Brian Stann and Wanderlei Silva.
The fight will be contested at light heavyweight, the weight both men previously fought at before middleweight. Both men are strikers, which could make this an explosive confrontation.
The co-feature will see heavyweights Stefan Struve and Mark Hunt go to war. Struve has been coming on as of late, while Hunt has been derailing fighters with his power fists.
Other names on the card include Diego Sanchez, Dong Hyun Kim, Takanori Gomi and Siyar Bahadurzada. This has the chance to be an amazing card.
UFC on Fuel: Barao vs. McDonald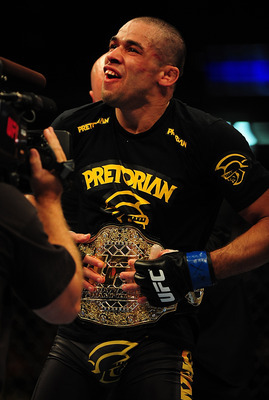 Anne-Marie Sorvin-USA TODAY Sports
Main Event: Renan Barao vs. Michael McDonald
Co-Main Event: Dennis Siver vs. Cub Swanson
The UFC will return to the UK with an interim bantamweight title tilt between Renan Barao and Michael McDonald. Both are the future of the 135-pound division, and this fight may lead to a great competitive rivalry down the road.
Not only is that a dynamite fight, but top featherweights Dennis Siver and Cub Swanson are set to compete in the co-main event. Both men have been striking menaces at 145.
Plus, four light heavyweight powerhouses are scheduled to compete, as Jimi Manuwa will fight Cyrille Diabate, and James Te Huna will throw down against Ryan Jimmo.
The whole card promises excitement, so expect for great things on the Fuel TV card.
UFC 157: Rousey vs. Carmouche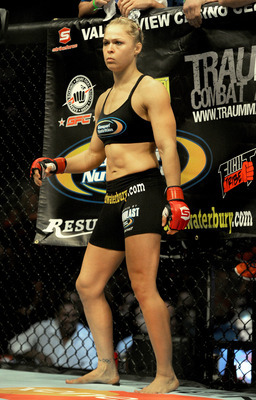 Jayne Kamin-Oncea-USA TODAY Sports
Main Event: Ronda Rousey vs. Liz Carmouche
Co-Main Event: Dan Henderson vs. Lyoto Machida
UFC 157 makes history, as the first ever women's bout will take place between Ronda Rousey and Liz Carmouche. That alone makes UFC 157 a great card.
However, add to the fact that potential title contenders in Dan Henderson and Lyoto Machida are fighting and this card is gold. Both are heavy hitters that could ensure a knockout finish.
Urijah Faber is also on the card, proving how great it already is.
However, the card is still incomplete which leaves it lower on the card than it could be.
UFC on Fox: Johnson vs. Dodson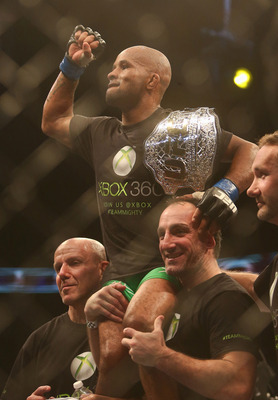 Tom Szczerbowski-USA TODAY Sports
Main Event: Demetrious Johnson vs. John Dodson
Co-Main Event: Quinton Jackson vs. Glover Teixeira
The UFC on Fox card is stacked, as it kicks off the American portion of the UFC in 2013.
The flyweight title is on the line, as the two fastest fighters in the UFC are set to compete. Johnson and Dodson may require ultra-slow motion cameras to record their fight, as their quickness is second-to-none.
Then, "Rampage" is back when he meets fast-rising Glover Teixeira. That fight will be a slugfest, as both men throw heavy leather.
Also consider the fact that Donald Cerrone meets Anthony Pettis, among other fights, and this fight is an early fight card of the year contender.
UFC 158: GSP vs. Diaz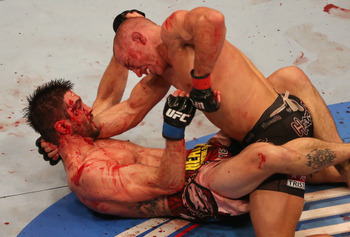 Tom Szczerbowski-USA TODAY Sports
Main Event: Georges St. Pierre vs. Nick Diaz
Co-Main Event: Carlos Condit vs. Rory MacDonald
There is a good chance that this card could eventually be the top card of this power ranking, seeing as only a couple of fights have been announced.
A trio of elite welterweight bouts is set to happen at UFC 158, as the welterweight champ Georges St. Pierre defends against Nick Diaz. That bout has been brewing for over a year and is going to be worth the wait.
Then, former top contender Carlos Condit meets GSP-protege Rory MacDonald in the co-feature. That is a rematch of one of the greatest comebacks of all time by Condit.
Plus, Johny Hendricks meets Jake Ellenberger in a bout that could push Hendricks into top contendership. So far, UFC 158 looks to be amazing.
UFC 156: Aldo vs. Edgar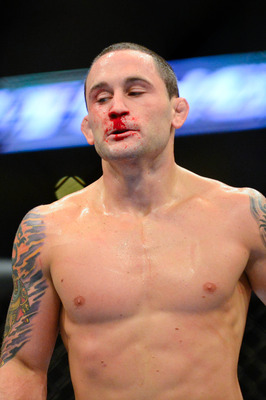 Ron Chenoy-USA TODAY Sports
Main Event: Frankie Edgar vs. Jose Aldo
Co-Main Event: Alistair Overeem vs. Antonio Silva or Rashad Evans vs. Antonio Rogerio Nogueira
I am not sure if Overeem-Silva or Evans-Nogueira is the co-featured bout, but either way, both fights are going to be great.
Regardless, featherweight kingpin Jose Aldo gets his biggest test to date when he fights former lightweight champion Frankie Edgar. It promises to be an amazing fight between two of the sport's best.
Top flyweights are on the card, when Ian McCall and Joseph Benavidez meet. Plus, Jon Fitch, Erick Silva and Demian Maia on the card show the depth.
This is easily the best card announced so far in 2013.
Keep Reading