2013 NFL Draft Prospects Who Are Better Than You Think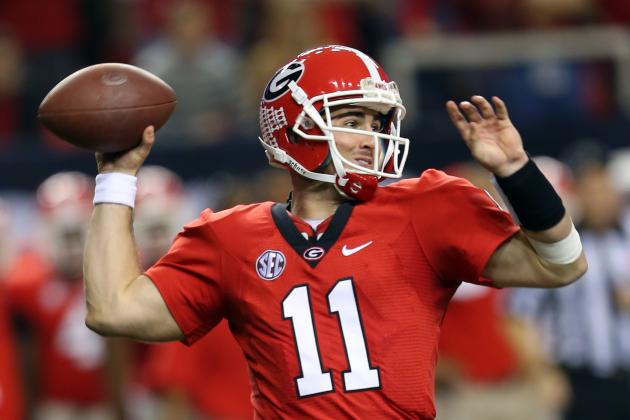 Mike Ehrmann/Getty Images

With the college bowl season approaching and many NFL teams already packing it in for the season, our eyes turn toward the 2013 NFL draft. However, like most drafts, our eyes tend to stay focused on a limited number of prospects—either the guys that "everyone" is talking about, or the guys that fit what we believe our favorite team might be looking for.
In that atmosphere, guys tend to slip under the radar for months at a time until draft "buzz" or a fantastic workout rocket them up draft boards.
A guy might sneak in because he doesn't go to a huge school or because he's got a teammate with a bigger profile. Guys might slip under our noses because they play a position no one focuses on or because their niche role isn't as valued. We tend to forget about the hard-nosed guys who go about their business without much fanfare.
It is these guys we're looking at today—seven prospects that deserve more attention.
Begin Slideshow

»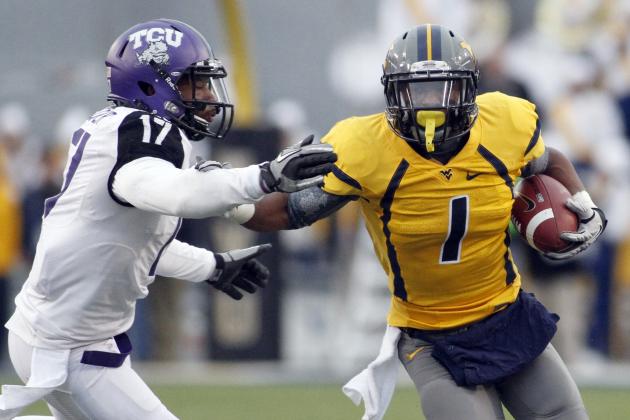 Justin K. Aller/Getty Images

Austin might be the best "in-space" athlete in the entire draft.
He's not as strong as Percy Harvin. He doesn't track the ball over his shoulder like DeSean Jackson. He's not quite as shifty as Dexter McCluster. Yet with the ball in his hands with a cushion around him, Austin makes things happen.
The NFL is consistently making things easier for players like Austin. Defenders are forced to pull up rather than deliver ball-jarring hits. Meanwhile, the spread offense continues to prevail, as more and more coaches are comfortable spreading five receivers out and running the hurry up.
Even as kickoffs continue to be de-emphasized, Austin's return ability will be coveted.
It only takes one coach to make a guy a first-rounder, but look for multiple coaches to fall in love with everything Austin brings to the table.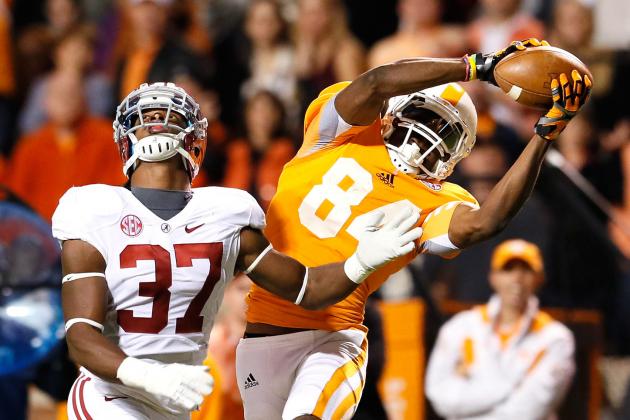 Kevin C. Cox/Getty Images

Speaking of the receiver position...
As much as the NFL has made it easy on smaller, shiftier guys, sometimes a team just needs a guy who can see the ball, go up and catch the ball. When it comes to making plays vertically, Patterson might be the best prospect in the entire draft. He's 6'3", ridiculously fast and has the body size (205 pounds) and control to press up against the bigger defensive backs that SEC schools keep sending to the NFL.
With only a year of big-time football experience and a couple of games where scouts can point to lazy play, Patterson has his share of red flags. However, just like Austin, coaches are going to get up on the table for this guy and sing his praises to their personnel department.
Look for Patterson to go in the first round, possibly in the top 20 picks if he works out as well as he's capable.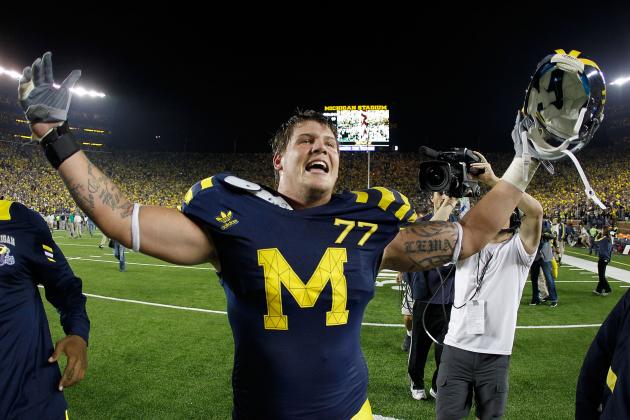 Gregory Shamus/Getty Images

In a year with no elite top-tier quarterbacks, Texas A&M's Luke Joeckel could be in the conversation for No. 1 overall. After him, though, Michigan's Taylor Lewan might not be far behind.
Lewan is already considered a first-rounder by many prognosticators, but watching him on tape is maddening because of the play of so many around him at Michigan. How much harder can it get than trying to examine a guy's pass blocking when his quarterback is constantly on the move?
He passes the look test, will work out well and has his biggest matchup ahead of him—South Carolina's Jadeveon Clowney. How he performs against Clowney could determine whether he falls just out of the first or if he's a top-10 pick.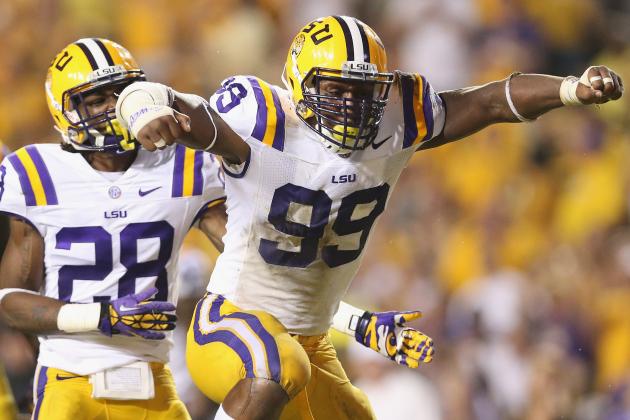 Ronald Martinez/Getty Images

Last year, scouts watched in wonder as Sam Montgomery dominated his competition. Moreover, he did so without any real polished technique—just bowling over offensive linemen and running around blocks like a man half his size.
Montgomery's true value lies in his versatility. At 6'5", 260 pounds, a number of 3-4 defensive coaches will relish the ability to teach him to be the next DeMarcus Ware. Because his frame looks like it could fill out some more, some coaches will want him for the ever-increasing hybrid schemes that float between 3-4 and 4-3. Some others will want him as a pure 4-3 rush end, even if he won't play a ton on run downs early in his career.
Most coaches, however, will simply want their chance to mold such a fantastic natural prospect.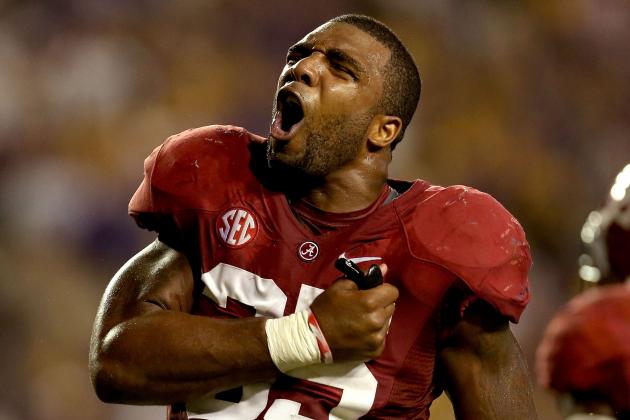 Matthew Stockman/Getty Images

So far, the list has been a lot of guys that are probably going in the first round, but their "buzz" doesn't seem to reflect that reality.
In Nico Johnson's case, the first round is out of the question, but the team that takes a chance on him in the middle rounds will get a valuable linebacker who can play right away in the NFL.
Unlike Montgomery, Johnson can be prized for being a finished product. Linebackers who come out of Nick Saban's pro-style defense often already know what their peers on Sunday know—sometimes better. Johnson might be a one-trick pony as an inside linebacker in a 3-4, but he knows that trick very well.
On top of that, like many Alabama athletes, he's sure to have the very best of combine prep available to him and could end up testing as more athletic than he showed on tape. While that inflation would be "artificial" for others, it may end up helping Johnson be drafted closer to where he should—at the end of the second, early in the third round.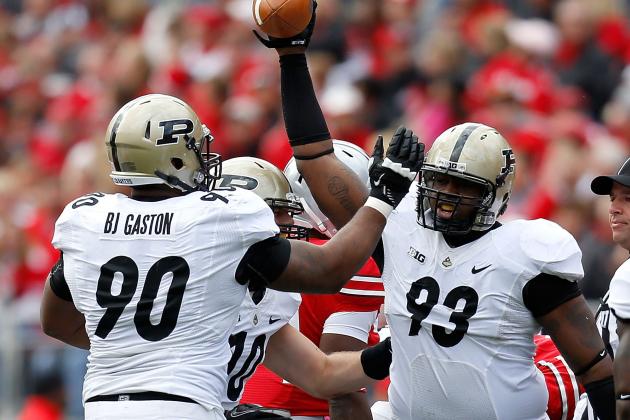 Kirk Irwin/Getty Images

There is no shorter route to a rocketing NFL draft stock than taking a big body and moving it faster than any human that large should be able to move. When a prospect does that, NFL personnel men start salivating, realizing that these type of prospects (though they might bust) are in short number on the planet.
Now, take that superb physical prospect and make him a two-time team captain. Then, convince him he wasn't working hard enough to go pro after his junior season. Convince him to graduate (a leadership major, no less) because he promised his momma that he would.
Add all that up, and you've got Kawann Short, who most college football fans haven't heard of because he chose Purdue to be close to his family (even though he could've gone plenty of places to play either football or basketball—yes, basketball).
Short won't last a long time on draft day. Look for him in the middle of the first and snicker when everyone on your favorite team's message board questions the pick.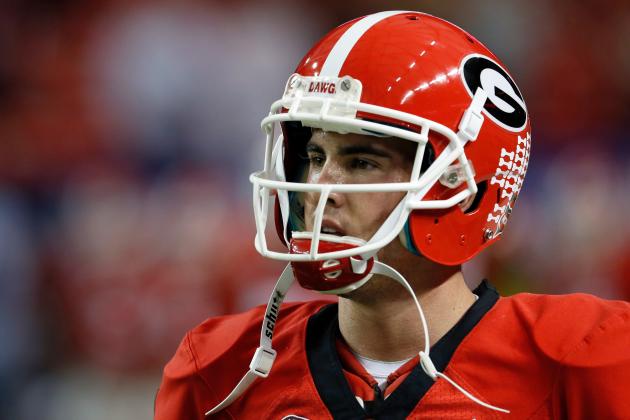 Kevin C. Cox/Getty Images

Aaron Murray is one of those college kids who feels like he's been in school forever (known affectionately as the J.J. Redick or John Blutarsky track). The three-year starter has experienced the highs and lows of college stardom and came so close to a date for the national championship this season.
Murray doesn't project as an elite NFL passer, but he's roughly the same player that Matt Barkley is, minus the elite receiver corps and spotlight of USC. It's a shallow quarterback class and a QB-needy league. That's going to inflate the value of a lot of less-than-stellar passers, and Murray might be the safest bet of all of them.
What he lacks in physical superlatives, Murray makes up for in NFL-polish in a pro-style offense. He's a natural leader who has learned to put his team on his back when it needs him the most.
Murray is probably a fringe first-rounder this April, but don't be surprised if he makes one of the biggest impacts of any rookie in 2013.
Michael Schottey is the NFL national lead writer for Bleacher Report and a member of the Pro Football Writers of America. Find more of his stuff at The Go Route.