New England Patriots Progress Report: Where Does the Team Stand in Week 16?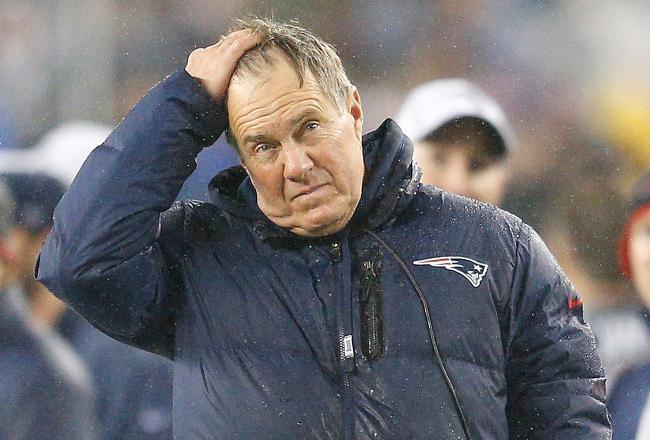 Jim Rogash/Getty Images
Usually, when the New England Patriots lose, their fans are inconsolable. There are questions about whether the Patriots have what it takes to win the Super Bowl.
This week, though, the tenor has been surprisingly more positive than normal. If anything, the feeling is that the Patriots needed a game like this to help them prepare for what may come in the postseason.
The ball isn't always going to bounce New England's way, is it?
Now, the Patriots have been tested in that situation and know that they can at least give themselves a chance to win.
With that being said, are they still the favorite to come out of the AFC? Where does their defense stand, after it seemed like weeks and weeks of improvements were finally coming to a head?
Here's the full progress report.
Primary Talking Point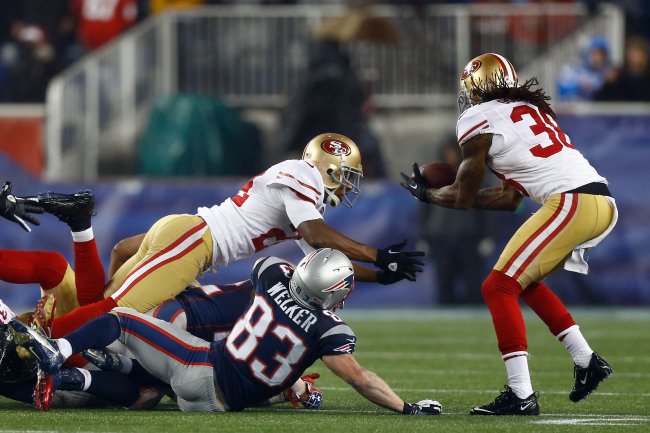 Jared Wickerham/Getty Images
The Patriots got their "nothing will go right" game out of the way before the playoffs, and were nearly able to overcome it to win the game.
It wasn't an avalanche of circumstances that led New England to getting back in it; the 49ers didn't magically begin getting one turnover after another. It was a slow accumulation of well-executed plays, forcing punts on defense and putting together touchdown drives on offense for four consecutive possessions on each side.
That being said, 20 minutes of great football will not overcome 30 minutes of awful football preceding it and 10 minutes of below-average football following it.
The Patriots cannot afford to make that many mistakes in the playoffs if they want to get to the Super Bowl. In that sense, the team that has the best chance to beat the Patriots in the playoffs is the Patriots.
Injury Updates
The Patriots are all kinds of banged up.
Cornerback Alfonzo Dennard suffered a knee injury against the 49ers and is listed as questionable for Sunday's game against the Jaguars.
Linebacker Brandon Spikes didn't start against San Francisco, but played much of the game before coming out late. This is the second consecutive week Spikes has not finished the game.
On a positive note, tight end Rob Gronkowski was listed as questionable for the week leading up to Sunday's game against the 49ers before the team ruled him out on Saturday, so signs seem to point to a return for Gronk sooner than later.
Stock Up
Danny Woodhead had both his most total touches (17; 12 carries, five receptions) and his most total yards (84; 61 rushing, 23 receiving) in a game this season.
Woodhead has stepped up in the clutch in the past, and came up big again with his second two-touchdown performance of the year.
Kyle Love had a big night against the run, with three solid run stuff and four total tackles, but he also gets a thumbs-up for a dubious moment in the spotlight. On ESPN's pregame segment, "C'mon, man!", Love got called out for an extra piece of...umm...muscle...hanging out from underneath his pads.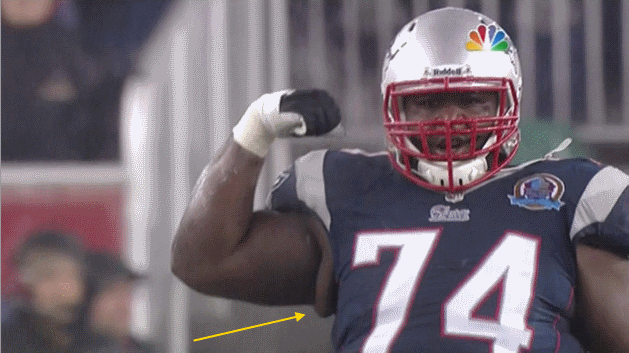 His response?
I call that fat my turbo boost lol

— Kyle Love (@KyleLove74) December 18, 2012
Stock Down
Stevan Ridley averaged 2.6 yards per carry and had a third-quarter fumble against the 49ers. Ridley has been a rock all season, even against good run defenses (averaged 5.4 YPA against the Broncos) and a bad day against the 49ers' No. 3-ranked rush defense is nothing to be ashamed of, but he'll have to be better than this in January.
The secondary allowed the 49ers to pick up 8.6 yards per pass attempt, four touchdowns and a 107.7 passer rating. It also gave up some free yards, with cornerback Aqib Talib being called for a 35-yard pass interference penalty.
Debate the legitimacy of the penalty, but there's no arguing that this was far from New England's only mistake in the secondary.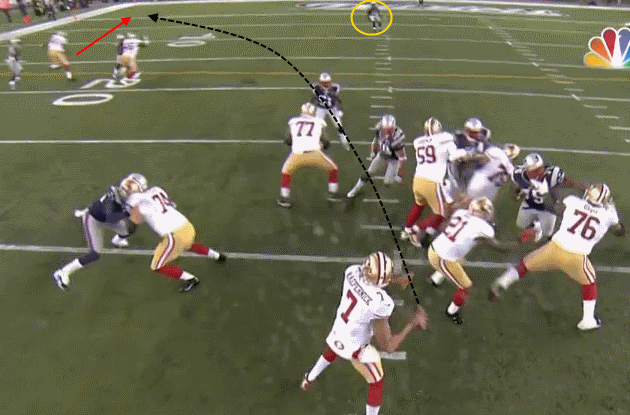 A bad read by safety Devin McCourty resulted in Randy Moss being left in single coverage on his 24-yard touchdown catch, but Dennard did a poor job of rerouting the receiver at the line of scrimmage.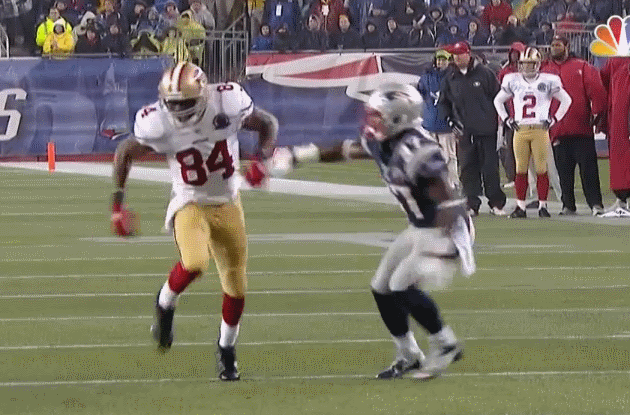 The Patriots defense appeared to be trending upward after consecutive solid performances against the Dolphins and the Texans, but took a step back against a 49ers offense that is improved with Colin Kaepernick at quarterback.
Notebook
The Patriots' 10 passing touchdowns allowed of 20 yards or more was the most in the league through eight games. Since then, they've given up just five in six games, with four of them coming against the 49ers. Until Moss' 24-yard touchdown catch in the first quarter, the Patriots hadn't given up a 20-plus-yard passing touchdown in nearly a month (last one was November 16 vs. the Colts; 43 yards from Andrew Luck to T.Y. Hilton).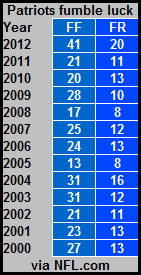 Before Sunday, the Patriots defense had forced 36 fumbles and recovered 19 of them. Sunday night's game was a regression to the mean, of sorts. Just look at their history of fumbles and fumble recoveries. It's almost always right down the middle—around 50 percent of the fumbles they force, they recover (side note: this should be a much larger case study). On Sunday, the ball didn't bounce their way (five fumbles, only one recovered by New England).
It looks like quarterback Tom Brady's bid for 2012 MVP has come to a halt. Although Brady still averages a league-low 1.1 interception percentage, he no longer leads the league in passer rating, and his streak of regular and postseason games over 60 percent completions was snapped at 17 against San Francisco. He also had his lowest passer rating of the season at 68.9. On a positive note, his streak of games with a touchdown pass is still alive at 46.
Outlook
At 10-4, the Patriots are almost out of the running for a first-round bye. The Patriots need to win their final two games, and with the 2-12 Jaguars and the 6-8 Dolphins left on the schedule, that shouldn't be too difficult. The problem lies in what's out of their control: They need the Broncos to drop one of their two final games of the season. The problem with that is they play the Chiefs and the Browns both at home.
How many wins will the Patriots finish with in 2012?
The Patriots have not faced a test in the second half of a season over the past two years. They faced two in consecutive weeks, and with one win and one close loss, the Patriots come out looking ready to take on the postseason competition and having learned from the experience.
New England's road to the Super Bowl will probably include at least one road game. That being said, despite the loss, the Patriots are still one of the favorites to make it there.
Erik Frenz is the AFC East lead blogger for Bleacher Report. Be sure to follow Erik on Twitter and "like" the AFC East blog on Facebook to keep up with all the updates. Unless specified otherwise, all quotes are obtained firsthand or via team press releases.
This article is
What is the duplicate article?
Why is this article offensive?
Where is this article plagiarized from?
Why is this article poorly edited?