5 Big-Name Targets Linked to Ligue 1 Big Spenders PSG in January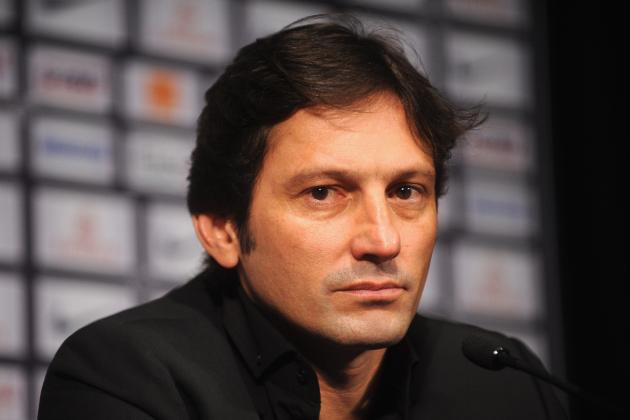 Antoine Antoniol/Getty Images
Who will be Leonardo's next signing for PSG?
Paris Saint-Germain have been big players in the European transfer market since their takeover by Qatar Sports Investments in summer 2011. Since then they have spent in excess of €200 million and this January looks set to be no different. The capital club are already expecting the arrival of Brazilian star Lucas Moura in January, but he could be joined by one or two other big names, with some players going the other way.
Moura's compatriot Nene has already been linked with a move away and recent criticism from coach Carlo Ancelotti appears to confirm his imminent departure. Joining him could be Uruguayan defender Diego Lugano who has endured a torrid last 18 months in the capital. There has been no shortage of star names linked with les Parisiens in the past few weeks and months, and Brazilian Sporting Director Leonardo is not one to shun the spotlight when pursuing star names.
One thing is for sure—PSG look set to make an addition to the squad in defence if nowhere else, but speculation surrounding some of the biggest names in world football continues to link them with a move to Ancelotti's side.
Let's take a look at the candidates…
Begin Slideshow

»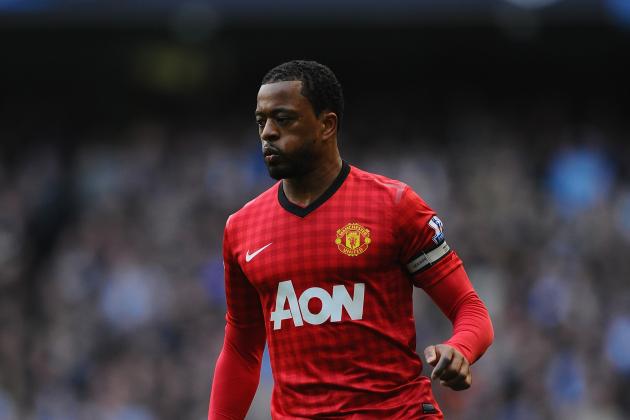 Laurence Griffiths/Getty Images
Raised in Paris, Evra would relish a return to his roots
Manchester United and French international left-back Patrice Evra has continued to be linked with a move to PSG in recent weeks. Despite denying the possibility when quizzed on the subject, it is believed that he would welcome a return to Paris where he was raised. Interestingly, Evra was rejected by les Rouge-et-Bleu's youth academy when he was a young attacker, so perhaps there is some unfinished business in Paris for the 31-year-old.
In terms of a match, Evra would fit well at the club. His arrival would mean that Carlo Ancelotti could make Maxwell's switch to midfield permanent, whilst making the Frenchman an instant starter.
He already speaks the language so communication is no problem, and he'd also bring some leadership to the PSG dressing room given his role as stand-in captain at United. He also has considerable experience in Ligue 1 following spells with Nice and Monaco.
However, Evra would be one more complex part of an already complicated jigsaw puzzle at the Parc des Princes. Ancelotti would be ambitious to take on such a character without having coached him before. Perhaps he should be looking at a more familiar face…
Likelihood: 3.5 out of 5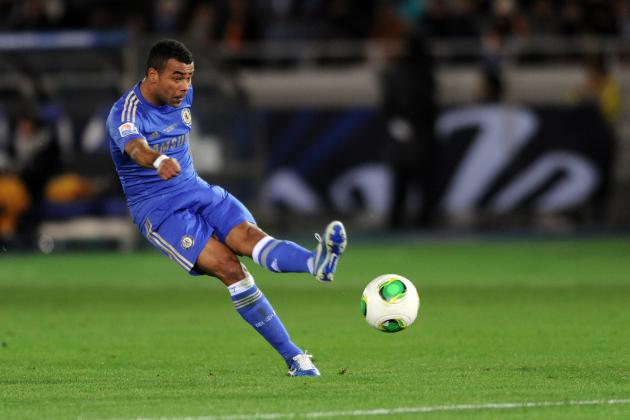 Kaz Photography/Getty Images
Ashley Cole-Next stop Paris?
Such as Ashley Cole.
Like the Evra transer, a move for the Chelsea and England left-back makes sense for many reasons, but, crucially, Ancelotti already knows Cole. The Italian got the best out of the Englishman at Stamford Bridge and at 31 years old, he will be confident that Cole still has a few more years left at the top.
It has been well-documented that the former Arsenal man is looking for a new challenge, and his agent has already revealed that a move to the French capital would be appealing to his client when his contract finishes this summer.
On the pitch, whilst Cole may struggle to adapt to the culture and language, he is a better fit than Evra at left-back in this current PSG side. More balanced than the Frenchman, Cole is one of world football's best at the position but has concentrated more on the defensive side of his game since signing for the Blues. Strengthening the defence is what Ancelotti needs to do, as going forward, PSG already have enough firepower.
Cole would better suit the capital club's style of play and whilst he is still a complex character to integrate, he is one moving part that Ancelotti could control.
Likelihood: 4 out of 5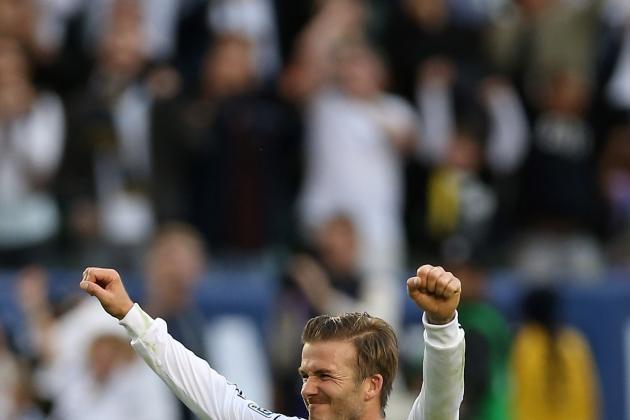 Jeff Gross/Getty Images
Could PSG provide David Beckham with a fitting Champions League swansong?
Another Englishman to be linked with the big-spending French giants is David Beckham. Leonardo tried to snare the 37-year old midfielder, whom he brands a "rock star," from Major League Soccer champions LA Galaxy last year with no success.
This time Beckham is a free agent and looking for one final challenge that can offer him Champions League football.
A perfect fit then. Or is it?
At 37, Beckham is no spring chicken and originally the PSG project was supposed to be one geared towards youth. At a time where Brazilian Nene, who had been the club's most important player in the last few seasons, is now deemed too old, it could be a non-starter.
Despite Beckham's undoubted quality on the pitch still considering his age, the advantages of his arrival are more pertinent off the pitch than on it. Nobody would be a better role model for the club's young stars than the Englishman, but how much of an impact could he make on the pitch?
In an increasingly physical league where stamina is so important, particularly in central midfield where you'd have to assume he will play, PSG already have better options. Would Beckham really be able to oust the likes of Blaise Matuidi, Marco Verratti and Thiago Motta?
Probably not.
Likelihood: 2.5 out of 5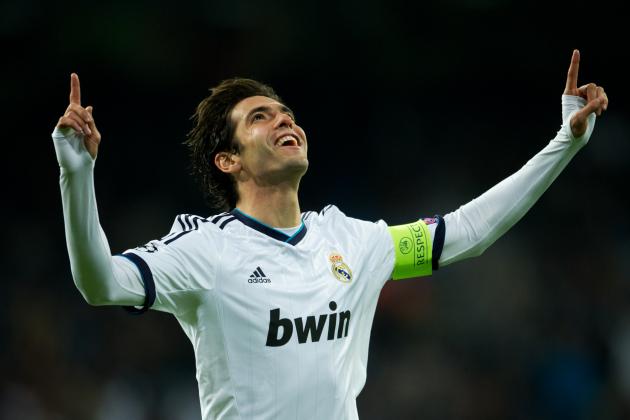 Jasper Juinen/Getty Images
Are Kaka, Leonardo and Carlo Ancelotti set to reunite in Paris?
More interestingly, one of Leonardo's early progenies is likely to be on the move in January.
Kaka finally looks to be ending his disappointing stay in Madrid by leaving Jose Mourinho's side; his destination, though, is as of yet unknown. The former AC Milan man, who was signed by Leonardo for the Italian giants in 2003, has been linked with a move to Paris intermittently since the arrival of QSI in Ligue 1.
However, nothing has yet materialised, but this January represents the club's best chance to sign the Brazilian.
On the pitch he would be seen as a very similar player to Argentine playmaker Javier Pastore, but plenty of questions over his long-term future at the club have already been asked. With Ancelotti's patience wearing thin with the 23-year old, a reunion with one of his most successful protégées would appeal to the Italian.
Pastore, on the other hand, has been linked with a return to Serie A.
Coincidentally, Kaka's biggest sporting influence as a youngster was PSG's legendary attacker Rai. Following in his footsteps would no doubt hold some appeal for the 30-year old.
Likelihood: 3 out of 5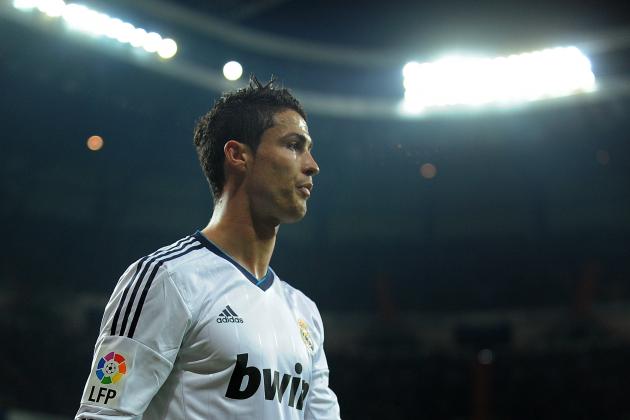 Denis Doyle/Getty Images
Would a move for Cristiano Ronaldo be too soon for PSG?
Finally, the rumours linking Europe's nouveau riche with the Portuguese star continue to abound, as they have done since his first admission of 'sadness' at his situation in Madrid.
PSG are one of the very few clubs in Europe who would have the financial capability to invest in the player, but bringing him to Paris at this stage would be a very risky move. That hasn't stopped them from trying though: The club have already made a tentative approach to los Merengues if President Nasser Al-Khelaifi's right hand man Sheikh Bin Abdulrahman Al-Thani is to be believed. According to Al-Thani's recent interview with Canal TV in France, Ronaldo and current Real boss Jose Mourinho are future targets for the club.
There is no doubt that Ronaldo would be a superb addition to any club in Europe. The problem for PSG right now is that they don't have any balance. Whilst capable of playing exceptional football at times, they are heavily reliant on Zlatan Ibrahimovic for goals. If the Portuguese star arrived, it would undoubtedly be a two-man show with Ancelotti's nine other men merely spectators in each game.
Before adding a player like Ronaldo to the mix at Parc des Princes, Ancelotti has to strike the right balance on the pitch with his current stars. The club's overall aim is to become one of Europe's most important teams, but until they learn how to play together, another individualistic presence would be a huge gamble.
Likelihood: 2 out of 5