7 Fantasy Stars to Watch in Week 16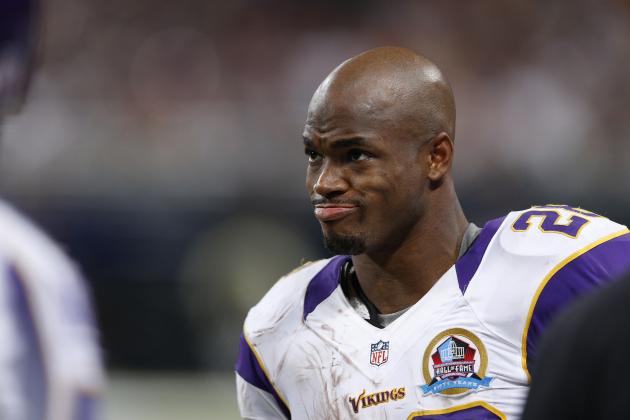 Joe Robbins/Getty Images

Championship weekend in fantasy football is when you need those stars that you drafted in the first few rounds of the draft all those months ago. The reason you invest such a high pick in them is for moments like this.
When you think about all the ways you can possibly lose a game, the one that never crosses your mind is having a quarterback like, say, Tom Brady throwing no touchdown passes and three interceptions, because he just doesn't do that.
You are riding those elite players as hard as you can, much like NFL teams fighting to get into the playoffs are right now. The reason you have so much faith in them is because of their past reputation and what they are doing this season.
With expectations sky high in the final week (for most leagues) of the fantasy season, you need to know which stars are going to shine brighter than all the rest in Week 16. The time for talk and bragging is over. All that is left is the one game that will stick with you for the next nine months.
Considering the stakes for your team this weekend, here are the superstars who will single-handedly carry your team to a victory.
Begin Slideshow

»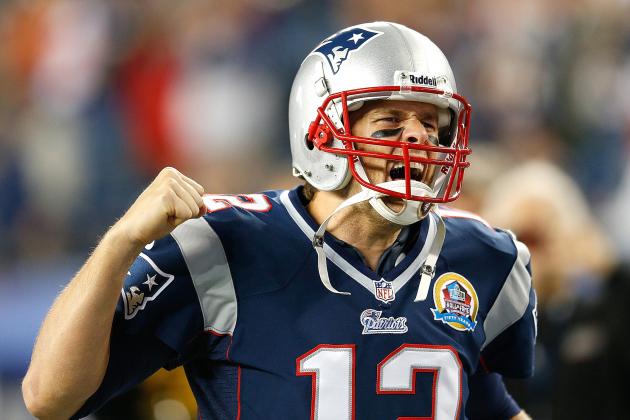 Jim Rogash/Getty Images

2012 Stats
355-of-560 (63%), 4,276 yards, 30 TD, 6 INT, 100.1 QB rating
Week 16 Matchup
vs. Jacksonville Jaguars: 24th in pass defense (246 YPG), 308-of-479 (64.3%), 19 TD allowed
What to Expect from Brady
No matter who the opponent is right now, Brady is going to produce fantasy numbers. Even with two interceptions against San Francisco's vaunted defense last week, he still had 443 yards and two touchdowns (one rushing, one passing).
This week is not going to be as much of a "struggle" for Brady or the Patriots, as they will be out for blood after last week's comeback-that-wasn't. He is always at the top of the quarterback food chain, but expect a huge weekend from Brady.
If you want a reference point, look back to Week 10 against Indianapolis. The Colts have roughly the same numbers against the pass as Jacksonville, and Brady torched them for 331 yards and three touchdowns.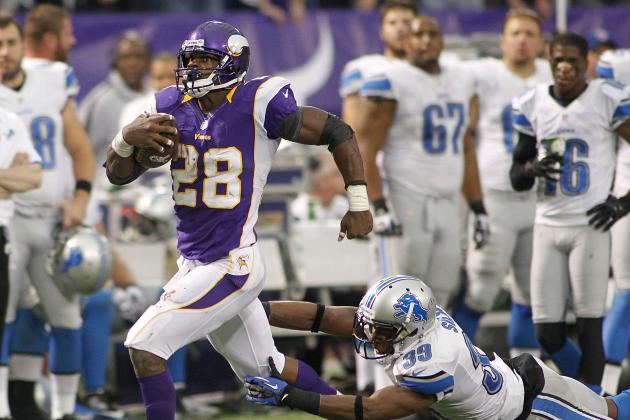 Andy King/Getty Images

2012 Stats
289 carries, 1,812 yards (6.3 YPC), 11 TD; 38 receptions, 211 yards
Week 16 Matchup
at Houston Texans: 5th in run defense (93.2 YPG), 315 carries, 1,305 yards, 3 TD allowed
What to Expect from Peterson
We don't really have to dive deep into what Peterson has done for the Vikings this season. If you are interested in that sort of thing, you know that he has run for more than 100 yards in eight straight games and more than 150 in three straight.
Even a matchup against Houston's stout defense shouldn't scare you off, because Peterson has picked apart some of the best defenses in the league on his quest for 2,000 yards. He ran for 108 and 154 yards in two games against Chicago and 182 against Seattle.
Peterson has reached a point where you have to see someone actually stop him before you can predict it to happen. I don't think he will go off for 150 yards again, but would 100 yards and a touchdown really be that much of a stretch? Most people would argue that is a disappointment for him.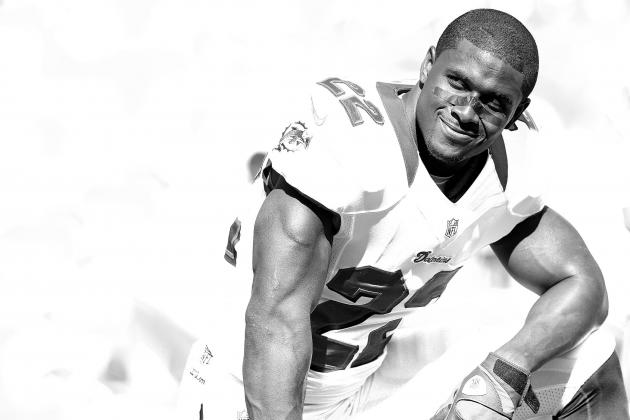 Mike Ehrmann/Getty Images

2012 Stats
200 carries, 895 yards, 5 TD, 29 receptions, 227 yards
Week 16 Matchup
vs. Buffalo Bills: 30th in run defense (144.1 YPG), 399 carries, 2,018 yards. 22 TD allowed
What to Expect from Bush
In typical Reggie Bush fashion, he has been hit-and-miss all season. There has been a lot more good than bad from the Dolphins running back, but he is still not as consistent as you would like to see from a No. 2 starter in fantasy.
However, sometimes a matchup comes along that is way too good to pass up. Considering how inept the Bills have looked on defense, particularly against the run, in 2012, it is a miracle that there are actually two teams worse than they are.
Bush is coming off just his second 100-yard game of the season last week against Jacksonville. He should have no problems breaking that barrier one more time. As an added bonus, he should find the end zone at least once in this game.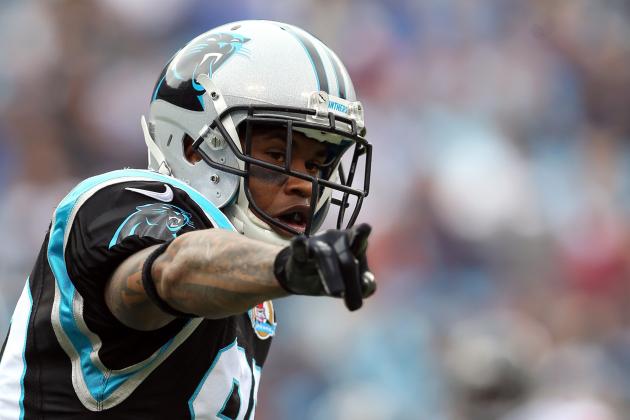 Streeter Lecka/Getty Images

2012 Stats
66 receptions, 1,053 yards, 3 TD
Week 16 Matchup
vs. Oakland: 24th in pass defense (259.9 YPG), 316 receptions, 3,639 yards, 25 TD allowed
What to Expect from Smith
Smith's season has been a lot like the recently finished season of Homeland: It started off great, dipped a bit as the weeks moved on, bottomed out in the last few weeks and is finishing with a flurry.
In the last three weeks, Smith has had at least 10 fantasy points in standard scoring leagues. He also has two 100-yard games in that span and at least five catches.
This week, Smith has the benefit of taking on a lifeless Raiders team that is just trying to get through the last month of the season without doing any significant damage to its already sullied reputation. Even with Smith playing so hot-and-cold this season, in the right matchup, he is still a great fantasy option.
The Raiders should allow the Panthers to open up the playbook, allowing Smith to crack 100 yards one more time and add a touchdown.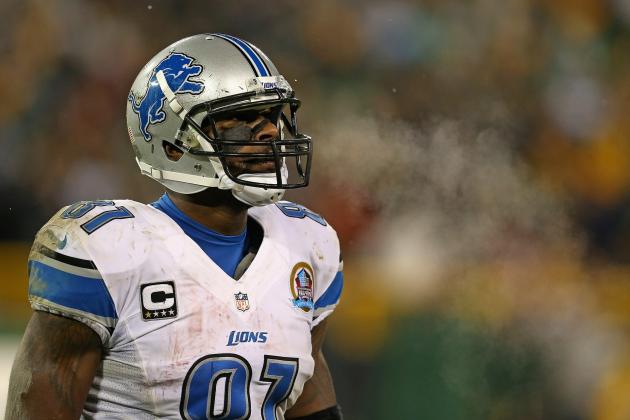 Jonathan Daniel/Getty Images

2012 Stats
106 receptions, 1,667 yards, 5 TD
Week 16 Matchup
vs. Atlanta: 16th in pass defense (242.5 YPG), 281 receptions, 3,395 yards, 13 TD allowed
What to Expect from Johnson
Johnson is the Adrian Peterson of wide receivers right now. He has seven straight games of at least 100 yards and three straight games with at least 10 receptions. He isn't scoring as many touchdowns as you would like to see from a No. 1 receiver, but he does everything else so well that it is hard to argue with the results.
Like Peterson, until a team proves that it can stop Johnson from dominating them, you have to expect him to go for at least seven receptions and 110-120 yards. He may not add a touchdown against the Falcons, who have allowed the fewest passing touchdowns in the league, so his ultimate ceiling is limited.
But when that ceiling is "only" a handful of catches for 100 yards, how can you go wrong? Johnson is the only reason to keep watching the Lions at this point, so fantasy owners need to pay close attention to what he is doing.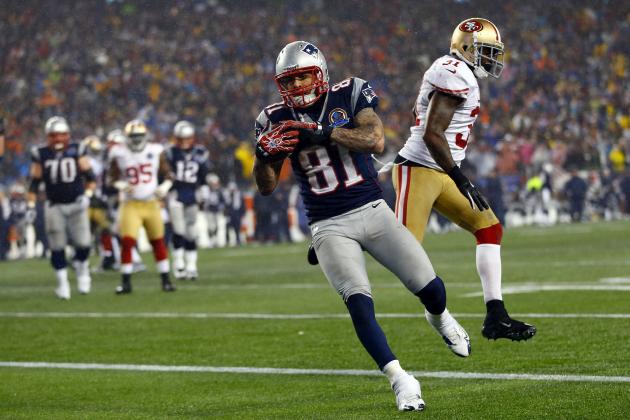 Jared Wickerham/Getty Images

2012 Stats
45 receptions, 426 yards, 5 TD
Week 16 Matchup
vs. Jacksonville: 20th in receiving yards allowed (252.9 YPG), 308 receptions, 3,541 yards, 19 TD allowed
What to Expect from Hernandez
After a slow start, mostly due to injuries, that made him look like one of the biggest draft busts this season, Hernandez has come on strong in the last three games.
Following a two-catch performance against New York in Week 12, Hernandez has had 26 receptions for 247 yards and three touchdowns. He was Brady's favorite target against San Francisco last week, collecting 10 catches.
Given the way that Tom Brady spreads the ball around, trying to predict one Patriots receiver to have a great game could drive you mad, but the game plan will always feature the tight end. It also helps that the Jaguars are so inept at defending the pass, which will give Hernandez more opportunities to make plays.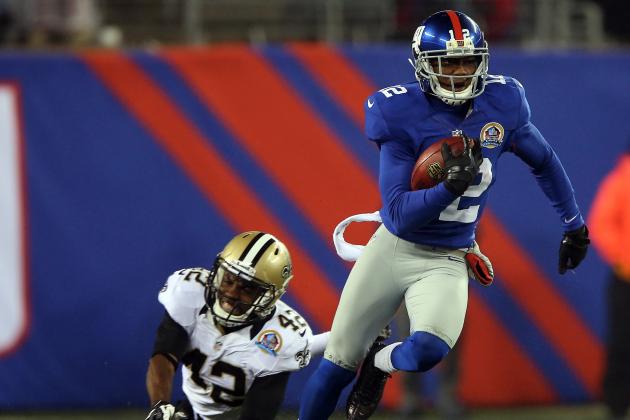 Elsa/Getty Images

2012 Stats
53 carries, 266 yards, 3 TD; 3 receptions, 19 yards
Week 16 Matchup
at Baltimore: 26th in run defense (132.2 YPG), 457 carries, 1,851 yards, 14 TD allowed
What to Expect from Wilson
I will be the first to admit that I had high expectations for Wilson last week against Atlanta, only to get burned because the Giants forgot to show up. Never one to give up hope, I am willing to give the first-round pick a second chance this weekend.
Of course, any hope for Wilson to get back on the fantasy train this weekend rests on the shoulders of Eli Manning.
It also helps that Ahmad Bradshaw is still dealing with a knee injury, even though he does expect to play this weekend. A sprained MCL does not magically go away, so it would stand to reason that Wilson will still get the bulk of the carries.
With both defenses struggling entering this game, the offensive fireworks should be flying. Wilson showed what he can do against a dreadful defense two weeks ago against New Orleans. The Ravens aren't quite at that level, but they are not the same group they used to be.