Why We Should Believe the Hype of Chris Weidman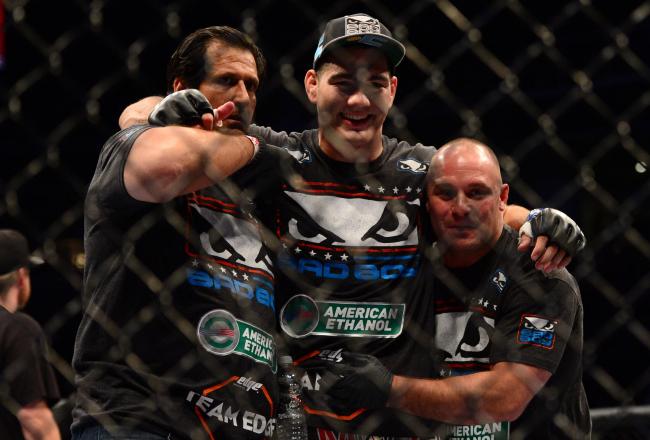 Kyle Terada-USA TODAY Sports
Not since Jon Jones went on his tear to capture the light heavyweight title in 2011 has the UFC seen a fighter rise through its rank as fast as Chris Weidman did this year.
Only nine fights into his entire MMA career and with five fights in the UFC, and he's already being talked of as the biggest threat to the pound-for-pound best fighter in the world—Anderson Silva.
For most MMA fans with a long-term memory, such expectations should never be put upon fighters with such a short time in the sport. All too often, fate conspires to derail the hype train, leaving only empty promises and broken dreams.
While this is true—even veterans can unravel after putting on impressive runs—some fighters demonstrate such potential that we know our expectations are likely to be met.
We knew this of Jones and we also knew this of Rory MacDonald, who is walking through the welterweight division without breaking a sweat.
With only five fights in the UFC, it's not easy to place Weidman among those names, yet.
He was devastating against men like Alessio Sakara, Jesse Bongfeldt and Tom Lawlor. He also quietly schooled Demian Maia when they fought. However, it wasn't until he knocked out Mark Munoz that he truly began to raise eye brows.
Munoz was the favourite going into the fight. A supreme wrestler against another wrestler; young to the sport, we expected Weidman to serve as a stepping stone for the "Filipino Wrecking Machine's" ascent into a title shot against Silva.
Instead, Munoz was manhandled for two rounds before Weidman pulled a trick out of his hat worthy of any elite fighter, throwing a vicious elbow—perfectly timed—putting his opponent out of his misery.
We haven't seen too much of Weidman in his short career, but we've seen enough. He has some of the most explosive and powerful MMA wrestling we've seen in the UFC's middleweight division, easily equal to anything Chael Sonnen could put together.
He also has a great submission game, as well as the ability to transition to strikes with accurate timing and distance.
All that makes for a scary prospect—one of the scariest we've seen in the middleweight division for a long time.
This article is
What is the duplicate article?
Why is this article offensive?
Where is this article plagiarized from?
Why is this article poorly edited?