Ronda Rousey and the Most Interesting Women in MMA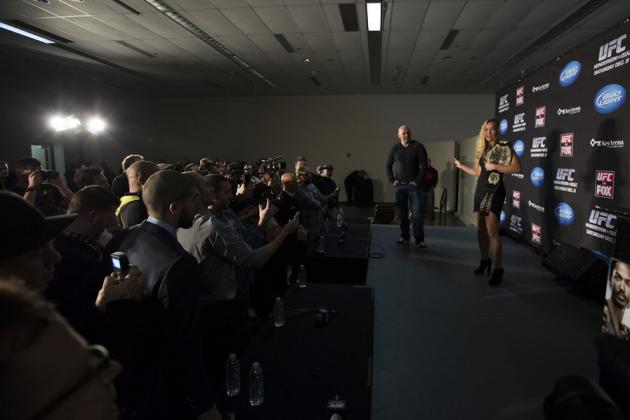 Photo Credit: Esther Lin/MMAFighting.com
Ronda Rousey has had a whirlwind of a 2012. She came from relative obscurity and quickly rose to the top of the mixed martial arts world.
The former Strikeforce champion now finds herself holding UFC gold and will be headlining a pay-per-view in early 2013. A first for women. She will defend her UFC Bantamweight Championship against Liz Carmouche.
Rousey is an intriguing character, but she is not alone in that respect. Several woman across the MMA landscape help make the sport what it is.
Here are the most interesting women in MMA.
Begin Slideshow

»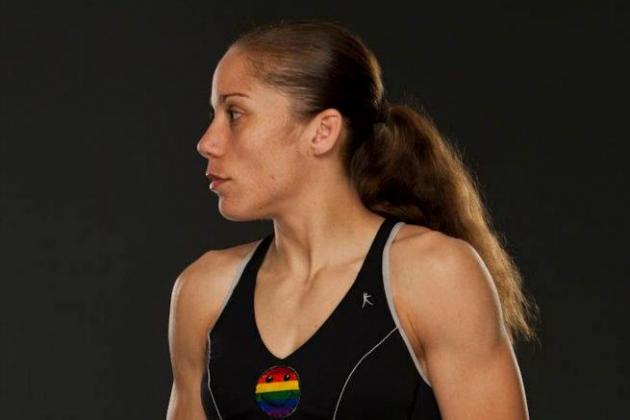 Photo Credit: Esther Lin/Invicta FC
Rousey's counterpart for the first women's UFC fight is Liz Carmouche.
Carmouche burst on to the MMA scene in 2011 when she was a late replacement against Marloes Coenen in Columbus, Ohio. The unknown commodity nearly upset the Strikeforce champion, but put herself on the map in the process.
The storyline for Carmouche began with her background in the Marines, but now she is making history as the first openly gay athlete in the UFC. A milestone for this sport.
She is smart, funny, engaging and talented. Carmouche is one of the very best at 135 pounds, and she will try to shock the world by upsetting Rousey in 2013.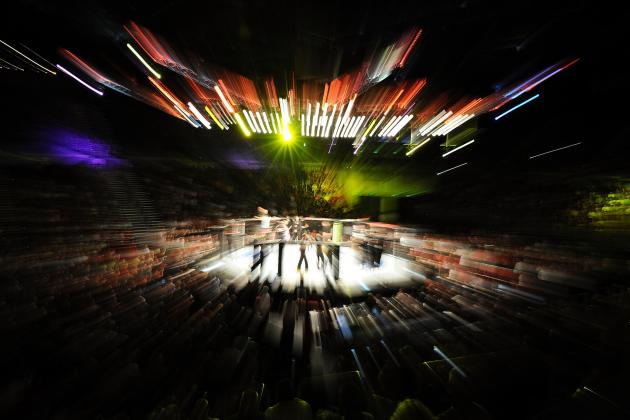 Matt Roberts/Getty Images

The fighters are only one part of the MMA machine. The characters do not only compete.
Heidi Dean is one such character. From media relations to production she can do it all.
Dean is an integral part of the Zuffa team, and she is a fun follow for all you social media mavens out there as well. She routinely tweets from the UFC events with interesting quips and photos.
She is also a very enthusiastic Chicago Bears fan. You can expect a few tweets on that front as well. If you want a deeper look in to Zuffa events then she is your ticket.
Time for the TUF Finales Live on FX - working hard with the pros in the TV truck!! twitter.com/hdeanUFC/statu…
— Heidi Dean (@hdeanUFC) December 16, 2012
It was hard not to tweet during the Bears game. I get too emotional, but we Beared down and pulled thru!! Whew!! 🏈

— Heidi Dean (@hdeanUFC) October 28, 2012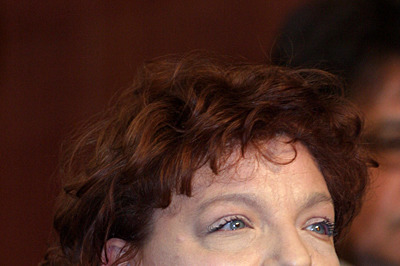 Photo Credit: Stephen Martinez/Sherdog.com
Perhaps you better know her simply as the "Crazy PRIDE Lady," but Lenne Hardt is a valuable member of the MMA community to this day.
Hardt holds a special place in the hearts and souls of the MMA community. Even with PRIDE, and Japanese MMA in general, starting to become a distant memory her mic skills are remembered fondly.
Her skills go beyond MMA. She is an accomplished voice actress. Hardt is probably most well known for her role as Anna Williams in the Tekken video game series. She is still active in MMA and is currently the voice of One FC.
If you would like to hear her introduce your name she also does that on the side. You can order that special treat from http://www.lennehardt.com/. Who wouldn't want Hardt's distinctive voice to great your boss on your voicemail?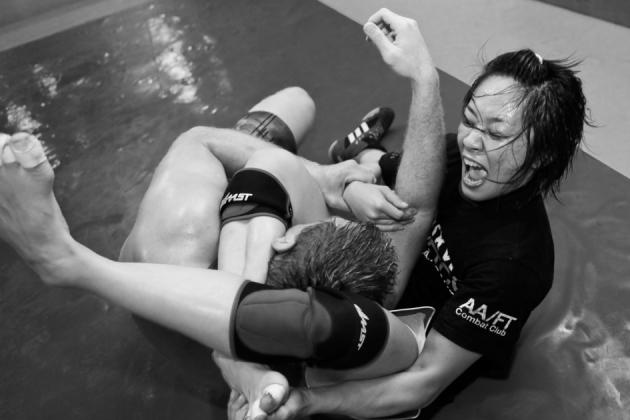 Photo Credit: Daniel Herbertson
Megumi "MegaMegu" Fujii is the greatest female mixed martial artist to date. She holds a 25-2 career record with both losses coming on American soil in Bellator. And both decisions are highly debatable.
Of her 25 victories, she has only failed to finish in five fights.
You can find Fujii on Twitter at @MegaMeguCat. She is an avid tweeter and will flood your timeline with a host of different photos from MMA events, friends, food and yes, cats. She leads an interesting life.
@julzfighter sleepy:-) twitter.com/MegaMeguCat/st…

— 藤井惠 Megumi Fujii (@MegaMeguCat) December 9, 2012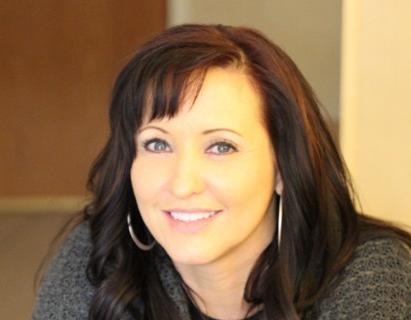 Photo Credit: Invicta FC
Shannon Knapp has had a long career in MMA. She has worked with just about everyone, but 2012 saw Knapp step out in to the spotlight as she led women's MMA to a year of unprecedented success.
Knapp, alongside Janet Martin, founded Invicta Fighting Championships. The all-women promotion staged three events in 2012 and exceeded all expectations.
There are few men or women in the sport with as much knowledge as her.
Knapp and Invicta has proven that there is depth in women's MMA, and it is constantly improving. Invicta put on three exciting events that generated significant buzz within the MMA community. A rarity for female MMA.
As the calendar turns to 2013 bigger things are probably in the cards for Invicta and Knapp.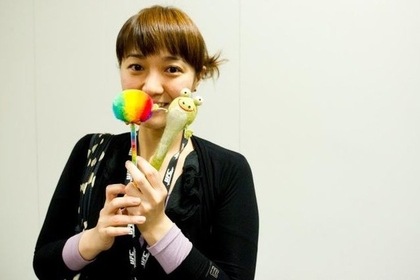 Photo Credit: Esther Lin/MMAFighting.com
The UFC returned to Japan early in 2012. Helping assist with translations was Mizuki Koike. The MMA community gave her a very warm welcome.
She instantly showed she was one of the best translators in the business, and her fuzzy pen toppers endeared her to us all.
Koike was on The MMA Hour with Ariel Helwani where she discussed UFC 144 and her sudden MMA stardom:
"In the very beginning they wanted a male translator to be in the Octagon with Joe Rogan," Koike told host Ariel Helwani.
However, after assisting at the weigh-ins she was offered the position. And the rest is history. We look forward to seeing her, and her fuzzy friends, inside the Octagon when they return to Japan in early 2013.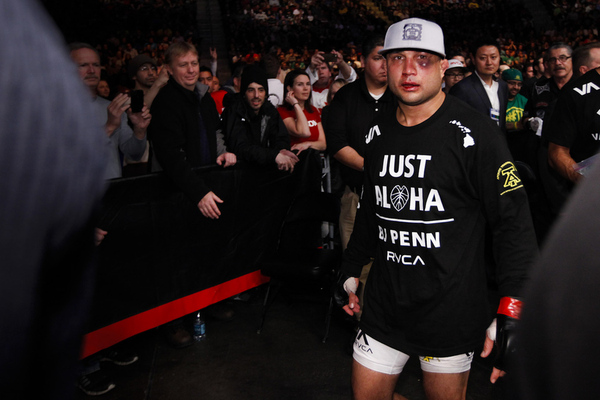 Photo Credit: Esther Lin/MMAFighting.com
The first thing you will notice is that is not Esther Lin. Clearly. She spends her time behind the camera, not in front of it.
For those that do not know Lin by name, she is without question the best combat sports photographer in the business. Her ability to capture moments like the photo of BJ Penn after his battle with Rory MacDonald is phenomenal.
Lin routinely works with MMAFighting.com and Showtime for both MMA and Boxing. Her work is seen across most major sites in one form or another.
For as good as a photographer as Lin is, she is a much better person. Her Twitter is a must follow for MMA fans.
You can view more of Lin's work, as well as her partner in crime E. Casey Leydon, at www.allelbows.com.
Photo Credit: Esther Lin/Invicta FC
Sara McMann is one of the top ranked fighters in the bantamweight division.
The 32-year-old made her MMA debut in 2011, and continued winning in 2012. She is on the shortlist of likely opponents for Ronda Rousey in 2013.
Much like Rousey, she holds an Olympic medal. However, hers is silver, and in wrestling. That makes for a great story leading in to their potential fight.
She was featured in CBS' Courage in Sports at the tail end of 2012.
McMann will be one of the most closely watched fighters as the UFC's Bantamweight division takes off for the women.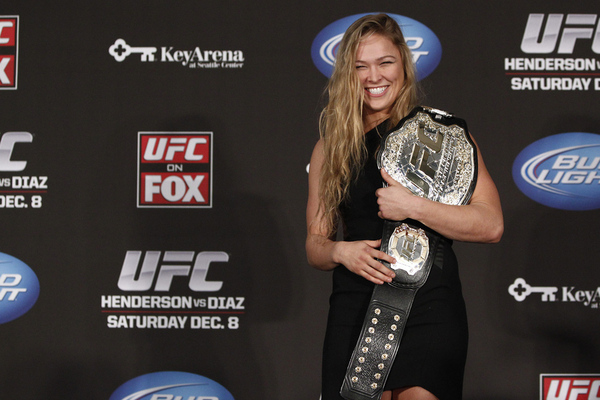 Photo Credit: Esther Lin/MMAFighting.com
Ronda Rousey is the reason the UFC has a women's division. No one, not even Gina Carano, possesses the star power that Rousey has.
She is able to sell a fight with her mouth and her skill set. She is on her way to becoming the greatest female mixed martial artist of all time. That is her current career trajectory.
Rousey came on strong at the end of 2011, but it was her back and forth with Miesha Tate that truly put her on the map. And with a devastating armbar submission to capture the Strikeforce championship she made herself a star.
She followed that up by being a media darling. From Showtime specials, interviews and ESPN The Magazine everyone wanted, and still wants, a piece of Rousey. She is a remarkable character and fighter.
How far will women's MMA go? Probably as far as Rousey is willing to take it. She is one of the most important figures in MMA entering 2013.
Photo Credit: Zinkin Entertainment
Heidi Seibert is another behind the scenes addition to the list. However, she doesn't work with an organization. She is the PR Manager and Publicist for Zinkin Entertainment. Zinkin Entertainment is a top management agency in MMA.
Seibert works with the elite of the elite. Chuck Liddell, Cain Velasquez, Forrest Griffin, Daniel Cormier and the list goes on. She is behind the scenes working hard to increase their value. And she is clearly good at what she does.
You can follow Seibert on Twitter and get updates on all the fighters she helps represent.
With two of my favorite boys @lavarjohnson @dc_mma twitter.com/heidiseibert/s…

— Heidi (Zinkin Ent) (@heidiseibert) November 23, 2012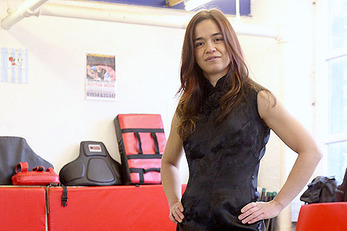 Photo Credit: CageWarriors
If there is one fighter that has been under the radar for far too long it is Rosi Sexton.
Sexton is a great fighter. Her career record stands at 13-2 with losses to Gina Carano and Zoila Gurgel.
Her skills are not limited to the cage. She is a co-founder of the Combat Sports Clinic and is a registered osteopath and sports massage therapist.
Sexton has also been at the forefront of the performance enhancing drug problem in MMA. She is a vocal supporter of getting VADA involved. On Monday, Sexton posted a blog citing where she stands in her career. It is a great and insightful read.
I'm looking forward to working with the next generation of female fighters coming through. I also love my job as an osteopath. And there are some very interesting projects in the works for 2013.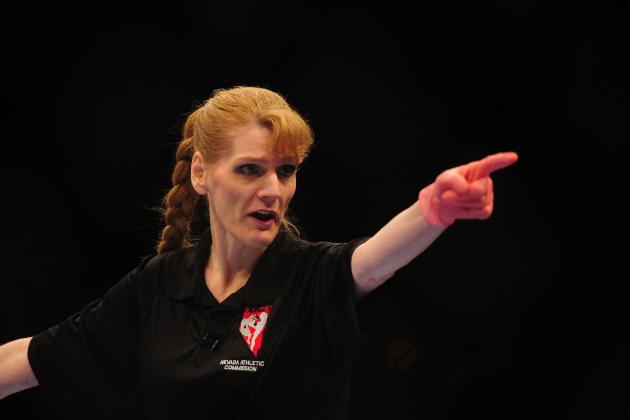 Mark J. Rebilas-USA TODAY Sports

Kim Winslow is the lone woman officiating at the highest level of MMA. Unfortunately, she has had several gaffs along the way that have put her under heavy criticism. Rightfully so in most cases.
She is still a very interesting character in the world of MMA. Albeit, maybe for the wrong reasons.
While Winslow has made errors she still does not get the credit she deserves for putting herself in a the midst of an extremely tough occupation. One that few are willing to do.
Hopefully, Winslow will continue to improve and we will see less of the mistakes that we have seen in the past. If only for the fighter's sake. It is still an accomplishment that she has earned her way to officiating at the highest levels in MMA.