Aaron Rodgers: 3 Reasons Why He Should Ditch the Green Bay Packers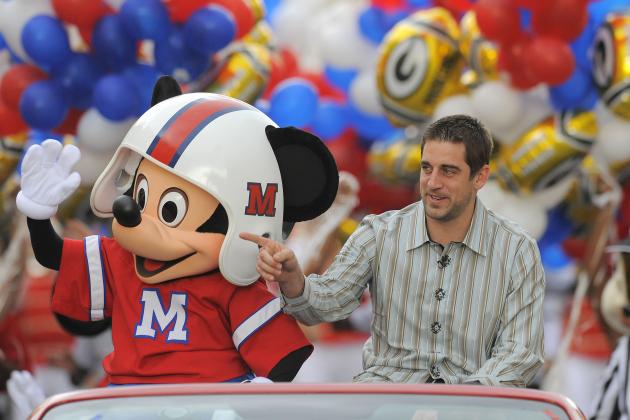 Handout/Getty Images
Mickey Mouse & Aaron Rodgers
Does the Green Bay Packers organization truly appreciate the elite play that Aaron Rodgers brings to their team? I ask because there are a myriad of issues that indicate otherwise, and if the Packers are either unwilling or unable to address these issues, then perhaps it would be best for Rodgers to move onto another organization that does appreciate him.
After all, Rodgers was instrumental in their 2010 Super Bowl run and is the reigning league MVP. But issues regarding Rodgers' contract and on-field support warrant further analysis and may be grounds for him to leave Green Bay.
Begin Slideshow

»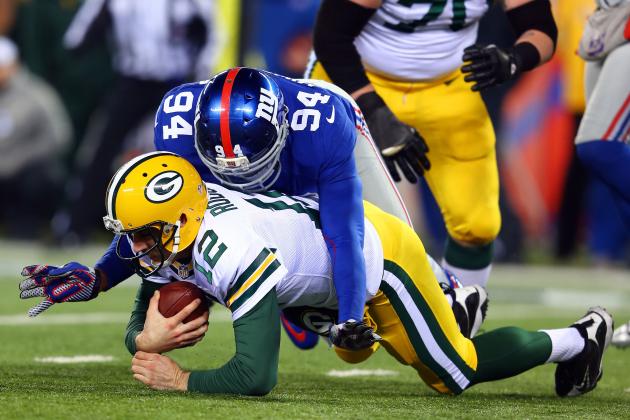 Al Bello/Getty Images
Aaron Rodgers sacked
How many more times does Aaron Rodgers need to be sacked behind a porous offensive line? He was the most sacked quarterback in 2009 and is leading the league in sacks again this year! We know that Rodgers has a history of battling concussions, so perhaps going to another team that will offer him better protection is the solution.
Also factor in that there hasn't been a 1,000-yard rusher on this team since 2009 and that Rodgers has by far the highest yards per carry on the Packers this year.
Where's the support?
Jamie Squire/Getty Images
Aaron Rodgers
Rodgers is the most underpaid quarterback in the National Football League if you compare his deal to other elite quarterbacks. Drew Brees got paid, and so did Peyton Manning. Tom Brady can't complain either as all three of these Super Bowl-winning quarterbacks average between $18 million to $20 million per year on their contracts.
But what about Rodgers? Rodgers is earning just $8.5 million this year, $9.75 million next year and $11 million in 2014. The right thing to do would be to renegotiate his deal, but that has yet to happen. Maybe Rodgers should go to another team that will pay him what he's due.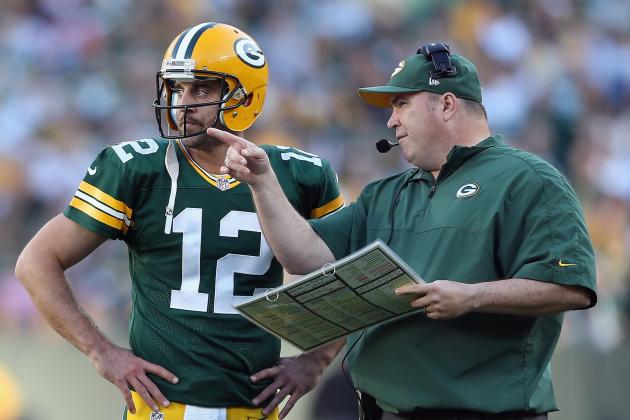 Jeff Gross/Getty Images
Aaron Rodgers & Mike McCarthy
Does Aaron Rodgers need Mike McCarthy, or is it the other way around? For whatever reason, Mike McCarthy can't seem to outwit some of the sharpest coaches in the league, namely Tom Coughlin of the New York Giants. They suffered a humiliating playoff loss to the Giants earlier this year at Lambeau Field and were blown out again in New York just a few week ago. When asked about the game, McCarthy said:
"The New York Giants have an outstanding defensive line. We had a plan. We didn't execute it very well. We got away from it and went to some spread things that didn't work very well. That was my fault, bad play calling."
Bad play-calling? That's inexcusable when you have arguably the best quarterback in the NFL on your team. Besides, bad play-calling jeopardizes the team's success and does not put players in the best position to succeed.
But a few weeks later, the Packers' coaching staff bungled it up again against the Chicago Bears. As Frank Schwab of Yahoo Sports observed:
"There are times for trick plays. Being up 11 points in the fourth quarter, fielding a punt inside your 20-yard line, is not one of them. Game situation mattered none to Mike McCarthy. The Packers coach had this throwback fake on a punt return written out on his play card and by golly, he was going to use it. So the Packers tried it, fumbled it away and gave the Bears some life in the fourth quarter, in one of the most baffling coaching decisions of this or any other season."
Regarding the botched play, Rodgers was quoted as saying, "Just not a very intelligent call at that point in the game." Ouch. So clearly Rodgers needs a coach that isn't going to jeopardize his team's chances of winning by repeatedly making bad calls. It's time to move on to a team that has a coaching staff that's as smart as him.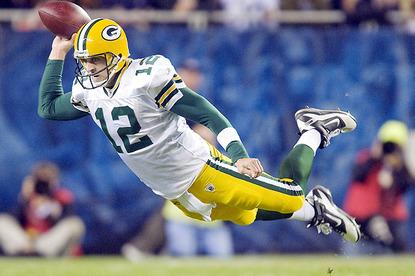 Image via juanelway.com
The bottom line is that Aaron Rodgers deserves better than he's received in Green Bay. He's grossly underpaid, lacks a supporting cast and is surrounded by poor coaching. We'll leave it to the fans to determine where Rodgers should go once his current contract expires, but this is much clear: He needs to buy a one-way plane ticket out of Green Bay!