Breaking Down the Stats From an Atrocious Jets-Titans Monday Night Debacle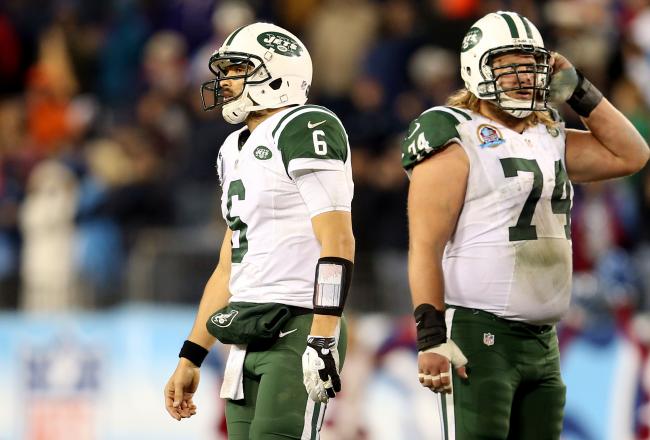 Andy Lyons/Getty Images
Is there anyone else who wants their three hours back from watching this horrendous Titans vs. Jets game on Monday Night Football?
On a week where we were treated to so many outstanding football games, the fact that this game got the Monday Night slot does raise a few questions.
These questions, but mainly, "Will this be a good game?" were answered tonight.
It was a good game in terms of how competitive it was. However, this was a competitive game only because the teams were that bad.
It gave us only one memorable performance, and that was Chris Johnson's 122 yards and a touchdown on 21 carries. But even that is misleading, as the majority of Johnson's yards and his one touchdown came on a 94-yard touchdown run in the second quarter.
For the rest of the game, Johnson ran for 28 yards on 20 carries, an average of 1.4 yards per carry. This is why the Titans could decide to cut ties with him this offseason.
But let's take a look at some of the other stats from a game that makes ESPN wish that they had the option of flex-scheduling that NBC has.
The Quarterback Play
If one quarterback goes 26-of-50 for 280 yards, one touchdown and four interceptions while being sacked seven times with a passer rating of 42, you'd say he had a horrendous day.
Well, those were the numbers that both Mark Sanchez and Jake Locker combined to put up for their teams.
Two quarterbacks combined put up numbers that would be bad for even one quarterback. It was like watching Brady Quinn play for both teams, only less successful.
Not reflected in those stats are Tim Tebow's numbers (he was zero-for-one).
Mark Sanchez is responsible for 13 of the completions, 131 yards and the one touchdown and four interceptions on his own, and that's not counting his fumbled snap at the end of the game.
Locker had the better day, but that's like saying that Superman Returns was better than Batman and Robin. Locker went 13-of-22 for 149 yards and no touchdowns, but he didn't turn the ball over either.
Five Jets Turnovers
As mentioned before, Sanchez fumbled the ball once at the end of the game, but before that threw four interceptions.
What's bad about the interceptions (other than the fact that they were interceptions of course), is that those were all horrendous throws. Sometimes quarterbacks do have bad luck and a pass that coming out of his hand will look perfect and on the mark before landing in an opposing player's arms, but this wasn't the case for the Sanchez on any of his interceptions.
To make matters worse, the Jets had decent field position on each turnover. The first Sanchez pick came in the second quarter with the Jets at their own 40; the second interception came in the third quarter with New York on their own 38.
The third one had the worst field position, as the Jets were at their own 34. But then, their final two turnovers came at the worst possible places at the worst possible time.
When you are down by four late in the fourth quarter, it's pretty obvious that you don't want to turn the ball over deep in opposition territory. Yet the Jets, pardon me, Mark Sanchez did just that by throwing an interception at the Titans 23 with 1:51 left in the game, then the fumble that put the final nail in the Jets' coffin came at the Titans 25 with 47 seconds left.
Special Teams Not So Special For Tennessee
The Titans did win this game, but not thanks to any help from their special teams unit.
On their first drive of the game, Rob Bironas had a 46-yard field goal attempt blocked. Then the Titans almost gave the game away at the end thanks to a horrendous 19-yard punt by Brett Kern. It was special teams very indicative of a game that was special for all of the wrong reasons.
Hopefully this recap and 770-word analysis of the statistics wasn't as painful as the game most of us sat through.
The Jets are now knocked out of the playoff hunt after this loss, but based off of the performance they gave against a team that they should've beaten, did they really deserve to be in the playoff hunt? As for the Titans, is there really any reason why anyone on their coaching staff should be back next year?
There were no winners in this game—all that happened was the Titans were fortunate enough to score more points.
This article is
What is the duplicate article?
Why is this article offensive?
Where is this article plagiarized from?
Why is this article poorly edited?