UFC 158: Jake Ellenberger Gets Fight He Wanted, Title Shot Looming?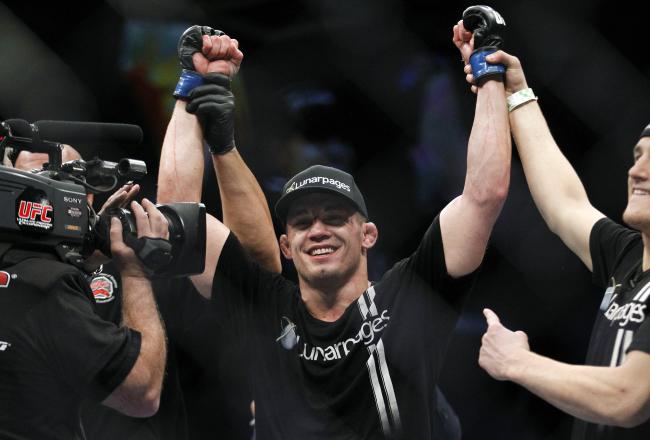 Matt Ryerson-USA TODAY Sports
From January 2010 through February 2012 Jake Ellenberger looked like he was headed toward a UFC title shot. "The Juggernaut" put together a six-fight winning streak over that time, dispatching the likes of Mike Pyle, Jake Shields and Diego Sanchez while earning a reputation as a feared striker in the UFC's welterweight division.
On June 1 of this year, Ellenberger was booked for his third straight main-event fight, facing an opponent that also had a bit of momentum heading into the bout, Martin Kampmann.
Thirty seconds into the fight, Ellenberger introduced Kampmann to his left hook and dropped him to his back. From there, Ellenberger peppered his opponent with ground and pound, but the veteran Kampmann gathered his wits, recovered and never let Ellenberger take advantage of the damage he had done.
When the second round began, Ellenberger again took control of the fight, bloodying and wobbling Kampmann via strikes, but Ellenberger was again unable to finish his opponent. The two then fought at distance, and when a fully recovered Kampmann closed that distance he also closed out the fight, kneeing Ellenberger to the head and earning the TKO win.
Ellenberger bounced back from that loss with a unanimous decision win over Jay Hieron in October, but he was left a bit unhappy with his performance in that fight. Speaking to Bleacher Report about the Kampmann and Hieron bouts, Ellenberger said:
In the Kampmann fight I got a little reckless, and in my last fight (Hieron) I was more conservative than any other fight I've ever been in. I'm trying to find the middle ground where I can stay aggressive but be more conscious and aware of my strategy. Especially at this level where the talent level is so high. When you are facing highly skilled opponents, the more disciplined you have to stay.
Ellenberger will get a chance to find that middle ground on March 16, 2013 when he faces Johny Hendricks at UFC 158. When Ellenberger spoke to BR/MMA in early December, he said he hoped to face the heavy-handed Hendricks in his next bout:
I would love to fight Hendricks. I think styles make fights and his style I do really well against. I perform well against wrestlers who have good striking. Hendricks has earned it, there is no question in my mind at all, but that is one I would definitely love to have. He is in the place where I want to be and it's a fight I would be excited to take.
At the time, the fight seemed unlikely. After all, Hendricks had just destroyed Kampmann at UFC 154, dispatching him in 46 seconds. Hendricks looked like he was on the fast track to face UFC welterweight champion Georges St-Pierre, a fight that Hendricks said he felt he earned, deserved and planned on waiting for.
Will Ellenberger get past Hendricks?
Unfortunately for Hendricks, St-Pierre had other plans, namely stepping into the Octagon with the man that seems to have really rubbed the normally mild-mannered champion the wrong way, Nick Diaz. Just like that Ellenberger got his wish, while Hendricks got a fight that he wasn't really looking for.
The UFC's welterweight division is very top heavy right now, and the fight against Hendricks is the perfect opportunity for Ellenberger to show that his loss to Kampmann was a minor bump in the road. He has the fight he asked for, the question now is, can he make the most of that opportunity?
This article is
What is the duplicate article?
Why is this article offensive?
Where is this article plagiarized from?
Why is this article poorly edited?