The New York Jets completely dispelled any notions that they might be a playoff-worthy team in Monday night's 14-10 loss to the Tennessee Titans.
New York had a chance to take the lead with less than two minutes remaining, but Mark Sanchez's fourth interception of the game ended that threat.
Even after the Titans went three-and-out and gave the ball back to Sanchez and the Jets offense, the quarterback fumbled the first snap and Tennessee recovered. Sadly, it made too much sense for it not to happen that way.
This game was predictably slow from the very beginning.
Nick Folk put the Jets on the board with a 22-yard field goal with just over four minutes left in the first quarter, but those were the only points on the board in the first frame.
The second quarter didn't feature much more, but Chris Johnson's 94-yard scamper to the end zone put the Titans ahead 7-3 and gave fans everywhere reason to rejoice. Finally, at least one player showed some sort of spark and offensive ability.
Anyone who hoped that things would change in the second half would be greatly disappointed, however.
Jeff Cumberland made up for an earlier drop in the end zone by catching a 17-yard touchdown pass from Sanchez at the 3:25 mark of the third quarter, giving the Jets a 10-7 lead.
For the way this game was going, it didn't seem impossible that that lead would hold for the remainder of the game, but Jake Locker had one great play up his sleeve.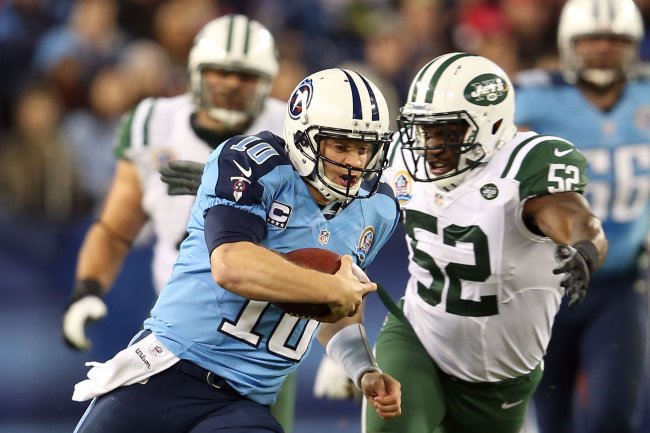 Andy Lyons/Getty Images
The dual-threat quarterback used a bunch formation off the left side of Tennessee's offensive line to score a 13-yard rushing touchdown with 28 seconds remaining in the third quarter, giving his team a 14-10 lead entering the final quarter.
The score stayed that way as each team's offense continued to struggle. Sanchez either couldn't get time to throw or threw an interception when he did have time to observe the field, finishing the night 13-of-28 for 131 yards, one TD, four INTs and a 32.6 passer rating.
No matter how you cut it, this is pretty bad for the Jets. Tennessee's 4-9 record speaks for itself, but the Jets knew that their playoff lives were on the line Monday night.
The Titans even gave them 14 penalties to aid their cause, but that didn't help either as Sanchez and Co. failed to deliver. That's the mark of a team that's just not ready for postseason action.
Twitter Reaction
ESPN Monday Night's Twitter account made a point about Chris Johnson:
That man still has speed. CJ's 6th career TD run of 80 yards or more -- his 3rd this season. #MNF

— ESPN Monday Night (@ESPNMondayNight) December 18, 2012
Sage Rosenfels peppered us with some sarcasm (I hope):
This game is waaaay better than last night's snooze fest. Non-stop highlights and superstars. #mnf

— Sage

Rosenfels

(@SageRosenfels18) December 18, 2012
ESPN's Cecil Lammey had this to say about Jake Locker after he gave the Titans the lead in the third quarter:
some did call Locker the Tim Tebow of the West when he was in college at Washington, bunch crunch, TD #titans #MNF

— Cecil

Lammey

(@cecillammey) December 18, 2012
ESPN was happy to see some offense in the second half:
Offense has been a welcome addition to tonight's #MNF menu.

— ESPN (@espn) December 18, 2012
Joe Namath didn't seem too happy about one particular timeout call by Rex Ryan in the second half:
We probably won't need that timeout later anyway....

— Joe Namath (@RealJoeNamath) December 18, 2012
ESPN Stats & Info showed everyone what Mark Sanchez's interceptions really meant for the Jets:
Mark Sanchez has 3 INT. Jets are 1-6 in games when Sanchez throws 3+ INT (Greg McElroy threw winning TD in lone win)

— ESPN Stats & Info (@ESPNStatsInfo) December 18, 2012
ESPN's James Walker gave his thoughts following Sanchez's fourth INT:
Mark Sanchez is the king of interceptions near the end zone. It's only right the #Jets' playoff chances end that way.

— James Walker (@JamesWalkerESPN) December 18, 2012
Player of the Game: Chris Johnson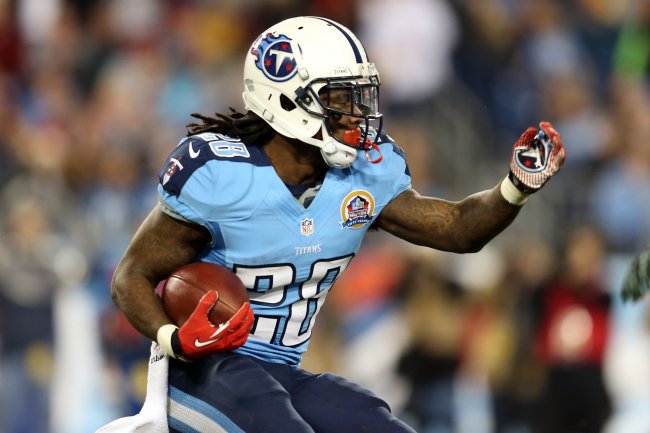 Andy Lyons/Getty Images
In a game that completely lacked any offensive flair, Johnson was the only one who showed up.
He finished with 122 yards on 22 carries and wowed the crowd with his 94-yard touchdown run in the second quarter (the longest touchdown run in the NFL since 2006). Plays like that show that Johnson still has the highlight-reel speed that NFL fans have seen throughout his career.
Johnson isn't as consistent as he has been in the past, but he's still the biggest threat that Tennessee has offensively. Locker made some plays with his arms and legs, but the Jets' focus on Johnson was part of the reason that he was able to do so.
Even if he isn't breaking long runs, Chris Johnson will always be someone who can take it to the house anytime he gets his hands on the rock.
What's Next?
The Jets will host the San Diego Chargers in Week 16, while the Titans travel to Lambeau Field to face the Green Bay Packers.