Guessing 5 Reasons Rex Ryan Continues to Stick with Mark Sanchez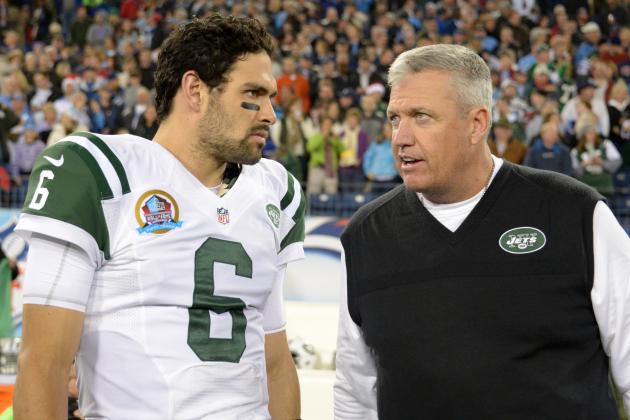 USA TODAY Sports

New York Jets head coach Rex Ryan has continued to stick with quarterback Mark Sanchez despite his consistent struggles.
Ryan has taken a lot of heat in the process, and understandably so. He's taken so much heat in fact, that his job is likely on the line after this season.
Sanchez has been horrible this season. He's completed hardly 50 percent of his passes, throwing for a little over 2,500 yards, 12 touchdowns and 13 interceptions.
Why Ryan continues to stick with him is probably extremely difficult to figure out. He's probably keeping the ineffective quarterback in the game for a number of reasons.
Let's take a few guesses at why in the world Ryan continues to stick with Sanchez.
Begin Slideshow

»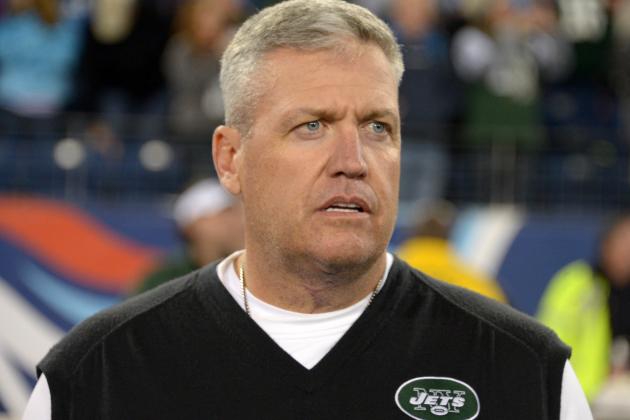 USA TODAY Sports
Is Ryan THAT loyal?
Maybe Rex Ryan is just that loyal. After all, Ryan was the one hired in 2009 and subsequently selected Mark Sanchez as his franchise quarterback in the 2009 NFL draft.
If Ryan is attempting to prove he's loyal, he is doing one heck of a job. Despite Sanchez's struggles, Ryan has continued to throw him out there.
It's an admirable trait for a man often blasted by the media for being eccentric and loudmouthed. It's also a trait that is gaining him negative media attention and could possibly end up losing him his job after the season.
Ryan appears to be loyal to his man, but that simply cannot be the main reason he sticks with Sanchez. Right?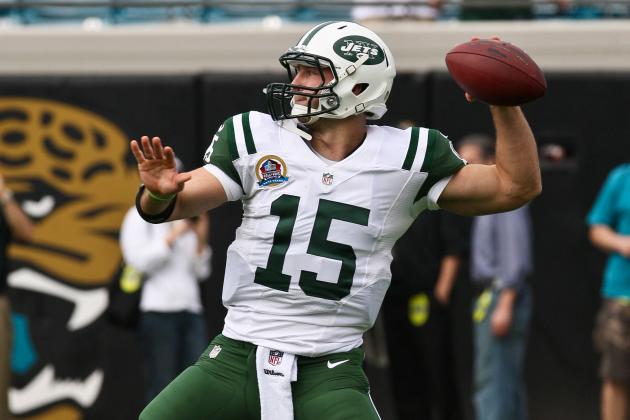 Rob Foldy-USA TODAY Sports
Fans are clamoring for Tebow, but it appears Ryan simply doesn't want him under center.
There's a good chance Rex Ryan simply thinks the other quarterbacks on the roster simply aren't capable of playing better than Mark Sanchez, and he could be correct.
Right now, his other two options are Tim Tebow and former seventh-round pick Greg McElroy. Tebow is a gimmick player who excels at running the ball better than he throws and has never proven to be much better than Sanchez under center.
The interesting player is McElroy, who actually came in earlier in the season when Ryan benched Sanchez. He threw a touchdown and led the Jets to victory.
It was a small sample size on McElroy, and Ryan clearly doesn't believe in Tebow or he would have had his shot by now.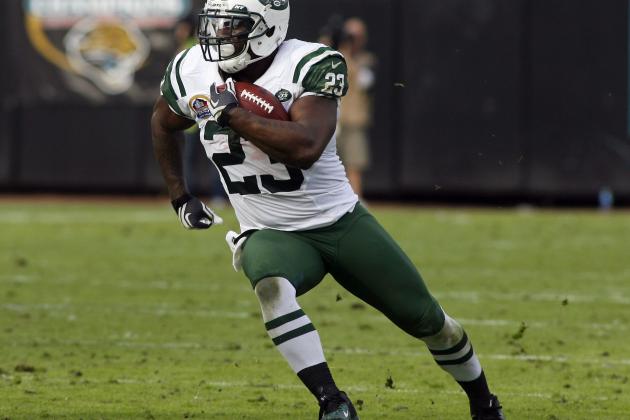 Phil Sears-USA TODAY Sports
Lack of production from Shonn Greene hasn't helped any quarterback on the roster.
Rex Ryan could also believe no matter who he throws under center will fail considering the impressive lack of talent on the offensive side of things for New York.
Mark Sanchez has been under pressure all season long and hit entirely too many times thanks to the horrendous offensive line in front of him.
There's no semblance of a running game in New York either. Starting back Shonn Greene is the definition of mediocre, as he's only averaging 3.8 yards per carry. To round things out, there's also no legitimate receiving threat, as only one player has more than 350 receiving yards.
The decision to stick with Sanchez has to take this into consideration. Ryan likely believes that Sanchez can at least get something out of the average talent around him.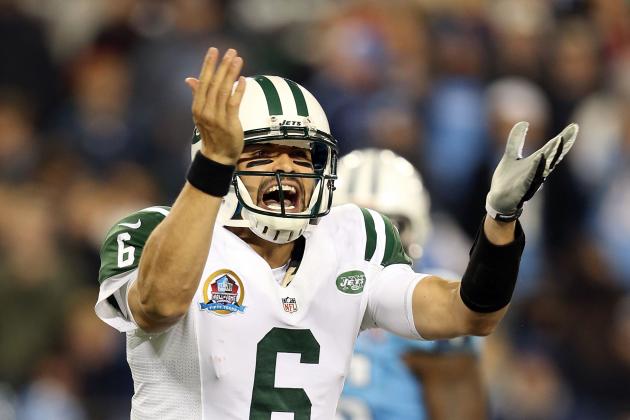 Andy Lyons/Getty Images
Does Ryan believe Sanchez can still turn things around?
It's certainly not a popular view, and likely not a very smart one, but maybe Ryan thinks Sanchez can still develop into a franchise quarterback.
What makes him think that? We have no idea.
Now in his fourth season, Sanchez has shown absolutely nothing to suggest he can be an above-average quarterback at the professional level. He's never completed over 60 percent of his passes and routinely struggles with accuracy and anticipation.
Sanchez is likely on his final strike as a starting quarterback in the NFL, but maybe Ryan is holding out hope. That means Ryan is on his final strike as well.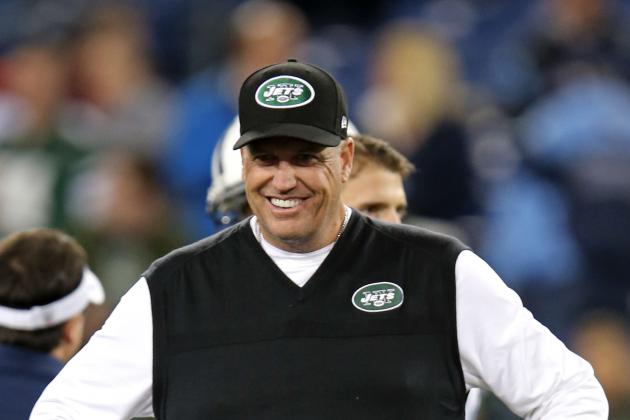 Andy Lyons/Getty Images
Does Ryan care anymore?
It's a long shot to be sure, but perhaps Rex Ryan has simply stopped caring.
Think about it. Ryan has an extremely stressful job in the most media-crazy town on the planet. He's failed to find success and is constantly compared to the other team in town, the Super Bowl champion New York Giants.
Ryan has failed to build a talented roster on either side of the ball in recent years while things have gone from bad to worse.
It's also unknown whether or not Ryan was even involved in bringing Tim Tebow in, but him never playing Tebow suggests it wasn't necessarily his decision.
Perhaps Ryan doesn't care about his job in New York anymore. A long rebuilding process is about to begin, and maybe Ryan realizes that.