Jets vs. Titans: Final Report Card, Player Grades for New York Jets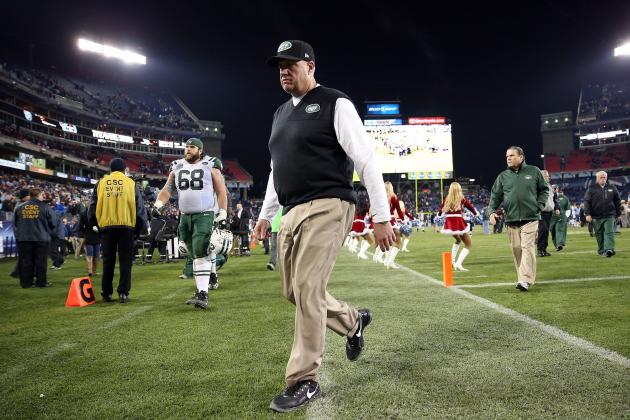 Andy Lyons/Getty Images

With Christmas just one week away, the New York Jets left fans a huge steaming pile of horse manure under the tree.
Mark Sanchez was as careless as he ever was, the offensive line couldn't protect him against one of the worst pass-rushing defenses in the league and Tony Sparano looked as if he was trying to get himself fired.
With the season on the line, the team's offense gave a gutless performance against one of the worst defenses in the NFL, and it ended up being the final death knell of the 2012 season.
It's a shame that the offense couldn't muster even two touchdowns, because for much of the night, the defense continued a dominant performance.
While there were very good performances turned in by Muhammad Wilkerson, Quinton Coples, Mike DeVito and Antonio Cromartie, it wasn't enough to keep the Jets' season alive.
With their eighth loss of the year, it's time to let the young players play to see what they have.
Antonio Allen, Demario Davis, Greg McElroy and even practice-squad staples Jordan White and Josh Bush should see extended action because the Jets are going to have to make some major decisions going forward after this year.
But before we move on to 2013, let's see how many F's can be given out in one slideshow.
Begin Slideshow

»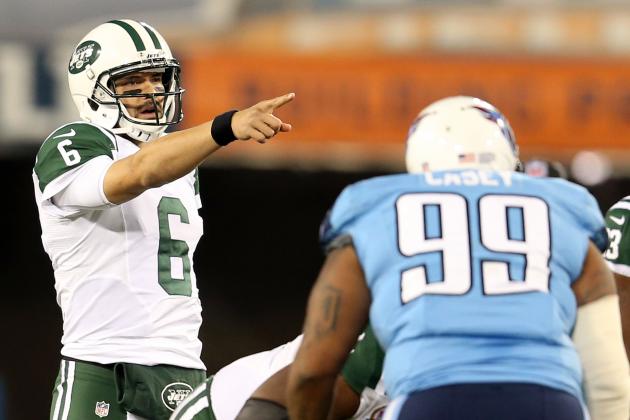 Andy Lyons/Getty Images

Mark Sanchez: F-
Can grades go any lower? Sanchez's grade should be lower than the 0.0 Bluto Blutarsky earned in Animal House.
Four interceptions and a fumbled low snap ended the Jets' season and possibly Sanchez's tenure as the Jets' quarterback of the future.
He finished 13-of-28 for 131 yards and four interceptions.
The fact that Bleacher Report is a family website forces me to cut this analysis short.
Tim Tebow: D
It's not Tebow's fault he was put into a spot where he couldn't succeed. He had a nice 12-yard run on his first play from scrimmage and that should have been enough. Instead, he was left in for the Titans to tee off on.
Tebow did at least convert a 3rd-and-1 with a two-yard run.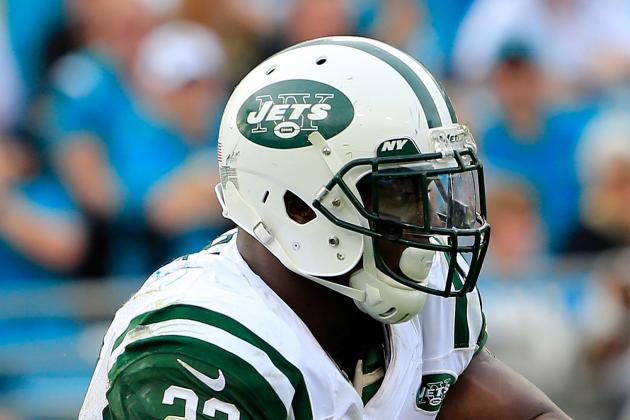 Sam Greenwood/Getty Images

Shonn Greene: B
Greene followed his typical pattern of chipping away early with short runs and then busting through for meaningful fourth-quarter yards.
The only problem with Greene's game was that Tony Sparano decided it would be better to throw the ball into the wind than rely on Greene.
The offense was brutal Monday night, but it was't Greene's fault. He ended up with 68 yards on 13 carries.
Bilal Powell: B-
Like Greene, Powell did his best running late, which makes it even more unfathomable that Sparano got away from the run. He finished with 28 yards on six carries, although 15 of those yards came on one carry at the end of the third quarter.
Joe McKnight: B-
McKnight showed his explosiveness with a 20-yard run and also showed why he will never be a premiere back by fumbling two plays later. At least his big run set up the Jets' only touchdown.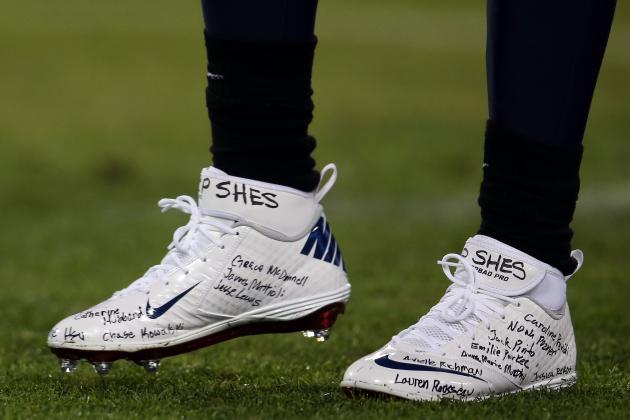 Andy Lyons/Getty Images

Braylon Edwards: B+
Edwards did more in one game with an awful quarterback than he did in his two seasons away from the Jets. He caught three passes for 47 yards with a long of 17 yards.
He also nearly saved an interception when he was able to get his fingertip on a deep pass to bat it away. Unfortunately for the Jets, it wasn't enough to prevent the play.
Jeremy Kerley: C
Kerley caught one pass for 11 yards. It was a nice grab in traffic. Besides that, there was nothing he could do on a night when Sanchez was so off target.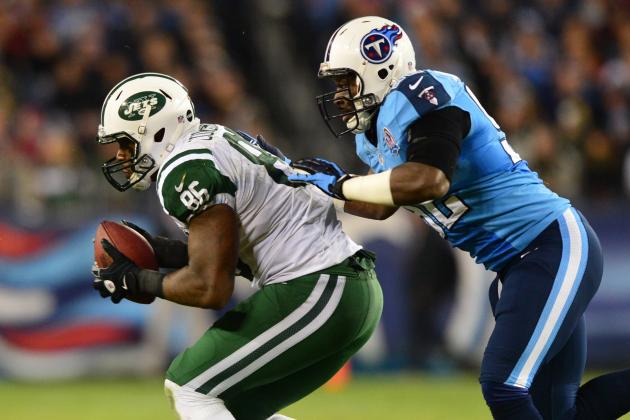 Don McPeak-USA TODAY Sports

Jeff Cumberland: C
Cumberland caught the Jets' only touchdown, so he had that. However, his dropped touchdown in the first quarter came back to haunt the team. The pass was thrown low, but Cumberland needs to make that catch. Most legitimate NFL tight ends would have.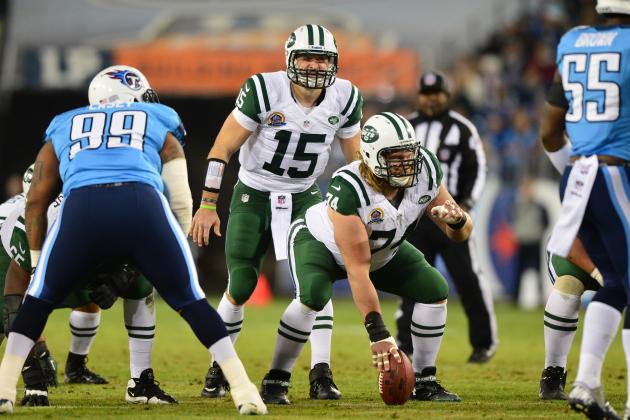 Don McPeak-USA TODAY Sports

Offensive Line: F
This group is going down as a unit in this slideshow. Sanchez was harassed and pummeled consistently against a team that ranked near the bottom of the NFL in sacks.
There are only eight NFL teams who have worse run defenses than the Titans, and the offensive line couldn't open any holes until it was too late.
Throw in key penalties by Austin Howard and Jason Smith along with a low snap by Nick Mangold with the game on the line, and you get one big fat F to divide seven ways.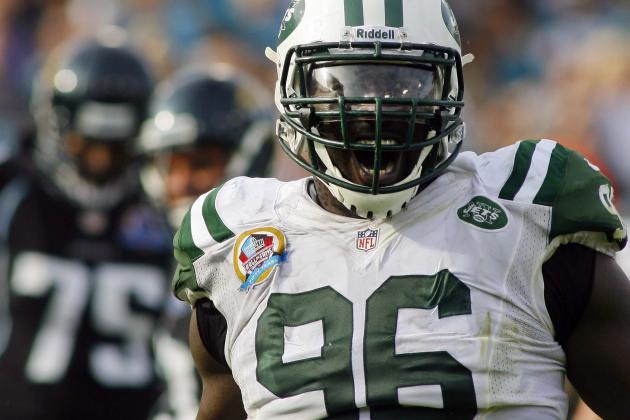 Phil Sears-USA TODAY Sports

Muhammad Wilkerson: A
Wilkerson continues to do amazing things on the football field. Aside from bullying his way around the line of scrimmage, Wilkerson is able to get outside and make plays near the sideline.
Wilkerson chased down Jake Locker, one of the fastest quarterbacks in the NFL, and pushed him out of bounds to force a Titans punt.
He finished with five tackles.
Sione Pouha: C
Pouha was victimized on Chris Johnson's 94-yard touchdown run. He was pushed out of his spot to clear a path for Johnson to get into the second level. Pouha had two solo tackles.
Quinton Coples: A-
Coples continues to grow, and there's no reason he shouldn't be a regular player from here on out. He had three tackles and a sack and again showed a propensity to get himself into the opponent's backfield. If Coples goes down as Mike Tannenbaum's final first-round draft pick, it will be a strong final impression.
Mike DeVito: A+
Lost in the outcome of the disgusting game was perhaps DeVito's best performance of the year. DeVito was a huge reason why the Jets were able to bottle up Chris Johnson most of the night, as he finished with eight total tackles.
DeVito made a number of plays right at the line of scrimmage, and even chased a receiver down the field to make a tackle. Great job by an under-appreciated Jet who showed why he is a fan favorite.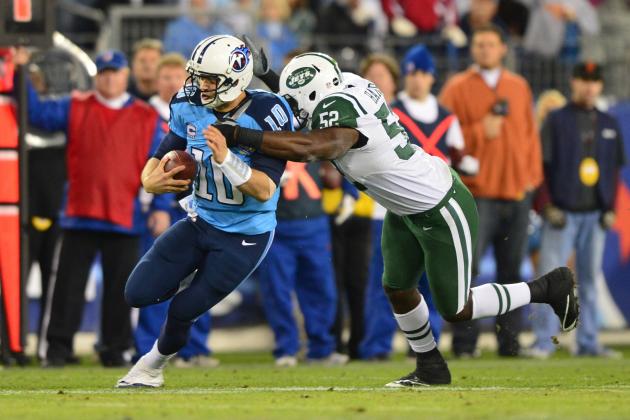 Don McPeak-USA TODAY Sports

David Harris: B-
Harris had seven tackles and was part of a solid effort by the defense. The Titans didn't have much room at all in the middle of the field. He did have a hand in Chris Johnson's 94-yard touchdown run though.
Calvin Pace: B
Pace had a sack and four solo tackles on the day. That performance has become the best that you can expect of Pace these days.
Bart Scott: B-
Scott had a game similar to Harris. He was fairly active with three solo tackles and one assist.
Garrett McIntyre: B+
McIntyre had a sack and four total tackles. His speed at the linebacker position was a welcome addition, as his playing time increased with Bryan Thomas out.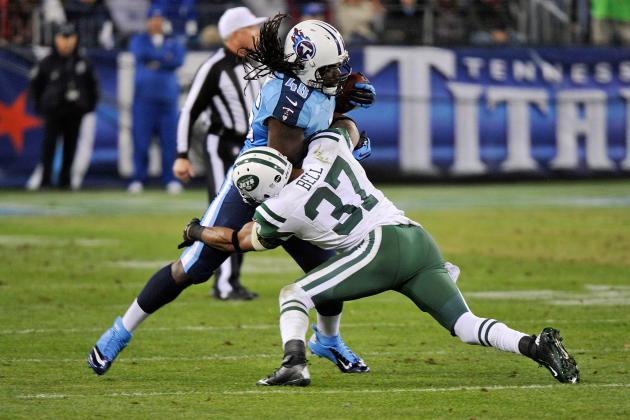 Frederick Breedon/Getty Images

Antonio Cromartie: A
Cromartie turned in his typical Pro Bowl-level game. He was tested deep by Jake Locker and passed each time. He almost forced an interception late in the game with an acrobatic pass deflection on a bomb downfield.
Kyle Wilson: B-
Wilson had a tough test against some Titans wide receivers who can be difficult to cover. He did a fine job most of the night, but was picked on a couple of times during the Titans' go-ahead touchdown drive. Not a bad overall performance, but his play dipped at that crucial time.
LaRon Landry: B-
Landry had just two solo tackles and two assisted tackles. It was a rare game where he wasn't a factor. On Chris Johnson's 94-yard touchdown run, Landry was up in the box and blocked out of the play.
Yeremiah Bell: C-
Bell had good stats on the night, but had a rough time on the Titans' two biggest plays of the night. On Johnson's touchdown, Bell was the last resort to try to slow Johnson, and stood no chance whatsoever to make a play.
On Jake Locker's touchdown run, Bell was the victim of a bulldozing block and at the same time was run over by Locker as he plowed into the end zone.
On the plus side, he had six tackles and a sack.
Bell has done very well this season for the Jets, but those two plays are going to stick with the respected veteran.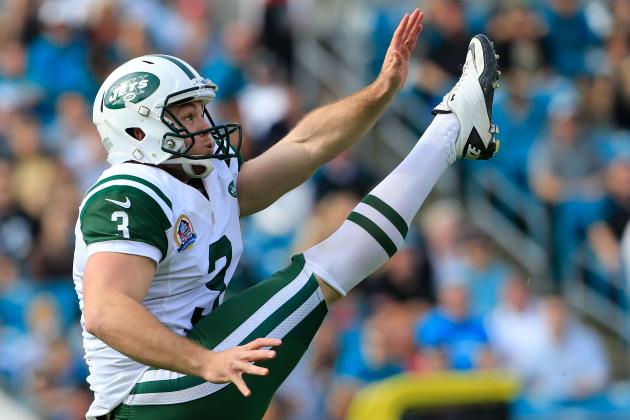 Sam Greenwood/Getty Images

Nick Folk: B
Folk was asked to make one field goal and did. No complaints on him.
Robert Malone: A
When compared to Titans punter Brett Kern, Malone looked like Ray Guy. He punted six times and averaged 42.3 yards per punt. Three of his six punts landed inside the 20-yard line, and he had a long of 53 yards.
Between the poorly sodded field, windy conditions and slick ball, the conditions for punting were very difficult. Malone handled it well. He's a keeper.
Jeremy Kerley: B-
Jeremy Kerley continues to be the most prolific player in the NFL when it comes to making a fair catch. He did manage to return one punt for seven yards.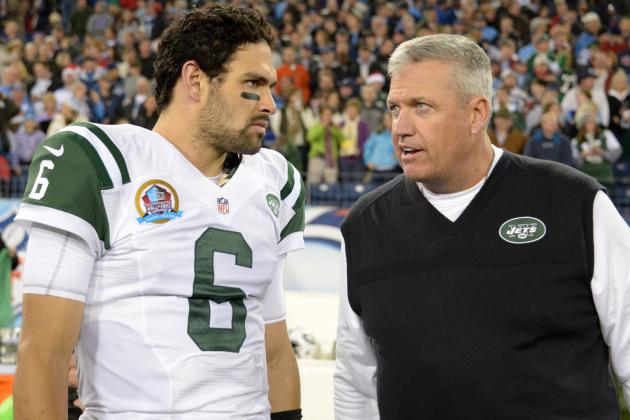 USA TODAY Sports

Rex Ryan: C
One has to wonder if Greg McElroy was active, would he have been in the game. The point is moot, and it's not likely that Ryan will answer that hypothetical. Some fans will say that he should have turned to Tebow and that he couldn't do much worse than Mark Sanchez. But by now, everyone knows that isn't happening.
While the head coach ultimately has to take responsibility for the team's loss, the fault of the offense's shortcomings falls on Sanchez and Tony Sparano.
Ryan's defense did very well, and he once again confused the heck out of a young quarterback. So if you want to blame him for the team's offensive performance, credit has to be given to the defense, which is firmly in the top 10 in the NFL.
There were no questionable game-management issues that fell on him, and his team continued its trend of being one of the least-penalized teams in the NFL, drawing just four flags against them all night.
Tony Sparano: F
This was the kind of stuff that got Brian Schottenheimer fired.
Sparano showed no game awareness whatsoever, dialing up intermediate pass plays on a windy day when Sanchez was as off as he's ever been and with an offensive line that couldn't protect him.
It all started to fall apart half way through the third quarter. The Jets got the ball with 9:54 left, and Sparano called for five passes on the six plays of the drive.
Then with 11:45 left in the game, Sparano called three straight passes into the wind on a three-and-out drive.
With 8:44 left, the Jets got the ball at their own 23-yard line. Shonn Greene had two rushes for 11 yards as the line began to give him big holes to run through.
So what does Sparano do on the subsequent first down? Call for a weak-armed quarterback to throw a bomb into the wind to a receiver with a bad hamstring who has been here for less than a week.
Talk about having no awareness of your personnel.
As if those sins weren't enough, there was also the complete mishandling of Tebow.
It appears that the Jets had predetermined that Tebow was going to be given a full series to see what he can do. Whether that was Ryan's decision or Sparano's will likely never be known.
But Sparano should have had the awareness to recognize that Sanchez was actually playing decently at the time and scrapped the idea.
The only other time Tebow saw the field was right after Sanchez completed two of his nicer passes of the evening.
This was as clueless a performance by any coordinator at a clutch time as the Jets have had, and that's saying a lot considering some of the coaches the Jets had calling plays for them at times.