Clint Dempsey: 10 Highlights for U.S. Soccer's Best Player in 2012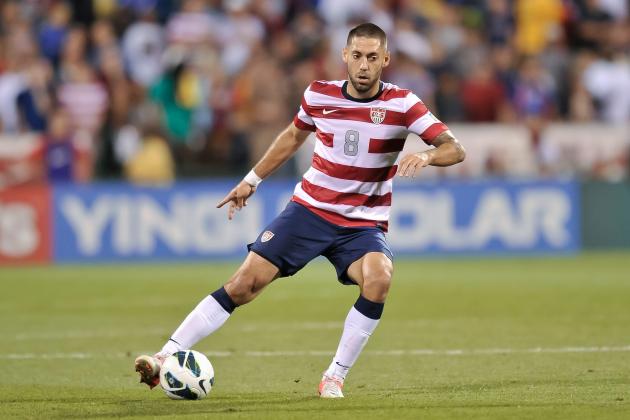 Jamie Sabau/Getty Images

Last month, the U.S. Soccer Federation named Clint Dempsey the winner of their 2012 Male Athlete of the Year award.
Dempsey is a three-time winner of the award, having also won in 2007 and 2011.
Dempsey's 2012 was a standout year all-around. In addition to scoring five goals in U.S. World Cup qualifying and the game-winning goal in the U.S.' historic win over Italy, Dempsey also had a standout year in the English Premier League.
Here are 10 of Dempsey's best highlights from 2012.
Begin Slideshow

»
On June 21, 2012, Clint Dempsey became the first American to ever record a hat trick in the English Premier League.
In Fulham's 5-2 win over Newcastle, who were a very good side in 2012 finishing fifth in the league, Dempsey netted all three of his goals in the second half.
Okay, this one is mostly for fun and doesn't involve a great play on the field, but it is still one of Clint Dempsey's best moments from 2012.
In the second-leg USMNT World Cup qualifier against Jamaica, in a tense match, Dempsey stepped into a confrontation when Jermaine Jones went down after an apparent elbow.
Dempsey mockingly made fun of the Jamaican player's "faux" toughness with his unique facial expression and the rest is history.
Dempsey's toughness, which in no small part emanates from his Nacogdoches, Texas background, is well-known.
During the confrontation, even commentator Taylor Twellman chimed in saying, "There's not one single person in this world that that man is going to step down from."
On May 6, 2012, nearing the end of his greatest season in England yet, Clint Dempsey scored his 50th Premiership goal on a wonderfully taken free kick.
It was a strike befitting the year Dempsey had and revealed, once again, that his quality is as real as his ability to score in so many different ways.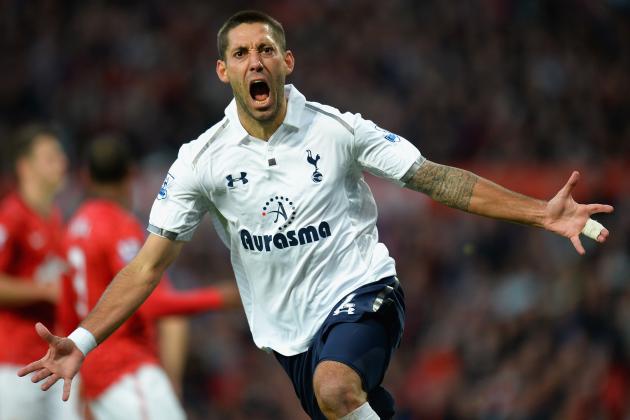 Shaun Botterill/Getty Images

This summer, after scoring 23 goals in all competitions for Fulham in the 2011-12 campaign, winning Fulham's Player of the Year award for the second consecutive year and finishing 4th in voting for Footballer of the Year, Clint Dempsey publicly expressed his desire to move on from Craven Cottage.
It was a hectic transfer window, however, for Dempsey. After tapping him up, Liverpool now infamously didn't close the deal, leaving Dempsey frozen out at Fulham with no new club.
Then, on transfer deadline day, Liverpool low-balled their final bid and Dempsey was left scrambling for a new club at the last minute.
However, in the end, things couldn't have worked out much better as Dempsey signed a last-minute deal with Tottenham.
Tottenham's aspiration for Champion's League football matches Dempsey's own desire for the same. Dempsey has also found himself a regular starter for Spurs and they currently sit in fourth place in the league.
In the final game of the group stage in CONCACAF World Cup qualifying, the U.S. found itself only needing a tie to guarantee advancement to the hexagonal.
However, just minutes into the match, the U.S. was down a goal after Carlos Ruiz burst in behind the U.S. defense. The goal silenced the home crowd and put U.S. qualification hopes in serious jeopardy.
However, the U.S. was able to get the goal back just five minutes later as Clint Dempsey knocked down a Graham Zusi corner kick right in front of the net. Carlos Bocanegra took advantage and got the easy tap-in to drag the U.S. level and rescue the U.S.' World Cup qualifying hopes.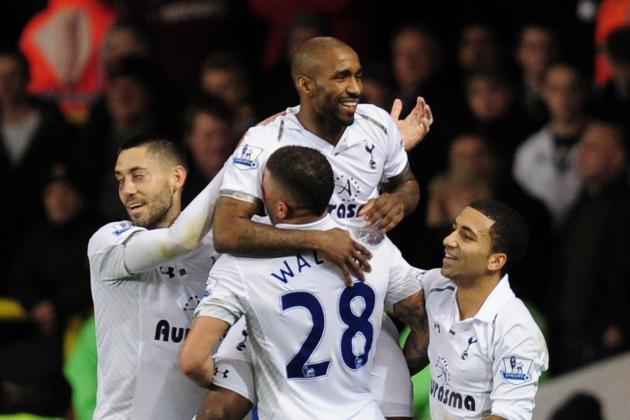 Jamie McDonald/Getty Images

Just three weeks ago, many vocal critics were crying out that Clint Dempsey was just not fitting in at Tottenham.
Admittedly, he did look like he was struggling to connect with his new teammates and was certainly not impacting games very often on the scoresheet.
However, the game against West Ham marked a turning point in the season for Dempsey.
In the game, he had one of the best assists a player can hope for. While running at the West Ham defense, Dempsey beautifully chipped a ball over the defense to an on-running Gareth Bale who finished the chance.
Later in the game, Dempsey set-up another goal through some fancy footwork as he put Aaron Lennon behind who laid the ball across to Jermaine Defoe for the easy finish.
Since the game against West Ham, Dempsey has been strong, picking up goals in the Everton and Panathinaikos matches and racked up another assist against Fulham.
This is a goal that didn't get a lot of attention due to the fact that the game wasn't widely televised (thanks again to Traffic Sports for charging $30 for that pay-per-view).
In the U.S.' away-leg to Guatemala in World Cup qualifying, Clint Dempsey helped the U.S. earn a point on the night with some nifty footwork to beat two Guatemalan defenders before coolly slotting home the chance.
Just seven minutes after assisting on the game-tying goal to Carlos Bocanegra, Clint Dempsey put the U.S. ahead in that same final group stage CONCACAF World Cup qualifier.
The game-winning goal, which was typical Dempsey, was the eventual game-winner and sealed U.S. qualification into the next round.
Very early on in Clint Dempsey's Tottenham career, when it was still evident that he was not fully back in form after his long summer layoff, Dempsey scored one of his biggest goals of 2012.
In a tight 2-1 game at Old Trafford, Dempsey got on the end of a loose ball in front of the net, popping up in the right place at the right time as he always seems to do, and put the ball away making the score 3-1.
United would come back to make the score 3-2, but Tottenham would escape with all three points and their first win at Old Trafford in 23 years.
With 31 goals for club and country in 2012, Dempsey has plenty of highlights to choose from.
However, his best moment was his game-winning goal against Euro runner-up Italy in the U.S.' February friendly in Genoa.
On the play, Dempsey one-timed a shot from a layoff by Jozy Altidore. Dempsey fired the shot past arguably the best goalkeeper in the world in Gianluigi Buffon giving the U.S. the historic 1-0 win.
U.S. Soccer also put together a nice highlight video of Dempsey's 2012 here.
Follow me on Twitter @AmerTouchline
Follow me on Facebook www.facebook.com/AmericanTouchline