Buffalo Bills Mock Draft: How to Fix Biggest Problems in 6 Rounds
Rick Stewart/Getty Images
I need more than six draft picks to fix the Buffalo Bills.
Fixing the Buffalo Bills is not an easy job.
Fixing the Buffalo Bills with six draft picks is nearly impossible, but I am up to the challenge.
The Buffalo Bills have many pressing needs, but in truth a head coach may be their biggest need.
While you cannot draft a head coach, I'll find some players who can start immediately as well as add depth to the current Buffalo Bills team.
Please keep in mind that in this mock draft, Jairus Byrd, Andy Levitre and Kraig Urbik all resign with the Bills. Also, Buffalo does not hold a 7th round pick after trading for the inactive Tarvaris Jackson.
Begin Slideshow

»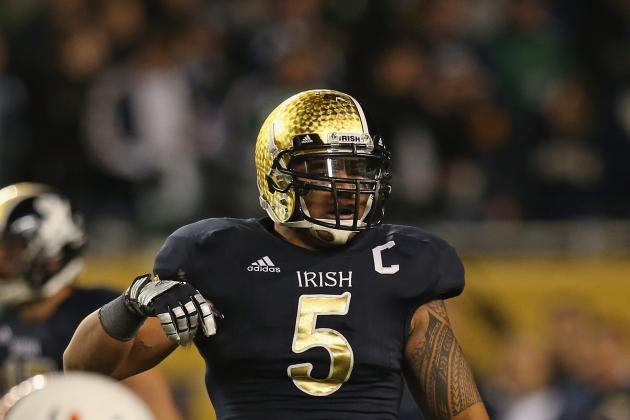 Jonathan Daniel/Getty Images
Drafting Te'o would help right the Bills defense quickly.
Manti Te'o has everything that the Buffalo Bills needs on defense.
He is instinctive. No ILB had a nose for the ball more than Te'o who registered seven interceptions in his senior season.
Te'o is a tackling machine. In six games, Te'o went over 10 tackles in a game and he ended the regular season with 101 total tackles.
Last, Te'o is a leader. In a season where Notre Dame was not expected to make much of an impact, Te'o's presence and leadership lead Notre Dame to their most magical season in recent memory.
On a team that needs more leadership on defense, Manti Te'o certainly fits the Bill(s).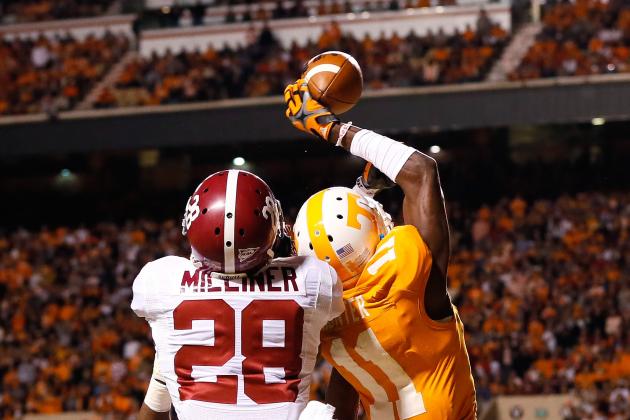 Kevin C. Cox/Getty Images
Justin Hunter is a phenomenal athlete and his size and speed will be coveted.
Spoiler Alert: Don't worry Bills fans, a quarterback is coming next!
In round two, Justin Hunter is too appealing to pass up for the Buffalo Bills.
Hunter stands at 6'4" and runs a 4.49 40-yard dash. His size/speed combination is exactly what Buffalo is looking for on the outside.
Buffalo is in desperate need of an outside receiver, especially after GM Buddy Nix mentioned his desire to move Stevie Johnson to the slot.
Buffalo does not have the right quarterback at the helm right now to showcase Hunter's talents, but if the Bills sign a QB like Michael Vick, Hunter could and most likely would make an immediate impact for the Bills.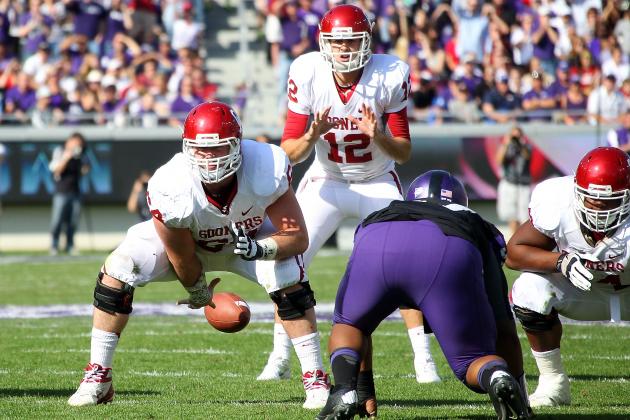 R. Yeatts/Getty Images
Landry Jones in the third round is a great value pick for any team, especially the Bills.
There are so many quarterbacks available in the first three rounds of the NFL draft that one or two will fall to the third round. Right now, Landry Jones is one of those quarterbacks.
Jones has the size Buddy Nix covets in a quarterback as he stands at 6'4". He can make every NFL throw possible and is very accurate with the ball.
In his senior season, Jones completed 65.5 percent of his passes while throwing for 29 touchdowns to only 10 interceptions.
In the third round, Landry Jones may be the biggest steal of the draft.
Give Jones one season to learn the pro game and hand him the keys to the franchise in 2014.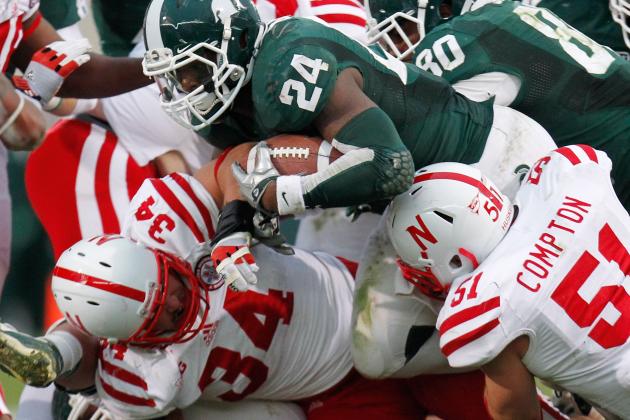 Gregory Shamus/Getty Images
Le'Veon Bell and C.J. Spiller would be quite a 1-2 punch.
C.J. Spiller is one of the most exciting and dynamic running backs in the NFL. No one can ignore his talent, well except for Chan Gailey (zing!).
With that being said, Buffalo needs to think long term and have a compliment to Spiller. Fred Jackson will be 32 at the start of next season and injuries are starting to pile up.
Le'Veon Bell is the perfect compliment in my opinion. Bell is 6'2' and weighs in at 240 pounds. Where Spiller can use his speed and athleticism to make the defense miss, Bell is a wrecking ball.
According to STATS, over half of Bell's rushing yards came after contact. His ability to pound the ball and tire out defenses would only benefit Spiller.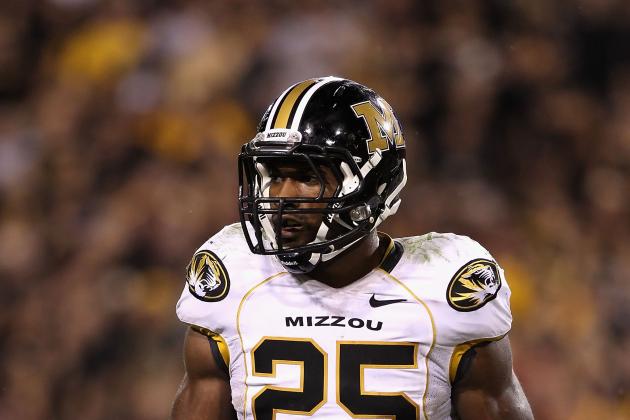 Christian Petersen/Getty Images
Buffalo needs depth at OLB and Gooden has all the intangibles to be a starter in the NFL.
Buffalo needs to revamp their defense as much as possible.
At outside linebacker, the Bufallo Bills have Nick Barnett and rookie Nigel Bradham as starters. Behind them, Buffalo currently has Arthur Moats, Bryan Scott and Chris White.
Moats, a starter at the beginning of the season, is out for the remainder of the 2012 season and there is no telling where Buffalo will move him in 2013.
Scott is undersized at LB and is used more in nickel packages.
White was one of the final cuts for Buffalo, but his job is far from guaranteed next season.
Enter Zaviar Gooden. In terms of athleticism, Buffalo couldn't find a better player in the fifth round. He runs a 4.49 40-yard dash and is extremely physical.
Gooden would provide immediate depth for the Bills and has all the makings of a starter in the NFL.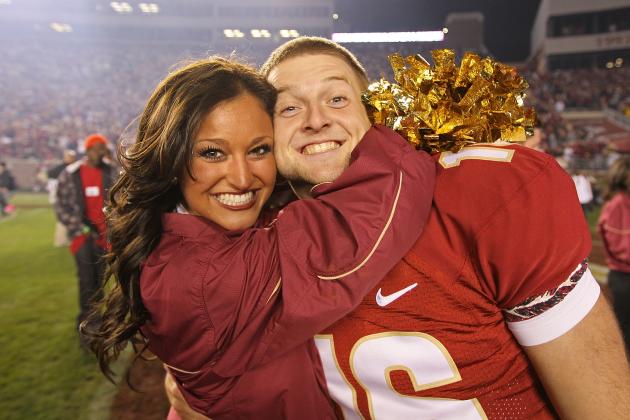 Mike Ehrmann/Getty Images
Even Dustin Hopkins was excited to hear he was drafted in a mock draft!
That just happened! I took a kicker in a mock draft.
I feel bad for Rian Lindell. He has been very good this season, missing just one field goal on the year. Yet, for whatever reason coach Chan Gailey does not trust Lindell to make any kicks over 50 yards.
Lindell will be entering his 14th NFL season in 2013, so drafting a kicker late isn't the worst plan for Buffalo.
For that reason alone, I have Buffalo taking the best kicker available in this year's draft, Dustin Hopkins. On the year, Hopkins made 24 of 28 field goals.
With 459 career points, Hopkins is the NCAA FBS all-time kick scorer.