NBA MVP Odds: Is It Still LeBron's To Lose?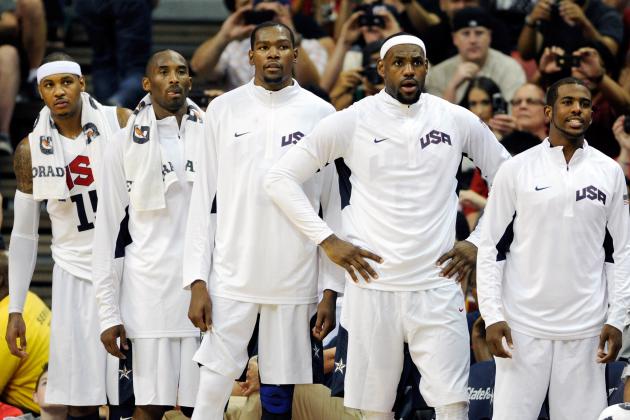 David Becker/Getty Images

If LeBron James hopes to repeat as the NBA's Most Valuable Player in 2013, he's got his work cut out for him.
While James remains the most talented player in the league, he's facing stiff MVP competition from two other forwards with whom he's plenty familiar.
Carmelo Anthony of the New York Knicks happens to be off to the hottest start of his career, which he punctuated with a 22-point first quarter against the Los Angeles Lakers on Dec. 13.
Meanwhile, Kevin Durant helped the Oklahoma City Thunder weather the storm of the James Harden trade by elevating his own play, leading the Thunder to a league-best 20-4 record.
James may be the best player in the NBA, but he's finding out the hard way this season that his infinite talents won't win him the MVP without a bit of help, too.
Note: Statistics and records are current through games played on Dec. 17. Last week's rankings here.
Begin Slideshow

»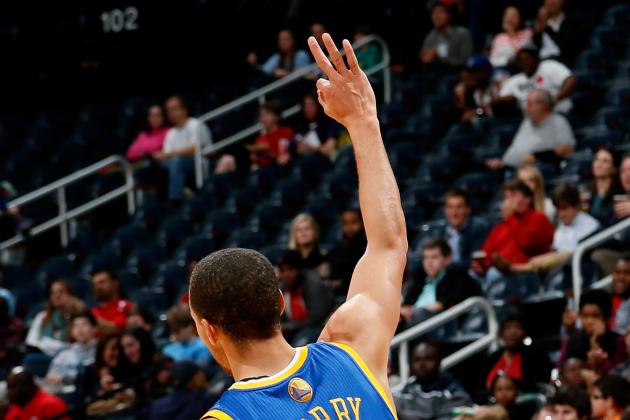 Kevin C. Cox/Getty Images

In alphabetical order:
Stephen Curry, Golden State Warriors
Curry isn't shooting lights out this season from the field (42.3 percent), but he's more than making up for it with his other contributions on the floor.
His averages of 19.7 points, 6.5 assists, 4.1 rebounds and 1.7 steals per game, not to mention the 2.7 three-pointers he's sinking per game, are a huge reason why the Warriors are one of the NBA's most pleasant surprises through the first quarter of the season.
James Harden, Houston Rockets
Ever since being traded before the start of the season, Harden hasn't hesitated to put the Rockets on his back, which has them sitting at a surprising 12-12 after 24 games.
Harden's eye-popping averages of 25.1 points, 5.2 assists, 4.7 rebounds and 1.9 steals per game make anyone who thought he wasn't worth a maximum contract look like a complete and utter buffoon.
Jrue Holiday, Philadelphia 76ers
Holiday drops into the Honorable Mention category this week after missing the 76ers' two games on Dec. 14 and 16 due to a sprained left foot.
In the 22 games he's played this season, he's averaged a career-high 18.4 points and 8.9 assists per game, allowing the Sixers to breathe easy about the four-year, $41 million deal extension that Holiday signed at the start of the 2012-13 season.
Damian Lillard, Portland Trail Blazers
Lillard makes his way back into the MVP rankings by virtue of guiding the Trail Blazers to three straight wins, including the game-winning three-pointer he drilled with tenths of a second left on the clock against the New Orleans Hornets on Dec. 16.
He's averaging 18.8 points, 6.3 assists, 3.3 rebounds and 1.1 steals per game for Portland, which has him clearly at the top of the Rookie of the Year rankings. Portland likely won't be a strong enough team for Lillard to warrant legitimate MVP consideration, but what he's been doing in Rip City shouldn't go unnoticed.
Rajon Rondo, Boston Celtics
By virtue of being the only point guard in the league averaging more than 10 assists per game, Rondo continues to merit brief MVP consideration. (Rondo's averaging 12.9 dimes per game.)
The Celtics' lackluster record and Rondo's continued struggles at the free-throw line are the two major concerns holding him back from moving into the top 10 of the MVP race.
Dropped from rankings: Anderson Varejao, Cleveland Cavaliers (sorry, but the MVP isn't coming from a team that's 5-20.)
Just missed the cut: David Lee, Golden State Warriors; Tony Parker, San Antonio Spurs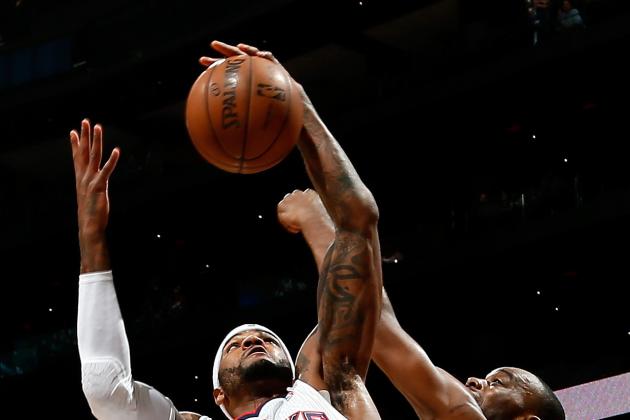 Kevin C. Cox/Getty Images

Last week's ranking: N/A
I'd be remiss to not admit a glaring error of omission when it comes to Josh Smith and my MVP rankings this season. Before this week, I hadn't had him ranked here at all—not even in the honorable mentions.
That was a mistake on my part. Smith has been his usual do-it-all self in 2012-13, averaging 16.6 points, 8.1 rebounds, 3.7 assists, 2.1 blocks and 1.4 steals per game for the Atlanta Hawks, who currently stand third in the Eastern Conference with a 14-7 record.
Even more amazingly, he's knocked down over 40 percent of his three-point tries this season.
On the downside, Smith's field goal percentage (44.1) is the lowest it's been since the 2006-07 season, and he's been downright terrible shooting from outside the paint. He's only hitting 26 percent of his jumpers from 16-23 feet, according to HoopData, but that hasn't stopped him from hoisting nearly five attempts per game from that range.
Smith's greatest weakness has long been his affinity for the long-range two-pointer, also known as the least efficient shot in basketball. If or when he decides to rein in his shot selection, he'll have a chance to move even higher in these MVP rankings.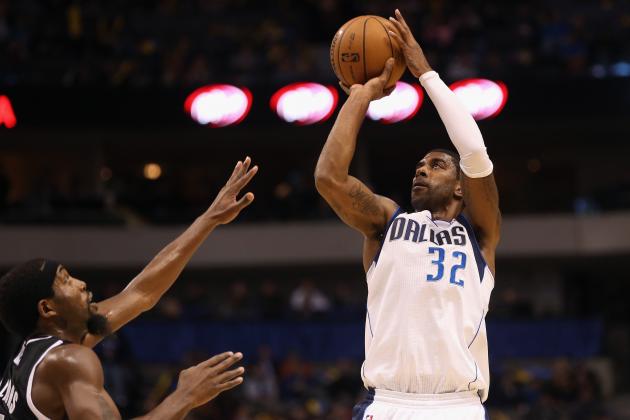 Ronald Martinez/Getty Images

Last week's ranking: Honorable mention
Whatever Jedi mind trick O.J. Mayo is using to sink a league-high 51.2 percent of his three-point attempts this season, it's working like a charm.
Mayo never hit more than 38.4 percent of his three-point tries in a season during his four years with the Memphis Grizzlies, which suggests that his superlative shooting in 2012-13 will eventually regress to the mean.
However, he's also knocking down a career-high 48.2 percent of his total field-goal attempts and averaging a career-high 3.9 trips to the free throw line per game. Throw in a career-high 4.0 rebounds and 3.5 assists per game, and Mayo looks like a more complete player than ever in his fifth NBA season.
In short, Mayo helped keep the Dallas Mavericks afloat through the first quarter of the season despite the absence of Dirk Nowitzki. Once Nowitzki returns, Mayo will only start receiving more open looks, which should help him maintain his stellar shooting percentages.
Turnovers remain a bit of a concern, though. Mayo is averaging a career-high three giveaways per game through 24 games this season, including a nine-turnover performance against the Boston Celtics on Dec. 12.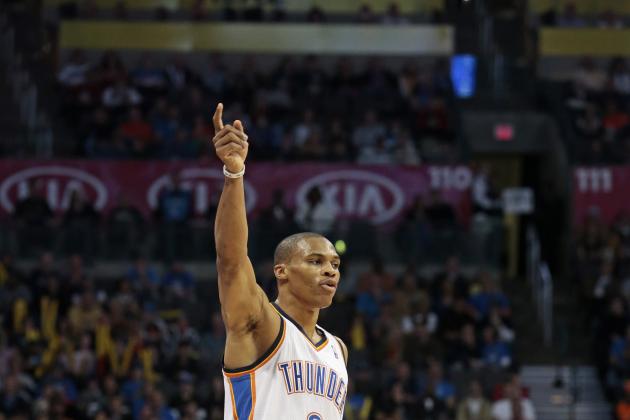 Brett Deering/Getty Images

Last week's ranking: 7
As the starting point guard of the team with the best record in the NBA, Russell Westbrook almost automatically qualifies for the list of top 10 MVP candidates.
The fact he's averaging 20.8 points, a career-high 8.8 assists, 4.7 rebounds and a career-high two steals per game certainly doesn't hurt his candidacy.
The one thing that's holding him back currently is his shooting efficiency. It's tough to think of Westbrook as a true MVP candidate with him shooting only 41.1 percent from the field unless he starts putting up Allen Iverson-esque scoring numbers in the next 58 games.
He shot over 60 percent at the rim in 2010-11 and 2011-12, but he's only converting 53.7 percent of his looks from that range this year, according to HoopData.
To his credit, he's averaging a career-low 3.2 turnovers per game despite having the fourth-highest usage rate in the league, according to former ESPN.com writer John Hollinger (subscription required). He's also converting a career-high 36.7 percent of his three-point tries while averaging a career-high 4.1 attempts per game from deep.
If or when Westbrook boosts his shooting efficiency this season (especially at the rim), he's likely skyrocket up this list.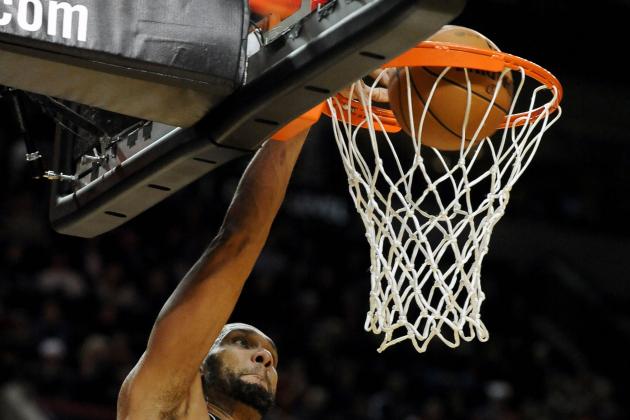 Steve Dykes-USA TODAY Sports

Last week's ranking: 6
It's impossible to discuss Tim Duncan's MVP candidacy without bringing up his age (36 years old), because it only makes what he's been doing in 2012-13 that much more impressive.
Despite only playing just over 30 minutes per game, Duncan's been averaging 17.1 points, 10.1 rebounds and 2.5 blocks for the San Antonio Spurs. He's currently managing the highest per-36-minute rebounding total (12.0) of his career, according to Basketball Reference.
Duncan's tour de force against Father Time added another chapter on Dec. 12, when he became the first player 35 years or older to put up at least 20 points, 20 rebounds and five blocks in a single game since David Robinson did it for the Spurs back in 2001, according to ESPN's Marc Stein. (Duncan had 22 points, 21 boards and six blocks.)
As has been the case from Day 1 of this season, Spurs coach Gregg Popovich remains Duncan's largest obstacle in the MVP chase. Pop will likely keep limiting Duncan to somewhere around 30 minutes per game, giving him roughly one-sixth less time to produce the same results as other MVP candidates.
Duncan may not win MVP in 2013, but what he's doing at the age of 36 simply defies words at this point.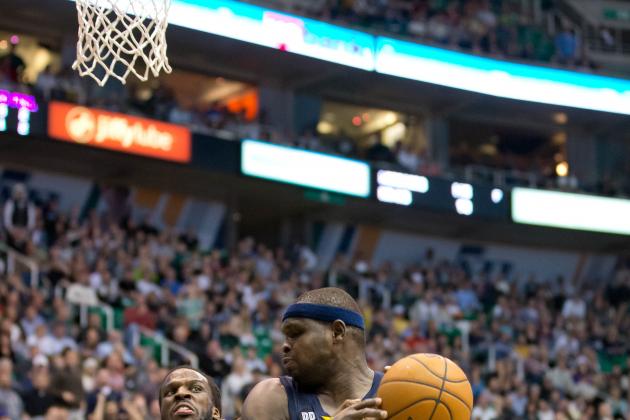 USA TODAY Sports

Last week's ranking: 5
To say the Zach Randolph of the 2010-11 season has returned in 2012-13 would almost be an understatement.
Randolph appears back to being 100 percent healthy after tearing his MCL in January, going from the player who averaged 11.6 points and 8.0 rebounds per game in 2011-12 to averages of 17.2 points and a career-high 12.7 boards per game this season.
Plain and simple, Randolph has been doing work on the glass for the Memphis Grizzlies. He trails only Anderson Varejao of the Cleveland Cavaliers in terms of total rebounds per game and offensive rebounds per game, despite the presence of Marc Gasol on his team.
Z-Bo's shooting percentage has also started trending up nicely in the month of December, save for two tough games against the San Antonio Spurs on Dec. 1 and Chicago Bulls on Dec. 17.
Despite shooting only 9-of-35 combined in those two games, Randolph has knocked down over 50 percent of his shots in December.
The Grizzlies dropped three straight games from Dec. 8 through Dec. 14, causing Randolph's MVP candidacy to take a slight tumble, but Memphis righted the ship against the Utah Jazz on Dec. 15 and against the Bulls on Dec. 17.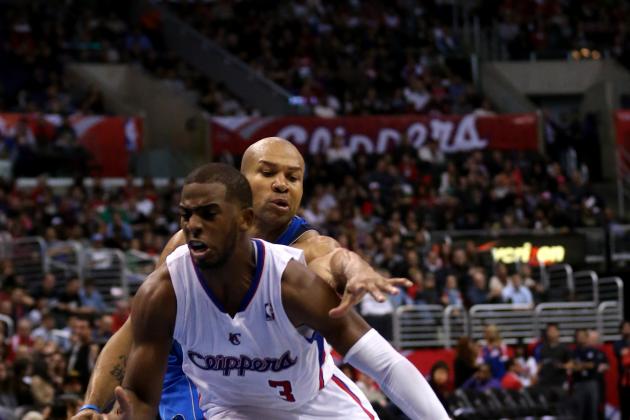 Stephen Dunn/Getty Images

Last week's ranking: 8
Despite averaging a career-low 33.1 minutes per game in 2012-13, Chris Paul currently has the Los Angeles Clippers on a 10-game winning streak and only two games behind the Oklahoma City Thunder for the best record in the Western Conference.
The Clips dropped four straight toward the end of November, and since then, Paul has kicked himself into another gear. In the month of December, despite only playing 30.2 minutes per game, he's averaging 15 points, 8.4 assists, 3.4 rebounds and 2.2 steals.
Paul ranks fifth in the NBA with a PER of 25.4, according to Basketball-Reference, and is tied with Kobe Bryant for second in the league in terms of win shares (4.6), trailing only Kevin Durant (5.5).
Paul's 9.2 assists per game on the season trail only Rajon Rondo's 12.9 dimes per game, and CP3 leads the league with 2.6 steals per game. Before 2012-13, he's finished four of the past five seasons with the league lead in steals per game.
The floor general of one of the NBA's hottest teams merits MVP consideration almost automatically, but Paul's made his case even stronger by being an absolute pest for opponents on both ends of the court.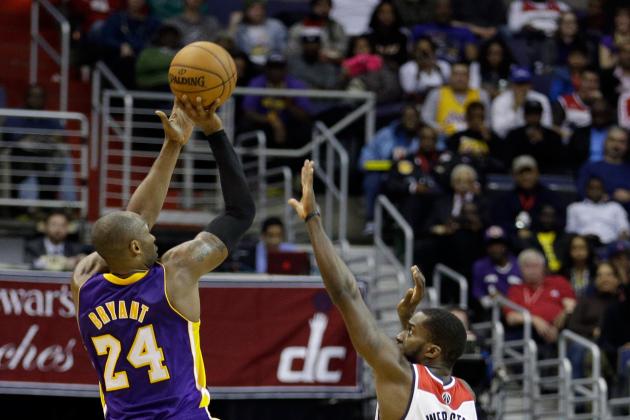 Rob Carr/Getty Images

Last week's ranking: 4
Kobe Bryant started the 2012-13 season shooting more efficiently than ever, but he appears to be regressing to the mean in December.
Through Nov. 21, Bryant only shot below .500 from the field in three of the Los Angeles Lakers' 12 games. In the Lakers' next 13 games, Bryant only hit more than 50 percent of his field-goal attempts four times.
Bryant's record shooting efficiency may soon become a thing of the past, but he's still responsible for three of the NBA's seven 40-point games this season. (Granted, the Lakers are 0-3 in those games.)
Bryant also leads the league in scoring with 29.5 points per game, and has scored over 30 points in all but one of the Lakers' games in December. He's nearly two points per game ahead of Carmelo Anthony of the New York Knicks, the closest contender to his scoring crown.
The Lakers' underwhelming 11-14 record will be a deterrent for his MVP credentials until the team can right the ship.
Despite the team's subpar record, however, it's impossible to ignore the 29.5 points, 5.2 rebounds, five assists and 1.6 steals that Bryant's been posting per game this season when considering serious MVP candidates.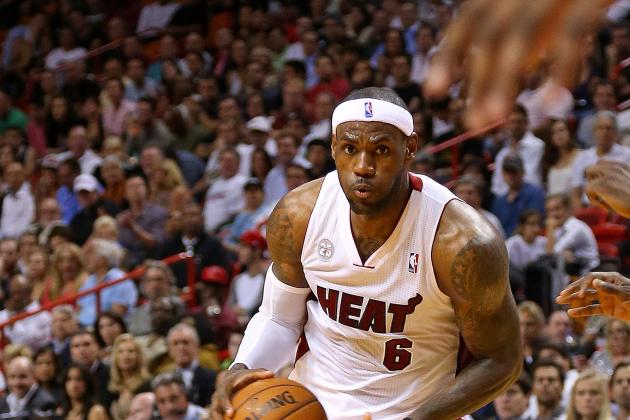 Mike Ehrmann/Getty Images

Last week's ranking: 2
LeBron James wasn't kidding when he said, "I spoil a lot of people with my play," back in the 2010 playoffs, his last season with the Cleveland Cavaliers.
If any other player in the league averaged over 25 points, nearly nine rebounds and nearly seven assists per game, they'd be all but considered a lock for MVP.
Once you throw in what James does on the defensive side of the ball, guarding positions 1 through 5, it's almost heresy for anyone to not have him atop their MVP ballots.
Because of those vast talents on both ends of the ball, James truly is held to a higher standard than any of his superstar peers.
He's averaging career highs in shooting percentage (54.1), three-point shooting percentage (42.4) and rebounds per game (8.6), yet you can't help but feel that James largely has remained in cruise control this season.
No one can blame James for saving some fuel for the playoffs, but a few of his peers have demonstrably upped their games this season. For that reason alone, James can still be considered the best player in the league, but he shouldn't be at the top of anyone's MVP list for the time being.
Bruce Bennett/Getty Images

Last week's ranking: 3
Before spraining his left ankle in the third quarter against the Los Angeles Lakers on Dec. 13, Carmelo Anthony appeared set on the most impressive scoring performance of the young 2012-13 season.
Through the first quarter, 'Melo dropped 22 points, turning the game into a rout within minutes. He left the game with 30 points on 10-of-15 shooting, and amazingly, that wasn't even his best performance that week.
Anthony lit up his Knicks' new cross-city rivals, the Brooklyn Nets, to the tune of 45 points on 24 shots on Dec. 11. He chipped in five three-pointers, five rebounds and three assists and missed only one of his 11 free throws that night, but he still needed a late Jason Kidd three to bail the Knicks out for good.
'Melo missed the Knicks' games against the Cleveland Cavaliers on Dec. 15 and Houston Rockets on Dec. 17 due to his sprained ankle, but he should be cleared to return within days. (He was a game-time decision against Houston before being declared out.)
Even despite the ankle injury, Anthony's incredible performances against the Nets and Lakers justify his move up this list.
It also helps that he ranks second in the NBA in scoring with 27.9 points per game, trailing only Kobe Bryant of the Los Angeles Lakers for the league lead.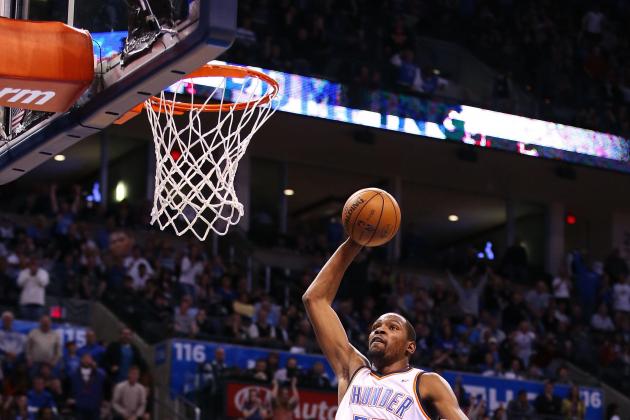 Kevin Jairaj-USA TODAY Sports

Last week's ranking: 1
To anyone doubting Kevin Durant's claim as the leader of the MVP race, look no further than his shooting percentages across the board.
After the Oklahoma City Thunder's victory over the San Antonio Spurs on Dec. 17, Durant officially joined the 50-40-90 club (for now). He's shooting 51.4 percent from the field, 42.9 percent from three-point range and 90 percent from the charity stripe.
Throw in the fact that Durant's averaging career-highs in rebounds (8.3), assists (4.2), steals (1.5) and blocks (1.4) along with 27.1 points per game, and it's almost inarguable that he's been the most impressive offensive player in the league in 2012-13.
The 11-game win streak that the Thunder currently have going only adds to Durant's MVP resume. The team hasn't lost since a road game against the Boston Celtics on Nov. 23, nearly a span of a full month.
LeBron James still has the edge over Durant on the defensive end based on his versatility, but Durant's closing the gap in that regard, too. Durant's been better at defending spot-up shooters and pick-and-roll ball-handlers than James in 2012-13, according to SynergySports, although James holds the edge overall.
If Durant maintains the 50-40-90 averages while coming anywhere close to keeping the rest of his astounding numbers up, he's all but an MVP lock, especially if the Thunder continue to dominate the rest of the league.
That is, of course, unless James decides to start averaging a triple-double.