Houston Rockets vs. New York Knicks: Live Blog, Results and Game Highlights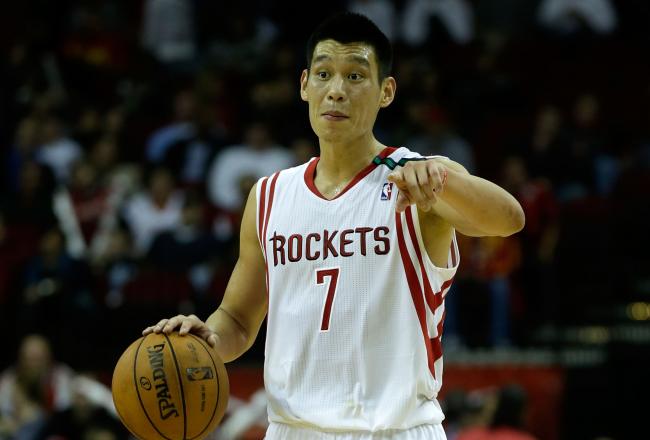 Jeremy Lin will return to where Linsanity began.
Scott Halleran/Getty Images
The 11-12 Houston Rockets travel tonight to Madison Square Garden to face the 18-5 New York Knicks.
Let's tune into the action, being televised on NBA TV.
#Knicks starters: PG Felton, SG Kidd, SF Brewer, PF Copeland, C Chandler | Rockets: PG Lin, SG Harden, SF Parsons, PF Morris, C Asik

— NBA New York Knicks (@nyknicks) December 18, 2012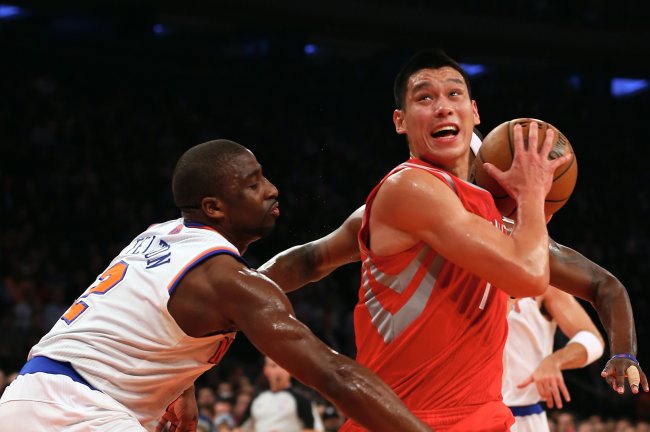 Elsa/Getty Images
The Rockets had nearly a repeat performance of their 28 point victory over the Knicks on Nov. 23. James Harden was huge in both games, and this game Jeremy Lin joined his antics with the type of Linsanity we saw last season in New York.
Again, the final score does not reflect accurately how lopsided this game was. Harden and Lin combined for 50 points and Carlos Delfino chipped in 16 off the bench.
The Knicks were just a disaster without Carmelo Anthony. For those who criticize Melo for not passing enough, his teammates substantiated why he may not. They couldn't get anything going and J.R. Smith was overly aggressive in trying to fill the void left by Melo's 27.9 points per game missing from the lineup.
But this was about Lin and his return to MSG. And it was magnificent.
FINAL SCORE: ROCKETS 109, KNICKS 96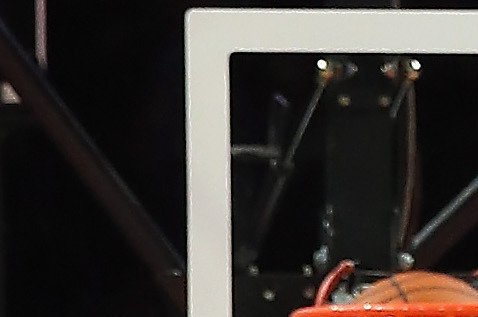 Bruce Bennett/Getty Images
After being booed all game (enigmatically), the MSG crowd gave Jeremy Lin a nice exiting ovation. Lin had one of his finest games of the season against his former team, and all things said the homecoming had to have been a good one. It usually is when the result is a huge win.
The Knicks just do not match up well against the Rockets. The final score is going to look a lot closer than the actual game was due to some clutch garbage play on the part of the Knicks, but other than the play of Chris Copeland, not a lot of positives can be drawn from this one.
ROCKETS 107, KNICKS 94 — 58.3 Seconds to go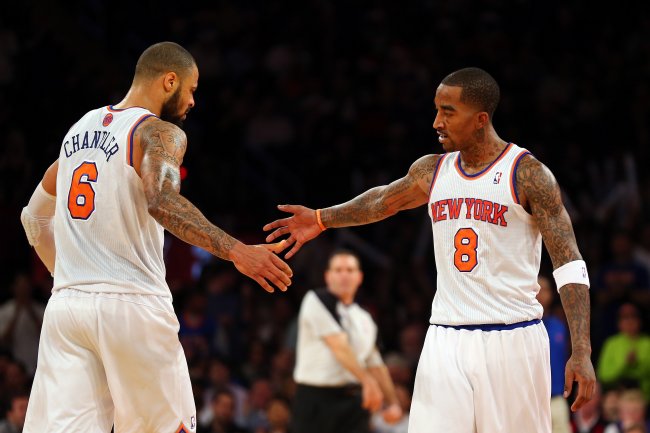 Elsa/Getty Images
Jeremy Lin and James Harden checked back in. I'm not really sure why. The Knicks cut it to 19, but there's only five minutes left in the game, and the Rockets appear to have this one in hand. They're still moving the ball around well.
And the Knicks still aren't.
Following a possession in which the Rockets worked it around for a nice take inside by Omer Asik (which was blocked by Tyson Chandler), the Knicks came back and J.R. Smith tried to do it all by himself.
That's been the story of this game.
ROCKETS 102, KNICKS 83 — 3:28 to go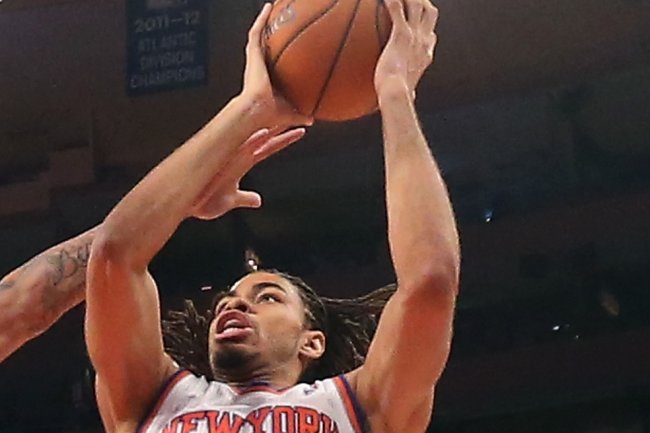 Bruce Bennett/Getty Images
Chris Copeland is going to work in garbage time, but the refs have taken the game off early. Copeland aggressively layed it up and got his own rebound three times in traffic, but wasn't bailed out with a whistle. How can a guy make his big garbage time impact without cooperation from the refs?
The Knicks have cut a little into this lead, but that isn't saying much. Copeland with 18 points, a career high. He had 11 last game against the Cavaliers in the Knicks 103-102 victory on Dec. 15.
ROCKETS 94, KNICKS 76 — 6:06 Remaining in Game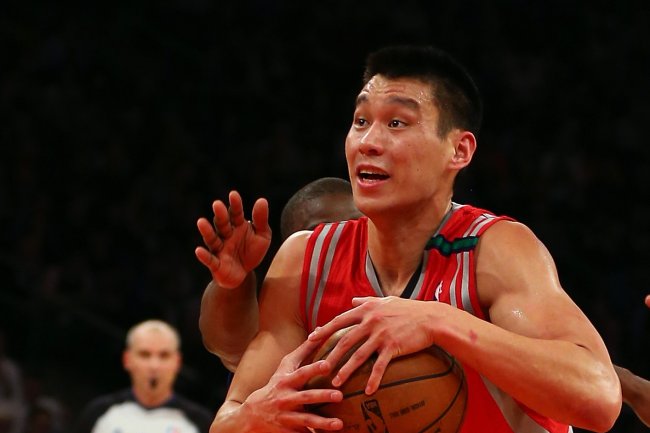 Elsa/Getty Images
<blockquote class="twitter-tweet">
Rockets outscored Knicks 54-29 in the middle 2 quarters tonight.
— ESPN Stats & Info (@ESPNStatsInfo) December 18, 2012
Elsa/Getty Images
We're primed for a full quarter of garbage time now. The Knicks just ran a pick and roll with Pablo Prigioni and Chris Copeland. That's a good play to run in the preseason, but when you're down by 20-plus, it's just called experimenting.
The Knicks current lineup of Steve Novak, James White, J.R. Smith, Prigioni and Copeland isn't likely to get them back in the game. But hey, Mike Woodson is still taking timeouts and trying to work through this. Even J.R. Smith can't pull them out of this hole.
Don't expect to hear from Harden or Lin unless the Knicks make a big run—and we don't see that happening.
ROCKETS 94, KNICKS 69 — 8:51 Remaining in Game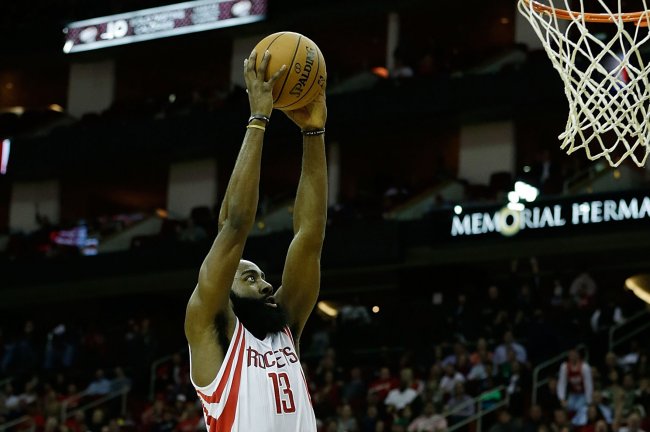 Scott Halleran/Getty Images
The Rockets ended the quarter on a 23-5 run. The Knicks are a great team against most opponents, but they just don't match up well with the Rockets. And they have no answer for James Harden. Harden now has 26 after three quarters, and has got to the basket with ease all night.
Harden also hit 2-of-5 from behind the arc and is appearing to be a legitimate superstar. Yes, this is the Knicks without Carmelo Anthony, but Anthony wouldn't have done anything to change this. He would have been covering Chandler Parsons, and isn't a very good defender at any rate.
ROCKETS 83, KNICKS 60 — End of the 3rd Quarter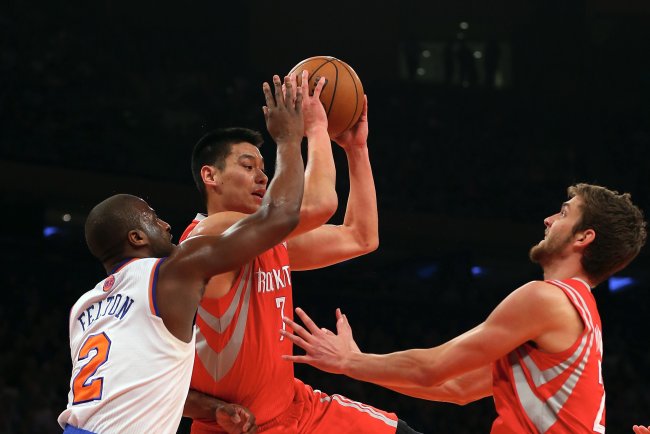 Elsa/Getty Images
How fitting is it that the Knicks' first home loss may come against Jeremy Lin and the Rockets?
The Knicks had won all ten of their home games coming into tonight, but find themselves down big with the third quarter coming to a close. The Rockets are out-hustling the Knicks, and are the youngest team in the league going against the oldest.
Youth over experience.
ROCKETS 80, KNICKS 58 — 1:31 in 3rd Quarter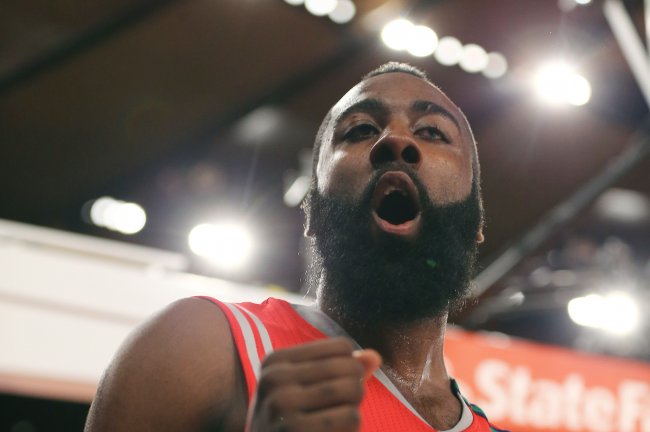 Elsa/Getty Images
James Harden and the Rockets are now on a 13-0 run. The Knicks are reeling without J.R. Smith on the court; not that it was going so great with J.R. Swish jacking up so many jumpers and leaving the offense stagnant.
The Rockets have had the Knicks' number all season long, and are on their way to another lopsided victory after beating them by 28 in Houston last meeting.
ROCKETS 73, KNICKS 55 — 4:21 in 3rd Quarter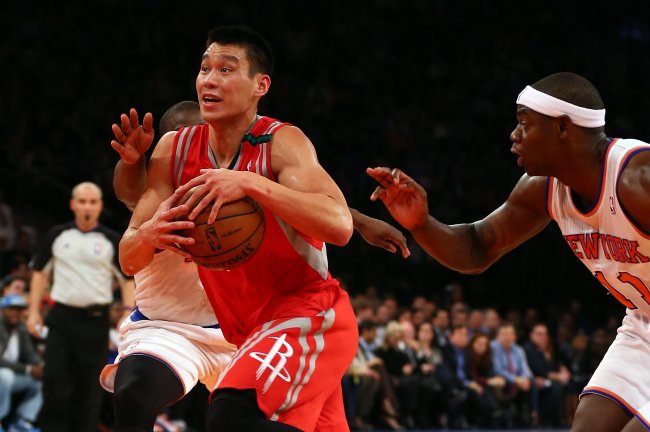 Elsa/Getty Images
Jeremy Lin's 16 pts were his season-best for a 1st half for @houstonrockets. He owned the paint yfrog.com/n9yyuzj

— ESPN Stats & Info (@ESPNStatsInfo) December 18, 2012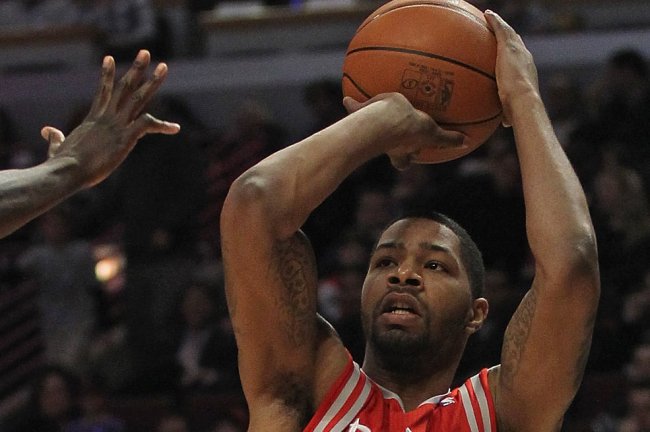 Jonathan Daniel/Getty Images
Chris Copeland scored nine straight points before a defensive interference on a Jeremy Lin layup. The Knicks defense relaxed in anticipation of a Rockets' timeout, but Lin pushed the ball to the basket. Then, the next play Lin pushed the ball down for a Marcus Morris layup.
There goes the Knicks momentum.
ROCKETS 64, KNICKS 55 — 5:49 in 3rd Quarter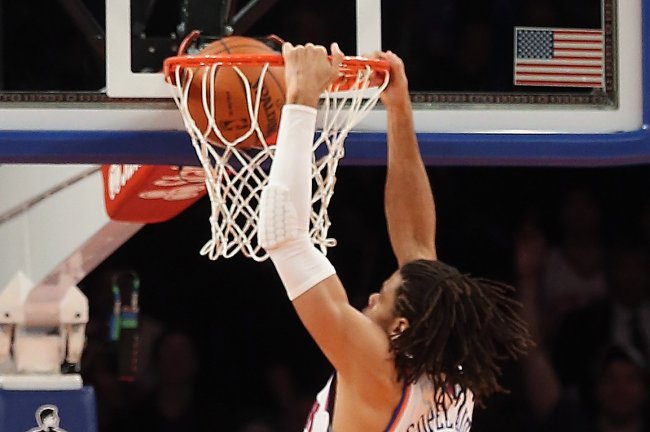 Bruce Bennett/Getty Images
Chris Copeland is making his presence known. He hit a 23-foot three pointer then came back the next play to lay it in.
Copeland is an undrafted rookie from Colorado. The 6'8" forward had appeared sparingly in 13 Knicks games prior to receiving tonight's start in the absence of Carmelo Anthony.
ROCKETS 60, KNICKS 51 — 8:06 in 2nd Quarter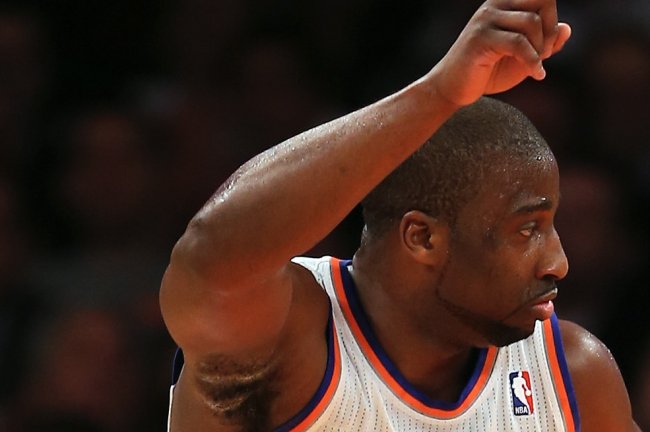 Elsa/Getty Images
The Knicks come back out with their starting five. An adjustment Mike Woodson could have made at halftime would have been to leave J.R. Smith in the game since he had 17 of the Knicks 42 first half points.
How will the Knicks generate offense without Smith?
Expect Raymond Felton to get active again. He had a nice take and dish to Tyson Chandler to score the Knicks' second bucket of the second half.
ROCKETS 56, KNICKS 46 — 9:46 in 3rd Quarter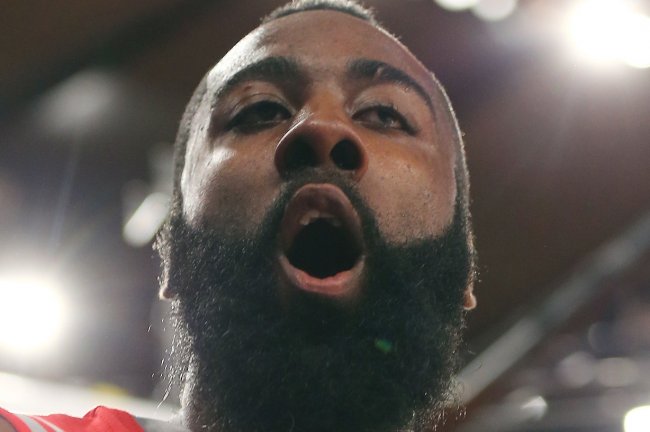 Elsa/Getty Images
How to guard James Harden: Ignore the beard. It lies. It fakes. Resist the beard. #Rockets

— InsideHoops.com (@InsideHoops) December 18, 2012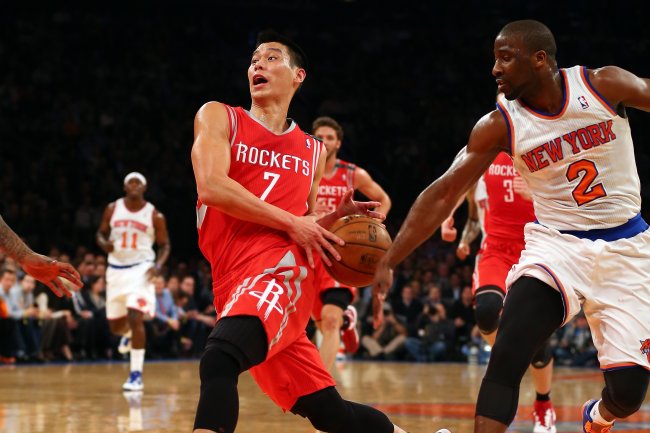 Elsa/Getty Images
The Knicks hit 4-of-23 from the floor in the second quarter for just 11 points, their lowest scoring quarter of the season. They also committed nine turnovers, as the Rockets were able to play passing lanes and keep the Knicks offense disoriented.
J.R. Smith has been good, but appears to be trying to do too much. His teammates are standing around watching him jack up shots, which he is hitting for the most part (7-of-12 for 17 points).
Jeremy Lin has impressed. The crowd is booing him every time he touches the ball, which is pretty strange since they gave him a polite ovation to open the game. Lin has 16 points, four assists, two rebounds and three turnovers. He's also come up with a couple steals, including knocking the ball away from Chandler under the hoop after receiving that flagrant foul a couple minutes prior.
James Harden has been aggressively attacking all night, too, and is 5-of-9 from the floor and has got to line seven times, hitting six. Harden, like Lin, has 16 points.
We knew the Knicks would struggle sans Melo, but they need more than J.R. Smith trying to pull them out of this hole.
ROCKETS 56, KNICKS 42 — Halftime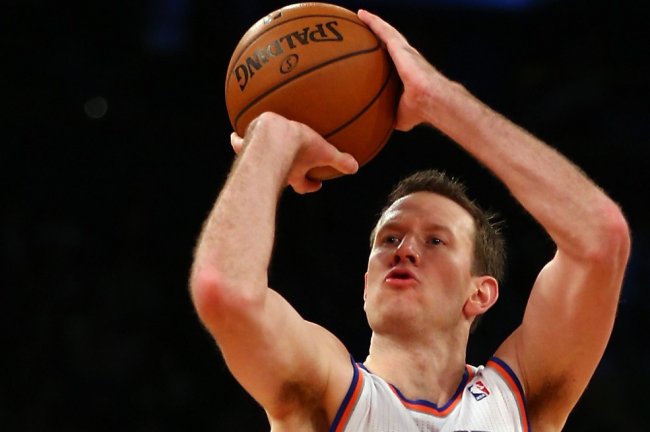 Elsa/Getty Images
Bad shooting is infectious. After a Jeremy Lin airball (which drew loud "airball" chants from the MSG crowd), J.R. Smith came back and fired up an airball of his own.
Then, Steve Novak got the ball to launch up a three. That should end the misery, right? Wrong. Novak shot the ball way short and it missed off the front of the rim.
These teams enter the game as two of the better three point shooting teams in the league, but thus far are a combined 25 percent.
ROCKETS 50, KNICKS 41 — 1:54 Remaining in 1st Half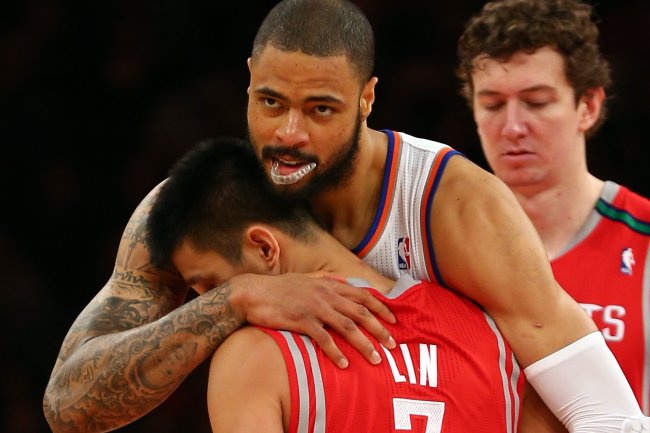 Elsa/Getty Images
Jeremy Lin was just hacked by Tyson Chandler, who dropped his elbow across Lin's head. A flagrant foul was called, but Lin appeared to be OK. The play was reviewed and deemed a Flagrant I foul.
Chandler's foul seemed to be a frustration foul, but Lin was in the air.
It's easy for guys to take a hard fall and sustain serious injuries. The crowd at MSG didn't seem happy about it, and booed Lin even louder on his free throws, but Chandler was out of line.
ROCKETS 48, KNICKS 39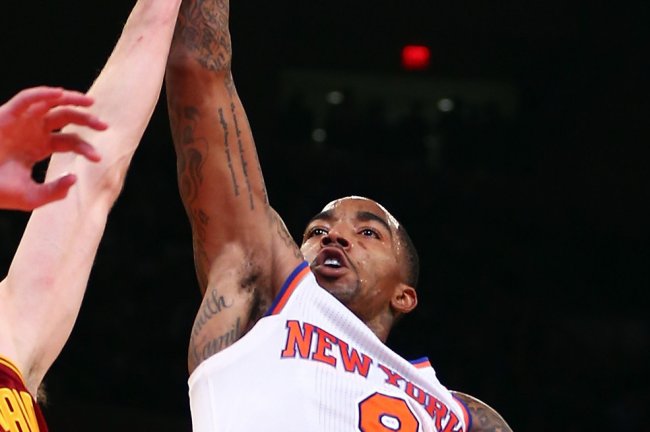 Elsa/Getty Images
The determining factor in this game so far seems to be which team has the better three guard set:
Jeremy Lin, James Harden and Toney Douglas vs. Raymond Felton, Jason Kidd and J.R. Smith
So far, the Rockets trio has shot 11-of-19 for 28 points, while the Knicks trio is 12-of-19 for 27 points.
The Knicks, however, aren't getting contributions from anywhere else, while the Rockets have involved all of their role players. The Knicks continue to go to J.R. Smith, who launched up a contested three. Smith forced it to the hole the next possession and scored. He's the only one attacking for the Knicks.
ROCKETS 47, KNICKS 38 — 4:13 Remaining in Half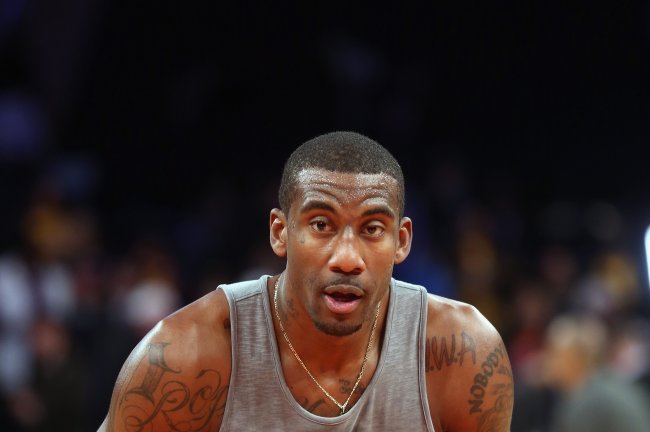 Bruce Bennett/Getty Images
Amar'e Stoudemire is going to return to practice Tuesday for the Knicks.
How will Amar'e adapt to life with the Knicks new-look roster? The backcourt is different from last season, and Carmelo Anthony has been playing Stoudemire's 4-spot in his absence. Will shifting Melo back to small forward adversely affect the Knicks?
Could STAT be used in a sixth man type of role?
It's unclear how Amar'e will fit in, in light of the way things have developed, but as former Bleacher Report analyst Matt Shetler said, "How could adding a 20 point per game scorer make the team worse?"
ROCKETS 43, KNICKS 34 — 6:27 in 2nd Quarter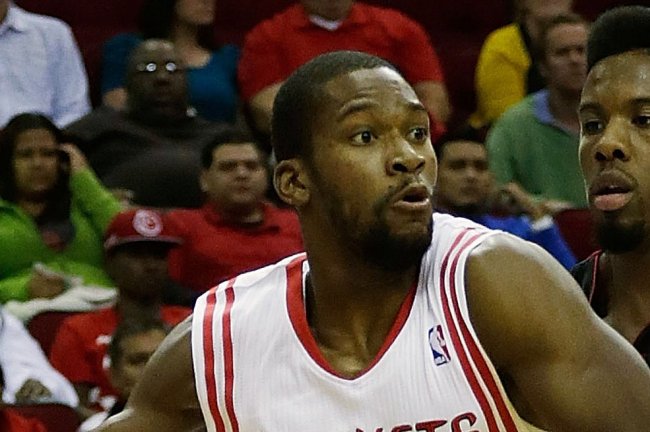 Scott Halleran/Getty Images
Jeremy Lin isn't the only one facing his former team.
His backup Toney Douglas is, as well. Douglas is averaging eight points per game this season and had 11 points on 3-of-6 shooting in the teams' first meeting. Douglas put up five quick points already, including a three point play along the baseline.
ROCKETS 39, KNICKS 31 — 8:51 in 1st Quarter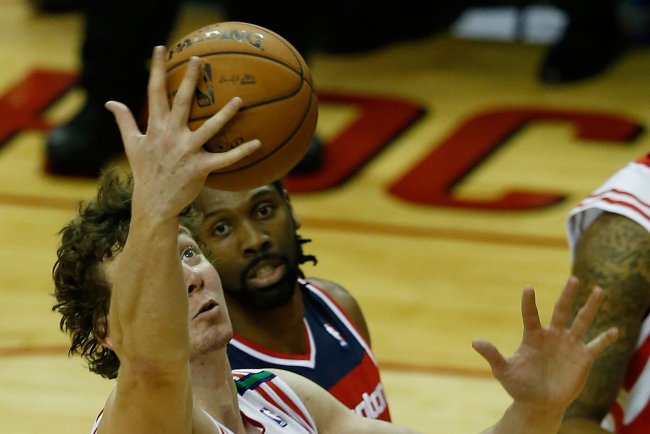 Scott Halleran/Getty Images
The Knicks got things going in the quarter when J.R. Smith checked in. He and Felton have provided 22 of the Knicks 31 points, but they're going to have to diversify the offense.
Houston is spreading the ball around and getting everyone involved. Jeremy Lin is very good at getting Omer Asik the ball in his comfort zone, and the result has been two easy looks for Asik. Asik's offense has been coming along, despite the many doubters who felt Asik would be a huge offensive liability.
Asik is averaging 10.3 points per game this season, which is two or three points higher than expected by a number of NBA analysts.
KNICKS 31, ROCKETS 29 — End of 1st Quarter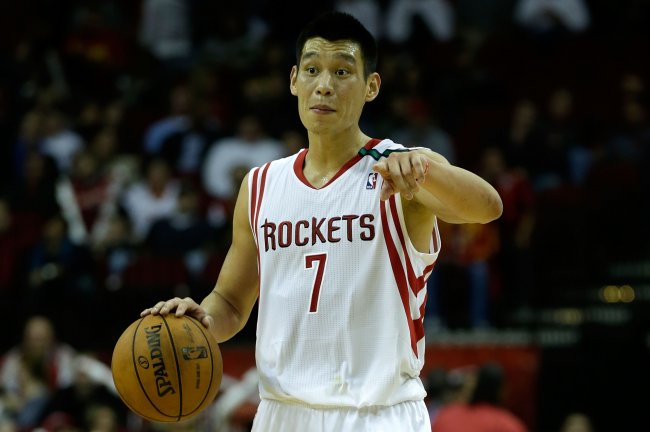 Scott Halleran/Getty Images
<blockquote class="twitter-tweet tw-align-center">
Jeremy Lin got a polite ovation when he returned to New York tonight, kind of like how people go "Oh yeah" and laugh when they remember Pogs
— The Score (@theScore) December 18, 2012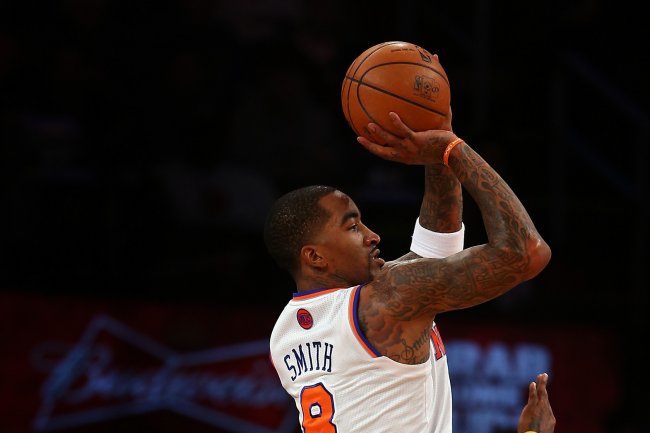 Elsa/Getty Images
Lin is continuing to remain aggressive and is now drawing boos from the MSG crowd. He scored on another take to the basket and now has eight points to Raymond Felton's six.
As predicted, J.R. Smith came off the bench firing and got the Knicks back in this one. Smith is the kind of talent that can make up for Carmelo Anthony's absence and hit a big game winner in Charlotte this season when Anthony was sitting (see video). Smith has 10 points and has hit all four of his shots, two of which were three pointers.
KNICKS 25, ROCKETS 24 — 2:12 in 1st Quarter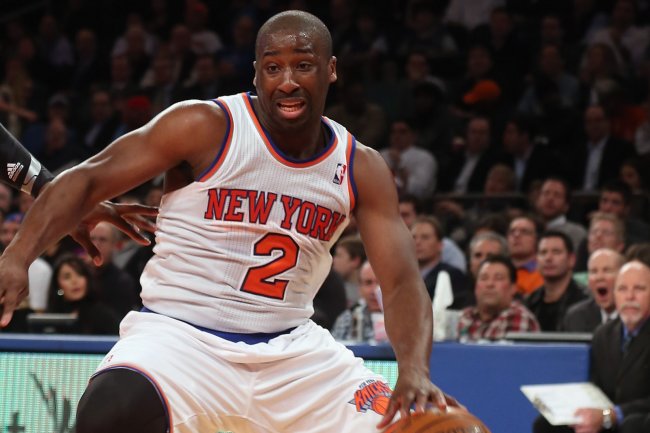 Bruce Bennett/Getty Images
The Rockets are running it down the Knicks throat and Jeremy Lin is off to a sensational start. Lin has six points and two assists, and he's hit all three of his field goals, including a layup that Ronnie Brewer goal tended. Outside of Lin, all his fellow starters have four points a piece.
The Knicks have three turnovers, all of which have ignited Houston in transition. Raymond Felton is responsible for two of those turnovers, and so far he's being outplayed by Lin.
ROCKETS 22, KNICKS 15 — 4:39 in 1st Quarter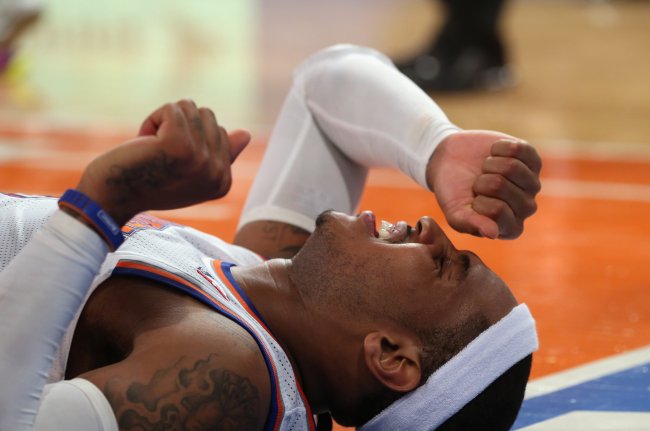 Bruce Bennett/Getty Images
Carmelo Anthony is sitting out tonight's game due to lingering pain in his left ankle.
How will the Knicks fare without his 27-plus points per game?
Expect the offense to struggle, but J.R. Smith will likely do his best to replace Melo's output.
Without their leading scorer, expect the Knicks to run a lot of pick and rolls to supplant Melo's usual role of isolating in the offense. Raymond Felton will likely be more aggressively pursing his shot, as well, and there is the sub-plot of seeing how Felton fares against Jeremy Lin.
The point guards exchanged baskets to start off the game, setting the tone for a matchup New Yorkers are excited to see.
KNICKS 7, ROCKETS 6 — 9:03 in 1st Quarter
This article is
What is the duplicate article?
Why is this article offensive?
Where is this article plagiarized from?
Why is this article poorly edited?