Assessing Job Security for Joe Philbin, Rest of Miami Dolphins' Coaching Staff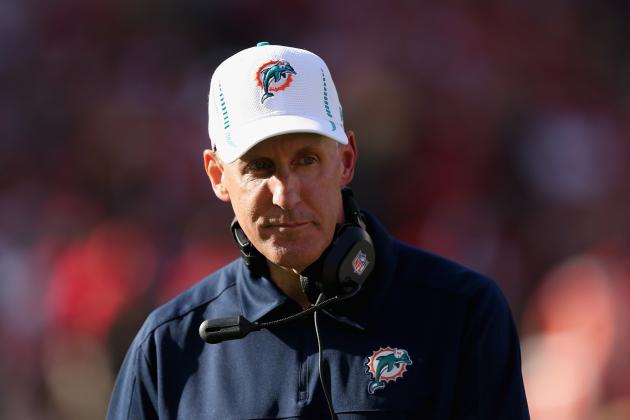 Ezra Shaw/Getty Images

The Miami Dolphins' 2012 season will likely go down as another disappointing year overall, albeit one in which the program showed marked improvement.
With two games left, Miami can at best finish 8-8 with victories over Buffalo and New England. While not mathematically eliminated from the playoffs yet, it would take a lot of help for Miami to make it into the postseason.
Again, many people will consider this season a disappointment. However, I submit that this was a positive season for the Dolphins. Ryan Tannehill's performance this year and his enormous potential give the appearance that the team has found its franchise quarterback. A lot of overlooked players produced very well, including receivers Brian Hartline and Davone Bess. Cameron Wake had another Pro Bowl-caliber year.
Moreover, a team with gaping holes at multiple key positions (wide receiver, cornerback) managed to compete in all but two games. The Dolphins were a tough out for anyone they've faced, win or lose.
Of course, a lot of praise must be given to Miami's brand new coaching staff. As young and fresh-faced as Miami's 53-man roster, the Dolphins' coaching staff generally did a good job.
But not everything was perfect, and everything deserves analysis. For those reasons, let's examine Miami's coaching staff and see who is likely to return next season and who could find themselves in the middle of the coaching carousel.
Begin Slideshow

»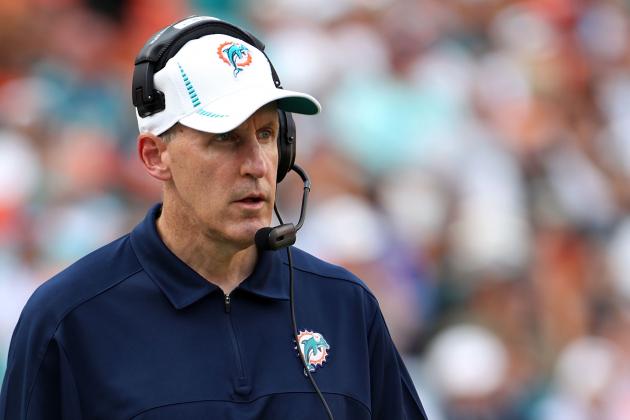 Marc Serota/Getty Images

Grade: B
Job Security: Safe
Joe Philbin accepted a huge challenge when he took on his first head coach position. After the Tony Sparano experiment failed (the latest in a long line of head coach mishaps), Philbin's assignment was the same as the head coaches before him: Turn the Miami Dolphins into a contender.
So, with only two games left in his rookie season, how has Philbin done?
Pretty good, I'd say.
Considering the dearth of talent on Miami's roster, Philbin has done a great job getting the most out of what he has. He's motivated a team that was predicted to be last in the division into a likely second-place finish in the AFC East.
There's no dissension in the locker room. The controversial move to ship away Brandon Marshall and Vontae Davis before the season were initially met with resigned sighs by fans; now that we see the kind of team Philbin wants to build, those moves make a ton of sense.
Of course, Philbin's rookie season has had some questionable moments. The head coach faced a lot of criticism after Cameron Wake and Jared Odrick sat on the sideline during New England's final, game-winning drive, a move Philbin defended as being part of a designed rotation.
And of course, Philbin's worst moment of the season came against the Titans when he benched Reggie Bush for three quarters after a fumble in the opening moments of the game.
Philbin's few rookie mistakes haven't been overwhelming, but they have hurt the Dolphins. Overall though, the Dolphins look like they may have found a talented rookie head coach to go along with their talented rookie quarterback.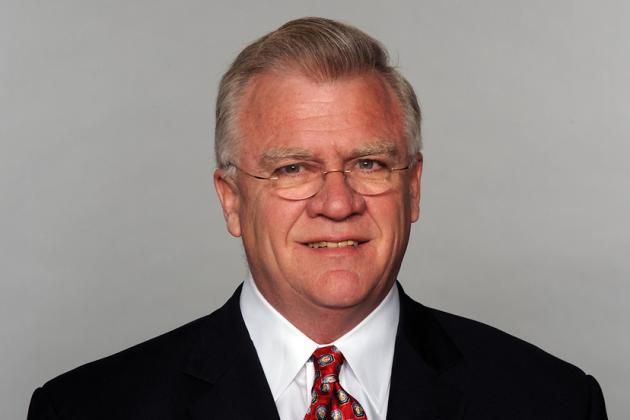 Grade: B
Job Security: Safe
One of Miami's greatest boons entering the 2012 season was that its rookie quarterback, Ryan Tannehill got to work with his college head coach, Mike Sherman.
Sherman took the leap from Texas A&M head coach to Miami Dolphins offensive coordinator this season, and its been a bit of a bumpy road.
Miami's offense has been far from prolific. With two games remaining, the Dolphins rank 27th in yards per game (316.2) and 25th in points per game (18.9).
The Dolphins have stuttered on offense due to a lot of questionable play-calling. Sherman has been criticized this year for going away from the run despite its success.
Sherman was expected to help Tannehill's growth as QB, yet he's done a few things to hinder the rookie. Sherman's insistence on forcing the long ball despite Miami's lack of field-stretching talent has hurt Tannehill's confidence.
However, we've seen some improvement from Sherman over the past few weeks.
He's begun to call a lot of bootlegs, plays designed to get Tannehill out of the pocket while still looking downfield. Sherman even dialed up a few QB runs against the Jaguars this past Sunday, allowing Tannehill to use his inherent athleticism to burn the defense.
Hopefully we'll continue to see more of Sherman's late-season creativity carry over into next season when the Dolphins (ideally) have more talent on its roster.
For now, Sherman has done enough to give a glimmer of hope to those exhausted by Miami's past offensive woes.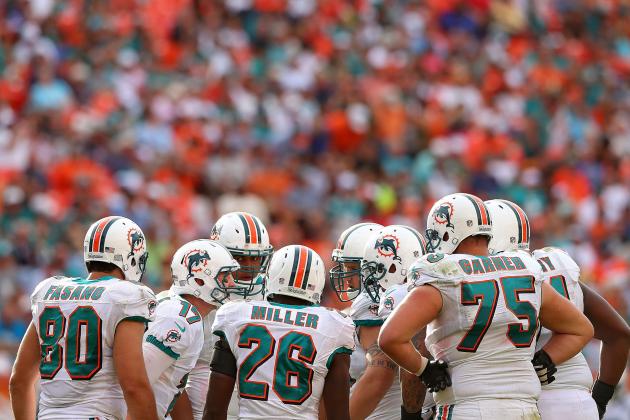 Mike Ehrmann/Getty Images

Zac Taylor, Quarterbacks Coach
Grade: B+
Job Security: Safe
Zac Taylor held Miami's most prized possession in his hands this season: rookie Ryan Tannehill. Tannehill surprised a lot of people by starting this season, and he surprised even more people by having a mostly strong year.
His mechanics are impressive, including his poise in the pocket and his accuracy. Taylor deserves a lot of credit for Tannehill's development and his performance as a rookie. Tannehill's few bad games are the only reason Taylor is held back from an A grade.
Jeff Nixon, Running Backs
Grade: A-
Job Security: Safe
What more can be said about Reggie Bush? Since coming to Miami, Jeff Nixon has helped turn Bush from a situational player into an every-down back. Bush is a tougher runner than ever and has revitalized his career. That alone earns Nixon an A, although the minus comes from Daniel Thomas' continued struggles.
Ken O'Keefe, Wide Receivers
Grade: B+
Job Security: Safe
O'Keefe comes to Miami after 13 years as the University of Iowa's offensive coordinator. O'Keefe didn't have much to work with at receiver, as Brandon Marshall's absence left the Dolphins with two primary receivers.
But those two receivers, Brian Hartline and Davone Bess, have come through in huge ways. Hartline broke 1,000 yards for the season against Jacksonville Sunday, and Bess only needs 228 yards to reach the same number.
The only thing holding O'Keefe from an A is that the steady flow of waiver wire pickups Miami has made at the position have not contributed much.
Dan Campbell, Tight Ends
Grade: C
Job Security: On the Fence
Quick, who has the least productive tight ends in the AFC East? If you said Miami, you are correct. The Dolphins' tight ends are rarely heard of on the field.
Whether that's due to play-calling or Campbell's coaching is up in the air, but it doesn't change the fact that Miami desperately needs more out of its tight ends. Anthony Fasano has a few nifty touchdown receptions, but he's rarely used outside of the red zone.
Charles Clay is expected to be a dynamic playmaker, but drops plague the young player. And raise your hand if you remember Michael Egnew, the Dolphins' third-round pick in the past draft. No one? Yeah, that's what I thought.
Jim Turner, Offensive Line
Grade: B
Job Security: Safe
Jim Turner joined Mike Sherman on the trip from Texas A&M to Miami this year to take over offensive line duties. Turner's line has been decent this season, protecting Tannehill from many devastating hits and creating solid running lanes for Bush and company.
Rookie Jonathan Martin has impressed, especially since moving to left tackle following Jake Long's triceps injury. Miami's O-Line hasn't been magnificent, but its done enough under Turner's watch to show promise for the future.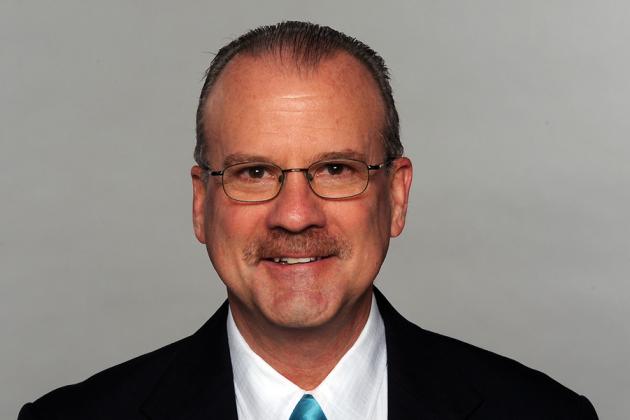 Grade: B
Job Security: Safe
Miami's defense has undoubtedly been the team's strong point in 2012.
Kevin Coyle has excelled in his first season as defensive coordinator, fielding a defense that has given up 19.9 points per game (6th in the league). Miami's front seven has been especially stout, allowing only 100.9 rushing yards per game (8th in the league).
Cameron Wake continued an already impressive career with a strong season in 2012. He has 14 sacks with two games remaining, putting him in consideration for a possible Pro Bowl appearance.
Miami's defense has been very good with the exception of one area: secondary. Miami has allowed 247.9 passing yards per game (26th in the league) and has been consistently torched.
And not just by elite quarterbacks, either; guys like Chad Henne and Carson Palmer have carved up Miami's secondary with little problem.
This is especially surprising considering Coyle's past as Cincinnati's defensive backs coach for nine seasons. Coyle just hasn't been able to get much out of players like Sean Smith, Nolan Carrol and Jimmy Wilson.
If Miami can add some talent to its secondary this offseason, these numbers will hopefully improve. But even considering Miami's struggles in defending the pass, Coyle's defense has still kept Miami in plenty of games this season.
For that, Coyle earns a positive grade.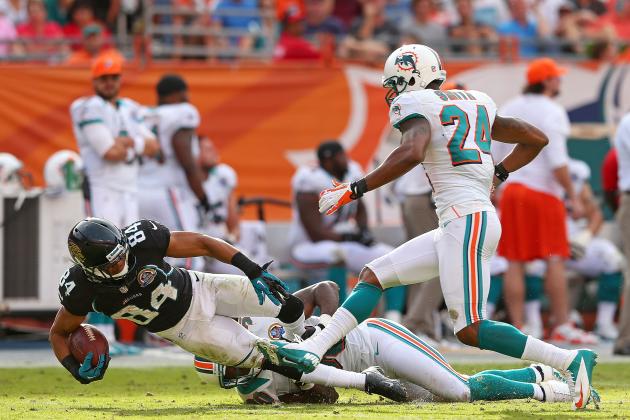 Mike Ehrmann/Getty Images

Kacy Rodgers, Defensive Line
Grade: A
Job Security: Safe
What more can be said about Miami's defensive line? Paul Soliai, Randy Starks, Cameron Wake and Jared Odrick make up one of the NFL's fiercest lines.
They swallow up any runner who tests the middle, while Cameron Wake wreaks constant havoc on the edge and is a nightmare for opposing quarterbacks.
Rodgers has even gotten some production out of Odrick, turning him into a competent pass rusher in his own right.
George Edwards, Linebackers
Grade: B-
Job Security: Safe
Edwards returned to the Dolphins after a brief stint in Buffalo.
Because of his work, Miami's linebackers have combined with the defensive line to create a very stingy run defense. However, the Dolphins' linebackers have struggled in pass coverage, allowing a number of tight ends to find open zones in the middle of the field.
Edwards has managed to get solid production out of veterans Karlos Dansby and Kevin Burnett, but pass coverage must improve from this unit going forward.
Lou Anarumo, Defensive Backs
Grade: D
Job Security: Not Safe
Things have not gone well in Anarumo's first season as defensive backs coach. The secondary's problems are clear to anyone who has watched a Dolphins game this year. Porous and soft, Miami's secondary has been shredded in nearly every game.
Sean Smith continues to prove that he's not shutdown corner material, and Nolan Carrol continues to prove that he may not even be worthy of the nickel corner spot.
The only bright spot to emerge this season is safety Reshad Jones, who leads the team with three interceptions. It's Jones' explosion in his third season that saves Anarumo from a failing grade, but things must improve next season for Anarumo to keep his job.
That is, of course, if he returns; Anarumo is the only coach I believe is seriously in danger of being fired.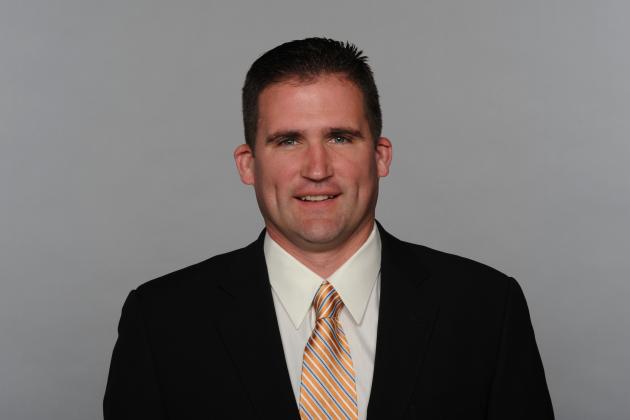 Handout/Getty Images

Grade: B
Job Security: Safe
Under second-year coordinator Darren Rizzi, Miami's special teams have mostly flourished.
Punter Brandon Fields continues to be a deadly weapon in the game of field position, consistently landing punts within opponents' 10-yard lines.
Miami's coverage has performed very well. The Dolphins only allowed one kickoff return touchdown and one punt return touchdown. They ranked in the top ten in average yards per return for both kickoffs and punts.
On the flip side, the Dolphins have found a legitimate return threat in Marcus Thigpen. He's returned both a punt and kickoff for a touchdown, becoming the first player in franchise history to do both in the same season.
Thanks to Thigpen, Miami has averaged 28.3 yards per kickoff return, a league-leading number.
But problems have hit Miami's special teams as well this season. Dan Carpenter struggled with kicks over 50 yards for much of the season, appearing as though he's lost of bit of distance.
The Dolphins' special teams has suffered from a few boneheaded plays. Jonathan Freeny's awful touchback on a punt allowed the 49ers to kick a field goal before halftime a few weeks ago. A muffed punt by Thigpen in the same game would lead to a Frank Gore touchdown, creating a lead Miami would never overcome.
Most recently, the Dolphins earned attention on ESPN's C'mon Man! feature thanks to a goofy fake field goal attempt. The play appeared to be a missed read on Brandon Fields' part, who upon seeing the corner move out to cover Anthony Fasano should have checked back into a standard field goal.
However, the punter didn't make the adjustment and threw the ball roughly 15 yards out of bounds. The blunder didn't come back to haunt Miami, but it was embarrassing to watch.
Mistakes aside, this has been another solid year for the Dolphins' special teams. Rizzi should be proud of his unit.