San Antonio Spurs vs. OKC Thunder: Live Blog, Results and Game Highlights
The Oklahoma City Thunder became the NBA's first team to win 20 games, using an impressive team effort and a big advantage in the paint to knock of the visiting San Antonio Spurs.
OKC doubled San Antonio's points in the lane, 44-22, outrebounded the Spurs by a margin of plus-eight and even won the turnover battle by four.
The game was essentially decided in the third quarter, as the Thunder put up 29 while limiting the Spurs to just 16 points in the period. San Antonio went nearly seven minutes without scoring a field goal after halftime, while OKC continued go ride the hot shooting of Serge Ibaka and the reckless aggression of Russell Westbrook en route to an 18-point lead as the game went into the fourth quarter.
Ibaka topped OKC with 25 points and 17 rebounds on 8-of-12 shooting, while Tony Parker and Nando De Colo led the Spurs with14 apiece.
Kevin Durant hung back in this one, content to shoot the ball just 13 times. He managed 19 points, six rebounds and four assists in a reserved effort. His teammate, Russell Westbrook, struggled with hit shooting, but sparked OKC's big third quarter with his consistent effort and hustle.
OKC moves to 20-4 with the win, while the Spurs, who play again tomorrow night, dipped to 19-7.
Final Score: Thunder 107, Spurs 93

Postgame Storylines
Ibaka's Emergence
OKC's No. 3 option certainly didn't play like one against the Spurs. Serge Ibaka led his team with 25 points an 17 rebounds in one of the best performances of his career. After hitting 7-of-8 shots in the first half, Ibaka managed just three more second-half buckets, but his rebounding and shot-blocking never wavered.
OKC's productive big man was emblematic of the team's overall dominance around the rim, as the Thunder outscored the Spurs in the paint by a margin of 2-to-1 (44 points to 22 points).
In addition to that, Ibaka helped the Thunder to a plus-eight advantage on the boards.
Put all that together, and Ibaka factored into every key area of this game. Not bad for player who isn't supposed to be much more than a shot-blocking jump-shooter.
Spurs Mail It In
San Antonio definitely put forth a game effort against a tough opponent on the road...for three quarters. But as he's wont to do, Gregg Popovich took his big guns out in the fourth quarter with an eye on San Antonio's next game, a road game against the Denver Nuggets.
The Spurs probably wouldn't have won this game no matter who was on the floor, but the lead did dip into single digits in the fourth quarter. If Popovich hadn't been saving his stars' legs for the Denver game on Tuesday, we might have seen a very different final period.
Nick Collison, Unsung Hero
Kendrick Perkins is basically useless—let's get that out there up front. Considering just how productive Nick Collison is when he's on the floor, it's baffling that he doesn't start for OKC. I guess it's enough that he generally finishes, though.
Collison snatched 10 rebounds, including six on the offensive glass, in just under 25 minutes. Every good team has a guy like Collison who chips in with big hustle plays and efficient scoring. He's critical to OKC's chemistry and success against opposing front lines, and he showed that against the Spurs.
Looking Ahead
Tonight's game pitted the two best teams in the Western Conference, based both on this year's records and last season's conference finals. Knowing that, and seeing how well both teams played (despite injuries to some key Spur players), it certainly seems like they're primed to meet again down the road.
OKC's best chance at success is to do what they did tonight: run, defend and score with balance. The Spurs love to let one player go crazy while limiting the effectiveness of others, so the Thunder's unselfish offensive gameplan was a good way to go.
San Antonio wasn't at full strength, but it's obvious that their clear roles, discipline and ability to execute are all going to push them deep into the playoffs again. The emergence of Danny Green and Nando De Colo only add to an already stacked bench, so when the Spurs get their full complement of bodies back, watch out.
Final Score: Thunder 107, Spurs 93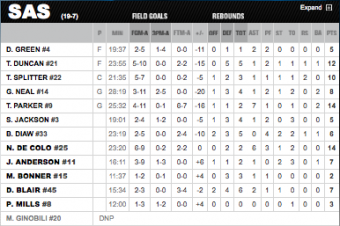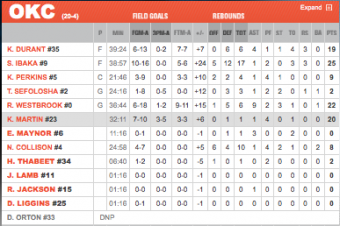 Final box score via NBA.com.
Final Score: Thunder 107, Spurs 93
Spurs Leaders
Duncan: 12 points, 5 rebounds
Parker: 14 points, 7 assists
De Colo: 14 points, 6 assists
Thunder Leaders
Durant: 19 points, 6 assists, 4 rebounds
Westbrook: 22 points, 9 assists, 6 rebounds
Ibaka: 25 points, 17 rebounds, 3 blocks
Final Score: Thunder 107, Spurs 93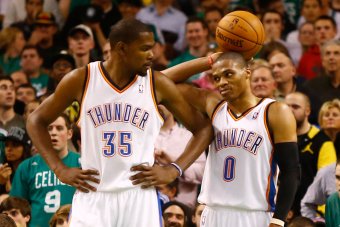 Jared Wickerham/Getty Images
OKC becomes NBA's first 20-win team. Losing Harden has turned out to mean almost nothing to them. Pretty dominant effort against a good team. Keep in mind, though, that the Spurs play tomorrow. Pop kept Duncan and Parker under 26 minutes each.
Thunder 107, Spurs 93—Final Score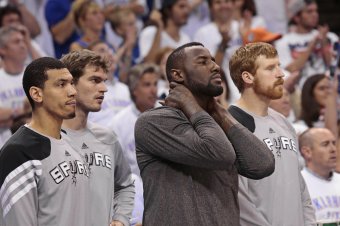 Brett Deering/Getty Images
Subs are now in for OKC. San Antonio has had theirs in since the quarter started. Commence official garbage time.
Thunder 105, Spurs 89—1:16 remaining in 4th quarter
Here's Durant's hustle play in the first quarter. Great effort.
Thunder 103, Spurs 88—1:47 remaining in 4th quarter
Ibaka with a career-high matching 25 points. Also has 17 rebounds and a trio of blocks. He's had a fairly OK evening, I'd say.

— Jeff McDonald (@JMcDonald_SAEN) December 18, 2012
Not too shabby.
Thunder 101, Spurs 88—2:20 remaining in 4th quarter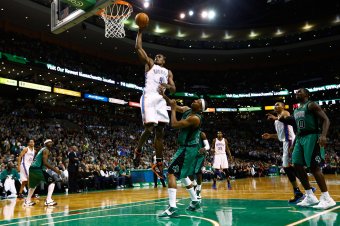 Jared Wickerham/Getty Images
Lots happened in the last minute. Allow me to summarize: Kevin Martin hit a huge three, followed by a Spurs bucket, followed by a Collison offensive rebound that led to an Ibaka dunk. Then the Spurs scored again. Isn't it amazing how I can paint pictures with my words? You probably felt like it was all happening right in front of you.
You're welcome.
Thunder 98, Spurs 88—2:40 remaining in 4th quarter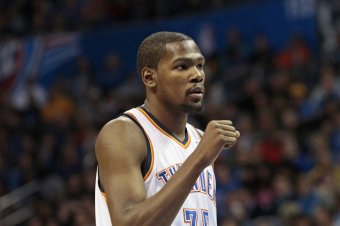 Brett Deering/Getty Images
Durant has taken just 10 shots tonight. With the Spurs starting to chip away, it might be time for him to get going.
Thunder 93, Spurs 84—4:00 remaining in 4th quarter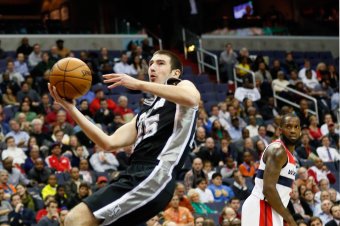 Rob Carr/Getty Images
Back-to-back steals by De Colo and James Anderson cut the lead to nine. And now Collison commits a charge. Three empty possessions in a row for OKC. This is getting interesting.
Thunder 93, Spurs 84—5:02 remaining in 4th quarter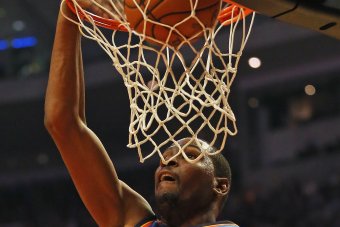 Jonathan Daniel/Getty Images
Pretty no-look lob from Westbrook to Durant puts OKC back up 15. Westbrook hasn't shot it well tonight (6-of-17), but he's done everything else. His energy never lets up.
Thunder 93, Spurs 78—5:58 remaining in 4th quarter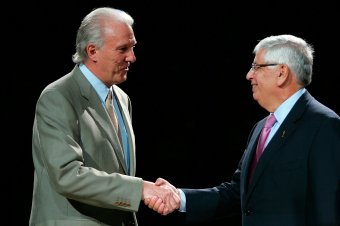 Ronald Martinez/Getty Images
Just wondering: Why can't Stern fine the Spurs for sitting Duncan and Parker for the entire fourth quarter? Same logic (or lack thereof) he used to fine them for sitting an entire game.
Thunder 86, Spurs 74—8:09 remaining in 4th quarter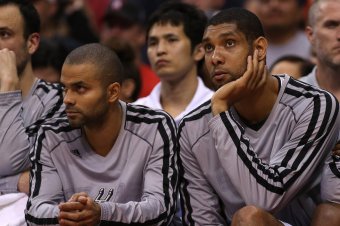 Stephen Dunn/Getty Images
OKC starts the quarter 0-for-3 while San Antonio runs off five straight points. My guess is we won't see Parker or Duncan the rest of the way, no matter how close this one gets.
Thunder 84, Spurs 71—9:03 remaining in 4th quarter
Thunder Leaders
Durant: 15 points, 5 rebounds, 3 assists
Westbrook: 16 points, 6 rebounds, 7 assists
Ibaka: 20 points, 12 rebounds
Spurs Leaders
Duncan: 12 points, 5 rebounds
Parker: 14 points, 7 assists
Splitter: 10 points, 3 rebounds
Thunder 82, Spurs 64—start of 4th quarter
De Colo's bucket was the first Spurs field goal in almost seven minutes. OKC has kept right on scoring, which is why their lead now sits at a game-high 18.
Thunder 82, Spurs 64—end of 3rd quarter
This is only Ibaka's third 20/10 game. It's his first since Jan. 27 at Golden State.

— Darnell Mayberry (@DarnellMayberry) December 18, 2012
That seems impossible, but Mayberry knows more about the Thunder than anyone, so I'll accept it.
Thunder 78, Spurs 62—1:04 remaining in 3rd quarter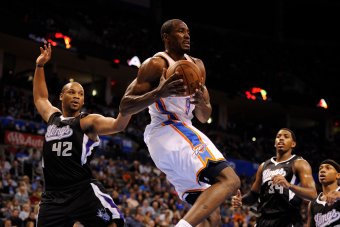 USA TODAY Sports
No major statistical disparities tonight, except on the boards, where OKC is crushing the Spurs 35-24. Ibaka hauls down his 12th rebound, is fouled and the crowd erupts. Thunder in possession of all the momentum right now.
Thunder 76, Spurs 60—2:30 remaining in 3rd quarter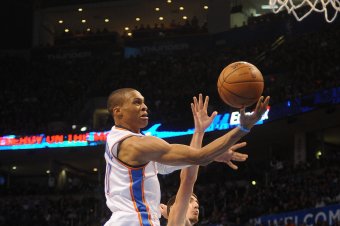 USA TODAY Sports
Westbrook just went down really hard. He needs to consult D-Wade for the negative long-term effects of those kinds of plays. Not good. He's up and at the line for two.
Thunder 73, Spurs 60—3:18 remaining in 3rd quarter
I'm sorry, but those Guiness commercials with the half-faced guy from Boardwalk Empire are starting to bother me. He doesn't work as a smooth operator. Back to the game...
Thunder 71, Spurs 59—3:29 remaining in 3rd quarter
Spurs without points on six straight trips. Long scoring droughts not helpful against the NBA's top scoring team.

— Jeff McDonald (@JMcDonald_SAEN) December 18, 2012
Duncan ends the drought with a couple of free throws. On a related note, when he gets an offensive board, he will absolutely wait until he's fouled before going up. He knows no ref is going to hit him with a three-second call.
Thunder 71, Spurs 59—3:34 remaining in 3rd quarter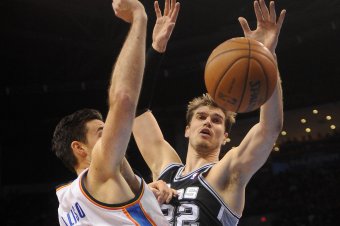 USA TODAY Sports
Collison doing work on the offensive boards. His putback makes it a 15-point game.
Thunder 71, Spurs 56—4:06 remaining in 3rd quarter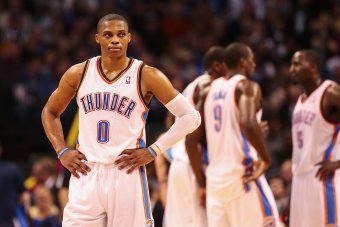 Kevin Jairaj-USA TODAY Sports
Newsflash: when Russell Westbrook is fronting the post, you cannot throw the ball over him. Just stole an entry pass with a six-foot (estimate on my part) vertical leap. Thunder break the other way, leading to a Durant foul. OKC stretching out its lead now.
Thunder 69, Spurs 56—5:01 remaining in 3rd quarter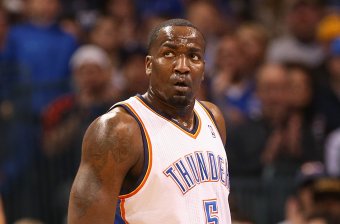 Kevin Jairaj-USA TODAY Sports
This isn't a new criticism, but it's incredibly hard to understand why Perkins continues to play, let alone start. He's an offensive negative and all he seems to do on defense is commit fouls. 3-for-9 from the field with four personals in 20 minutes tonight.
Thunder 67, Spurs 56—6:00 remaining in 3rd quarter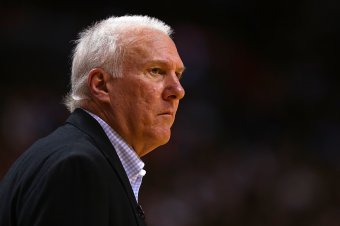 Mike Ehrmann/Getty Images
Popovich gets a tech for coming onto the floor to yell at officials who didn't give him a timeout call when he asked for it. He's hot right now. OKC's eight-point lead has a lot to do with that.
Thunder 64, Spurs 56—6:48 remaining in 3rd quarter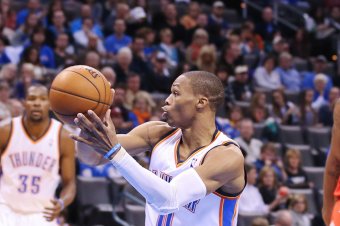 Kevin Jairaj-USA TODAY Sports
Spurs had 15 assists on 19 baskets in the first half. And here I was lauding the unselfish Thunder for 12 dimes on their 20 made buckets. Everything's relative, though. OKC doesn't usually move the ball all that well.
Thunder 64, Spurs 56—7:00 remaining in 3rd quarter
This article is
What is the duplicate article?
Why is this article offensive?
Where is this article plagiarized from?
Why is this article poorly edited?