Big Ten Basketball: Stock Up, Stock Down for the Top 10 NBA Prospects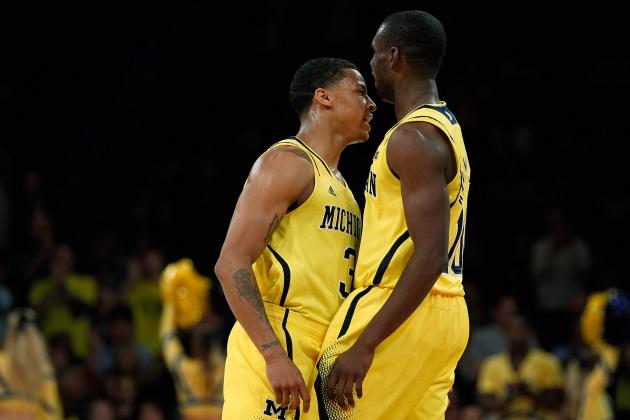 Mike Stobe/Getty Images

The Big Ten season is just a few weeks away. March Madness is three months away, and the NBA Draft is six months down the road. How the top players in the Big Ten perform during the conference season and NCAA Tournament will go a long ways in determining if or where they fall in this year's version of the NBA Draft.
The nonconference season has come and is nearly over with, but we've gotten a good idea of who the top teams and players in the league are up to this point. However, Big Ten play is a whole other ballgame, where some of these player's draft stock will soar and others will fall off.
Listed on this slideshow are the top 10 NBA Draft prospects for the 2013 Draft and whether their stock is up or down at the current moment. Whatever their stock may be, that can change with just one big game or plummet with a rough patch.
I have listed the players based on graduating class, but will go further into where and when I think they will be selected. Additionally, there is a list of 20 other players that I believe have NBA potential in the future on the final slide.
Begin Slideshow

»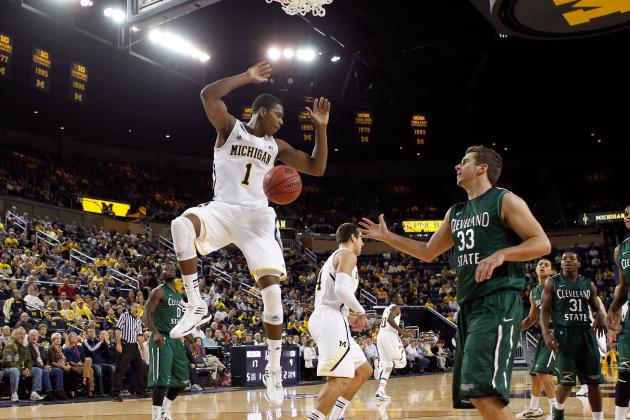 Gregory Shamus/Getty Images

Though he is not the leading scorer among Michigan's current freshmen, which Nik Stauskas holds the honor of, Glenn Robinson III's upside outweighs that of Stauskas and Mitch McGary. Robinson, son of former Purdue great Glenn Robinson, is off to a hot start in his first season as a collegiate, averaging 11.3 points and 6.5 rebounds.
A 6'6" forward, Robinson III starts the game as the Wolverines' power forward, although he would play small forward at the next level. Robinson III weighs 210 pounds but still needs to fill out and add muscle to become the player his father, "Big Dog," was in the NBA.
If Robinson III continues to play at the same level for the undefeated Wolverines, he could be a one-and-done player, ranging from a lottery pick to second rounder. However, he may also choose the path that Michigan sophomore Trey Burke did at last season's conclusion to help his NBA stock.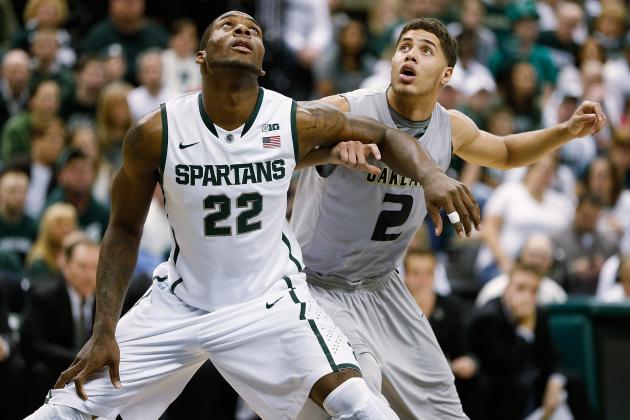 Gregory Shamus/Getty Images

When Branden Dawson went down with a torn ACL just prior to the Big Ten Tournament last March, it appeared as though it would be a major setback for the then All-Freshman stud. Through a miraculously quick recovery, however, Dawson was ready for the start of the 2012-13 season.
Dawson started his sophomore season with a bang, scoring in double figures in the first four games, including a 15-point, 10 rebound double-double against UCONN in Germany. Dawson has not surpassed 10 points in MSU's last four contests, although his shooting percentage hasn't been hurt by it.
Dawson is a tremendous rebounder for his 6'6" frame and hasn't lost any of his leaping ability since his injury. Dawson does need to cut back on his turnovers, as he has committed at least five TO's on four occasions. In my mind, Dawson is still Michigan State's most versatile player.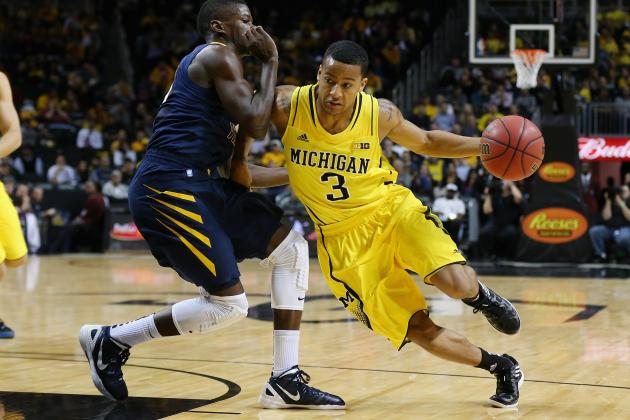 Mike Stobe/Getty Images

Trey Burke's decision to return to Ann Arbor for his sophomore season will likely net him millions of dollars. A year ago, Burke could have easily decided to become the second Michigan point guard in consecutive season to forego his eligibility in pursuit of greener pastures.
Darius Morris was a second round draft pick in 2011, which is where Burke would have likely landed had he left after only one collegiate season. Now, Burke is heralded as the best point guard in the nation and the front runner for the Big Ten Player of the Year as the leader of the second-ranked Michigan Wolverines.
Burke's sophomore season statistics currently stand at 18.0 points, 7.0 assists, and 3.3 rebounds. Both his shooting percentages and assists have gone up from a year ago, as he's made better decisions with the ball as his game has progressed. While Burke's return to Ann Arbor was a good one this time, don't expect to see him back a year from now.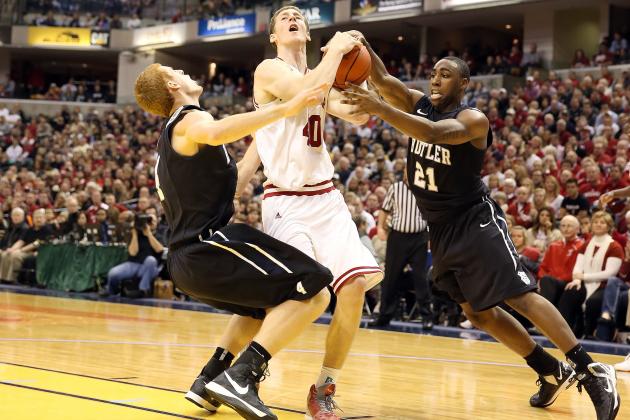 Andy Lyons/Getty Images

Cody Zeller received as much praise as any one player could get during preseason media hype, as he was awarded the preseason National Player of the Year award. Through 10 games, Zeller no longer is the leader in the running for that award, although it's tough to get too down on him.
Zeller is averaging 15.7 points and 8.5 rebounds, while playing 28.5 minutes, just as he did as a freshman. Zeller's rebounding average has increased by nearly two boards, but in return, his free-throw percentage has dropped by over nine points. Still, he shoots over 60 percent from the field at his center position.
Zeller struggled against a physical Butler team over the weekend, contributing to the then top-ranked Hoosiers' first loss of the 2012-13 campaign. At 7'0", Zeller is still without a doubt a lottery pick in this year's upcoming draft. He's being treated the same way Jared Sullinger was a season ago, in fact. Both players are still playing incredibly well and putting up similar stats from the year before, but they may have benefited in the draft had they left after only one season.
Andy Lyons/Getty Images

Another Hoosier player checks in next, as junior Victor Oladipo has had a breakout start to his junior season, as many anticipated. Oladipo is averaging 13.2 points, 5.3 rebounds, 2.2 assists and 2.7 steals, and he has not only become the Hoosiers best defensive player, but possibly their best overall player.
The 6'5" guard from Upper Marlboro, Maryland would be a perfect shooting guard at the NBA level. He can create for himself off the dribble and is incredibly quick to the basket, although sometimes out of control. He has also improved on his outside shot, but still could use a little work on his jumper to become a complete threat on offense.
Prior to the season, Oladipo appeared to be a four-year player at which point he could be a second-round pick. If he continues to progress at the rate he has during his first two and a half seasons since coming to IU though, Oladipo's stock could rise to a first rounder this year. Both Zeller and Oladipo's decision to return to school or not following this year could hinge on how Indiana performs in the NCAA Tournament.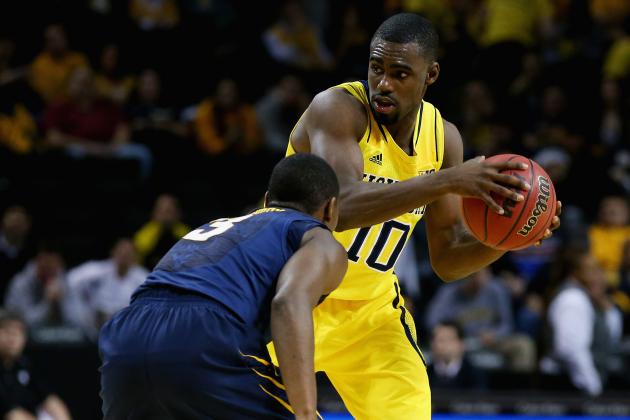 Mike Stobe/Getty Images

Tim Hardaway Jr. went from an All-Freshman campaign to a lackluster sophomore slump, and then back to an impressive junior where he has greatly contributed to Michigan, as it is only a spot behind Duke in the national rankings.
Hardaway Jr. averages 15.7 points, 5.4 rebounds, and 2.2 assists, helping form a deadly backcourt alongside Trey Burke and sharpshooter Nik Stauskas. Part of Hardaway's improvement can be contributed to him slashing to the hoop as he did as a freshman while improving upon his three-point percentage from a year ago.
Hardaway Jr. obviously has NBA pedigree, as his father Tim Sr. had a solid career with both the Golden State Warriors and Miami Heat. While not as good of a shooter and passer as his father, the 6'6" Tim Jr. has the size to play shooting guard at the next level. Hardaway Jr. could be a second-round pick upon this season's completion, or he could return for his senior season in hopes of moving up draft boards.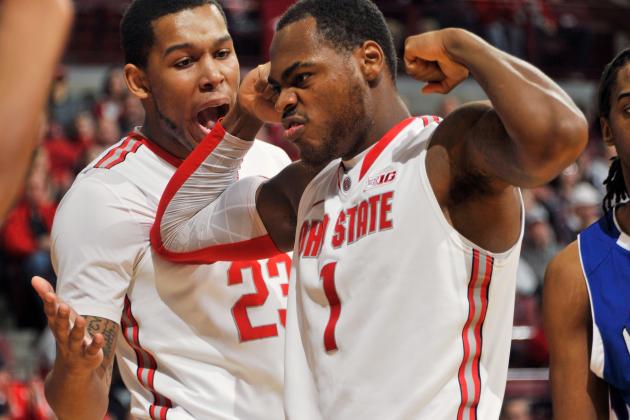 Jamie Sabau/Getty Images

Deshaun Thomas has responded quite well from the graduation of William Buford and the early entry of Jared Sullinger to the NBA, thus making Thomas this year's go-to-guy for Thad Matta's squad. Thomas' junior season averages are 20.3 points and 6.7 rebounds, as he leads the B1G in scoring for the time being.
Thomas has scored 14-plus points in all nine Buckeye games this year, including a 31-point effort in a win over Washington. The sweet-stroking lefty can beat teams from both behind the arc and on the inside. He plays power forward for OSU but would slot as a small forward at the next level.
Matta once referred to Thomas as Shaun, instead of Deshaun, because he had no "D" in his game. Thomas has improved in that department but still has a long way to go. Regardless, Thomas will certainly help whatever team he joins, as he has never seen a shot he didn't like and could be an instant offense-scorer off some NBA team's bench either next year or the following one.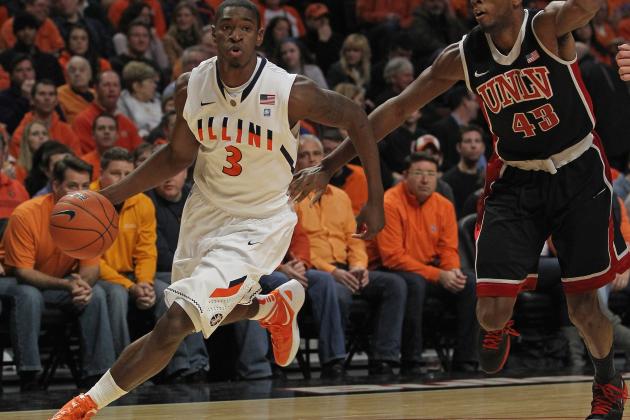 Jonathan Daniel/Getty Images

Illinois was picked ninth in the Big Ten preseason poll, but finds itself ranked 10th in the entire nation as of December 17th, thanks to a 12-0 start. Paul was named MVP of the Maui Invitational, where Illinois beat Butler in the title game and later scored 35 points in a road upset at Gonzaga.
Paul's senior season stats are at 18.8 points, 5.1 rebounds, 3.5 assists and 1.5 steals. Those numbers are good for tops on the Illinois team in all four categories. Paul's 2.8 made three-pointers per game also help contribute to Illinois' nation-leading three-point field goals made.
Paul stands 6'4" and has a strong build at 200 pounds. A natural shooting guard, Paul also finds himself taking the point guard duties when Tracy Abrams is out of the ballgame. Paul is a streaky shooter who struggled after a 43-point performance against Ohio State a year ago, but he has too much potential for every NBA team to pass him up come draft night.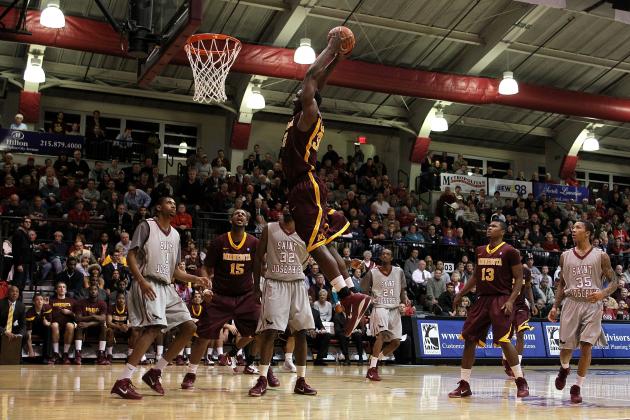 Chris Chambers/Getty Images

After a recent public display of disappointment in his playing time, Trevor Mbakwe showed that he still has it when he dropped 14 points and 18 rebounds in 21 minutes against North Dakota State. Still, Mbakwe has not started a game during his sixth collegiate season.
After missing a majority of the season a year ago, Mbakwe had yet another off-the-court issue when he was arrested for DUI. Still, Tubby Smith insists that Mbakwe does not have character issues and has heard first hand that he is a great person. Still, his track record is not favorable, though I'd take a chance on him in the draft.
At 6'8", 245 pounds, Mbakwe is as jacked as any post player in the nation, aside from Patric Young. He'd be a great fit at power forward in the NBA, but needs to get more minutes to improve upon his 9.2 point and 7.4 rebound averages. In his first season in Minneapolis, Mbakwe averaged a double-double of 13.9 points and 10.5 rebounds. If he can get his numbers back to those of 2010-11, Mbakwe's stock could get him back to a first-round selection.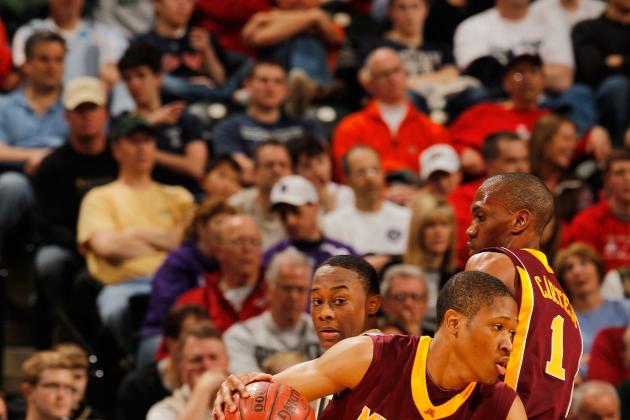 Jonathan Daniel/Getty Images

Rodney Williams Jr. helps make up one of the nation's potentially great frontcourts alongside Mbakwe. Heavily recruited out of high school, Williams was predicted to be a lottery pick after his freshman or sophomore seasons by many experts. After two mediocre seasons to start his career though, that did not happen.
It's no secret that Williams only started to shine when Mbakwe went down for the season last year, as he moved back to his natural power forward position. Williams stands 6'7", but as he weighs only 200 pounds, it's tough to see him playing PF in the NBA. Regardless of what forward position he is projected to play at, Williams' athleticism and ridiculous vertical make him a highlight play waiting to happen.
Williams Jr. averages 13.4 points, 6.3 rebounds, 2.1 assists, 1.6 blocks and 1.0 steal for the 11-1 Golden Gophers. Williams has only played in one NCAA Tournament game, which was during his freshman year, and would love to lead the Gophers to several wins on his way out. Keep an eye on Williams at some point in this year's second round of drafting.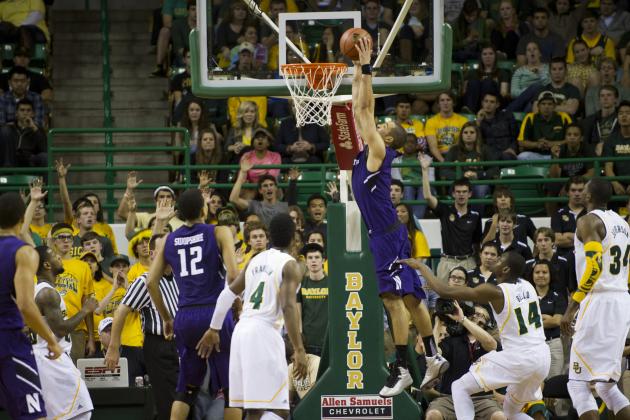 Cooper Neill/Getty Images

Seniors: Drew Crawford (Northwestern), Tim Frazier (Penn State), Jared Berggren (Wisconsin) Christian Watford (Indiana), Derrick Nix (Michigan State)
Juniors: Adreian Payne (Michigan State), Keith Appling (Michigan State), Roy Devyn Marble (Iowa), Aaron Craft (Ohio State), Austin Hollins (Minnesota), Will Sheehey (Indiana)
Sophomores: Andre Hollins (Minnesota), LaQuinton Ross (Ohio State), Aaron White (Iowa)
Freshmen: Gary Harris (Michigan State), Yogi Ferrell (Indiana), Mitch McGary (Michigan), Sam Dekker (Wisconsin), Nik Stauskas (Michigan), AJ Hammons (Purdue)
Had it not been for both Crawford and Frazier's season-ending injuries, those two may have been drafted this upcoming June. Hopefully both will be granted medical redshirts for next season so that they can make those dreams a reality in the summer of 2014.
The Payne-Appling combination should definitely come back to East Lansing for their senior seasons, not only in hopes of reaching a Final Four, but also to help improve their games. Marble is the best pro prospect Iowa has seen in quite some time.
Hollins' 41-point outburst against an athletic Memphis squad showed that he is capable of putting up huge numbers as a scorer, even though he is the team's point guard. Ross' potential is still untapped and he needs to improve defensively.
Harris can be an elite scorer in this league, but needs bigger contributions in other areas. Ferrell was clutch on Saturday against Butler, but he also made some freshman-type mistakes. McGary and Hammons' NBA potential is solely based on their size at this point.