WWE Post-TLC Raw Live Results, Coverage and Analysis for the Slammy Awards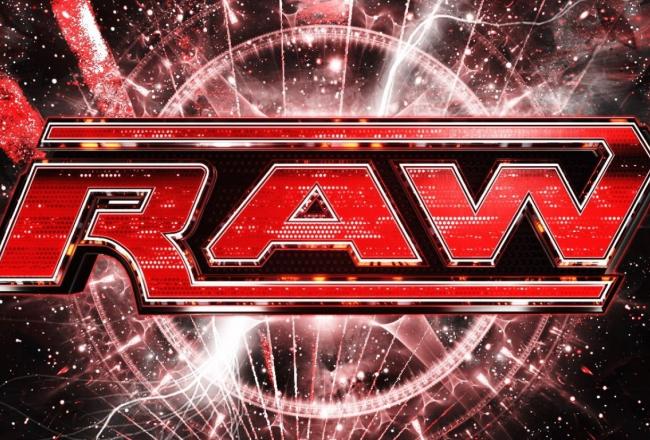 wwe-wallpapers.com

Welcome to the Bleacher Report live coverage for the post-Tables, Ladders & Chairs WWE Raw on Monday night.
TLC was a great show and tonight we will see the fallout from the various events from Sunday night.
The Shield was victorious over Team Hell No and Ryback in a brutal TLC match that will be a major topic of conversation tonight.
All the champions retained their titles in hard-fought matches, and Dolph Ziggler was able to keep his Money in the Bank briefcase with an unlikely assist from AJ Lee.
Alberto Del Rio also began a possible face turn after coming to the aid of the Spanish announce team and then later helping Miz and Steve "Brooklyn Brawler" Lombardi dispatch 3MB in a six-man tag match.
Rhodes Scholars are the new No. 1 contenders for the tag titles and Naomi showed some promise in her match against Eve.
Tonight's Raw will be interesting as we should get some kind of explanation for AJ's turn last night as well as get some idea of where WWE is headed going into The Royal Rumble in January.
We also have the Slammy awards tonight, which is sure to give us an entertaining moment or two.
Make sure to bookmark this page and come back tonight at 8 p.m. Eastern (5 p.m. Pacific) for live coverage of all the action as it happens live on television.
Follow me on Twitter @BR_Doctor
That show seemed like it took forever. It wasn't a totally terrible show, but the high number of very fast matches and the lack of any real storyline progression outside the AJ/Ziggler/Cena situation kept the show from being better.
The Slammy awards were treated like both a joke and a legitimate award at times so WWE obviously doesn't have a defined view on these things.
The debut of Big E. Langston was a pretty big shock to end the show and it might be what saved it from being a bad show.
Whether he has anything to do with The Shield will be a topic of discussion, but WWE might simply want to bring in another new face with AJ as an associate.
I am interested to see what happens tomorrow on the live SmackDown.
Thanks for reading and feel free to keep the conversation going in the comments section below.
AJ and Dolph Ziggler vs. Vickie and John Cena
Cena and Ziggler start things off and Ziggler ducks a lock up and struts to show off a bit. Cena gets a single leg takedown on Ziggler.
Ziggler ends up eating a side suplex before he tags in AJ. Cena has to tag Vickie and he just stares at AJ, who smiles at him.
Vickie comes in and tackles AJ. They go back and forth. AJ ends up leaving the ring and walking to the back and Ziggler runs over and takes out Cena.
Ziggler stares at Vickie and she leaves the ring. Ziggler hits the jumping DDT for a two count and he follows up with seven elbows that the crowd counts for him.
Ziggler tried for the superkick and Cena puts him in the STF. Ziggler crawls to the ring and AJ comes back out wth Big E. Langston from NXT.
Langston grabs Cena and plants him for the DQ. AJ skips around the ring as Big E. stands over Cena and Ziggler looks confused.
Winner: John Cena by DQ
AJ has a couple guys put a huge ladder in the ring and she climbs up to the top with a mic in her hand as we head to break.
After the break AJ says all she has heard for the past day is people asking her why. She says she thought it would be obvious why she would screw over Cena.
Vickie comes out to some boos and says nobody cares why she did it. Ziggler is out next to join AJ.
Cena comes out last and AJ has a look of disdain on her face, which is also how most of the crowd feels judging from the reaction he gets.
Undertaker vs. Triple H wins match of the year and Trips comes out to accept the award with his short hair.
He makes a joke about his hair and the crowd chants for Undertaker. He talks about that night being a high point in his career.
A Thank You Hunter chant breaks out and he thanks the fans. Triple H says we haven't seen the last of the Undertaker.
We go backstage and see The Shield attacking Tommy Dreamer and beating the hell out of him. Ricardo and some refs try and break it up but they get beaten for their troubles.
The Shield finally leave and officials tend to Dreamer and Ricky. We go back to the ring and AJ comes out for the main event.
Nice. Mean Gene Okerlund, Ricky Steamboat and Jim Ross come out to give out the next Slammy award.
They announce the nominees for match of the year. The nominees are Undertaker vs. Triple H, Brock Lesnar vs. John Cena, Sheamus vs. Big Show at HIAC and John Cena vs. The Rock.
Cena has a 50% chance of winning this award. CM Punk vs. Daniel Bryan being excluded is a crime.
Ryback vs. Antonio Cesaro
Cesaro has a mic and he says the voting for the award was rigged and he should have won. The bell rings and Cesaro tries to go right after Ryback.
Ryback hits a Thesz press and slams Cesaro's head into the mat a few times. He ends up getting hit in the back of the head by Cesaro.
A Goldberg chant breaks out before Ryback hits a nice standing suplex for a near fall. Cesaro explodes out of the corner and takes Ryback down with a slam.
He tries for the Neutralizer and Ryback hits a back drop and then lines up for the Meat Hook.
Cesaro rolls out of the ring and tries to take his belt and go. Ryback presses him and throws him back into the ring. Cesaro rolls out the other side and bails.
Winner by countout: Ryback
Ryback wins newcomer of the year after the break and he comes out to accept the award. Ryback quotes Owen Hart and says "Enough is enough and it is time for a change."
He makes his way to the ring for his match.
Sheamus comes out to give out the next Slammy award. He lets us know the nominees for newcomer of the year.
They are Antonio Cesaro, Brodus Clay, Damien Sandow (My pick to win) and Ryback.
Tommy Dreaner, Alberto Del Rio and Miz vs. 3MB Part 2
Miz and Slater tag in as we return and Miz takes it to Slater as a Miz chant breaks out. He hits his corner clothesline but gets distracted by Mahal long enough for Slater to take advantage.
Miz gets dropped across the barricade and rolled in the ring for a near fall.. D-Mac tags in and hits a snap suplex for another near fall.
Mahal gets the tag and gets a near fall after a big knee drop. He locks in a headlock on Miz and Miz fights up and hits his backbreaker/neckbreaker combo.
Slater gets the tag and keeps Miz grounded and away from his opponents. Miz almost makes a tag but he get brought back to the corner and D-Mac tags in for a big boot to Miz.
Slater plays some air guitar after a hard kick but Miz ends up almost pinning him with a roll up.
Mahal tags in and keeps Miz down with an elbow drop for a two count. McIntyre tags in and slams Miz for another near fall.
Even Cole and Lawler think Miz has been in the ring too long. Miz ends up tagging Del Rio and he takes out Slater with a series of nice offensive moves.
Del Rio hits a huge running side kick for a near fall. Del RIo hits the enzuiguri for a near fall and Dreamer wants the tag.
Dreamer hits the DDT on Slater for the pin and the win.
Winners: Tommy Dreamer, Del Rio and Miz
Tommy Dreamer, Alberto Del Rio and Miz vs. 3MB Part 1
Del Rio and D-Mac start things off and Del Rio gets cornered and beaten down. He reverses and hits some kicks to the gut followed by a running kick.
Dreamer gets the tag as a chant breaks out for him. Slater wants in and he gets the tag. Dreamer is wearing a House of Hardcore shirt.
Dreamer lays in with hard rights and then flapjacks Slater. All hell breaks loose and the babyfaces all dispatch of the heels.
Del Rio hits a suicide dive on 3MB. Dreamer goes to the top and dives off onto 3MB before the break.
After 3MB make their way out we get an extended introduction by Ricardo Rodriguez. Miz is out right before the break.
Ziggler is shown backstage complaining to Vickie about John Cena and Vickie asks him how the kiss was from AJ.
Ziggler asks what she was doing out there at TLC herself. They argue back and forth and he says he had nothing to do with AJ.
Ziggler confirms that their relationship is over and he says her jealousy is making her a worse person and she says there will be a match.
AJ and Ziggler vs. Vickie and Cena. We go back to the ring and Miz says they have another surprise as their partner for tonight.
Holy Crap! Its Tommy Dreamer! Good Job, WWE.
As Sheamus walks to the back Ziggler runs down with a ref and cashes in his briefcase. John Cena comes out and attacks Cena before he can actually cash in.
He runs Ziggler into the barricade a bunch of times and the crowd boos like crazy. Cena walks away and Ziggler lays on the outside unable to cash in his case.
Damn you, Cena! Cole says Ziggler still has his case since the bell never rang. Cole says Cena did this because he was screwed over last night.
Even though I am upset that Ziggler didn't get to cash in, I kind of liked that Cena did something dirty and unexpected. He took a cheap shot at Ziggler and he really has no excuses.
After the break Layla announces that #FEEDMEMORE gets the win. Ryder takes the award and says he will give it to Ryback backstage.
Big Show comes out next with his giant chair in hand. Show says he isn't surprised he is being booed by the crowd and they always let him down.
He brags about still being World champion.The crowd gives him the What and Boring treatment and Show freaks out until Sheamus comes out on the stage.
Sheamus says he isn't here to fight and he says their match last night was the most painful of his career.
Sheamus congratulates Show on his win and offers his hand to Show. Big Show reluctantly shakes Sheamus' hand.
Sheamus goes to leave and Show tells him to get to the back of the line. Sheamus turns around and attacks Show. He grabe the huge chair and hits Big Show a bunch of times.
Where is Ziggler?
Wow! Zack Ryder and Layla come out to give away the next Slammy. Ryder appearances are rare these days,
Ryder looks less than thrilled to introduce the Hashtag of the year award. Has it really come to Twitter awards?
The nominees are #FEEDMEMORE, #PEOPLEPOWER (The one I hope wins), #LITTLEJIMMY and #WWWYKI.
Cody Rhodes vs. Sin Cara
Cara uses some nice offense to keep Rhodes off his guard early and he hits a suicide dive to keep him out of the ring.
Rhodes takes down Cara with a kick and then keeps on the offensive. He drops Cara with a delayed face buster for a near fall.
Rhodes grounds Cara with a submission and Rey gets a Sin Cara chant going. It doesn't help anything because Rhodes stomps on Cara's face to keep him down.
Cara ends up hitting a rope-assisted kick and a springboard dropkick to Rhodes to come back. Cara hit a hurricanrana and Rhodes ends up catching him and hitting Cross Rhodes for a pin and win.
Winner: Cody Rhodes
Another quick match. SinSterio and Rhodes Scholars are 1-1 for singles matches tonight.
The LOL moment of the year end up going to The Rock. Santino says The Rock could not be here in person and he will accept it on his behalf.
Bryan and Kane come out and Bryan says this should have been his Slammy. Kane picks him up and carries him away.
Cody Rhodes and Sin Cara are in the ring for a match.
Santino Marella and Tensai come out to give the next Slammy award and Tensai has an ice pack bandaged to his head.
Tensai looks like he is humiliated to be out here. Santino calls him Albert. Santino says Tensai means Fat Albert in Japanese and Tensai gets a little upset.
The nominees for the next Slammy are The Rock taking a tour of a city to insult Cena, Bryan and Kane in anger management class, Orton attacking Del Rio backstage and Vickie Guerrero dancing like Elaine from Seinfeld.
I swear, if they turn Tensai into the next Vladimir Kozlov I will give up on him. He cannot team up with Santino or he will be done.
Brodus Clay vs. JTG
Clay easily controls the match until JTG gets a boot up in the corner. JTG goes up to the middle rope and hits a sloppy blockbuster for a two count.
He gets on top of Clay with a headlock until Clay throws him off and starts hitting his signature series of moves.
Clay throws JTG across the ring and then hits a running headbutt and his splash for a pin and the win.
Winner: Brodus Clay
After the match the ladies come in and brings some kids with to dance in the ring.
After the break Flair, Bryan and Kane all start yelling Yes, No and Woo until Ron Simmons walks up and says Damn.
The Funkadactyls and Brodus Clay are in the ring for a match when we go back to the ring. JTG is jobbing to Clay once again.
We return from the break to see The Shield fighting Team Hell No and Ric Flair all over the ring. Ambrose takes out Flair and then helps his teammates.
Kane and Bryan get beaten down. Reigns clears the announce table off and the they try for the triple powerbomb on Flair through the table.
Ryback comes out before they can do it and he takes out all three members of The Shield. He presses Seth Rollins above his head and drops him on the announce table, which doesn't break.
The Shield run away and the four babyfaces stand tall in the ring.
I was half hoping Flair would be revealed as the leader of The Shield as soon as I heard his voice on the mic earlier.
Flair gets lifted up on Kane and Ryback's shoulders as we head to another break.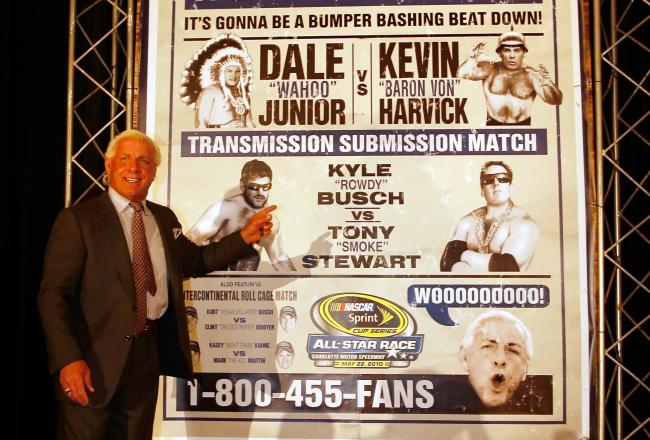 After the break we see CM Punk trying to get in the ring so he can fight Ric Flair. Punk ends up attacking Flair with a crutch while hopping on one leg.
The crowd was looking at something off to the side for a second and chanting.
Flair hits a thumb to the eye of Punk and then he locks the figure four on Heyman, who taps out like crazy.
Flair releases the hold and stands over Heyman as his music hits. Flair gives a special shoutout to Jerry Lawler and says if he could choose where he got to die it would be in the ring or with a woman from Philly.
The Shield's music hits and they make their way to the ring through the crowd as we head to break.
Ric Flair's voice introduces the nominees for Superstars of the Year. The noms are Sheamus, John Cena, Big Show and CM Punk.
After the break Justin Roberts introduces The Nature Boy Ric Flair to a big ovation. He comes out and basks in the reaction from the crowd for a moment.
Ric Flair reveals that John Cena wins Superstar of the Year for the third time in his career.
Cena and Flair embrace as he comes out to accept the award. Cena gets a pretty negative response and he waits for it to die down before talking.
He can't get them to quiet down and Flair is having trouble keeping a straight face while the boos get louder. Cena finally starts talking and talks about the loyalty the WWE Universe has.
Cena says the Superstar of the year should be the greatest superstars of all time, Ric Flair. Flair shakes his head and Cena hands it to him anyways.
As Flair starts to talk CM Punk's music hits and he comes out on crutches. He says this whole thing is ridiculous.
Punk reminds us how bad John Cena's year has been in terms of losses. Punk says he never wanted to be like Flair and he takes the award and says it belongs to him.
Flair tells Punk he has been watching even though he hasn't been around. Punk says he could kick Flair's ass with one leg.
Flair makes a joke about having four ex-wives. He says he is ready to fight and heads to the ring while Punk stays on the ramp with Paul Heyman.
Heyman tries to talk Punk out of it as we go to break.
Khali vs. David Otunga
Khali's music hits and he comes out for a match before the break with Natalya at his side.
Does anyone else find it funny that WWE week ends on the day some people think the world is going to end?
After the break we see David Otunga in the ring as the opponent. I feel like these guys have faced off many times in the past year for some reason.
Khali hits some big chops to Otunga. Otunga avoids a big boot in the corner and pounces on a prone Khali.
Khali hits the big boot and the brain chop to get back control. He hits a second chop to win the match.
Winner: Great Khali
Natalya celebrates with Khali and dances with him in the ring.
After the break Vickie says she would never be nominated for this award because she would never abuse her power to get a superstar to have a relationship with her.
She reveals the winners to be AJ and John Cena. AJ comes out and Vickie says she needs to explain what she did during the ladder match at TLC.
AJ takes the trophy and says she doesn't owe anyone an explanation. AJ says she doesn't care what anyone thinks about her, including the fans.
Vickie calls her trash and they argue until Dolph Ziggler comes out and gets in between them. He looks like he just got back from his Miami Vice audition.
AJ jumps up onto Ziggler and starts making out with him and it takes him all of two seconds to kiss her back. They got at it for awhile as Vickie runs away screaming.
AJ leaves with her award and Ziggler looks confused.
More plugs for the WWE app before Vickie Guerrero comes out to some major heat. She is here to give out the award for Kiss of the Year.
The nominees are AJ and Daniel Bryan, AJ and Kane, AJ and CM Punk and AJ and John Cena.
What about Eve and Cena with Ryder sitting there with the most befuddled look anyone has ever seen?
This article is
What is the duplicate article?
Why is this article offensive?
Where is this article plagiarized from?
Why is this article poorly edited?