Breaking Down the Miami Heat's Best Trade Bait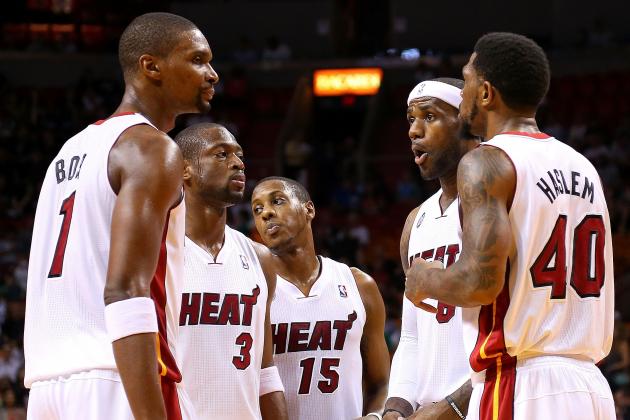 Mike Ehrmann/Getty Images

With a record of 15-6, the Miami Heat have been far from perfect this season.
Although they kept the same team from last year, while also acquiring Ray Allen, Rashard Lewis, and Josh Harrellson, the defensive intensity that propelled them to a championship last year has been rare this year.
Miami has got time to turn it around, but at this point many are beginning to question whether this is more than just an effort problem.
It might be time to take a look at the personnel. The Big 3 isn't getting any younger.
The Heat have a very talented roster, but when it comes down to it, which players make the best trade bait throughout the league? You may be surprised.
Begin Slideshow

»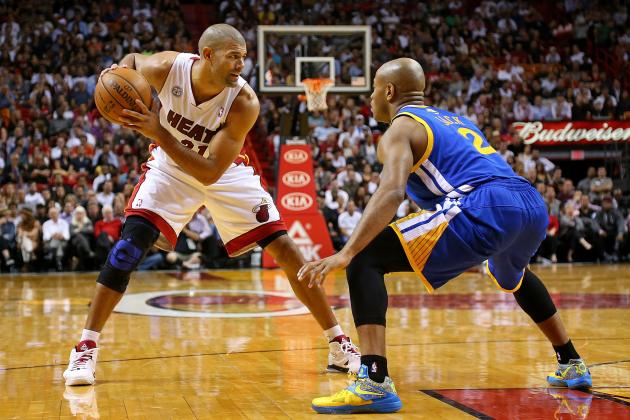 Mike Ehrmann/Getty Images

Shane Battier is your ideal glue guy. He did for Miami in 2012 what James Posey did for the Heat in 2006.
Despite his age, Battier is still a premier defender with a smooth jumper, and most importantly, he's a competitor who refuses to back down from anyone.
A guy like Battier who doesn't need the ball in his hands to be effective will always draw attention throughout the league.
Recently losing his starting spot to Udonis Haslem, Battier is becoming less and less significant to Miami this season. Small ball is very hard to play all season long.
That being said, if the Heat aren't going to use him, they might as well lose him. Or at least see what he's worth out there on the market.
In 2011 James Jones beat out Ray Allen, Kevin Durant, Paul Pierce and Dorrell Wright in the three-point contest at All-Star weekend.
So I think it's safe to say he's still got a little something left in the tank.
At 32 years of age, Jones has never been the most athletic guy, but he rarely misses an open jump shot.
The Heat have so many shooters on their roster that it's almost necessary that they dispose of one.
Many teams throughout the league would love to have Jones's shooting abilities at their disposal. Shipping him away might allow Miami to bring in some more size.
Surprisingly Mike Miller came back this season after grimacing his way through 2011-12.
He is getting a little up there in age (32 years old), but he's still got the size and shooting touch to be an effective player in the league, if given the chance.
His minutes are scarce in Miami playing behind both Dwyane Wade and Ray Allen, but when he has gotten in this season he hasn't looked too shabby.
Miller can play both the 2 and the 3, can rebound better than most guards and is a sure thing from downtown.
He showed what he could do in the close-out game for the Heat in the Finals last season. Anyone who can put that kind of performance together with the lights shining brighter than ever deserves a look.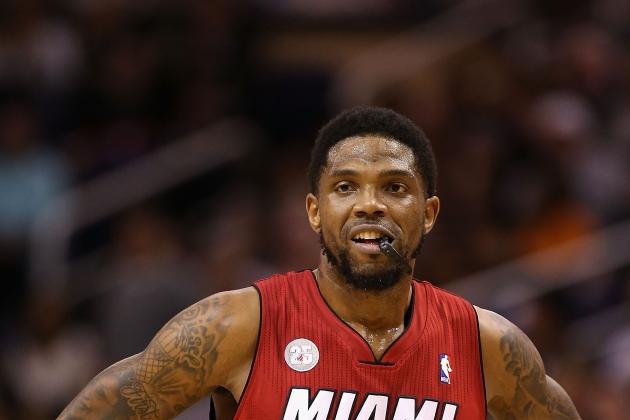 Christian Petersen/Getty Images

Udonis Haslem has finally come around full circle, rediscovered his mid-range jump shot and found himself back in the starting line-up for the Heat.
However, he's one of the more intriguing pieces that Miami has to offer.
Haslem has quietly been one of the best rebounders in the league for years now and is coming off a 13-point, seven-rebound game in 24 minutes on Saturday.
He's also another guy who doesn't need the ball in his hands to be effective. He will take charges and defend to the best of his ability despite his small stature.
Although Haslem is 32, his game does not rely on athleticism and he has some very solid years ahead of him. He's sacrificed a lot to stay with Miami, but at the end of the day the NBA is a business.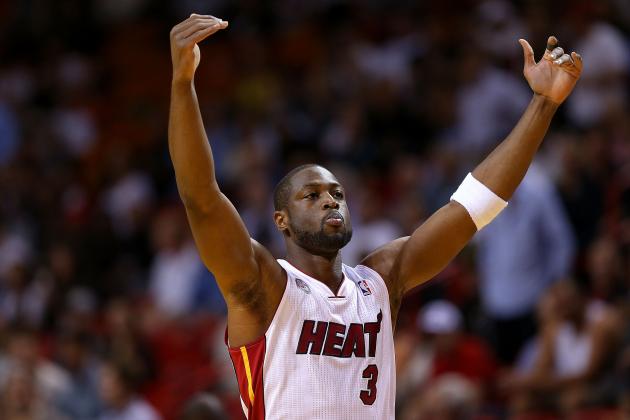 Mike Ehrmann/Getty Images

I know some of you guys' jaws probably dropped, but it is what it is.
Dwyane Wade is Mr. Miami himself, and although the likelihood of him being traded is very low, maybe it shouldn't be.
In reality, Wade and LeBron are very similar players. We knew this coming into the Big 3 era in Miami.
Chris Bosh is arguably a better shooter than both.
However, now it's getting to a point where the Heat are becoming too easy to guard since opposing teams don't have to respect Wade's jump shot.
This season Wade is shooting a mere 30 percent from beyond the arc.
That being said, Wade can undoubtedly go help another team win. He's no longer a superstar, but he's still an All-Star.
But there's no doubt that there are other players out there who would better complement LeBron as a running mate, despite the chemistry that these two guys have.