Leading up to the big game between LSU and Clemson, you are likely going to hear that the Tigers have absolutely no chance in the 2013 Chick-Fil-A Bowl. Clemson Tigers, of course. LSU is super-talented on both sides of the ball and has the advantage at nearly every position possible.
The majority of that is true, but the quarterback position is something that gives Clemson hope. Tajh Boyd would take Zach Mettenberger's starting job if he played for the other Tigers team. The LSU starting quarterback couldn't share the same football field when it comes to Boyd.
Now this isn't to say that Boyd is an elite quarterback and should bolt for the NFL draft after this game. Truthfully, he has many things to work on. But folks down in Baton Rouge would switch quarterbacks in a Les Miles second if they had the chance.
The main difference between the two quarterbacks is that Boyd is able to make plays and Mettenberger is not. Things really can't get any simpler than that.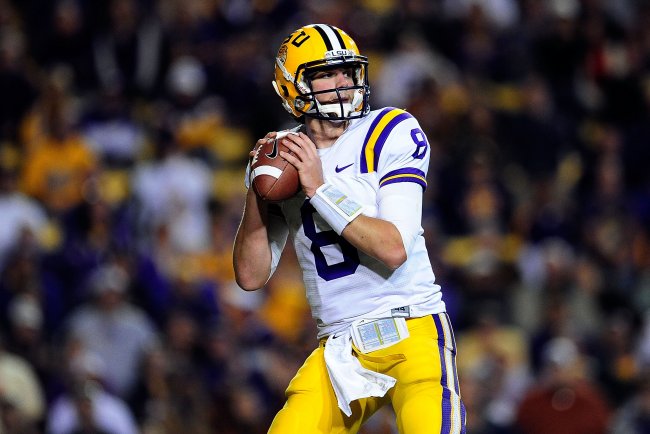 Stacy Revere/Getty Images
One is athletic and can make plays with his legs, while the other is a statue in the pocket. Boyd is accurate with the football for the most part, while Mettenberger enjoys throwing the ball to his imaginary receiver that is hiding out in the dirt.
Boyd is capable of putting his team on his back and leading a comeback. LSU pretty much lost the game if the offense needed to score quickly, because Mettenberger hasn't shown the ability to lead his team down field on a consistent basis.
When Mettenberger was named the starter, he was expected to provide the LSU offense with an actual reliable passing game. He had the NFL size, the strong arm and was considered one of the better overall prospects in the country.
However, it looks like the quarterback curse has hit him as well, as he is completing less than 59 percent of his passes and has only thrown 11 touchdowns on the year. Miles is still struggling to find that quarterback that can put this Tigers offense over the top.
The team is ranked 92nd in the country in passing yards and continues to rely heavily on a powerful running game and top-notch defense.
Oh, don't get me wrong. He was able to take advantage of a shaky Alabama secondary and pass for nearly 300 yards, but he hasn't been consistent throughout the year. He has made you question his ability more times than he has impressed.
As for Boyd, he has topped 3,500 passing yards for the second straight season and has set a career high with 34 touchdown passes. He has had six games where he has thrown for more than 300 yards and has scored at least two touchdowns in 11 of the 12 games played.
He can also kill defenses with his legs, rushing for 492 yards and nine touchdowns, both of which are career highs on the ground for the junior quarterback.
Who would you take as your QB?
Because of his ability to run the ball, this makes him much more difficult to stop for opposing defenses. Everybody has to fill the correct gaps to keep him in the pocket and force him to make plays with his arm. The problem is that Boyd would rather throw than run the ball.
This is a quarterback that only ran the ball 157 times this season, compared to 377 passes. That may still sound like a lot of rushing attempts, but Braxton Miller of Ohio State took off 227 times, while Kansas State quarterback Collin Klein ran 194 times.
Although Boyd still makes questionable decisions with the ball, he is an accurate quarterback that can light up a secondary with his arm.
Mettenberger hasn't lived up the expectations that were handed to him before the season started. He consistently misses his target and under-throws wide-open receivers, or will put the ball in a spot that doesn't give his guys a chance. He is not mobile whatsoever and does a poor job of even buying himself time in the pocket.
Boyd can hurt defenses in two different ways depending on how you want to play him, while defenses are more concerned about the LSU running game than anything else.
The Tigers may have the advantage at most of the positions, but Clemson has the clear-cut better quarterback, which gives the team a chance in the bowl matchup.