Alabama vs. Notre Dame: Is A.J. McCarron Truly a Better QB Than Everett Golson?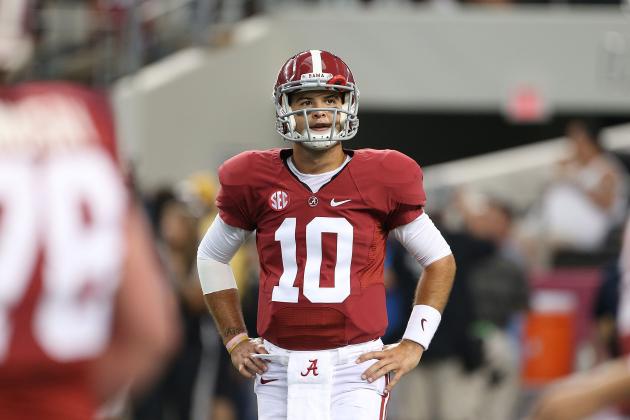 Leon Halip/Getty Images

Who would you want on your team between Everett Golson and A.J. McCarron?
Throw both teams out of the equation; we are simply talking about the young quarterbacks and their natural ability. McCarron doesn't have that massive offensive line and No. 1 defense to rely on, and Golson doesn't have one of the best tight ends and a great defense to bail him out.
Who do you take?
McCarron already has a national championship under his belt and has received consideration for the Heisman Trophy. Golson is still new to the party and hasn't really done anything in his short career in South Bend—besides play a part in getting the Irish to the national championship, of course.
Both have completely different skill sets and could help contribute in many different ways.
Many would automatically assume that McCarron is the better of the two, but the evidence presented herein may surprise you.
Begin Slideshow

»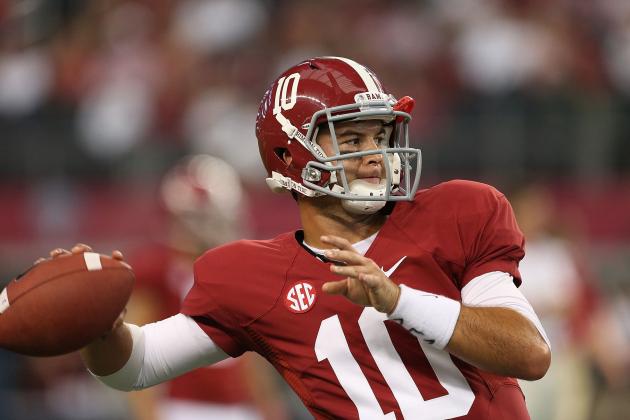 Leon Halip/Getty Images

Completion Percentage: 66.8
Passing Yards: 2,669
Passing Touchdowns: 26
Interceptions: 3
Rushing Statistics: -5 rushing yards and one touchdown
A.J. McCarron has really taken control of this Alabama offense in his second year as a starter. You can tell that the coaching staff is a lot more confident than they were a season ago, and he is making more plays throwing the football. While he only threw for 16 touchdowns last season, he has tossed 26 this season.
He has also produced 30 plays of more than 25 yards, which is 10 more than the 2011 season.
Overall, McCarron has thrown the ball less than he did his sophomore year, but he has been a lot more effective. The 172.09 passing rating for Alabama is the best in college football, and his six games of completing more than 70 percent of his passes is also impressive.
The Alabama starter has quickly become somebody you need to respect throwing the football.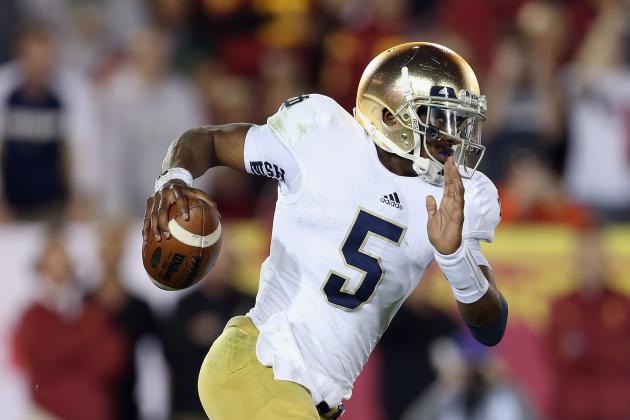 Jeff Gross/Getty Images

Completion Percentage: 58.9
Passing Yards: 2,135
Passing Touchdowns: 11
Interceptions: 5
Rushing Statistics: 305 yards and five touchdowns
Everett Golson beat out some fierce competition in South Bend to win the starting quarterback job in his sophomore season. He has had a little bit of trouble with his decision making at times, but that is completely expected for a first-year player.
The poor decisions resulted in head coach Brian Kelly taking his young signal-caller out of the game for a drive or two, but overall, Golson has done a good job his first year leading the team.
Golson has completed more than 65 percent of his passes five times this year and was able to top 200 passing yards in each of his last four games. As for his mistakes on the field, three of his five interceptions on the year came within his first four matchups.
The numbers aren't as sexy as you would like, but Golson has done more good than bad as the starting quarterback for the Irish.
Strengths
McCarron doesn't have elite arm strength, but it is much better than average and he is capable of making nearly every throw on the football field. He looks extremely good in the pocket and has his mechanics down to a science. He keeps his feet balanced and has a quick release and above-average pocket presence.
One of the things upon which McCarron has drastically improved during the offseason is his decision making. He no longer forces the ball into dangerous areas and didn't throw his first interception until the 10th game of the season.
Weaknesses
McCarron is a better athlete than most would like to give him credit for, but he isn't a threat to run the football. He can move around in the pocket well and buy a few extra seconds, but his negative rushing yards throughout his career aren't scaring anybody.
McCarron also shouldn't be considered a playmaker at the quarterback position. Sure, he has stepped his play up tremendously from a year ago, but I'm not sure Tide fans would feel confident if he had to lead his team back from a large deficit.
He just hasn't been asked to do much in his first two seasons, as Alabama relies more on a power running game and physical offensive line.
Strengths
When the coaching staff actually feels the need to throw the ball deep, Golson can really let it fly. Like most dual-threat quarterbacks, he has the ability to throw the ball as deep as you would like and can put the ball on the numbers when he has time.
As you can see in the video, the Irish starter really had the Oklahoma defense looking foolish trying to bring him down.
His instincts on the field and pocket awareness are terrific, as he does a good job of feeling the pressure and getting out of there. A lot of the reason Notre Dame has only given up 16 sacks on the year is because of the quarterback moving around, and Golson's quick release certainly helps too.
Weaknesses
The concern that I have with the first-year player is that his small frame may not be able to hold up. A running quarterback at 6'1", 185 pounds is never a good recipe for success, as Golson looks more like a wide receiver. If he is going to continue to last with this dual-threat style of play, he needs to bulk up a bit.
Another thing would be his decision making. While his interception total isn't high, he still makes questionable passes that could cost his team. He will force the ball at times, and it makes you wonder if he is seeing the field well.
This should improve heading into next year. It has to if he wants to take that next step.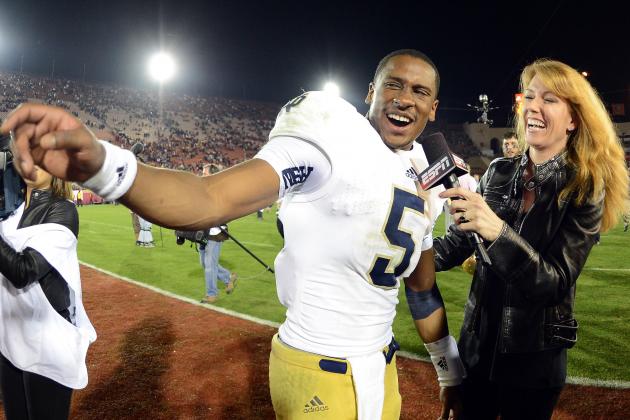 Harry How/Getty Images

If we are talking about possible NFL future, I would take McCarron. But since we are talking about the ability to win at the college level, I would jump on the Golson bandwagon and not turn back for a second.
Sure, McCarron will play in his second straight national championship, but let's not act like he led the Tide to both of those games. The quarterback has done his part, but Alabama is a team that relies heavily on its defense and running game.
I am looking for a quarterback that can be a difference maker and lead my team to victory if I am trailing by 21 points heading into the half.
Golson has only scratched the surface with his potential and should have the playbook opened up with a year under his belt. He is capable of killing a defense with his legs, but Coach Kelly seemingly aimed to tame that style of play in his first year. Golson's 89 rushes is something you will likely see at least doubled in 2013.
Last time I checked, dual-threat quarterbacks were taking over this sport and have gone on to have remarkable success at the collegiate level. Golson has played well in his first year and has tremendous upside to only improve upon moving forward.
What we see with McCarron is what we are going to get next season. I want somebody that has the ability to drastically improve, that can make plays when nothing is there.
Golson is a playmaker and is better than McCarron at the quarterback position.