Every BCS Team's Bread and Butter Play on Offense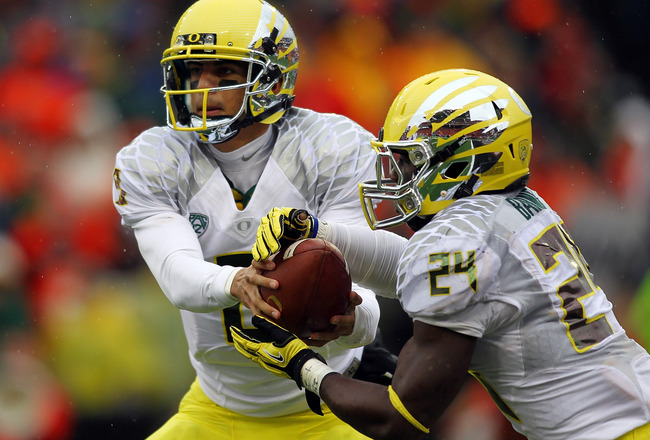 Jonathan Ferrey/Getty Images
Every college football team has an offensive play or set of plays that it relies on more than others.
Indeed, while each squad has its own situational calls and a handful of trick plays, every program builds a season on a certain combination of offensive plays that seem to work at the right time in the right place.
The following slideshow pinpoints every BCS team's bread and butter play (or plays) on offense.
And at the end of the day, you have to figure that these programs' OCs have been the ones that have gotten it right in 2012.
Yes sir, you don't finish ranked in the final BCS standings if you haven't identified the plays that are the meat to go along with your potatoes.
25. Kent State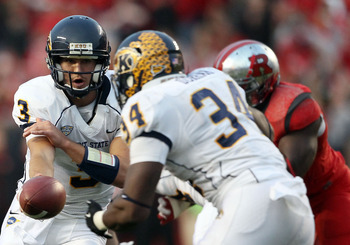 Alex Trautwig/Getty Images
Though the highlight reels in 2012 will feature Kent State's Dri Archer running for a 74 TD vs. Bowling Green, the Golden Flashes' bread and butter this season is a lot less, well, flashy.
Indeed, though it's a lot more exciting to watch Archer rack up big yards on a pass reception, return or rushing play, by and large Kent State got to 11 wins by grinding it out on the ground.
Hard-earned rushing gains of anywhere between three and 10 yards by Trayion Durham, Dri Archer or Spencer Keith were the heart and soul of the Golden Flashes offense in what was a historic 2012 season.
24. San Jose State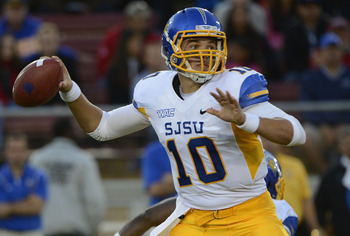 Thearon W. Henderson/Getty Images
The offensive side of the story of San Jose State's rise from obscurity to double-digit wins and the BCS standings is all about passing.
And the meat of the passing the game for the Spartans, the go-to play on third down and whatever, is a quick little pass number from five to 20 yards that has been lethal in 2012.
QB David Fales has his pick of a dizzying array of receivers in this situation led by Noel Grigsby, Ryan Otten, Chandler Jones and Jabari Carr.
23. Texas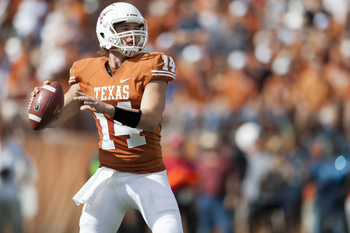 Cooper Neill/Getty Images
Texas' 2012 offensive offering was so inconsistent that frankly it's difficult to pinpoint a true "bread and butter" play.
One week Texas will look like a passing team (when they beat Oklahoma State) and then a couple of weeks later it seems like a rushing team (when they beat Baylor).
Either the Longhorns morph into what they need to be each week based on their opponent, or they truly don't have an offensive identity.
What Texas had some success at, especially on third down, was when David Ash took advantage of the speed of his receivers and managed to get rid of the ball for quick 10- to 15-yard passes that kept drives alive.
22. Utah State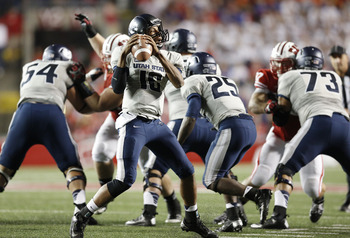 Tom Lynn/Getty Images
Though Utah State has ridden a very balanced offensive attack to an 11-win mark this season, it's the pass that has buttered the Aggies' bread more so than the run.
What's been most effective for Utah State when it needed a first down or a score are a combination of screen or quick sideline passes hooking up QB Chuckie Keeton with either Kerwynn Williams or Matt Austin.
Though the Aggies have had plenty of big plays in 2012, they've lived large on a series of highly effective pass plays netting gains of fewer than 15 yards.
21. Louisville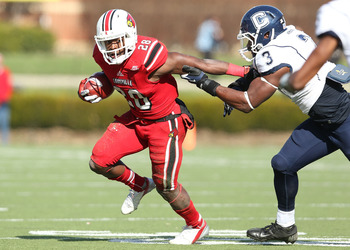 Andy Lyons/Getty Images
If you watched the Cardinals lace it up in 2012, you watched them serve up a healthy heaping of the pass to go along with every game-time meal.
And the way they like their pass best was when QB Teddy Bridgewater zips the ball to WR Jeremy Wright for 15 yards when it really, really counted.
Whether it was 2nd-and-8 or 3rd-and-11, this was a hookup that paid off again and again.
20. Northwestern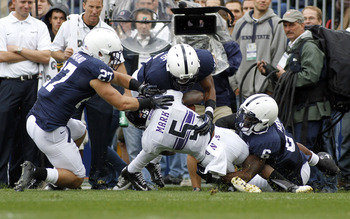 Justin K. Aller/Getty Images
Perhaps the least glamorous offense in the final 2012 BCS standings, Northwestern's road to a nine-win finish came up well short of flashy.
The bread and butter for the Wildcats' meal this season was all about short, hard-fought 2- and 3-yard runs by workhorse RB Venric Mark and hard-working QB Kain Colter.
Northwestern finished the season ranked No. 92 in the FBS in 10-plus yard plays and No. 107 in 30-plus yard plays, but the Wildcats are the third-highest ranked Big Ten team in the final BCS standings.
19. Boise State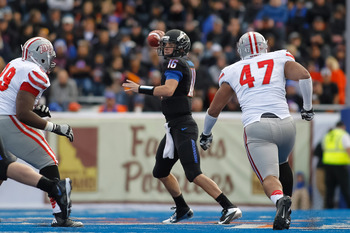 Otto Kitsinger III/Getty Images
With as young as a team as Boise State had coming into 2012, it's remarkable that it reached both the double-digit win plateau and the Top 20 of the BCS standings.
And the primary reason for both of these outcomes is a defense that finished the season ranked No. 6 in scoring vs. an offense that ranked No. 55 in points.
As far as how the Broncos managed to gain yards and ring up the scoreboard, it's not as straightforward as others on our list as Boise State was scrappy and somewhat balanced offensively this season.
What they did butter their bread with frequently was a series of passes in the neighborhood of 10 yards from junior QB Joe Southwick to Matt Miller, Kirby Moore and Chris Potter that accounted for a slew of critical conversions and scores.
18. Michigan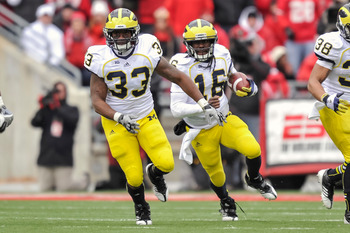 Jamie Sabau/Getty Images
It shouldn't come as a surprise that what made Michigan's offense go this season was the run.
Whether it was Denard Robison, Devin Gardner or Fitzgerald Toussaint carrying the pill, the Wolverines' bread and butter consisted of a series of 5- to 15-yard running plays that converted third downs and rung up the scoreboard from inside the red zone.
Michigan's running game in 2012 was ultimately the difference between an eight-game season and what could have easily been a six- or seven-victory affair.
17. UCLA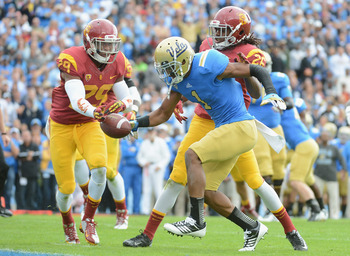 Harry How/Getty Images
Though when you think of the meat on UCLA's offensive bone, it's natural to immediately picture RB James Franklin zipping athletically down the field to victory, the Bruins have gotten it done through the air.
Yes, when the chips have been down in 2012, it's been 10- to 15-yard slants, screens and downfield passes connecting QB Brett Hundley with Shaquelle Evans, Joseph Fauria and, yes, Johnathan Franklin.
The Bruins definitely didn't heat it up through the air this season (they finished the season ranked No. 36 nationally in passing yards), but for UCLA, it was all about perfect timing making the pass lethal and ultimately successful.
16. Nebraska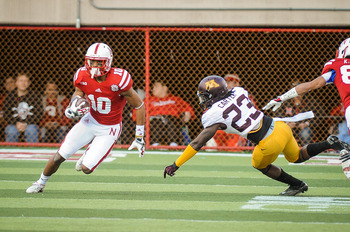 Eric Francis/Getty Images
With the No. 8 nationally ranked rushing offense vs. the No. 91 passing offense, it's fairly easy to see that the Huskers' "go-to" offensive play would be a running affair.
But, rather than a "grind it out, couple of a precious yards at time" kind of offense, it might be at least somewhat surprising to learn that Nebraska has lived and died by the big play in 2012.
That's right, the Cornhuskers rank No. 8 nationally in 20-plus yard plays from scrimmage (with 75) meaning that their bread and butter is a streak rather than a stutter.
15. Northern Illinois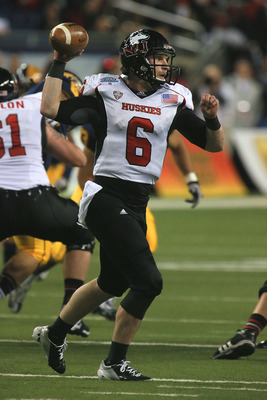 Dave Reginek/Getty Images
Touting one of the most balanced attacks in 2012, the Northern Illinois offense utilized a number of plays to extend drives and score its way to become the first MAC team in history to make a BCS bowl.
But when you look back over the course of the season, the play that the Huskies banked most often when the chips were down was a neat little short pass from QB Jordan Lynch to Martel Moore or Tommylee Lewis netting 10 to 15 yards.
These completions kept drives going, tempo ticking, downs converting and ultimately got Northern Illinois at the unlikely destination of the Orange Bowl.
14. Clemson
Grant Halverson/Getty Images
The Tigers tore it up through the air in 2012 to the tune of finishing the season ranked No. 13 in passing yards.
Though Clemson buttered its bread with an impressive number of pass plays in the 10-yard range this season, the real underlying story of its success has been the big play.
To illustrate, the Tigers rank No. 3 nationally in plays over 20 yards from scrimmage with 82, No. 6 in 30-plus yard plays, No. 7 in 40-plus yard plays and No. 7 in 50-plus yard plays.
13. Oregon State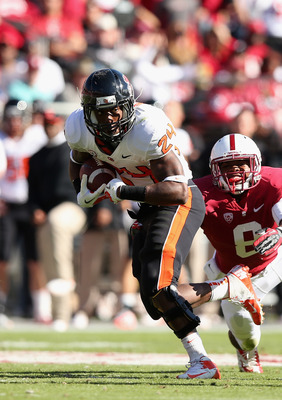 Ezra Shaw/Getty Images
The meat on the Beavers' chicken bone in 2012 has been short passes between QBs Sean Mannion and Cody Vaz and WRs Markus Wheaton, Brandon Cooks and RB Storm Woods.
The most prolific and effective of these hookups and perhaps the most buttery has been Mannion to Wheaton for 11 yards or so, for a first down and many times for an Oregon State touchdown.
12. Florida State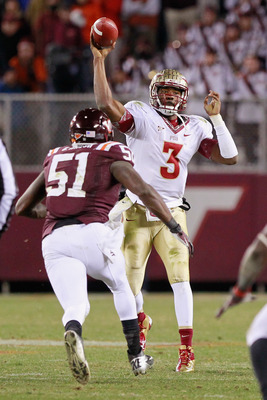 Geoff Burke/Getty Images
What drove Florida State's offensive bus this season was a series of short passes, under 10 yards that set up 2nd- and 3rd-and-short situations that could extend drives with a much improved running game.
QB EJ Manuel hooked up successfully with a dizzying array of receivers in 2012, and you have to wonder if this could have been but one of the glorious BCS title game storylines if FSU hadn't have finished the year ranked No. 95 in giveaways.
11. Oklahoma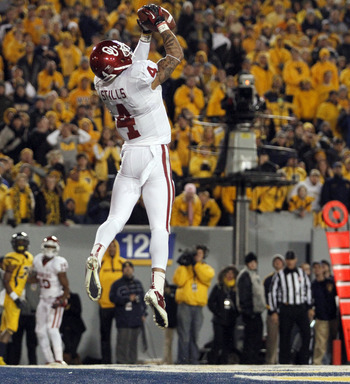 Justin K. Aller/Getty Images
Though much has been made of QB Blake Bell (aka the "Bell-Dozer") coming in on 3rd-and-short situations and lowering his head for a Sooner first down, Oklahoma's true buttery treat is more of an airy affair.
Indeed, what really made the Sooner's O go in 2012 was a series of 8- to 12-yard lightning quick pass plays that kept drives alive, converted third downs and scored TDs.
Whether it was QB Landry Jones to Kenny Stills, Justin Brown, Jalen Saunders or another member of Oklahoma's deep receiving corps, it was a quick pass that buttered the bread.
10. South Carolina
Kevin C. Cox/Getty Images
The Gamecocks are the sort of team that makes you see that a great defense can make up for an offense that wasn't terrible, but then again wasn't terrific either.
Whether it was injuries or attrition, South Carolina's offense was a mile from prolific 2012, but it gained enough yards and scored enough points to reach double digits in the vaunted halls of the SEC.
In terms of what got served with every offensive meal, the Gamecocks leaned hard on a food pyramid that included a series of short passes in the 7- to 11-yard range from QB Connor Shaw to WR Ace Sanders.
Though these plays were rarely big cash outs, they were often the hinges on which drives swung.
9. Texas A&M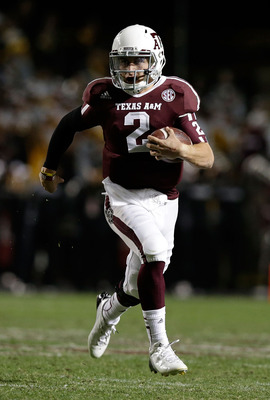 Scott Halleran/Getty Images
So, what did Johnny Football and the 2012 Texas A&M Fighting Aggie football team butter their offensive buns with?
Well, how about the big play where the Aggies finished the season ranked No. 1 nationally in plays from scrimmage resulting a 20-plus yard gain with 90?
And this is even more amazing when you throw in the fact that these guys played in the SEC, not the Big 12, where defense is but a whisper on the wind of an offensively-dominated culture.
8. LSU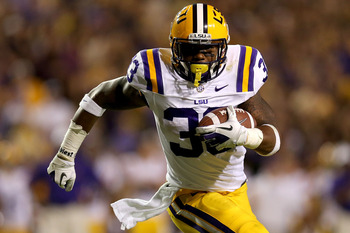 Matthew Stockman/Getty Images
LSU is one of the top-ranked BCS teams that didn't make the top of the charts due to a sizzling offense.
No sir, the Tigers have gotten it done with a stifling defense that has by and large made the difference for an offense that has almost looked confused at times.
But, this is still a unit that has managed to pump out enough points to reach 10 wins, and if you're looking for how they did it, try straight up the middle for tough yards on the ground.
Yes, it wasn't pretty but Jeremy Hill, Kenny Hilliard and the rest of the backs grinding it out behind the big boys up front have managed a higher BCS ranking than all the thrill of Johnny Football and co. at Texas A&M.
If you think about it, that's pretty amazing.
7. Georgia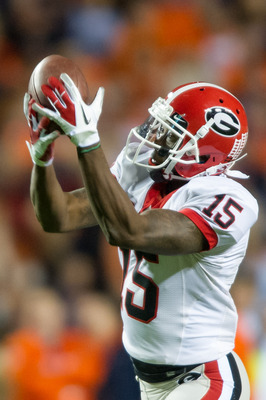 Michael Chang/Getty Images
What Georgia's O relied heavily on in 2012 was a series of passes of highly dependable passes of just over 10 yards from QB Aaron Murray to WRs Tavarres King and Malcolm Mitchell.
Though the very consistent rushing of RB Todd Gurley definitely anchored many a Bulldog drive, it was the pass that either made or broke Georgia this season.
To illustrate, the Bulldogs racked up over 200 yards passing in every regular season game with the exception of two this year.
The first came in the loss to South Carolina when Georgia eked out only 109 yards through the air and the second came vs. Florida when the Bulldogs managed 150 passing yards, but thrived anyway due to the Gators' five turnovers.
6. Stanford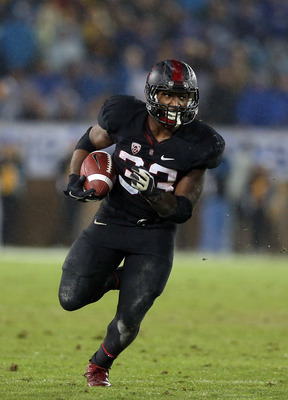 Ezra Shaw/Getty Images
Though it's pretty safe to say that defense was the foundation of Stanford's first conference title since 1999, it's also logical to assume that the offense contributed its small part to a glorious 2012.
Stanford finished the season ranked No. 14 nationally in scoring defense vs. No. 71 in scoring offense, and in terms of what the O liked to spread on its bread. think rushing.
It wasn't glamorous and really there wasn't anything "West Coast" about it, but the Cardinal got it done by going to the ground and fighting for a few precious yards on each play and going valiantly on to the next down.
The meat on Stanford's plate was RB Stepfan Taylor straight up the middle, which is illustrated by the fact that he carried the ball 302 times for an average of 4.8 yards per carry.
And this proves that garish numbers aren't necessary for a major conference championship, a BCS bowl and some big-time college football.
Amen, brother.
5. Kansas State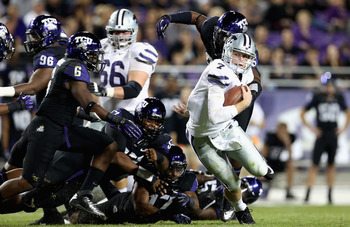 Ronald Martinez/Getty Images
What's fascinating about K-State's offense is that it's been so successful and balanced in such a wide variety of formations and looks.
And this makes pinpointing a "go-to play" really difficult.
But, if you watched the Wildcats play in 2012, what always buttered their proverbial bread regardless of the formation, the down, etc., was to let QB Collin Klein keep the ball and just simply run.
Though Klein didn't finish the season with the kind of rushing numbers that Jordan Lynch (Northern Illinois) or Johnny Manziel (Texas A&M) did, he did score a whopping 22 rushing TDs.
This earned Klein the No. 2 slot nationally among all players (running backs included) in rushing TDs through the 12 games of the regular season.
4. Oregon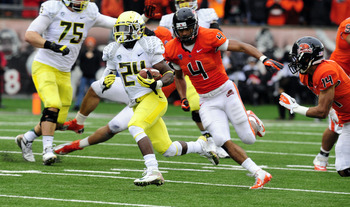 Steve Dykes/Getty Images
When you think of Oregon you think of flat-out speed and you think of rushing, so when you're trying to come up with play that offensively put the spread on the Ducks' bread, it's certain to be a combo of the two.
The obvious "go-to" play would involve spreading out the opponent's D and unleashing Kenjon Barner, we'll go further and put a few exclamation points on what the Ducks have done this year.
Oregon finished the season ranked No. 2 in the nation in running plays for over 10 yards with 120, it ranked No. 1 in rushing plays over 20 yards with 42, was No. 1 in the 30-plus category, No. 3 in the 40-plus race and it finished No. 3 nationally in rushing plays of over 50 yards.
Let's just say that the Ducks' version of Nutella was a big dollop of a big rushing play.
3. Florida
Sam Greenwood/Getty Images
Yet another top-ranked team that arrived at a somewhat glorious destination due to a stifling defense as opposed to a prolific offense, the Gators haven't necessarily streaked through 2012.
With 29 takeaways, it's tempting to say that Florida's most tried and true offensive play is its opportunistic defense, but still the Gator O managed to finish the season ranked No. 35 in rushing yards, so surely there is more than meets the eye.
Florida's go-to play in 2012 had to be handing RB Mike Gillislee the ball and hoping and praying something good happened.
And the good news for Gator fans is that something really wonderful did happen, to the tune of 26.8 points, 11 wins and the first BCS bowl since 2009.
2. Alabama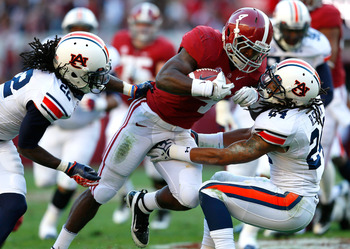 Kevin C. Cox/Getty Images
Alabama's offensive quietly churned its way back to the BCS title game in 2012, and it did so without a Heisman front-runner or a stockpile of gaudy stats.
What worked for the Tide this season seems almost too simple; they ran the ball effectively, passed just enough to get by and won with great defense.
Though it's not flashy and it's not a new formula that has everyone around the nation raving, it works.
As far as the call that gets the bread on the butter how about Eddie Lacy or T.J. Yeldon (both who averaged just over 6 yards per carry this season) grinding it out for yard after yard.
So, when you add all those yards up where do you wind up?
Well, sir, in Miami, Fla. for the national championship.
1. Notre Dame
Harry How/Getty Images
Notre Dame lays claim to the No. 1 defense in college football, but when you look through its offensive resume its easy to see why nobody was representing the O in New York City on Heisman night.
First you've got QB Everett Golson who definitely managed to get 'er done, but he's got only 11 passing TDs and five picks which doesn't necessarily tell of a great air attack.
From a rushing standpoint, no back came within 100 yards of the 1,000-yard plateau and the highest yards per carry were 7.1 from George Atkinson III who had only 51 touches.
What worked best for the Irish offense in 2012 was an even simpler version of Alabama's attack: Run it straight up the middle over and over again and win tight games with a great defense.
You know it certainly ain't pretty, but isn't it oh so effective?
Keep Reading