Stacy Lewis: 10 Things You Need to Know About LPGA Player of Year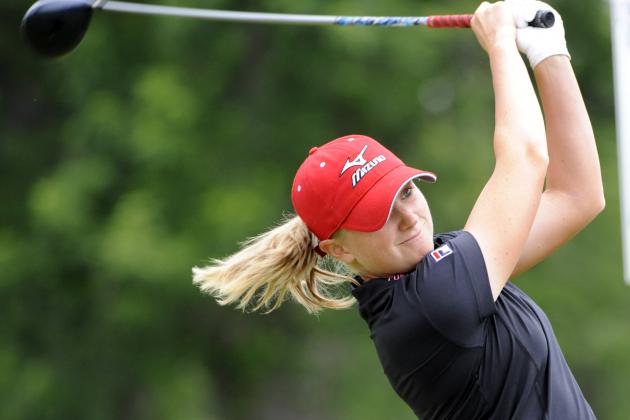 Lauren Mackson-USA TODAY Sports
Stacy Lewis has emerged as the new face of American women's golf.
It had been 18 years since an American woman had played well enough to earn Player of the Year honors on the LPGA Tour. Eighteen is an ironic number in this discussion, since that was the age Stacy Lewis took off the back brace she had been wearing since age 11.
Her story has been well-chronicled and she has become the new First Lady of American Golf.
Here's a list of 10 things you might not now about the biggest little University of Arkansas fan on the LPGA Tour.
Begin Slideshow

»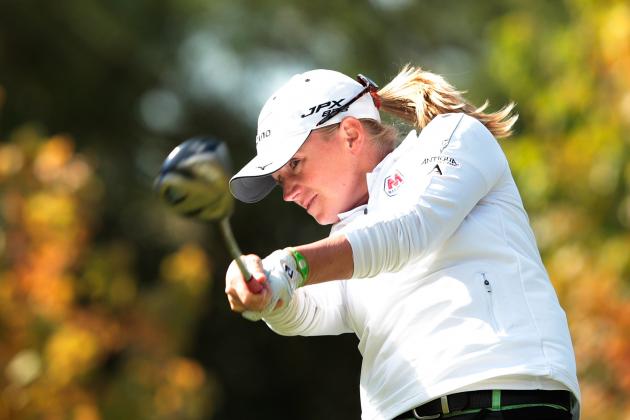 Adam Pretty/Getty Images
Stacy Lewis' name recognition is getting bigger as her place in the game grows.
The Tiger Woods PGA Tour video game is recognized as the best of its kind and has featured the best of its kind.
In fact, on the cover of Tiger Woods PGA Tour 14, the legendary Arnold Palmer is featured with Woods.
Lewis is among the new generation of golfers who debut in this release.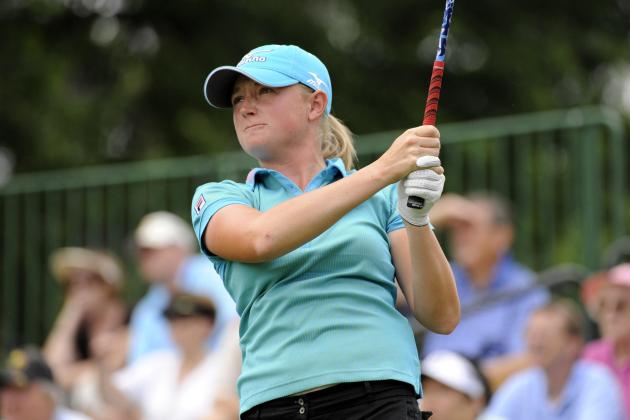 Lauren Mackson-USA TODAY Sports
Stacy Lewis has proved to be a huge inspiration with her story.
A raffle ticket changed the course of Stacy Lewis' life and career.
Diagnosed with scoliosis at age 11, Lewis wore a back brace for 18 hours a day until she graduated from high school.
She had surgery that didn't correct the curvature in her spine. Her orthopedic surgeon, Gary Brock, played in a charity golf event and won a series of golf lessons with the pro at Woodlands Country Club where Lewis belonged.
He didn't know Lewis was good enough to get a scholarship to Arkansas. He began to learn more about her as he took his lessons.
As he did he came up with an alternative plan for surgery to help her become more flexible.
He did the surgery, inserting a single rod with five screws. It was a more complex and painful surgery, but it has proven to be a very big decision for Lewis and her life.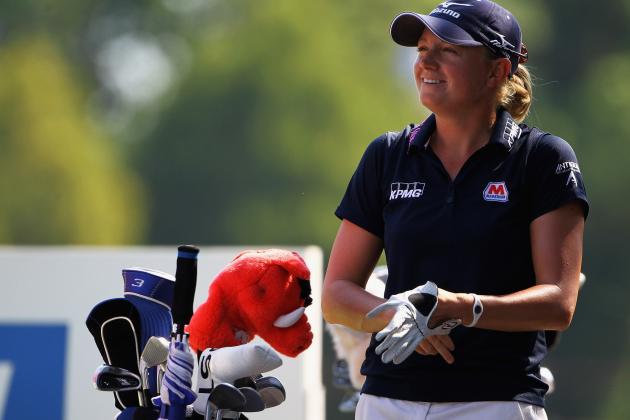 Matthew Lewis/Getty Images
Stacy Lewis proudly displays her Razorback head cover.
Stacy Lewis became the first former female student-athlete to donate $100,000 or more to the University of Arkansas Razorback Foundation's Century Circle.
Her donation was made to the Razorback golf training facilities. Lewis was a member of the women's team there from 2005-09.
The Razorback Foundation's Century Circle as more than 50 members who have contributed to fund various programs on campus.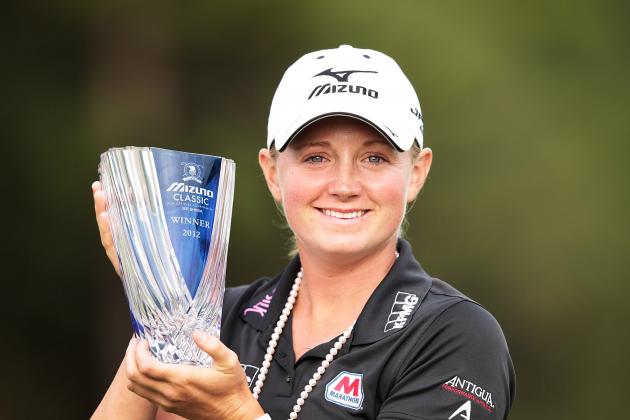 Adam Pretty/Getty Images
Some of Stacy Lewis' sponsors are on display.
The way Stacy Lewis' career has blossomed has certainly paid off nicely for her financially.
She has a handful of very good sponsors: Mizuno, KPMG, Marathon, PureSilk, Titleist, Antigua, VedaloHD and Powerbalance.
Estimates of the value of those sponsorships range as high as seven figures, but real figures are not available.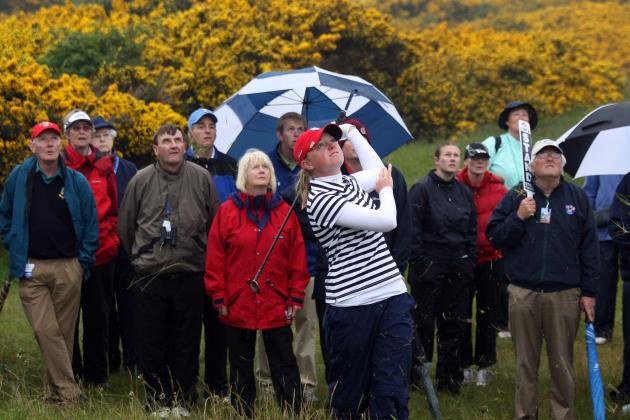 David Cannon/Getty Images
It wasn't all perfect for Stacy Lewis in the 2008 Curtis Cup.
Stacy Lewis capped off a very good amateur career with a spectacular performance in the 2008 Curtis Cup.
She became the first player in that event to go 5-0 and led the United States to a 13-7 win over Great Britain and Ireland team at the Old Course at St. Andrews.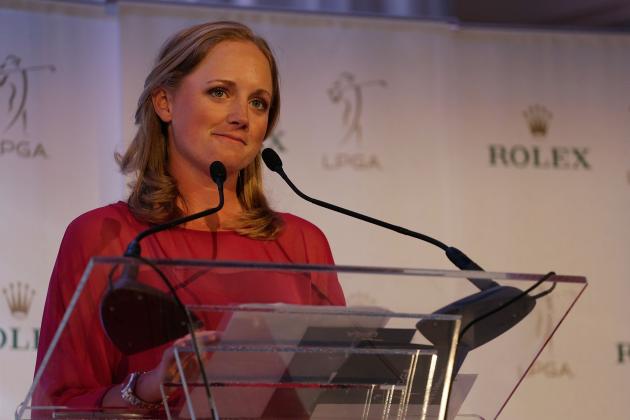 Scott Halleran/Getty Images
Stacy Lewis accepts Rolex Player of the Year Award.
When she's playing out on the LPGA Tour, Stacy Lewis doesn't have a lot of free time. One week is very much like the next and then next in terms of schedule.
But she is one of those players who likes to do the sight seeing things in the cities she works in.
She is something of a fanatic about working out and always finds time for SEC football.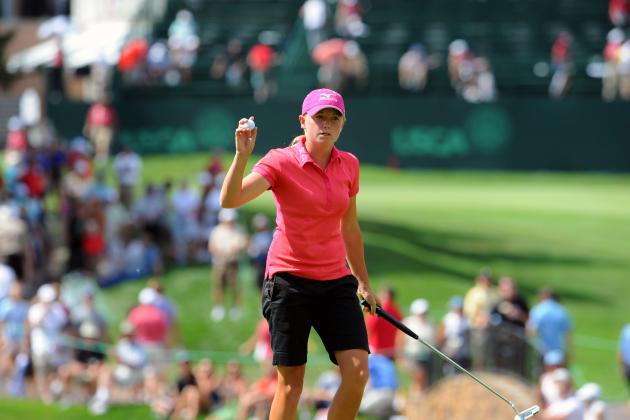 Ron Chenoy-USA TODAY Sports
Stacy Lewis is passionate about the charities she supports.
Stacy Lewis lists the Scoliosis Research Society and Golf Fore Africa as the charities she supports.
The former is a logical one since her rising above what could have been a crippling affliction of scoliosis. The latter came about when Lewis traveled with LPGA Hall of Famer Betsy King to help children in Rwanda orphaned by AIDs in 2010.
She met a young girl there and has sponsored her since.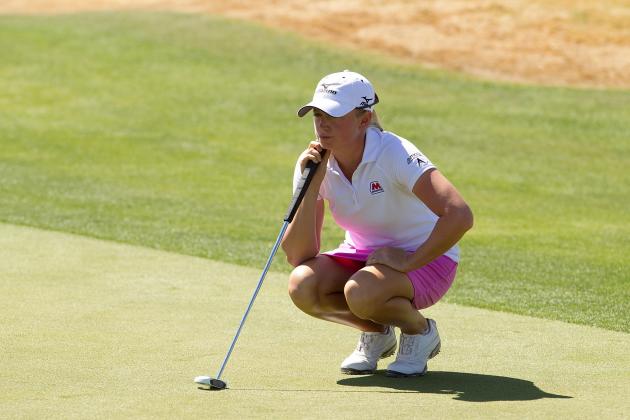 Allan Henry-USA TODAY Sports
Stacy Lewis has become a money machine on the LPGA Tour.
It's a fact that female professional golfers play for less money than their male counterparts, but Stacy Lewis has proven there is a lot of money out there to be had.
Since she turned professional in 2009, she had earned $4,093,442.50.
That's the kind of total a graduate with a major in Finance and Accounting can deal with.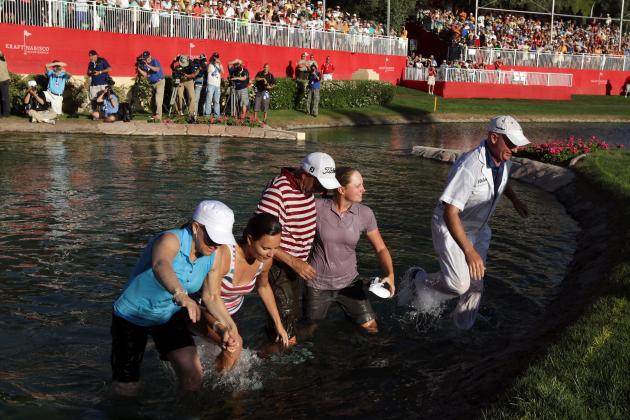 David Cannon/Getty Images
Stacy Lewis got to make the victory splash at the Kraft Nabisco in 2011.
Stacy Lewis lists the Kraft Nabisco Championship in Palm Springs and the Walmart NW Arkansas Championship Present by P&G in Rogers, Arkansas, as her favorite stops on the LPGA Tour.
Who wouldn't like spending a week in Palm Springs, where she is a past champion in the Kraft?
And, well, the other is in Arkansas.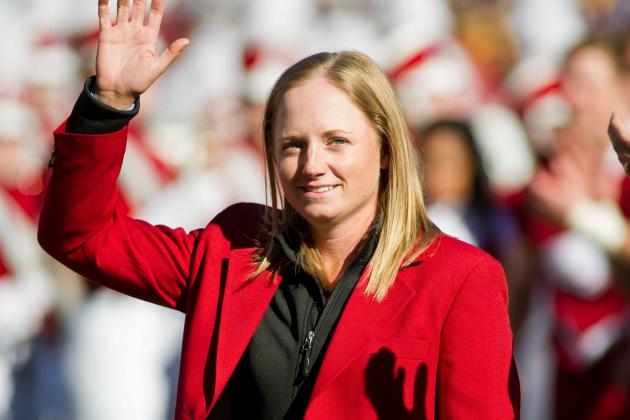 USA TODAY Sports
Stacy Lewis was honored before this year's LSU-Arkansas game.
Stacy Lewis was given a high honor at her alma mater, the University of Arkansas, prior to the season-ending game against LSU.
She led the "Running through the A," a long-standing tradition and when she did she became the first Razorback student-athlete to be given the honor.