20 of the Best Players Wasting Their Talent on Bad Teams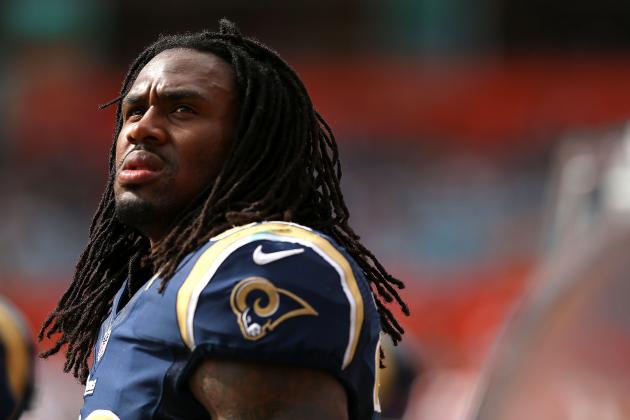 Mike Ehrmann/Getty Images

Anytime sports fans cross that bridge and engage in nonpartisan discussion about players and teams (often after a few brews), both active and long gone, one topic that almost always percolates into the conversation is how so many great athletes squandered their talent on bad teams.
No matter who your favorite teams or players are, we all feel a universal sense of outrage—often the circumstances are beyond the person's control. While the draft gives struggling franchises a practical way to upgrade their talent, it does not mean they will make the most of it.
For all the draft busts littered through the history of pro sports, we simply have no way of knowing if the same outcome would have resulted with a different team. Regardless, there are plenty of players who have gone to bad teams and still been productive.
But, how much better could they have been somewhere else? It is a frustrating thought exercise as a bystander and absolute torture to fans of the team in question.
These are 20 of the Best Players Wasting Their Talent on Bad Teams.
Begin Slideshow

»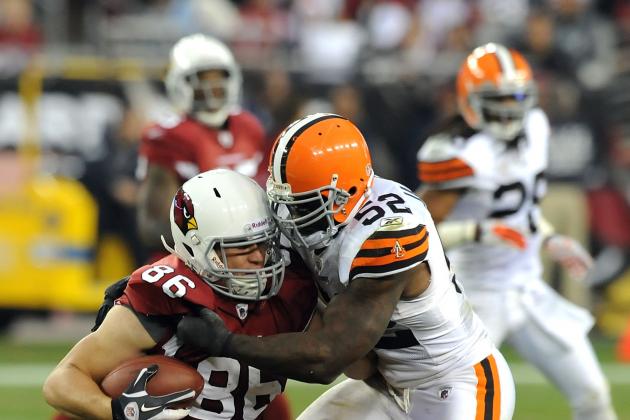 Norm Hall/Getty Images

Cleveland Browns linebacker D'Qwell Jackson is a tackling machine—he's led the team in tackles in the three seasons that he played in at least 14 games and is on pace to do it again in 2012. In fact, he was NFL's combined tackle leader in 2008, in just his third season after getting drafted by the Browns in the second round of the 2006.
This is a feat Jackson may have duplicated if a torn pectoral muscle just six games into the 2009 season had not sidelined him for the rest of the year as well as 2010. He was back on the field in 2011 and quickly returned to form.
The Browns were bad with Jackson healthy, but even worse without him. While his value to the team is undisputed, whether his solid play will make a difference is an entirely different matter. Since the franchise returned to the league in 1999, the Browns have only had two winning seasons and one playoff appearance.
With a new owner, and failed "savior" Mike Holmgren resigning as team president after just three years at the helm, Jackson will probably be a very busy man without much to show for it.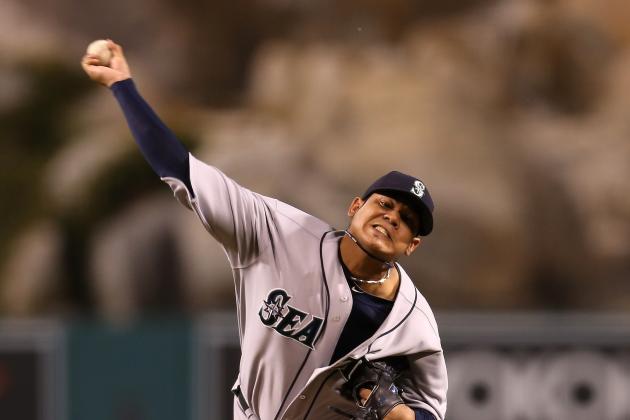 Stephen Dunn/Getty Images

On Aug. 5, Seattle Mariners pitcher Félix Hernández threw the 23rd perfect game in MLB history—adding the historic achievement to a résumé already padded by a Cy Young and three All-Star appearances.
The 26-year-old native of Venezuela has been one of the league's most consistent and durable starting pitchers since making his debut in 2005. Despite playing for the worst clubs of the past decade, Hernández has posted a winning record in all but two of his seven seasons as a full-time starter.
The Mariners have not made the playoffs since 2001 and are routinely in the AL West basement, finishing in fourth place in all but one season over the course of Hernández's career.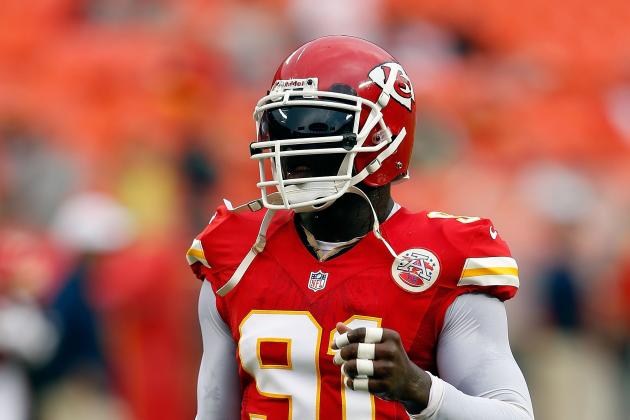 Jamie Squire/Getty Images

The Kansas City Chiefs made working out a new deal with Pro Bowl linebacker Tamba Hali a priority before he hit free agency, but when he signed the five-year, $50 million contract the 27-year-old virtually guaranteed that the duration of his career (or its prime) will be spent paying for the struggling franchise.
Selected 20th overall by the Chiefs in the 2005 NFL Draft, Hali has been the team's best and most consistent player over the last seven years—on either side of the ball—recording 61.5 sacks and forcing 23 fumbles in 108 starts.
While Hali has only gotten better, the Chiefs have been on the opposite track; averaging about 5 wins per season since his rookie year and undergoing three coaching changes. This season, at 2-12 with two games remaining, the best case scenario for the team is to avoid matching the futility of the franchise-worst 2008 squad (2-14).
Hali may yet experience taste of a championship, or at least a playoff run, but few would consider the Chiefs to be a quick fix. If he does retire a Chief, the loyalty of the Liberian expatriate with a compelling life story, let's hope his talent and production aren't lost in the team's dysfunction.
Bruce Bennett/Getty Images

When center John Tavares was taken first overall by the New York Islanders in 2009 NHL Draft, people wondered if the team had finally found the kind of player capable of make the struggling franchise a winner again. While not a once-in-a-lifetime talent like Sidney Crosby or Wayne Gretzsky, Tavares was widely considered a gifted prospect any team could build around.
During the 2011-2012 NHL season, Tavares started to show why he was worthy of the hype—the 22-year-old Ontario native recorded a career-best 31 goals and 50 assists. His play has steadily improved over three years and if Tavares struggles, the Islanders struggle.
Few NHL players have the ability the reverse the fortunes of a bad team on individual effort alone. The Islanders team that won four consecutive Stanley Cups from 1980-1983 are a distant memory. In those precious years wedged between the current lockout and the previous, the Islanders failed to qualify for the playoffs in all but one.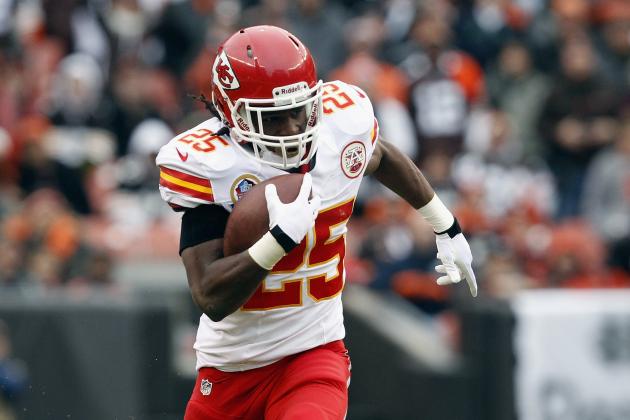 Matt Sullivan/Getty Images

If you polled a sample of 1000 self-described NFL fans and one of the questions was, "Who is the best player on the Kansas City Chiefs?", it would be shocking if each and everyone of them didn't reply, "Jamaal Charles."
The do-it-all tailback is one, if not the only, bright spot on a team that has lurched from horrible to disappointing on a year-to-year basis. No player on the team better illustrates the volatile inpetitude of the Chiefs than Charles—he was drafted in the third round by the Herm Edwards regime in what turned out to be the head coach's worst and final season in 2008.
Since then, the Chiefs have chewed through former-coach Todd Haley, faced questions about the future of general manager Scott Pioli, and could very well fire Romeo Crennel after just one awful, tragic season.
Meanwhile, Charles has quietly emerged as one of the league's most dangerous big play threats, both as a runner and a receiver out of the backfield—over five seasons and 53 games (including 2011 when he suffered a season-ending injury in just the second week), he's amassed 4,257 yards rushing and another 1,264 receiving.
Ezra Shaw/Getty Images

At 17-9, the Golden State Warriors are off to their best start since the 1991-1992 season. That team ultimately finished with a 55-27 record and made the playoffs, losing to the now-extinct Seattle Sonics in the first round.
If this year's version of Warriors follow a similar path, it will be considered monumental achievement for a franchise that has only won more than 40 games twice since 1994—undoubtedly, point guard Stephen Curry will receive his share of accolades in the event it happens.
The third-year man out of Davidson has been nothing short of solid since being selected 7th overall by the Warriors in 2009. Curry is averaging 18 points and six assists a game, but has been even better over the last month; averaging just under 21 points a game, including 32 in an overtime loss to Sacramento.
Curry has his work cut out for him, because the Warriors' hot start follows a 2011-2012 season in which the team only won six more games than they have already this year.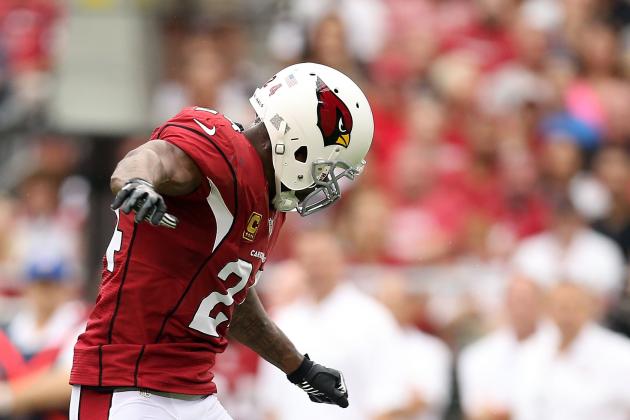 Christian Petersen/Getty Images

Arizona Cardinals strong safety Adrian Wilson is wrapping up his 12th year as a pro and what could be the final season with the team that drafted him in 2001. A starter from day one, Wilson established himself as not only one of the most physical, hard-hitting safeties in the league, but one of the best at the position, period.
During the Cardinals' week 15 win over the Detroit Lions, Wilson recorded his 25.5 career sack, making him only the sixth player in NFL history with at least 25 sacks and 25 interceptions (he has 27.)
At age 33, the five-time Pro Bowler is in the twilight of his career—a career that may come to a conclusion with another team, but will always be linked to the fortunes of the Cardinals. Excluding playoff runs in 2008 and 2009, including the agonizing Super Bowl loss to the Pittsburgh Steelers, Arizona has been one of the worst teams in the NFL since Wilson was drafted.
Though he's stated he wants to retire a Cardinal, perhaps free agency would be one last, merciful opportunity to play for a Super Bowl champion.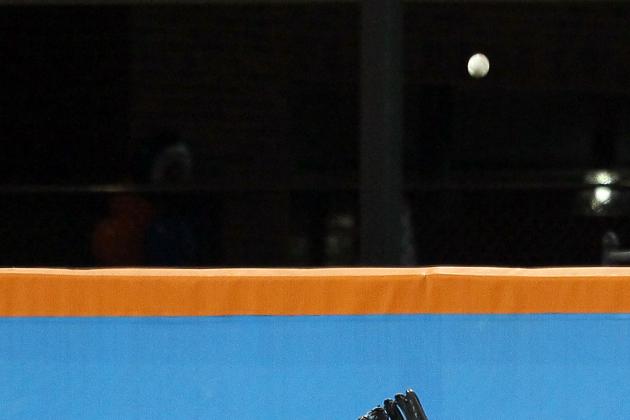 Alex Trautwig/Getty Images

Fans of the Pittsburgh Pirates have not had much to cheer about since 1992. After finishing 79-83 in 2012, the club established a new standard for pro-sports futility, having endured its record-setting, 20th consecutive losing season. The Pirates' two decade slide has included a little bit of everything—terrible management, bad players, a subpar development system, a scant payroll, and..yes..misfortune.
However, when the club announced in March it had signed burdgeoning star Andrew McCutchen to a new six-year, $51.5 million contract, fans were given a reason to hope. The two-time All Star outfielder is the best Pirates player since Barry Bonds was traded in 1993, receiving Gold Glove and Silver Slugger honors in 2012 while also being named National League MVP.
But this is the MLB—a league/system that does little to promote parity—and McCutchen is looking down the barrel of a career spent on a club that will probably throw a ticker-tape parade if it breaks .500. If that happens at least once over the next five years, he will be a hero, but one with the kind of talent that seems wasted on such low expectations.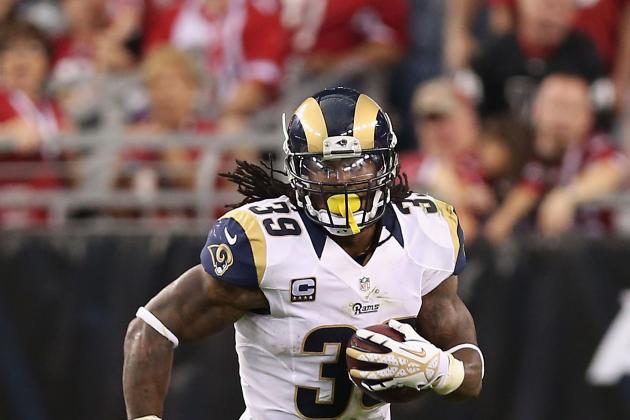 Christian Petersen/Getty Images

Steven Jackson is already the all-time leading rusher for the St. Louis Rams and just needs 91 more yards over the next two weeks to become the only the sixth NFL player with eight consecutive 1000-yard seasons. If Jackson accomplishes the feat, it would cap one the most quietly impressive careers in league history.
Unable to work out a long-term deal he wanted during the off-season, Jackson has the option to void the final year of his contract. Even if he wants to stay, his $7 million price tag in 2013 could be more than the Rams are willing to pay a 30-year-old running back.
If Jackson is released, he'll be leaving a franchise that last made the playoffs in his rookie season.
After dominating the NFC from 1999-2003, the Rams drafted Jackson in 2004 and quickly devolved into one of the worst teams in the conference. Despite playing for four different coaches and being the focal point of every opposing defense, Jackson has been one of the most productive backs in league history. The Rams were as consistently bad as he was consistently good.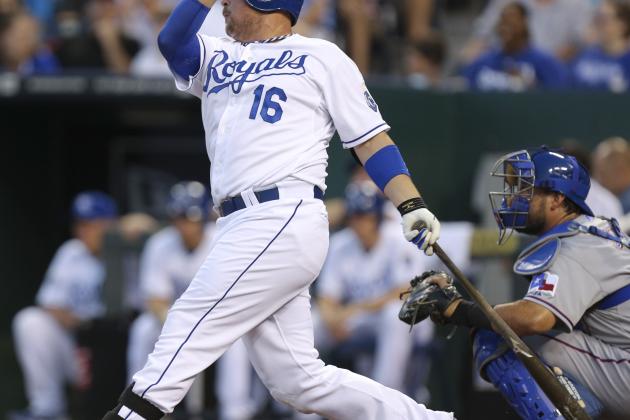 Ed Zurga/Getty Images

You cannot really ask for a designated hitter to do more than what Bill Butler has with the Kansas City Royals—he crushes the ball. Butler has been a model of consistency since making his Major League debut in 2007, but was particularly impressive in 2012.
Butler was honored with his first Silver Slugger and All-Star honors after a career year; batting .313, with 29 home runs and 107 RBIs.
Unfortunately, the impact of a DH on a team as historically bad as the Royals is fairly limited—Butler probably will not be engaging in any pennant race heroics as long as he's in Kansas City. The Royals are .479 as a franchise and have not played in a post-season game since winning the World Series in 1985.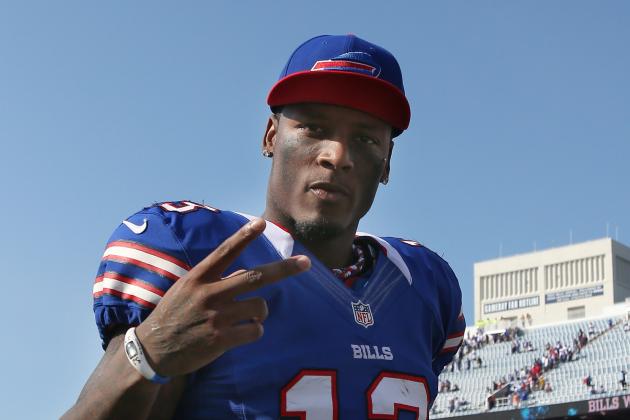 Tom Szczerbowski/Getty Images

Since Jim Kelly retired in 1997, ten different quarterbacks have started for the Buffalo Bills—none of them very good. In 2002, Kelly was inducted into the Pro Football Hall of Fame; in 2012, the Bills are on the cusp of an 8th consecutive losing season and it's clear that Ryan Fitzpatrick isn't the quarterback of the future.
Everything about this scenario makes it hard to believe that wide receiver Stevie Johnson is not another Bills receiver toiling in obscurity.
Drafted by the Bills in the seventh round of the 2008 NFL Draft, Johnson came out of nowhere in 2010; with 143 catches for 1,073 yards and 10 touchdowns. The benefactor of Fitzpatrick's hot hand, Johnson emerged as one of best young receivers in the NFL; surpassing the 1000-yard mark in 2011, and on the verge of doing it again this year.
Johnson signed a five-year contract extension this year, so when the Bills debut starting quarterback No. 11 he'll be the top target. Whether he will be fully utilized is less clear.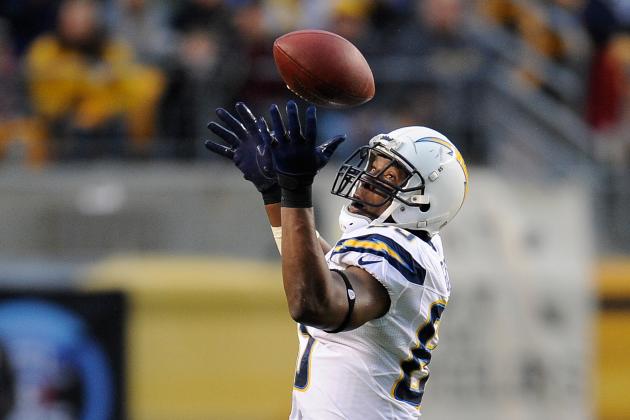 Joe Sargent/Getty Images

It is mind-boggling to consider that Antonio Gates was signed as an undrafted free agent by the San Diego Chargers in 2003. He redefined the role of the tight-end as a weapon in an offense, bringing together an unprecedented combination of size, speed and athleticism.
Perhaps a college athlete like Gates—who played basketball at Kent State—may not pan out as a pro football player, but there are plenty of guys taken in the draft who never make it. The Chargers embraced his potential and in return he became one of the greatest receiving tight-ends to ever play the game.
The 8-time Pro Bowler has 638 catches for 8,262 yards and 81 touchdowns; currently ranking Gates 4th on the list of all-time yardage leaders at the position.
While the Chargers have made five playoff appearances over Gates' 10 year career, the team has largely been a disappointment—failing to live up to high expectations and losing to "inferior" opponents. The last four years have been especially brutal, culminating in their 2012 slide which is going to be head coach Norv Turner's last.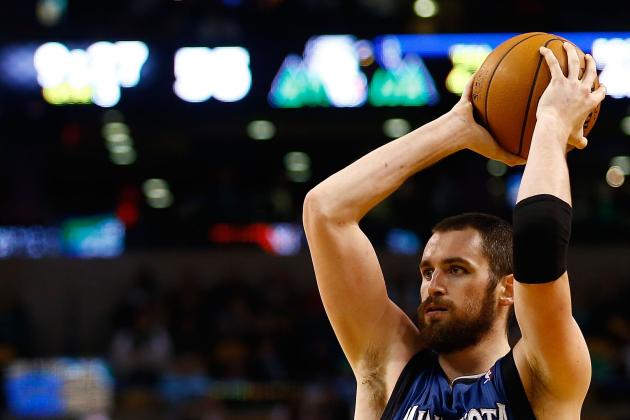 Jared Wickerham/Getty Images

NBA superstar Kevin Garnett languished on the Minnesota Timberwolves for 12 frustrating years, helping transform a bad team into a pretty good one, but never getting the team over the top. So, KG got himself traded to the Boston Celtics in 2007 and promptly won that coveted championship.
The question is, will Minnesota forward Kevin Love eventually find himself facing the same quasi-existential crisis as Garnett one day? Well, he's already unhappy with the four-year contract extension he signed in 2011 as well as the meager talent around him.
The fourth year player and two-time NBA All-Star has done his part—averaging 17 points and 12 rebounds a game. However, if Love convinces himself that a team that went 26-40 last season (its best record in the last five years) just has a few holes to fill, then he is in for a rude awakening.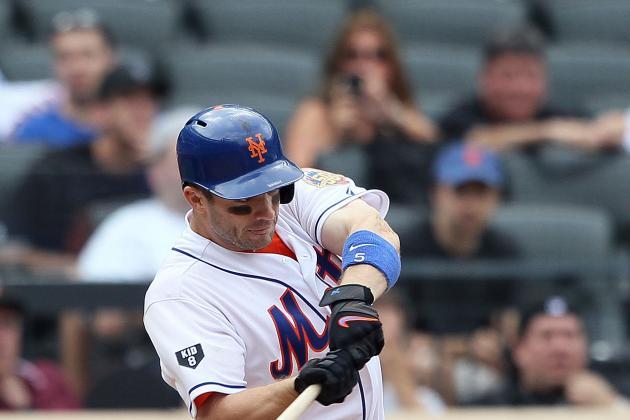 Alex Trautwig/Getty Images

Over his eight year career, New York Mets third basemen David Wright has proven himself to be one of the MLB's best all-around players. He is a six-time All Star and has two Golden Gloves to go with two Silver Slugger honors.
When consider the total package—the productivity, the leadership—it is amazing that the same club behind the infamous Jason Bay contract debacle has held onto Wright.You would think that his career batting average of .301 would disqualify him in the eyes of the Mets, for being suspiciously effective.
The Mets have gotten progressively worse since coming agonizing close to representing the National League in the World Series; wrapping up their 4th consecutive losing season this year. Fortunately for the team, Wright is going down with the ship, having just signed a deal to keep him with the club through 2020.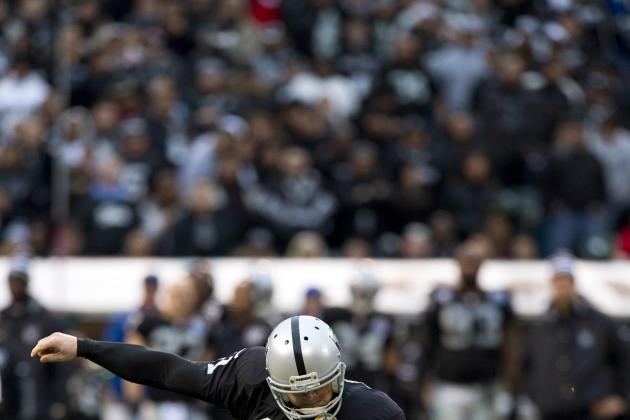 Jason O. Watson/Getty Images

The late Al Davis was never a conventional pro football icon and no event let him fly his 'freak flag' like the NFL draft. A perfect example of his beautiful madness was the selection of Florida State kicker Sebastian Janikowski with the 17th overall pick in 2000 NFL Draft.
Without a doubt, the "Polish Powder Keg" could be a special kicker, but no one ever drafted one high, much less in the middle of the first round. What seemed crazy then, looks brilliant now—considering how good Janikowski has been over 12 years and how terrible many of Davis' more conventional picks turned out to be.
You could argue that Janikowski has been, on average, the best player in a Raiders uniform since that day—which probably says more about the Raiders' descent into mediocrity. He's the all-time leading scorer in franchise history and has been good for 80 percent of field goals he's attempted, which takes on much more significance when duds like JaMarcus Russell are running your offense.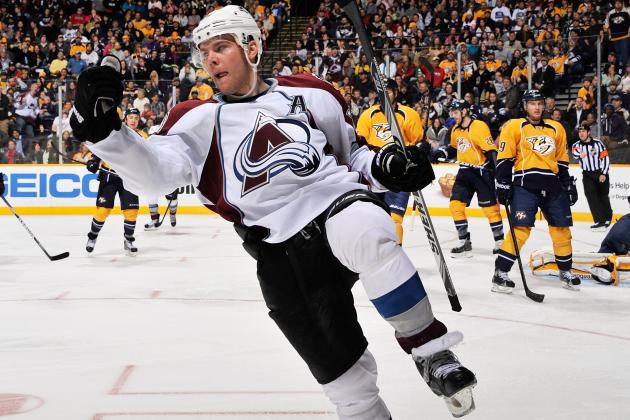 Frederick Breedon/Getty Images

The Colorado Avalanche is one of those NHL teams that never seemed to recover from the 2004-2005 lockout. A perennial contender before, the franchise has struggled to return to form in the seven years since—and with another lockout underway the future is even murkier.
26-year-old center Paul Stastny is one of those guys who you watch play and think to yourself he'd be really good if he wasn't on the Avalanche. The two-time All Star is the son of Hall of Famer Peter Stastny, who played for the first incarnation of the Avalanche—the Quebec Nordiques.
The 2009-2010 season was the best of his young career, when he had 20 goals and 59 assists and helped lead the Avs to the playoffs. As the team struggled in the two years since, his production fell as well.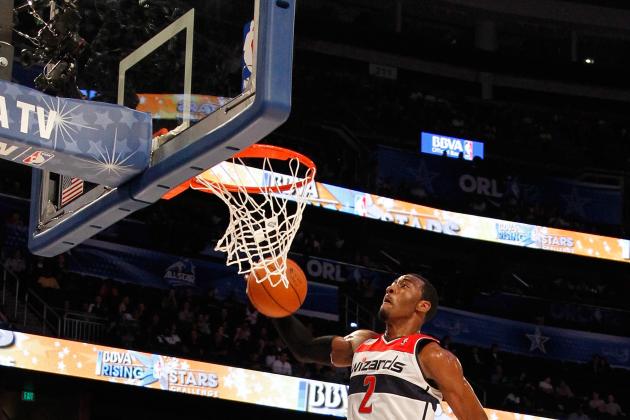 Mike Ehrmann/Getty Images

Washington Wizards point guard John Wall has a mess on his hands...and it's his own team. When you are the first overall pick it comes with the territory—bad teams pick first—but to go from that collegiate basketball machine known as "Kentucky" to the Washington Wizards must inflict some measure of trauma.
In two seasons of action, Wall has been good, but it is tough to assess his career trajectory on a team as bad as the Wizards. Suffering from a knee injury, he has yet to play this year and thus far the Wall-less Wizards have one three games.
If Wall was playing maybe it would not translate into many more wins, but his replacement A.J. Price is only scoring 8.5 points per game—half of Wall's career average. Clearly, the Wizards cannot lose a player like him and have any shot at improving. When Wall comes back this season (if he comes back) he will be trying to regroup a team that is DOA.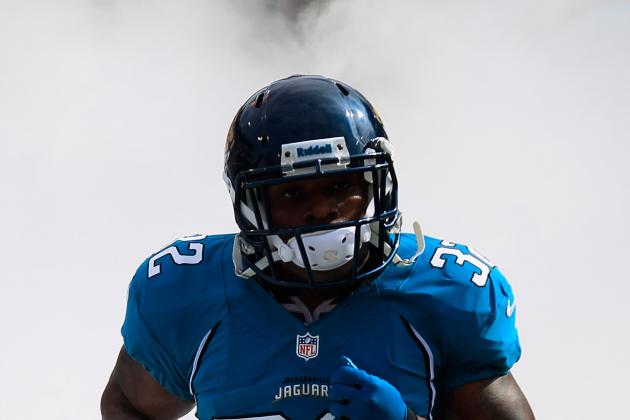 Chris Trotman/Getty Images

I get frustrated by the fact that Maurice Jones-Drew has burned the prime of his career away on the Jacksonville Jaguars, so I cannot imagine how he feels. "Pocket Hercules" is the anti-Sproles—a powerful, deceptively elusive running back, who is small in stature, but runs between the tackles like a young Jerome Bettis.
Like Fred Taylor before him, MJD is faced with the possibility that a good career may be lost in the failings of his team. In seven seasons, he's gained 7,268 yards on the ground—yards he had to earn each and every time he carried the ball—scoring 63 touchdowns and averaging 4.6 yards a pop.
In all but his second season (11-5, Wildcard), the Jaguars have been average at best. Since none of the Jaguars quarterbacks over his career could really throw, and the receivers were even worse, Jones-Drew gained every yard against defenses focused solely on stopping him. Yet, he still led league in rushing in 2011. Oh, and did I mention he basically was the teams most effective receiver and punt returner as well?
Injuries have largely kept MJD off the field in 2012, but the Jaguars trudged on without him and stand at 2-12 with two games remaining. At age 27 and a year left on his contract, it's pretty obvious Jacksonville is not going to be much better in 2013, but whether he is going to be same kind of player for another team in 2014 that he was in 2011 is up in the air.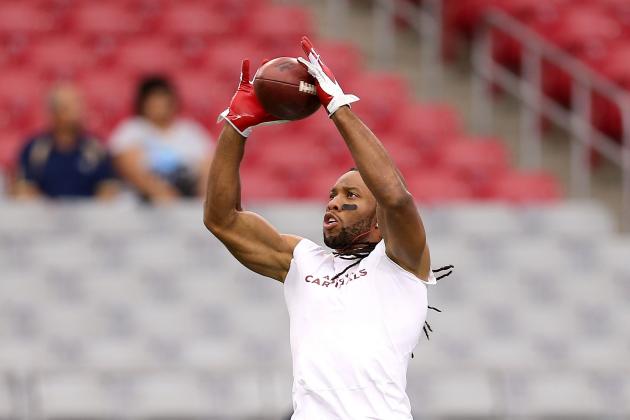 Christian Petersen/Getty Images

The idea that Arizona Cardinals wide receiver Larry Fitzgerald is going to have a career that included four years of Kurt Warner throwing to him and many more of Kevin Kolb, John Skelton, Ryan Lindley and someone-to-be-named-later has to be a crime...right?
Fitzgerald is unquestionably one of the elite receivers in the NFL—if not the best—not just among active players, but all time. He's physical, smart; Fitzgerald is the kind of weapon that teams develop entire gameplans around.
Yet, look at the guys who are supposed to get the ball in his hands. Kolb is okay when healthy, which is never. And the other guys not named Warner? Ugh..
Despite lacking one of the key elements needed to make a passing game effective, Fitzgerald has still amassed 10, 289 yards receiving, making him 6th among active leaders and 34th all-time. Imagine what he could do with a few more years with a legit guy under center—the Cardinals are a miserable 5-9 and changes are certainly ahead.
True football fans should hope that Fitzgerald is given the opportunity to make the most of his talent and ability.