Philadelphia Phillies 2013: 7 Bold Predictions for the Phils' 2013 Season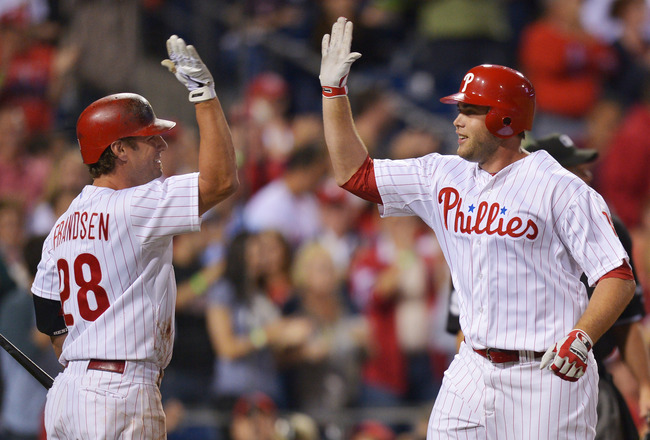 Drew Hallowell/Getty Images
There is a unique feeling for Philadelphia fans entering the 2013 season. Much of the talent that helped the team win 102 games in 2011 remains, but the bitter taste of the 2012 season remains strong. Ruben Amaro has quietly filled the team's needs, avoiding the flashy free-agent signing or blockbuster trade that has marked seasons past. The team appears poised to compete, but there is more uncertainty surrounding this team than there has been in many years.
With the competition growing increasingly fierce, the Phillies will need to perform up to potential all season long to have a chance to compete in the NL East. A lot can happen over the course of 162 games and this slideshow will outline some of the key events that I believe will mark the upcoming season.
So without further ado, here are my 7 bold predictions for the Phillies' 2013 season.
Cliff Lee Will Get Traded Before the Deadline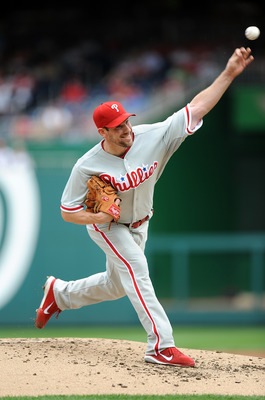 Trading Lee could be the key to the Phillies success, today and in the future.
Greg Fiume/Getty Images
There has certainly been no shortage of Cliff Lee rumors in the past five months. At the deadline last season, there were talks that Lee could be dealt to the Rangers. One month later, word spread that Lee had been claimed off waivers and the Phillies could let the Dodgers absorb the remaining $95 million on Lee's contract.
Lee's name has surfaced in several trade rumors this month, with ESPN's Pedro Gomez announcing a possible swap for Justin Upton and CSN's Jim Salisbury mentioning trade talks for Jacoby Ellsbury—neither of which gained much traction.
Despite the seemingly constant speculation, Lee remains in red pinstripes and is a key part of the Phillies' rotation entering the 2013 season. This might not be true for long.
Lee followed up a stellar 2011 season with what, on the surface, appeared to be a disappointing 2012 campaign. However, despite his mere 6 wins (the most overrated statistic in baseball, in my opinion), Lee posted a 3.16 ERA with 207 K's in 211 innings. Lee led the league in K's/9 and BB/9, and his WAR of +4.2 was 7th in the National League, tied with Cole Hamels and Mat Latos.
Cliff's contract is certainly daunting: he is owed $75 million remaining from 2013-2015, with a $27.5 million option for 2016. That being said, there is no shortage of potential suitors and if the Phillies are willing to eat some of Lee's salary, they could acquire some top notch talent in return. The Rangers, Yankees, Angels, Diamondbacks, and Red Sox all come to mind as bidders for Lee's services.
If Cliff Lee really is going to get traded, I believe Ruben Amaro will be looking for young, controllable, major league-ready talent. There are a two trades that come to mind as possible matches for both teams. The first would send Lee to the Diamondbacks for Justin Upton. As I mentioned before, this rumor has already surfaced, and was shot down. It's a deal that makes sense, however, and could pop up again in the future. The Diamondbacks would receive a bona fide Cy Young candidate and the Phillies would have a corner outfielder with All Star potential. It would be hard to turn down if the opportunity rose again.
The second trade that comes to mind would send Lee to the Angels for Mark Trumbo. Rumors have already surfaced about Trumbo, although according to ESPN's Buster Olney, the Angels shot down the idea. I could still see a deal being worked out. This is a perfect fit for both teams, as the Hamilton signing creates a crowded outfield in LAA, and the departure of Zack Greinke leaves a big hole in the Angels' rotation.
In Trumbo, the Phillies would be getting a 26-year-old corner outfielder with 30+ home run power. Even better, he's under team control until the 2017 season. Undoubtedly the Phillies would have to eat some of Lee's salary to make the deal work, but the relatively quiet offseason has left Ruben Amaro with some extra change in his pocket. Don't be surprised if Trumbo dons a Philadelphia uniform this season.
Darin Ruf Will Solidify Himself as an Everyday Outfielder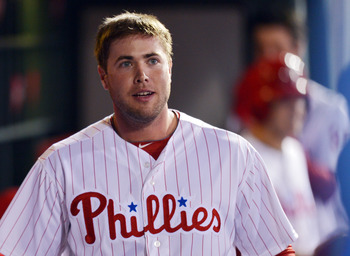 Don't be surprised to see Ruf in the lineup on a regular basis.
Drew Hallowell/Getty Images
Darin Ruf's 2012 season in AA Reading (.317/.408/.620, 38 HR, 104 RBI) was the most dominant offensive performance the Phillies' farm system has seen since Ryan Howard put up 46 HR's between AA and AAA in 2004.
Ruf made the most of his 37 plate appearances in the big club too, hitting .333/.351/.727 with 3 HR and 10 RBI.
However, despite his consistent success, not everyone is on board. Eric Longenhagen at Crashburn Alley makes a compelling argument to be bearish on Ruf's future with the Phillies. I'm just not buying it.
Understandably, Ruf isn't a scout's dream. At 26, he's older than most are at his stage in development. Defensively, he's a big question mark in the outfield, with the majority of his minor league experience occurring at first base. He's far from the most athletic player on the field. Some scouts say he has holes in his swing that could hinder his production against major-league talent.
Despite all this, I think Ruf will take the reins as the everyday left fielder for the Phillies this year. He has done nothing but mash the ball at every level he's played. The reality of the Phillies' 2013 lineup is that power is at a premium, especially with Chooch missing the first 25 games of the season. Even at the expense of defense, adding Ruf as an everyday starter would provide depth in the middle of the lineup and add some protection for Utley and Howard.
If Ruf can continue his hot streak, and I believe he will, there's a bright future for him in Philadelphia. Just don't tell the critics.
Kyle Kendrick Won't Sustain His Second Half Performance
The Phillies won't be able to rely on another strong performance from Kendrick this year.
Hunter Martin/Getty Images
At this moment, Kyle Kendrick is projected to be the fourth starter in the Phillies' 2013 rotation. With three Cy Young-caliber arms in front of him, the pressure on Kendrick remains low, as his primary responsibility is to eat innings and keep his team in the game each time he steps on the mound.
Kendrick's 2012 season was a tale of two halves. The righty struggled before the All-Star break, tossing a 4.89 ERA with 57 K's in and 30 walks in 81 innings. His WHIP of 1.48 was well above the league average (1.31 last year), and he allowed opposing batters to hit a gaudy .288. In short, he looked much like the Kyle Kendrick we were used to.
However, Kendrick looked like a completely different pitcher in the second half, posting a 2.87 ERA in 78 innings. While his strikeout rate increased only marginally, he walked just 19 batters and surrendered 26 fewer hits than in the first half, dropping his second half WHIP to 1.06. Kendrick held opposing batters to a meager .218 batting average.
Kyle Kendrick was fun to watch after the All Star break, confidently attacking the strike zone and consistently hitting his spots. If he can duplicate his second half results in the 2013 season, he will be the most effective fourth starter in the league and a key contributor to the Phillies' success.
Unfortunately, I don't think that will happen.
In the second half, Kendrick held opponents to a .239 BABIP (batting average on balls in play), which is 84 points lower than his first half .323 and 60 points below his career .289. According to FanGraphs, the league average last year was .297, right in line with Kendrick's career average. To give you some perspective, Roy Halladay's career BABIP is .295, and he's never had a full season BABIP below .264.
BABIP can be low for several reasons, including stellar defense and plain dumb luck. Kendrick may have found more confidence in his pitches, but if history tells us anything, we can expect his BABIP to climb back up to around his career average, likely bringing his ERA with it.
Prediction: Kendrick's 2013 season: 9-13, 4.26 ERA, 121 Ks, 1.34 WHIP
Michael Young Is Primed for a Comeback Year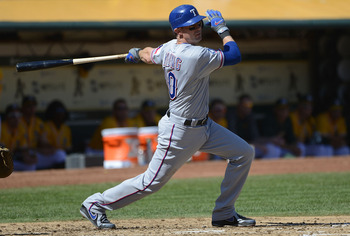 Expect a strong season from the veteran third baseman.
Thearon W. Henderson/Getty Images
Much has been made of Michael Young's performance last year. His .277 average and .312 on-base percentage were his lowest since 2002, and his .370 slugging percentage was easily the lowest of his career. Coupled with his below average defense, Michael Young had a WAR of -2.4, which, according to Baseball Reference, was the second lowest in the league last year. That's right, Michael Young was the second worst player in baseball during the 2012 season.
Perhaps this is the reason the Rangers were willing to eat more than half of his salary in the trade that brought him to Philly. Perhaps it's because they just ran out of room in the lineup. Regardless of the cause, one thing is for sure: Michael Young needs to play WAY better than last year to help the Phillies win.
I believe that he will.
With the Rangers in 2012, Young played 72 games at DH, 41 games at first base, 25 games and third, 16 games at second and even 4 games at shortstop. It was no secret that the seven-time All Star had a strained relationship with his team and it's possible that his lack of a consistent role hurt his production.
In Philadelphia, Young has a much more defined role: he'll be playing third base day in and day out.
Michael Young has had an extraordinary career. Are his best days behind him? Most likely. But can he contribute as an everyday starter? Absolutely.
Young is a career .301 hitter. His .370 slugging percentage last year was 74 points lower than his career average. He doesn't have much power, but he's a professional hitter who gets on base and will fit perfectly into the top of the Phillies lineup. If Charlie Manuel has the guts to move Rollins out of the leadoff spot (which I sincerely doubt), I would love to see Young hitting second in the order behind Ben Revere.
I expect to see a renewed Michael Young this year. A fresh start in a new clubhouse could be exactly what he needs to flourish again.
Prediction: .291, 12 HR, 77 RBI, .336 OBP
Carlos Ruiz Can't Carry the Team Again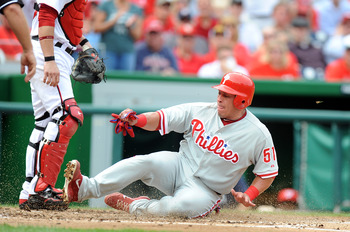 Carlos Ruiz was the Phillies' MVP in 2012, but they'll need to find a new one this year.
Greg Fiume/Getty Images
Carlos Ruiz was probably the biggest reason the Phillies managed a .500 record last year. The 33-year-old Panamanian had the best season of his career, hitting .325/.394/.540 with 16 home runs en route to his first All Star game. Tack that on to his skills behind the plate, some of the best in the league, and you have an incredibly valuable asset.
Ruiz is a great player. He's a solid hitter and an excellent defensive catcher. There are only a few catchers in the NL I'd rather have in my lineup (Yadier Molina and Buster Posey are the only two that come to mind). That being said, I don't expect him to be able to carry the Phillies again this year.
The most surprising element of Chooch's breakout 2012 season was the emergence of his power. His 16 HR's were nearly double his previous season high and his .540 slugging percentage was 122 points above his career average. In a lineup that was missing Utley and Howard for a significant portion of the season, the Phillies needed some sort of run production in the middle of the order. Somehow Ruiz was able to come through.
Ruiz will miss the first 25 games of the season and when he does come back, I don't expect his power to continue. At 34, he is certainly not young. While Erik Kratz will help ease some of the pressure, Ruiz will still see the lion's share of the work behind the plate, which is a physical strain as the season progresses.
I expect his numbers to regress towards his career averages. A season hitting .280 with 10 HRs and a slugging percentage of .430 seems reasonable. For a top notch defensive catcher, those numbers would still prove Ruiz to be a bargain for the $5 million he is owed next year. Just don't expect him to single-handedly put the Phillies on his back. Hopefully, with Utley and Howard healthy, he won't have to.
Phillies' Bullpen Will Be One of the Best in the League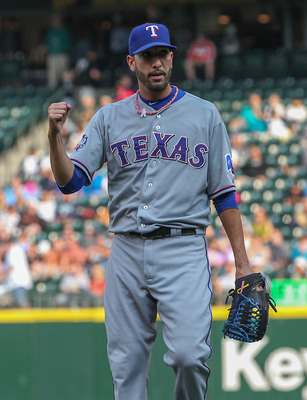 Signing Mike Adams could be a huge move for the Phillies' bullpen this year.
Otto Greule Jr/Getty Images
The bullpen was a constant source of frustration last year. Chad Qualls was unwatchable and Antonio Bastardo looked nothing like the dynamic pitcher that missed so many bats in 2011. Papelbon pitched well in save situations, but couldn't seem to get anybody out in tied games. The bullpen's 3.94 ERA was 21st in the majors.
So why the optimism? The bullpen was spectacular at the end of last year and I think the Phillies have a perfect recipe for bullpen success this year.
The start of the season was far from pretty, with the bullpen tossing up a 5.23 ERA in May, a 4.32 ERA in June and 4.42 ERA in July. However, the Phils added Jake Diekman, Phillippe Aumont and Jeremy Horst to the big club midseason and things started to turn around quickly. The bullpen ERA in August dropped to 3.79. Phillies relievers were untouchable in September and October, posting a 2.34 ERA in 84 innings.
The bullpen arms that had so much success at the end of the year are, for the most part, the arms we will see heading into 2013. Papelbon is steady—you know exactly what you're getting. Aumont and Horst showed excellent potential last year, and I expect them to continue to develop this year. Jake Diekman showed plenty of promise in his 27 innings of work. Perhaps most importantly, Ruben Amaro solidified the setup role by signing Mike Adams to a two year deal.
All of a sudden, the Phillies have an excess of quality arms in the bullpen.
With the back end of the 'pen shored up, I wouldn't be surprised to see Antonio Bastardo's name show up in trade rumors. The Phillies already unloaded Josh Lindblom in the deal that brought in Michael Young and the excess talent still remaining could help the Phillies bring in a corner outfielder through a trade (Curtis Granderson anyone?). With a group of young, dynamic arms and a top notch back end, I expect nothing less than greatness from the Phillies' bullpen this year.
2013 Season Prediction: Phillies Will Compete, but Fall Short of Wild Card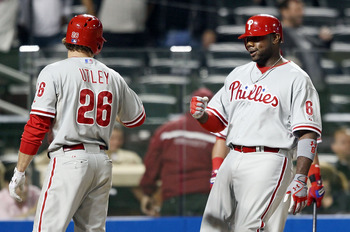 The Phillies will rely on these two guys for much of their success in 2013.
Alex Trautwig/Getty Images
Cautiously optimistic would be the best way to describe my attitude for the 2013 season. As of now, the lineup is healthy, and several holes have been filled. The signing of John Lannan filled out the rotation, which should again be among the best in the NL. The bullpen is set and is poised for a strong rebound after a weak 2012 season. Ryan Howard and Chase Utley are, as far as we know, 100% healthy and ready to go for Opening Day. The team has some great bounce back candidates (Michael Young, Roy Halladay, Ryan Howard, to name a few), as well as some young players poised to break out (Darin Ruf, Ben Revere, Phillippe Aumont, etc).
After an abysmal first half in 2012, the Phillies turned it around after the All Star Break, winning 44 games and falling just short of a postseason berth. Assuming the Phillies Opening Day lineup is set with the current players, I believe the team again has a chance to fight for a wild card spot.
So why the lack of enthusiasm?
The Phillies were carried through August and September by surprise breakout players like Kyle Kendrick, Erik Kratz and Kevin Frandsen. They are fine players and great pieces to fit into a 25-man roster, but they are not players that a team can ride throughout the season into October.
For the Phillies to win consistently they will need Howard, Utley, Hamels, Lee, and Halladay to perform at the top of their game all year. That's the core of the team and of those five players, I'm really only confident about Hamels and Lee entering the season. Howard is trending downward as strongly as anyone in baseball and age is becoming a concern for Halladay and Utley.
So, as always, I can hardly wait for Phillies baseball. But for the first time since 2006, I'm going to have to temper my expectations.
My prediction: Phillies will keep it interesting all year, but will finish 86-76, 2 games out of the second wild card spot. Here's to hoping I'm wrong.
Keep Reading

Philadelphia Phillies: Like this team?