2013 March Madness Field of 68 Projections: Dec. 17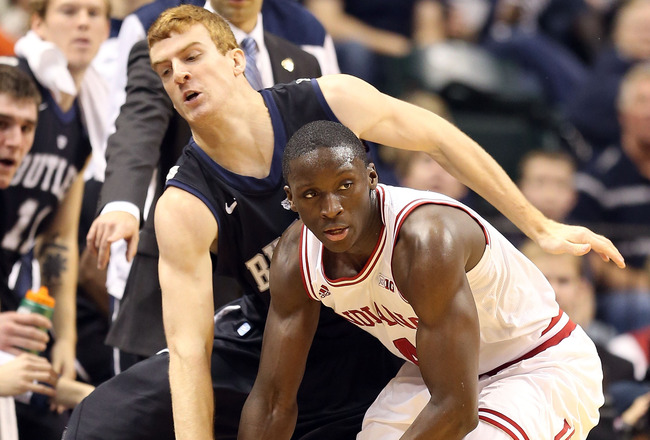 Andy Lyons/Getty Images
Following Indiana's loss to Butler, there's no question Duke is the top team in the country. The Blue Devils are undefeated despite playing the toughest schedule in the nation that includes wins over Kentucky, Minnesota, VCU, Louisville, Ohio State and Temple.
But which teams are slotted 2-68 in this week's projections?
As always, I am not trying to guess how teams will finish the year. I am simply seeding them based on their current résumés.
I like to break teams down into three categories:
1. Wallflowers are bubble teams because everyone wants to get into the Big Dance, but not all have the guts to ask a girl out onto the dance floor.
2. Elite teams that are safely in the field are Dancing with a Hottie.
3. In the middle are the schools that are Dancing with their Sister.
For two of the past three years, my final bracket projections have been more accurate than those of ESPN's Joe Lunardi, and I had the most accurate projections in the country in 2011.
I'll begin with the two First Four at-large bid games:
(12a) Maryland vs. (12d) Charlotte
(12b) California vs. (12c) BYU
First two teams out: Arizona State, La Salle
The projections are presented in slideshow format, with each major conference receiving its own slide. First up is the ACC.
ACC (5)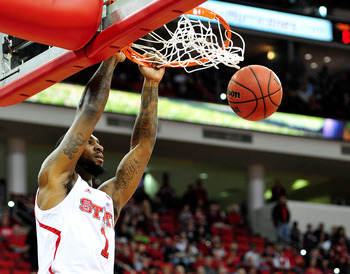 Grant Halverson/Getty Images
Dancing with a Hottie: Duke (1)
Dancing with their Sister: NC State (5), Miami (7)
Wallflowers: North Carolina (10), Maryland (12a)
Miami's 31-point shellacking of previously undefeated Charlotte led me to reevaluate the Hurricanes' resume, and it's more impressive than once thought. That was the U's second strength of schedule top-50 win following a victory at UMass on Dec. 1, and the team also holds a big win over No. 51 Michigan State. The Canes' computer numbers are good (RPI 17, SOS 42), and their only loss was on the road against a top-50 Florida Gulf Coast squad.
Losing at home to a 2-5 Georgia Southern team is a good way to get yourself booted from the projected field. That's exactly what Virginia Tech did Saturday for its second loss in three games. The Hokies have plummeted to 173rd in the RPI with one of the weakest schedules in the country.
Big East (6)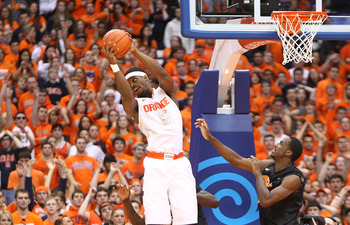 Nate Shron/Getty Images
Dancing with a Hottie: Syracuse (1), Louisville (3), Cincinnati (3), Georgetown (4)
Wallflowers: Pittsburgh (10), Notre Dame (10)
Indiana's loss moves Syracuse up to a No. 1 seed this week, and the Orange figure to stay there for quite a while. If Duke loses at NC State on Jan. 12 and Michigan falls at Ohio State the next day, SU figures to be the No. 1 team in the country the following Monday because there's very little chance the team loses before facing Louisville on Jan. 19.
It's hard to tell just how good Pittsburgh is right now. Its only loss was by five to undefeated Michigan, but the Panthers' best win is over Lehigh. Pitt's 189th-ranked strength of schedule won't improve anytime soon, as it faces Delaware State and Kennesaw State this week.
Big Ten (6)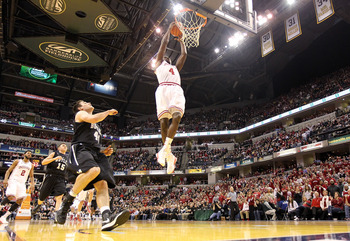 Andy Lyons/Getty Images
Dancing with a Hottie: Michigan (1), Illinois (2), Ohio State (2), Minnesota (3), Indiana (4)
Dancing with their Sister: Michigan State (7)
Indiana drops all the way down to a No. 4 seed following its thrilling overtime loss to Butler on Saturday. The Hoosiers' computer numbers are just good—not great—right now (RPI 18, SOS 38), and their top wins (Georgetown, UNC) are certainly not impressive enough to cancel out a loss to a 7-2 squad. In addition, IU still hasn't played a true road game.
Michigan State is currently in the midst of playing six-consecutive games against teams ranked outside the top 140, and that isn't helping its already mediocre computer numbers (RPI 51, SOS 100). The Spartans have nice wins over Kansas and Boise State but have also lost to UConn and Miami.
Big 12 (4)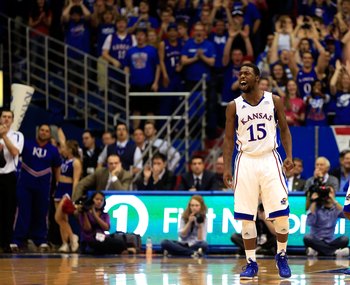 Jamie Squire/Getty Images
Dancing with a Hottie: Kansas (3)
Dancing with their Sister: Oklahoma (7)
Wallflowers: Oklahoma State (9), Baylor (11)
Kansas began the year 6-1, but with a loss to Michigan State and no top-50 victories it was hard to tell how good the Jayhawks really were. Not anymore. KU has looked quite impressive with back-to-back blowouts of Colorado and Belmont, and its computer numbers are stellar (RPI 9, SOS 12).
Oklahoma beat Texas A&M by 10 on Saturday to move to 7-2. The Sooners are 16th in the RPI and 24th in strength of schedule.
Following Kansas State's 16-point loss to Gonzaga, I can no longer justify keeping the Wildcats in my field. There's no shame in falling to the Bulldogs, but KSU's computer numbers are dreadful (RPI 125, SOS 240) and the team has no top-100 wins.
Pac-12 (4)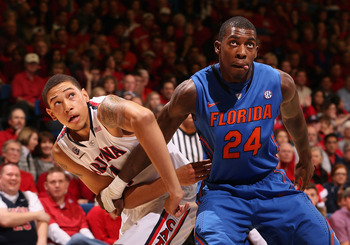 Christian Petersen/Getty Images
Dancing with a Hottie: Arizona (1)
Dancing with their Sister: Oregon (6), Colorado (8)
Wallflowers: California (12b), Arizona State (first team out)
Arizona moves to the top line following an exciting 65-64 win over previously undefeated Florida on Saturday. The 8-0 Wildcats are eighth in the RPI and figure to remain unbeaten at least until playing at Oregon on Jan. 10.
Arizona State's 17-point home loss to DePaul on Wednesday leaves the Sun Devils on the outside looking in.
SEC (7)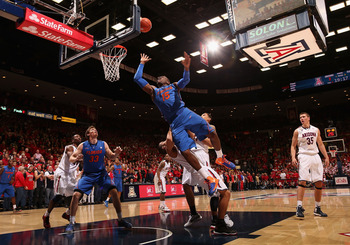 Christian Petersen/Getty Images
Dancing with a Hottie: Florida (2), Missouri (4)
Dancing with their Sister: Kentucky (8)
Wallflowers: Texas A&M (9), Tennessee (11), Ole Miss (11), LSU (11)
Florida switches places with Arizona following the Gators' tight loss to the Wildcats on Saturday. UF's resume is still very strong with a sixth-ranked RPI and SOS.
Texas A&M slides a bit following a loss to Oklahoma. The Aggies' strong computer numbers (RPI 19, SOS 10) are inflated thanks to wins over Northwestern State and SFA, whom also have inflated RPIs.
Tennessee is back in the field after a nine-point win over previously undefeated Wichita State. The Vols have another good win over UMass but a bad loss to Virginia.
Ole Miss cracks the field this week. There's nothing glowing about the Rebels' resume, but 68 teams have to make the tournament. Mississippi's only loss is on the road against a solid Middle Tennessee team.
LSU slips after losing its first game of the season, a 19-point setback at Boise State.
Alabama drops out thanks to its current three-game losing streak that included a 19-point loss at VCU on Saturday.
Mountain West (6)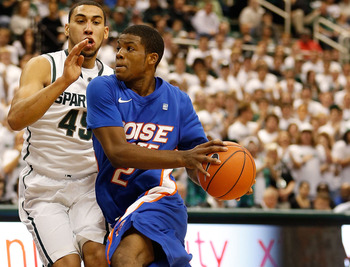 Gregory Shamus/Getty Images
Dancing with a Hottie: New Mexico (2)
Dancing with their Sister: San Diego State (5), Wyoming (5), UNLV (6), Boise State (8)
Wallflowers: Colorado State (9)
Boise State receives a little boost after handing LSU its first loss on Friday, 89-70. The Broncos are 3-0 against the top 50.
Atlantic 10 (5)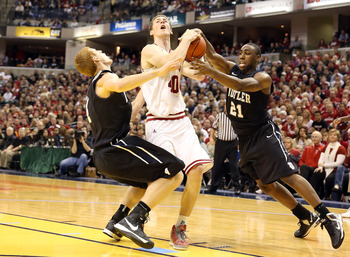 Andy Lyons/Getty Images
Dancing with their Sister: Butler (5), VCU (6)
Wallflowers: Temple (9), Xavier (10), Charlotte (12d), La Salle (second team out)
Now this is a resume-building win. Butler beat top-ranked Indiana at a neutral site on Saturday to move into the top four of the RPI and strength of schedule. The Bulldogs have also defeated Marquette, UNC and Northwestern.
VCU gains some ground with an emphatic 73-54 pounding of Alabama. The Rams have won four straight and sport some impressive computer numbers (RPI 29, SOS 19).
Charlotte's first loss of the season was an embarrassing 77-46 setback at Miami on Friday. The 10-1 49ers drop down to my last team in.
Other Conferences (5)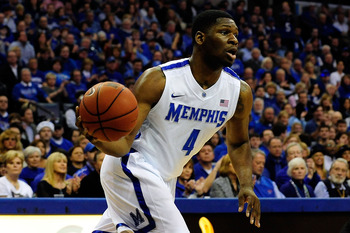 Stacy Revere/Getty Images
Dancing with a Hottie: Gonzaga (4)
Dancing with their Sister: Creighton (6), Wichita State (7), Murray State (8)
Wallflowers: BYU (12c)
Wichita State drops after suffering its first loss of the season at Tennessee on Thursday.
BYU barely creeps into the field this week. The Cougars have three top-100 wins, and their computer numbers are just good enough (RPI 57, SOS 57).
Memphis whiffed on a big opportunity to impress, blowing an early lead at home against Louisville on Saturday. The Tigers' three losses are to good teams, but they don't have a single top-100 win, and their computer numbers are terrible (RPI 129, SOS 106).
Automatic Bids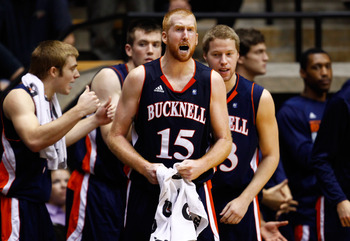 Michael Hickey/Getty Images
No. 12 seeds: Illinois-Chicago, Bucknell
No. 13 seeds: SFA, Canisius, FGCU, Albany
No. 14 seeds: George Mason, Western Michigan, North Dakota State, Western Kentucky
No. 15 seeds: Weber State, Davidson, Cal State Northridge, SMU
No. 16 seeds: Robert Morris, Utah State, Southern vs Norfolk State, Harvard vs Gardner-Webb
Keep Reading