Pittsburgh Steelers: 5 Lessons from Cowboys Loss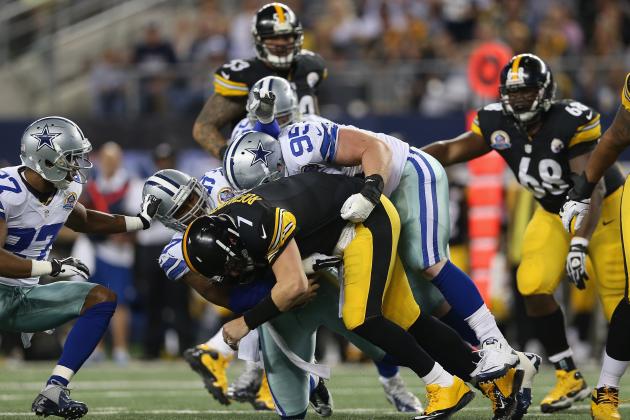 Ronald Martinez/Getty Images

Disgusted. Incensed. Disappointed. Aggravated.
You can pick any adjective you like, but most of them won't come close to describing the frustration and angst caused by a horrible loss to a the one team in the NFC that no Steelers fan wants to lose to.
The problems with this season's Steelers team are varied and many, and just when they seem to have solved one, like a mythical hydra, two more rear their ugly heads.
For the second week in a row, the division-leading Ravens did the Steelers a solid by losing, and for the second week in a row, the Steelers could not find a way to take advantage of the gift.
Sunday's loss makes it four in the last five games, and they have not looked good in most of them.
December is the time of year when quality football teams are winning games and making a run for the playoffs, but this team is backing up.
In fact, this whole season has been one step forward and two steps back. There have been great games against Washington, the New York Giants and in Baltimore, but there have also been terrible losses to Cleveland, Oakland, Tennessee and the last two weeks.
So, let's get the microscope out and examine yesterday's effort in Dallas.
Begin Slideshow

»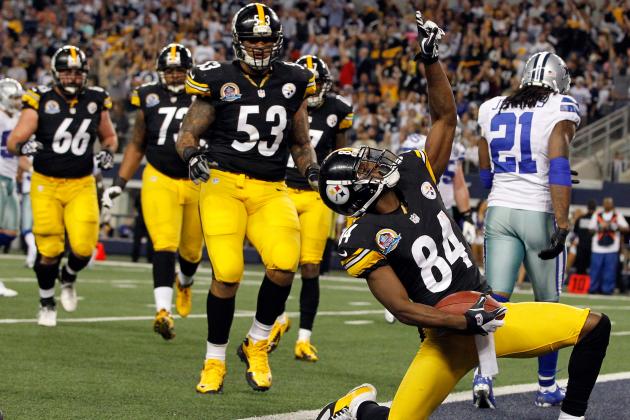 Tom Pennington/Getty Images

As I said last week, you simply don't know which team is going to take the field, and that is the definition of an average team.
The Steelers are capable of great football, as we saw against New York and Washington.
They are also capable of laying an enormous egg at the worst time, as we saw against San Diego and Dallas.
Even within games, they look great one drive, and then go three and out the next. Need proof?
With 2:11 left in the first half, the Steelers took the ball at their own 27, and executed a seven-play drive culminating in a touchdown.
Ben Roethlisberger completed six of seven passes on that drive, including a great scrambling play during which he held the ball for nearly nine seconds before finding Heath Miller on the sideline for a touchdown.
Their very next possession (their first of the second half), the Steelers gained five yards on three plays and punted.
Their next possession? Ben was sacked on 1st-and-10, then completed a bomb to Mike Wallace for 60-yards. They scored on their next play.
The offense just does not seem to have any flow to it and remains a concern.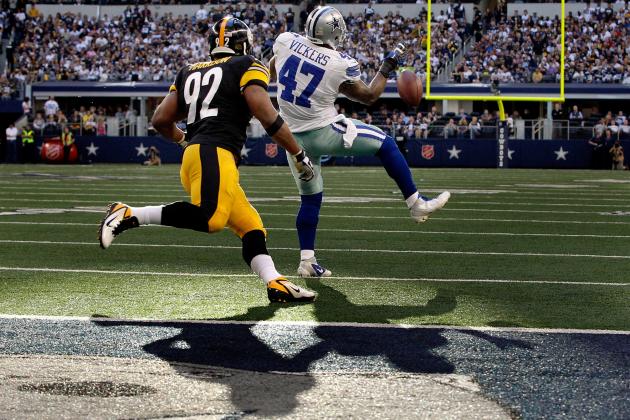 Tom Pennington/Getty Images

I will grant you that the Steelers have had their share of injuries on the defensive side of the ball, but that argument does not hold any water for one simple reason: Every team in the NFL has injuries at this time of year.
San Diego showed how to beat the Steeler's defense and Dallas had a very similar game plan. The way you do it is with a rhythmic passing offense featuring "out" patterns.
With the corners playing off, protecting against the big play, and with the line and linebackers getting next to no pressure on Tony Romo, he was able to pick the defense apart bit by bit.
At one point, I thought I had fallen asleep and was having a nightmare, reliving the Chargers game.
On the occasion that the defense did come up with stops, the offense or special teams kept putting them in situations from which they had no chance to recover. (I will have more on that in a moment.)
Suffice it to say that Andy Dalton and AJ Green took notice of how to attack the Steelers' defense, and the Steelers will see more of the same from Cincinnati next week.
Defensive coordinator Dick LeBeau and head coach Mike Tomlin had better figure out a way to protect those kinds of passes, or the week 17 game against the Browns will suddenly become meaningless.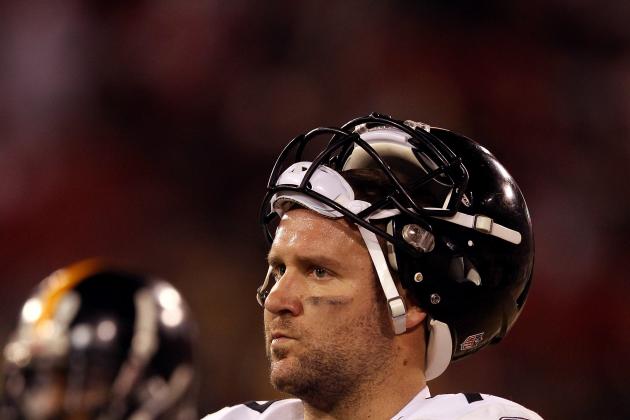 Ezra Shaw/Getty Images

For once, I get to say something I was starting to wonder if I would ever have a chance to say. The Steelers committed no penalties against the Cowboys on Sunday. For the team that has the eighth most penalty yards in the league, that's a great game.
The problem Sunday was that the Steelers made other mistakes at the worst times.
No single play wins or loses a game, but you can point to three things yesterday that certainly had an impact.
10:18 left in the game. The Steelers take the lead in the game and get a defensive stop. Antonio Brown fields a punt on his 16 and returns it to the Steelers' 38 where he promptly fumbles the ball. Seven plays later, the game was tied.
1:10 left in the game. Antonio Brown catches a short pass. There is no way he converts on the 3rd-and-26, but allows himself to be pushed out of bounds, stopping the clock and allowing the Cowboys to save a time out. (This may not have been a huge factor in the game as it happened, but it could have been. Either way, it was a boneheaded play.)
There are two things you simply cannot do on a pass thrown on an "out" pattern. Those are throw the ball late, or throw it to the inside of the receiver. On the second play of overtime, Ben Roethlisberger committed both of those sins.
These are not rookies I'm talking about. These are experienced veterans who should know better than to make these kinds of mistakes.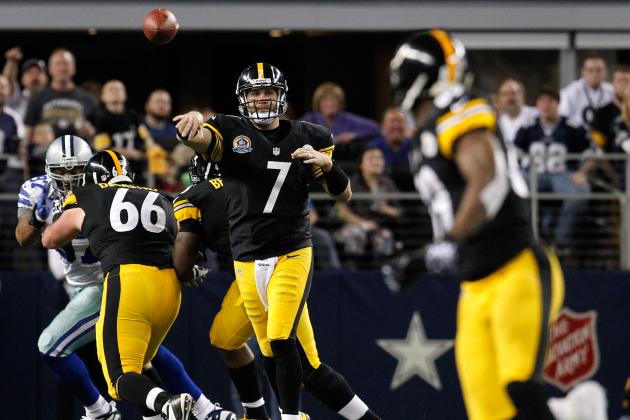 Tom Pennington/Getty Images

When you look at the entirety of this season, all the ups and every one of the downs, you can see that this team does not deserve to make the playoffs. Even if they do, they don't have the game to make a run.
The Steelers are out of the playoffs right now. Even if they win their last two games, they would need some help to have a home playoff game, which would probably be their only hope of winning a playoff game.
All that means they would be on the road in the Wild Card round at either New England or Baltimore. And then, they would have to go to either Houston or Denver in the divisional round.
Do you have any confidence they can beat New England? I don't. In fact, I can see the Patriots putting up 50 points on this defense.
Moreover, I wouldn't give them better than even money to beat the Ravens.
Of course, they could demonstrate their resolve over the next two weeks, but the way they are playing now, this team shouldn't be in the playoffs. They haven't earned that.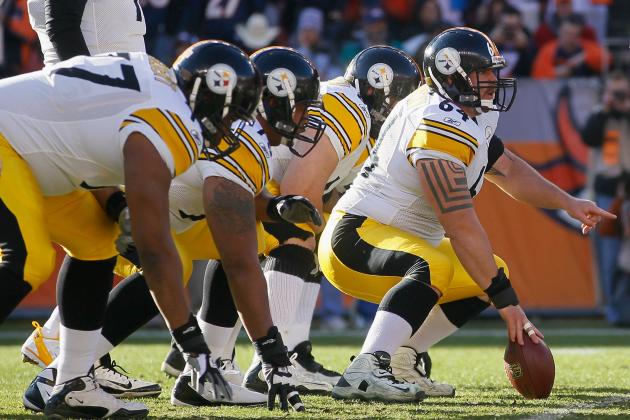 Jeff Gross/Getty Images

Again, it is not an excuse, but there have been plenty of injuries along the lines for the Steelers this year.
That having been said, the offensive line seems very porous against the pass and can't run block.
This is concerning because for a few weeks in the middle of the season, while the Steelers were on a four-game win streak, they looked incredible.
They cleared the way for Isaac Redman and Jonathan Dwyer to rack up several 100-yard rushing games while keeping Roethlisberger on his feet and relatively clean.
Ben was on pace to have his lowest number of sacks in years and throw for well over 4000 yards.
In the last two games, Roethlisberger has been running for his life and the running backs seem to have nowhere to go.
The offensive line's sacks are up over the last three games (after giving up four more on Sunday), and they are 25th in yards per rushing attempt for the season.
On the other side of the ball, the defensive line is creating no pressure on quarterbacks. Philip Rivers and Tony Romo had tons of time to take the defense apart, and they did exactly that.
At the same time, the defensive line is allowing running backs to get chunks of yards.
Dallas QB Tony Romo was 30 of 42 for 341 yards and two touchdowns while being sacked once. Cowboy's RB Demarco Murray averaged 5.8 yards per carry on Sunday.
The real questions this information raises are: Why didn't Dallas run the ball more, and how was this game as close as it was?
I don't remember a single defensive lineman's name being called in yesterday's game. Not once.
One has to hope that some of the recent draft picks on the lines (David DeCastro, Mike Adams, and Kelvim Beachum on offense. Cameron Heyward on defense) can stay healthy and start playing up to their draft picks, but I for one hope the Steelers are scouting more linemen in preparation for April.