6 Reasons Why the NHL Lockout Is Affecting Canada Much More Than the U.S.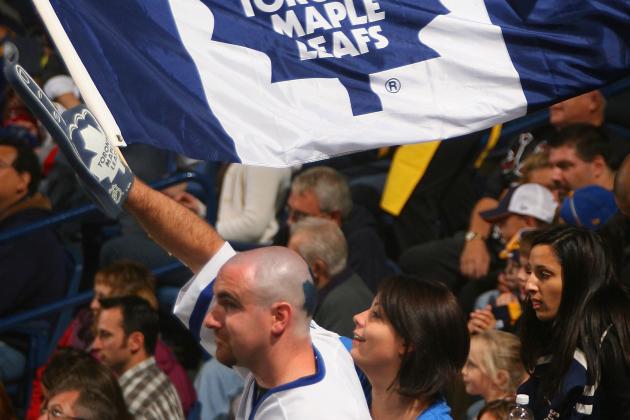 Rick Stewart/Getty Images

The NHL lockout is a fact of life in the United States.
Mainstream American sports fans know that the NHL has locked out its players and that there will not be any games played in NHL arenas or on their televisions.
But the NFL season is in the homestretch, the college bowl season is around the corner and the NBA is in full swing, so that means that American sports fans are coping and surviving.
But in Canada, it's another story. The lockout is impacting hockey fans, the Canadian economy and the overall mood of the nation.
Hockey is Canada. Canada is hockey.
That's not saying our neighbor to the north won't continue to go about its business, but when there is no NHL, Canadian fans are hurting badly.
Here are the six reasons why the NHL lockout is hurting Canada much more than the United States.
Begin Slideshow

»
American fans generally identify themselves as baseball fans or football fans. Some may say they are basketball fans, but only a relative few are true hockey fans.
In Canada, fans identify themselves as hockey fans and their affiliations with the Montreal Canadiens, Toronto Maple Leafs, Vancouver Canucks, Edmonton Oilers, Ottawa Senators, Calgary Flames and Winnipeg Jets are strong.
These are not just what Canadian fans call themselves when games are being played; this is how they identify themselves in day-to-day life.
When those teams are not playing, many Canadian hockey fans have a tough times saying who they are and what drives them.
Canadian fans may continue to go to work every day in the office or factory, but instead of talking to their co-worker about the NHL game they saw played last night, they make polite conversation about a movie or a politician or the weather.
The conversation is forced and has little impact. The co-workers quickly realize it and have little to talk about after a while.
Instead of two happy co-workers who are involved in each other's lives while sharing the common bond of NHL fandom, they become two anxiety-filled co-workers who have little in common.
Friendship wanes and anger rises.
Canadian hockey fans may have more than an identification with the game of hockey and their favorite team.
According to University of Illinois psychologist Edward Hirt, the feeling that some fans may have for the game is akin to the addiction that smokers may have for cigarettes.
Hirt told the Toronto Star that the loss of NHL action can cause pain for those who are missing it badly and that the loss is similar to a smoker who is trying to break off his addiction to nicotine.
"That is the closest thing that we can think of…the withdrawal state of somebody trying to break off any other kind of habit that they've really gotten into," Hirt said. "The symptomology that's associated with that, it's really adversive and it's very difficult for people."
Family relationships are suffering as a result of the hockey lockout.
Canadian hockey fans may center their social lives around the NHL. A father and son may have season tickets and bond as they go to home games twice a week in the NHL season.
A husband and wife may find that the only thing they have in common is their appreciation of the Winnipeg Jets or the Calgary Flames.
Take that away and their relationship suffers badly.
It's not just friendship and attitude in the workplace that suffers for Canadian fans during an NHL lockout; it's overall productivity.
When you are so frustrated that your favorite activity is not available to you, you try to go on and you try not to think about it.
The more you try not to think about it, the more time you spend thinking about it.
The more time you spend thinking about it, the less time you spend working at your job.
Productivity may be lessened by quite a bit.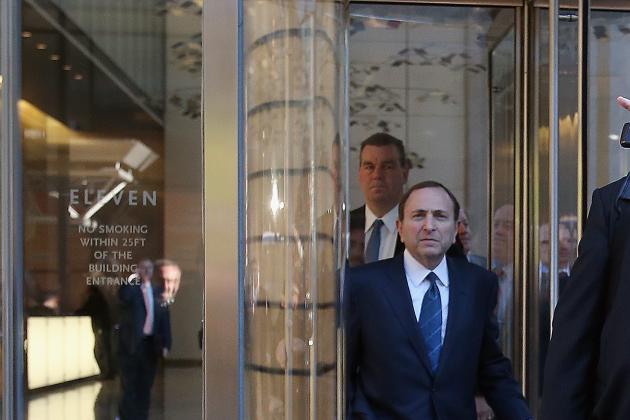 Bruce Bennett/Getty Images

Canadian hockey teams often conduct food drives around the holiday season.
According to HuffingtonPost.Ca, teams and hockey-related bars and restaurants conduct food drives that regularly result in food banks getting filled with donations from hockey fans.
Teams conduct food drives and so do players' wives. Last year, the Montreal Canadiens' wives conducted a food drive in which they were able to make their plea to 21,000 fans every game.
Fans will still find a way to donate, but they may find it more difficult to reach previous levels of generosity.