The Latest Buzz Around Odds, Spreads and Lines for NFL Week 16
Rick Stewart/Getty Images

The early betting lines offer several intriguing opportunities to monitor. Of course, there's always a chance these lines could change before the weekend. However, that doesn't mean we should just ignore the early trends.
One of the most eye-opening games this weekend is the matchup featuring the San Francisco 49ers and Seattle Seahawks. As it stands, Seattle is a one-point favorite based on their recent play and playing at home.
However, this is one of those games that could be adjusted later in the week. Check out the rest of this article to see what other games bring some intrigue.
The betting lines were obtained from Footballlocks.com.
Begin Slideshow

»
Al Bello/Getty Images

Cincinnati Bengals at Pittsburgh Steelers (-5)
The Pittsburgh Steelers have lost four of their last five games, with two of those losses coming at home. This team is struggling to find consistency on the offensive side of the ball. Ben Roethlisberger appears to still be bothered by his rib injury.
On the other hand, the Cincinnati Bengals have won five of their last six games. Cincinnati is the team playing with more confidence and consistency. This is why I'm surprised the Steelers are favored in this game, especially by as much as five points.
New York Giants at Baltimore Ravens (-2)
The Baltimore Ravens are in the middle of a free fall, where they can't seem to find a rhythm on either side of the ball. Injuries have taken their tole on the defense, and Joe Flacco hasn't been able to increase his level of play.
At this point, the home field advantage doesn't really give the Ravens much of a boost. The New York Giants are a team more than capable of going on the road and picking up a victory.
However, this past weekend's loss to the Atlanta Falcons was a black eye. Look for Eli Manning and company to rebound from that embarrassing loss.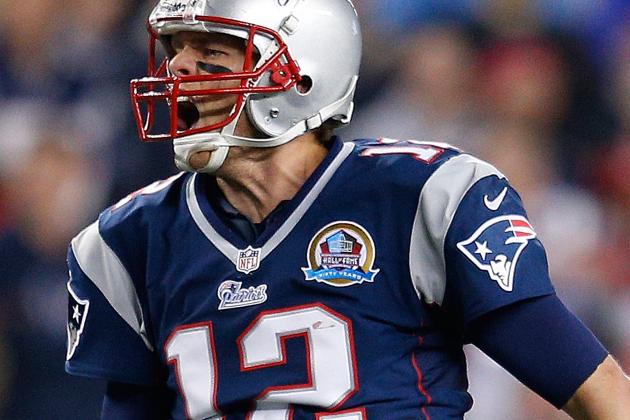 Jim Rogash/Getty Images

Only five road teams in Week 16 are favored to win the game. These teams include Atlanta Falcons (-3), New England Patriots (-14), Indianapolis Colts (-7), Washington Redskins (-4) and Chicago Bears (-6). This shows that home-field advantage plays a role in the outcome of each NFL game.
However, there's too much stock put into this factor. The truth is good teams are capable of going on the road and pulling off a win. Sports-booking places use the location of the game to help give a lean on those close games.
This is a situation where the one placing the bet could find an advantage.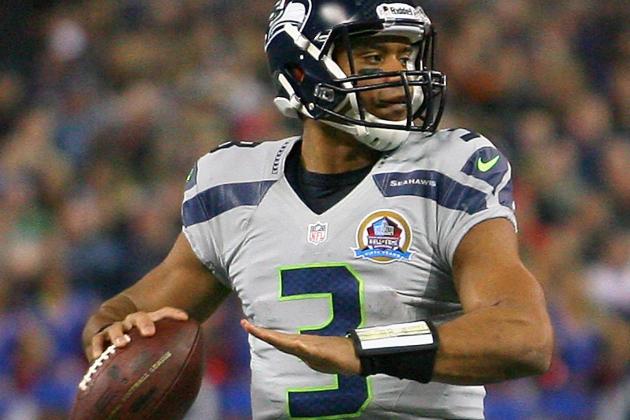 Rick Stewart/Getty Images

Cincinnati Bengals at Pittsburgh Steelers (-5)
As I mentioned in the first slide, the Cincinnati Bengals are playing better than the Pittsburgh Steelers at this point in the season. Cincinnati's turnaround has a lot to do with the improved play of the defense. This unit will make it tough for Ben Roethlisberger to find a rhythm.
New Orleans Saints at Dallas Cowboys (-3)
The New Orleans Saints appear to have let out a big sigh of relief after the recent ruling surround the bounty scandal. Drew Brees and company looked more comfortable after hearing the news that this situation was all but resolved.
This is a tough matchup for Tony Romo and the Dallas Cowboys. Romo must find a way to avoid mistakes and keep pace with the high-powered Saints offense. This type of pressure is what leads players to try and do more than they can handle.
Look for Romo to throw an interception or two, which Brees will turn into points.
San Francisco 49ers at Seattle Seahawks (-1)
The Seattle Seahawks boast one of the more favorable home-field advantages in the NFL. Opponents are forced to deal with a rowdy crowd and a group of players that feed off that noise level. The San Francisco 49ers will have a difficult time communicating on Sunday.
Colin Kaepernick doesn't have a ton of experience dealing with this type of environment. It won't be easy for him to make changes at the line or rely messages to his teammates.
Factor how well the Seahawks have played the past several weeks and Seattle should be favored by more than one point.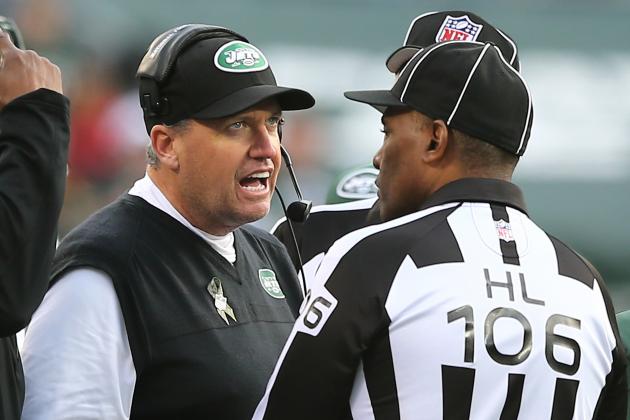 Elsa/Getty Images

Oakland Raiders at Carolina Panthers (-8)
The Carolina Panthers are playing better football of late, but that's not enough to feel good about giving eight points to the Oakland Raiders. Last week, Darren McFadden finally found his grove and topped the 100-yard rushing mark.
McFadden is the type of explosive talent who's capable of scoring from anywhere on the field. His home-run ability combined with the solid play of Carson Palmer makes the Raiders more dangerous than most realize.
Carolina should be able to pull off the win, but stay away from this game because of the point spread.
St. Louis Rams at Tampa Bay Buccaneers (-3)
The St. Louis Rams and Tampa Bay Buccaneers are two of the more inconsistent teams in the NFL. One week they're able to squeak out a win against a tough team, then the next they get blown out. This makes it really difficult to predict the outcome their matchup.
Janoris Jenkins is a wild card in this matchup, as his ability to find the end zone after a turnover can quickly change the outcome of a game. Jenkins just has a nose for the ball, and you never know when he'll make a play to spark the Rams.
San Diego Chargers at New York Jets (-3)
The New York Jets should be favored in this game, but it's so close that this game makes me uneasy. New York's issues surround the struggles of Mark Sanchez and the entire offense. This unit's inconsistency makes it tough to trust this team in any wager.
However, the Jets defense is the type of opportunistic unit that's capable of forcing Philip Rivers to make a handful of mistakes. Rivers has made a ton of mistakes on his own this season, so New York's defense should be able to generate some turnovers.
This defense should make you feel good about the Jets, but the offense counteracts any feelings of optimism.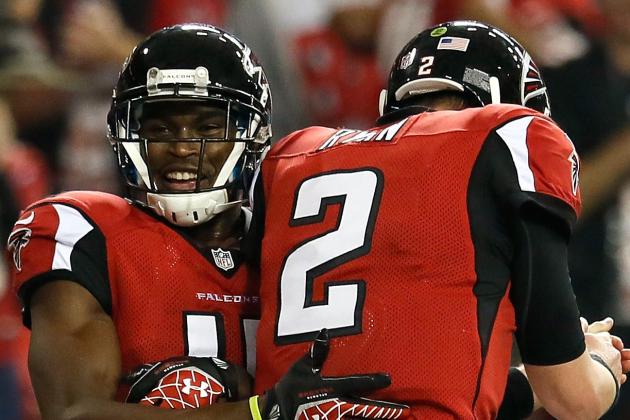 Kevin C. Cox/Getty Images

Atlanta Falcons at Detroit Lions - over/under 51
The Atlanta Falcons and Detroit Lions boast two very high-powered offenses. They combined to average slightly over 50 points per game. That number should be higher, as Matthew Stafford's three-interception performance this past week hurt the team's point total.
Taking the over on this game would be a wise decision. Both teams will put up offensive points, but the Falcons also have the tendency to create opportunities with their defense. If Stafford has another turnover-filled game Atlanta could easily top the 50-point mark by themselves.
Indianapolis Colts at Kansas City Chiefs - over/under 42.5
The Kansas City Chiefs' offensive struggles will make it tough for this game to top 42.5 points. Kansas City has failed to top the 10-point mark six times this season. Even with the Indianapolis Colts' offensive firepower this game looks like a low scoring affair.
Look for the Colts to jump out to an early lead then feed the ball to Vick Ballard. The Colts poor offensive line opens Andrew Luck up to plenty of hits. Kansas City does a good job getting after the quarterback, so Indianapolis will want to protect Luck if they get an early lead.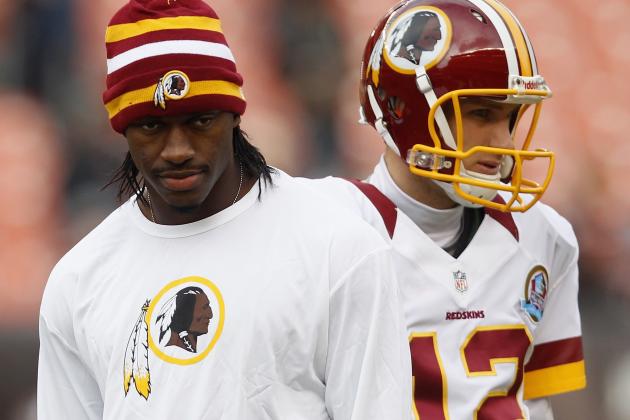 Matt Sullivan/Getty Images

Robert Griffin III, Washington Redskins
Kirk Cousins provided the biggest surprise of any player this past weekend. His poise and ability to step in for Robert Griffin III kept the Washington Redskins in the thick of the playoff race. However, Washington is a more dangerous team with Griffin in the lineup.
Griffin feels like he was capable of playing this past week, so that bodes well for his status against the Philadelphia Eagles.
Rob Gronkowski, New England Patriots
The New England Patriots offense continues to put up big numbers with Rob Gronkowski out of the lineup. However, there were more than a few situations were Aaron Hernandez failed to make a play on a catchable ball. Those plays were ones that Gronkowski typically converts.
Keep an eye on Gronkowski's status because if he's in the lineup, the Patriots game against the Jacksonville Jaguars could be a good over bet.
Morris Claiborne, Dallas Cowboys
The Dallas Cowboys will need Morris Claiborne in the lineup in order to slow down Drew Brees. A recent report suggests that he passed all the tests needed to return from his concussion. However, that doesn't mean he won't suffer a setback later in the week.
Terrell Suggs, Baltimore Ravens
It's surprising that Terrell Suggs was able to return from his Achilles injury so quickly, but now his biceps injury is really slowing him down. This past weekend, Suggs wasn't able to consistently remain on the field. When he was on the field he really struggled to generate pressure on the quarterback.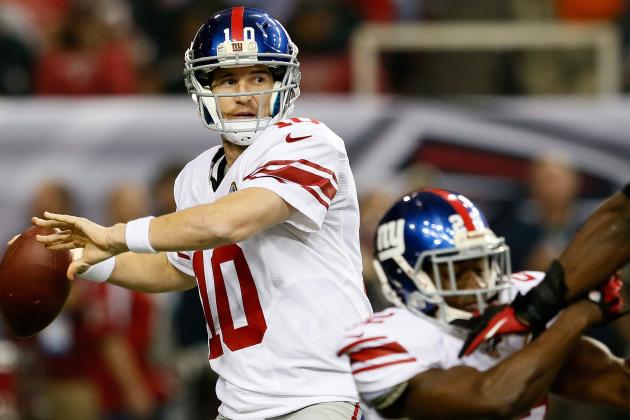 Kevin C. Cox/Getty Images

Atlanta Falcons (-3) at Detroit Lions - over/under 51
Tennessee Titans at Green Bay Packers (-10.5) - over/under 47
Oakland Raiders at Carolina Panthers (-8) - over/under 46
Buffalo Bills at Miami Dolphins (-4.5) - over/under 42
Cincinnati Bengals at Pittsburgh Steelers (-5) - over/under 44
New England Patriots (-14) at Jacksonville Jaguars - over/under 48.5
Indianapolis Colts (-7) at Kansas City Chiefs - over/under 42.5
New Orleans Saints at Dallas Cowboys (-3) - over/under 51.5
Washington Redskins (-4) at Philadelphia Eagles- over/under 44.5
St. Louis Rams at Tampa Bay Buccaneers (-3) - over/under 43.5
New York Giants at Baltimore Ravens (-2) - over/under 47.5
Minnesota Vikings at Houston Texans (-7.5 )- over/under 44
Chicago Bears (-6) at Arizona Cardinals - over/under 36.5
Cleveland Browns at Denver Broncos (-10) - over/under 44.5
San Francisco 49ers at Seattle Seahawks (-1) - over/under 39.5
San Diego Chargers at New York Jets (-3) - over/under 40.5