Chiefs vs. Raiders: It Keeps Getting Worse for Kansas City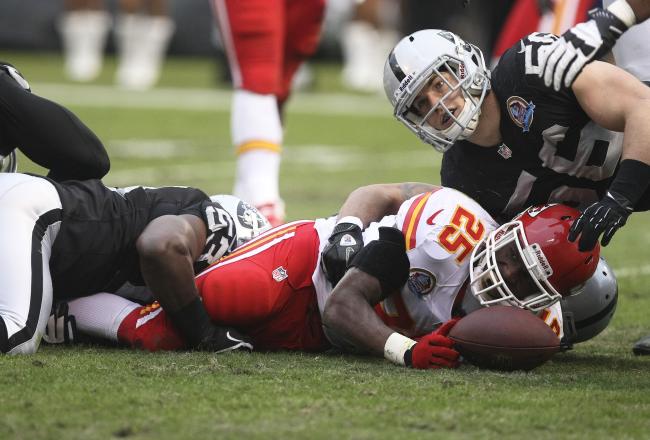 Jamaal Charles was grounded on Sunday against the Raiders.
USA TODAY Sports
The Kansas City Chiefs aren't expected to win games anymore and haven't been since very early in the season. Still, they were at least expected to be competitive against a bad team like the Oakland Raiders.
Even though the defense didn't allow a touchdown, the Raiders needed no more than a single field goal to beat the Chiefs; Sebastian Janikowski had five in a 15-0 shutout.
Only the clock could save the Chiefs from further embarrassment on Sunday. The Chiefs had 119 total net yards with 109 passing and just 10 rushing. Brady Quinn was sacked four times and threw an interception.
At halftime the Chiefs didn't have a first down, and they finished the game with just seven—they also had seven punts. The Raiders ran all over the Chiefs and had the ball for over 40 minutes. Even if the Chiefs had had the ball for 140 minutes on Sunday, they might not have been able to score a touchdown.
The Chiefs had 11 offensive drives, and nine of them lasted four or fewer plays. The nine drives included six three-and-outs, two drives that resulted in a turnover on downs after just four plays and a three-play drive that ended in an interception. The Chiefs would convert just one third-down attempt in the entire game.
Jamaal Charles had nine carries for 10 yards and three receptions for 18 yards. That is not the kind of offensive performance that the Chiefs needed from their No. 1 offensive player.
With Dwayne Bowe on injured reserve, the Chiefs' leading receiver was Dexter McCluster. He had seven catches for 59 yards—31 coming on one play. There really weren't any bright spots on offense. Even the offensive line was dominated both in the run and pass game.
There were a few performances of note on defense, including Eric Berry. He came up from his safety position to record 11 tackles. The Chiefs also forced two fumbles and limited Carson Palmer to just 182 yards on 18 completions. Despite not registering a sack, Palmer didn't have a touchdown.
The defense didn't let the Raiders score on two trips into the red zone and allowed just one play over 20 yards. Considering the Raiders ran the ball 45 times and controlled the clock, the defense could have lost focus and allowed the Raiders to break through for a score.
The punter was probably Kansas City's best player on Sunday. Dustin Colquitt's seven punts went for an average of 51.9 yards. He had a long of 71, and four landed inside the 20-yard line. You know things are bad when the punter is the team's best player on Sundays.
The Chiefs and Jaguars share this is common. Both teams also have only two wins and are vying for the No. 1 overall draft pick. With two games left, it will be a race for the league's worst record.
Was Sunday's loss the worst one this season?
The loss drops to the Chiefs to 2-12. Two more losses would match a franchise worst set back in 2008 with Herm Edwards. It was that season that prompted the Chiefs to bring in Scott Pioli as general manager and Matt Cassel at quarterback.
To say that both moves have been a mistake would be a massive understatement. Pioli has gone 23-39 as general manager, and Cassel has gone 19-28 as the quarterback. The Chiefs made the playoffs just once in 2010 thanks to one of the weakest schedules in NFL.
In Pioli's four seasons as general manager, the Chiefs have won only three games against teams that finished the year with winning records. The victory that everyone remembers was in 2011 when Romeo Crennel's team beat Green Bay at home 19-14.
Everyone in Kansas City is hoping Clark Hunt's next hire will be a lot better than his first. We are assuming Pioli will be fired, which seems like a virtual certainty at this point.
This article is
What is the duplicate article?
Why is this article offensive?
Where is this article plagiarized from?
Why is this article poorly edited?