8 NBA Stars We Want to See Play LeBron James One-on-One
Victor Decolongon/Getty Images

The NBA is great and all, but there are plenty of times when I wish there was also a one-on-one league so we could see epic one-on-one matchups pitting NBA superstars against each other.
LeBron James is one of those superstars who would dominate the entire talent pool of the NBA if there was some sort of one-on-one league or tournament.
He has the size to compete with top players from every position, and he has the defensive tenacity to go up against anyone who challenges him.
I'd love to see LeBron go up against every single NBA player, but that's not realistic. Instead, let's just stick to the top eight NBA players we all want LeBron to go up against.
Begin Slideshow

»
Steve Mitchell-USA TODAY Sports

This matchup isn't technically included on the list, well, because I'm not sure everyone wants to see this one.
The reason why LeBron James vs. Gerald Wallace would be an interesting matchup isn't because of the offensive battle it would be. It's because Wallace's defense is among the best in the game.
LeBron would ultimately win this matchup, because well, he's LeBron James. But Wallace would certainly put up quite a fight. Not to mention the fact that Wallace is an extremely aggressive and athletic player on the offensive side of the ball—see video for evidence if you're not a believer.
The difference maker here will be LeBron's ability to hit jumpers on the perimeter against Wallace's tough defense.
Crash vs. The King may not be the most glamorous matchup, but it would be a highly competitive one to say the least.
End Result: LeBron James (16) Wallace (7)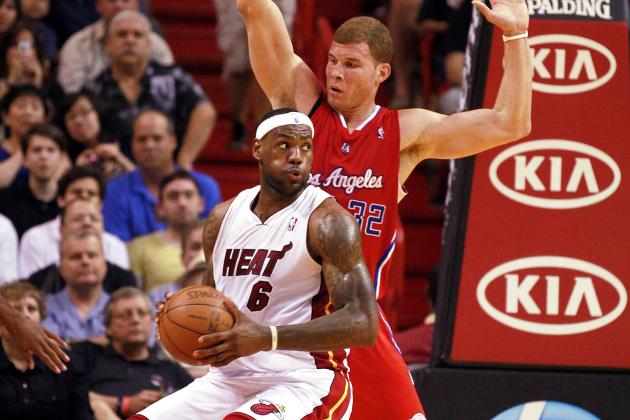 Marc Serota/Getty Images

LeBron James and Blake Griffin are better suited for a dunk contest finals than a one-on-one matchup. But that doesn't mean a individual showdown wouldn't be fun to watch.
Two of the most athletic players in the NBA would put on quite a show at the rim.
In nearly every facet of this matchup, LeBron would have a clear advantage. He has a more established offensive skill set, and he's a more intelligent defender.
So what does Griffin have going for him?
Not much, aside from his freakish athleticism and ability to body up LeBron on the defensive side of the ball.
This one-on-one showdown is more exciting on paper, or in NBA 2K13, than it would be in real life. Because frankly, LeBron would dominate this once he got the ball in his hands.
Griffin wouldn't be able to hang with LeBron on the perimeter, and the King would use that advantage to pull him away from the paint.
End Result: LeBron James (16) Blake Griffin (5)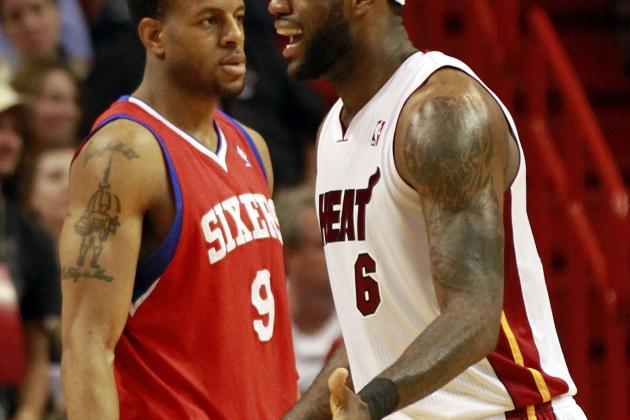 Marc Serota/Getty Images

Here's another matchup that would feature a defensive guru against LeBron James.
What Andre Iguodala has going for him that Wallace did not is his ability to consistently hit mid to long-range jumpers.
Hitting those jumpers over LeBron would be difficult, but it's not impossible because Iguodala also has the physicality it would take to create space from LeBron.
LeBron, though, has a distinct size advantage over Iguodala, and he would undoubtedly use that to his advantage on both sides of the ball.
His post offense would be the real difference-maker here, with a few mini-hooks being the big dealbreaker in this one-on-one showdown.
End Result: LeBron James (16) Andre Iguodala (9)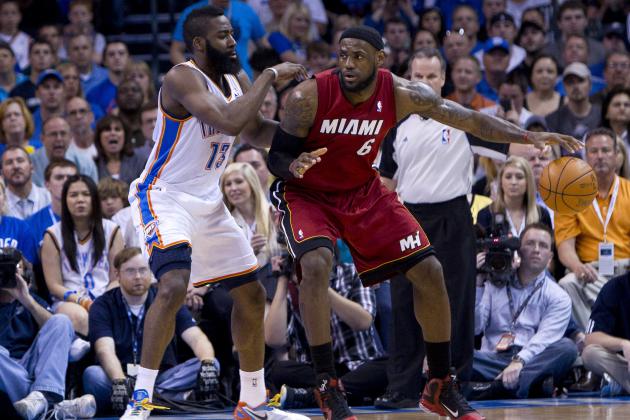 Richard Rowe-USA TODAY Sports

It's the bearded wonder of the world against the world's fastest receding hairline in a showdown that would certainly live up to expectations.
James Harden consistently exceeds expectations. He's transitioned from the 2012 Sixth Man of the Year to being a legitimate All-Star and the savior of the Houston Rockets.
Harden has had to work for all of that, and he's done so with aggressive play on defense and an impressive ability to get into the paint on offense.
Against LeBron James, Harden would certainly put up a fight. He'd annoy James on defense, and he'd find ways to get into the paint and finish around the rim.
This would be an epic battle, with the difference-maker being efficiency on offense. LeBron has more versatility in his game with his new-found post game, and that gives him the advantage here.
Harden would put up a fight, but he wouldn't be able to knock the King off.
End Result: LeBron James (16) James Harden (12)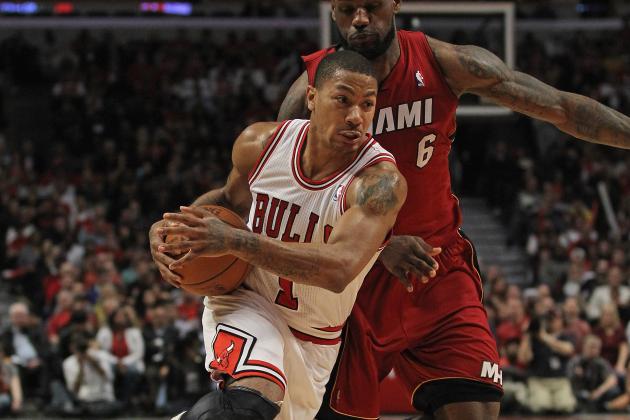 Jonathan Daniel/Getty Images

Just to be clear here, we're going with the pre-torn ACL version of Derrick Rose in this one-on-one matchup with LeBron.
Rose's aggressiveness, his ability to elevate and finish at the rim and his pure athleticism on the defensive side of the ball make him an enticing pick in this matchup on paper.
The only problem is, we've seen what happens to Rose when LeBron puts him on lockdown. We saw it in the 2011 NBA Playoffs when LeBron stopped Rose right in his tracks—remember that block at the end of Game 5?
Even with LeBron's epic defense, Rose would still pose a threat because of his explosive fist step and his ability to make circus shops in his sleep.
The real difference is the fact that LeBron is just as athletic as Rose, and yet he has 60 pounds on him. After a very competitive start, LeBron will wisely use his size advantage to overpower Rose.
End Result: LeBron James (16) Derrick Rose (10)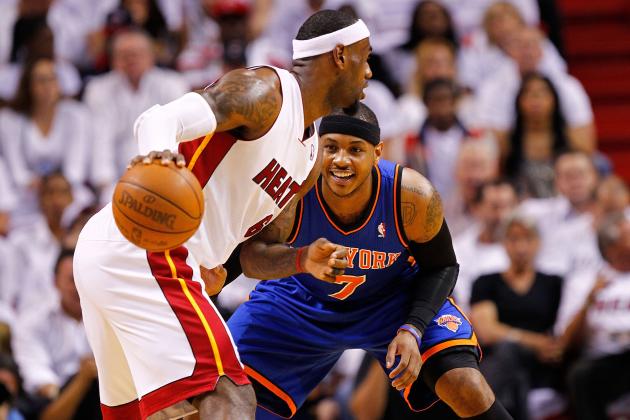 Mike Ehrmann/Getty Images

In a battle of the 2003 NBA draft class, Carmelo Anthony and LeBron James would bring two very different styles of basketball to the court.
LeBron would come armed with a well-balanced attack, whereas Carmelo would bring the shoot-first play defense later mentality that's defined his game for so many years.
'Melo will do exactly what the Heat are doing this season, try to win without defense. Luckily for 'Melo there's no one better in the NBA at doing that than him.
As we've seen the past two seasons, 'Melo will be able to stroke long-range jumpers even with LeBron's hand in his face.
While that will frustrate LeBron, it won't be enough to get him out of sticking to his game-plan, which would be to overpower 'Melo with his athleticism. In the end, LeBron's ability to beat 'Melo off the dribble will be too much for him to overcome.
While the Heat are able to win without much defense, the same won't be true for 'Melo in this classic showdown.
End Result: LeBron James (16) Carmelo Anthony (11)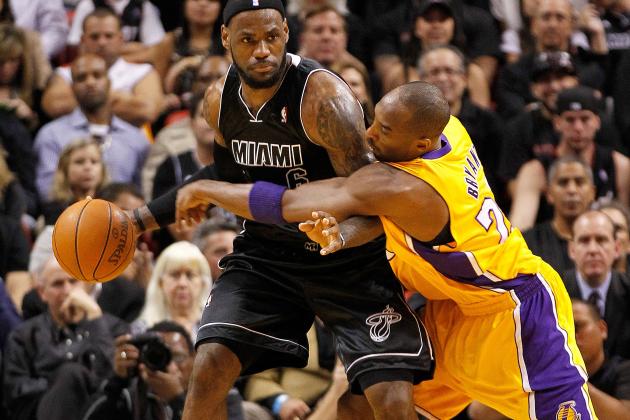 Mike Ehrmann/Getty Images

Why is this one-on-one matchup of the ages not at the top spot on this list?
The answer's simple. It's because Kobe Bryant isn't in his prime. If this matchup took place right now, with Kobe being the same age as LeBron, it would be higher on this list.
With Kobe being in the latter stages of his career and LeBron being in his prime, this matchup takes a different form.
I don't think Kobe would have any issue scoring against LeBron because he's one of the most intelligent and craftiest players in the history of the game.
Kobe's issue would be keeping LeBron from getting into the paint time and time again on him. With LeBron's increased awareness of how to use his size against smaller defenders, his game with his back to the basket would be too much for Kobe to stop.
This one wouldn't be as exciting or as close as you'd think, and it's not because Kobe isn't as good as LeBron. It's because they are at different points in their careers.
End Result: LeBron James (16) Kobe Bryant (12)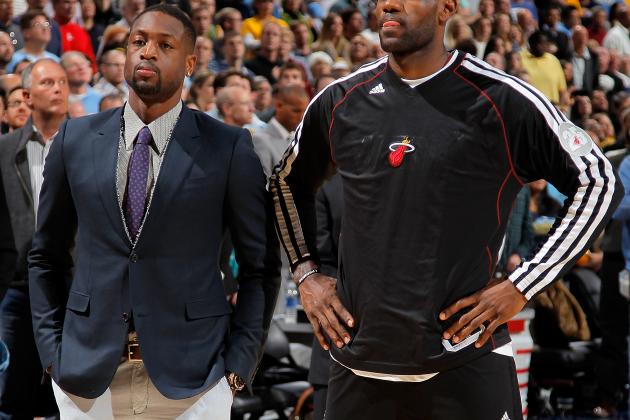 Doug Pensinger/Getty Images

Do you want to know who's the king of South Beach?
Well, what better way to figure that out than to let LeBron James and Dwyane Wade battle it out on the hardwood.
LeBron and Wade approach the game differently, with LeBron being the more cerebral player. Wade, on the other hand, is more reckless, which, at times, is to his benefit.
In a one-on-one matchup, Wade's reckless approach would help him compete with LeBron from the tip. While LeBron's size would be a tough challenge to overcome, Wade would neutralize that with his quick first step and fade-away jumper.
The biggest difference here would be LeBron's defensive abilities. He would be able to stop Wade from penetrating into the paint, which would force Wade to beat him out on the perimeter.
While Wade is certainly capable of that, it would be a challenge, and in this case, it's too big of a challenge to overcome.
End Result: LeBron James (16) Dwyane Wade (10)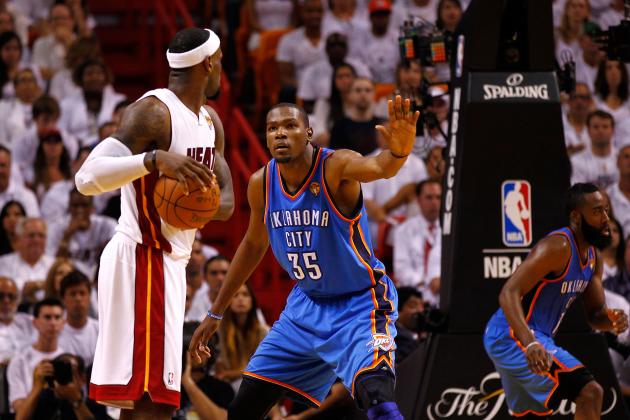 Mike Ehrmann/Getty Images

Here it is. The one-on-one matchup that every fan in the NBA wants to see.
If you're reading this thinking, "I don't want to see that matchup," then you're not really an NBA fan.
This showdown will be absolutely epic, and if you don't believe me, just watch this video of LeBron James and Kevin Durant working out together.
These two guys want to win more than anyone in the NBA, and it shows in the way they adapt to the needs of their teams and bring their best night in and night out.
While LeBron has a 25-pound advantage, Durant will minimize that with his quick release out on the perimeter. He'll frustrate LeBron with his pesky defense, and he'll shoot lights out like he does every night with the Oklahoma City Thunder.
LeBron will use his physicality and size to continually try to overpower Durant. While he'll be able to do that, it won't be enough because of Durant's pure stroke from the perimeter.
This one will be the closest matchup of the group. But Durant's ability to rise up and hit shot after shot will be too much for LeBron to overcome.
End Result: Kevin Durant (20) LeBron James (16)
Howard Smith-USA TODAY Sports

The White Mamba vs. the King?
Well, that would be a game to end all games, wouldn't it?
Scalabrine extended an offer on ESPN radio to play one-on-on with 10 lucky Bostonians, after tryouts of course, because he thinks that he will be able to smash them into the ground.
Unfortunately LeBron doesn't live in Boston, because if he did, I'm sure he'd jump at a chance to play one of the NBA's legends in a one-on-one matchup.
In all honesty, LeBron would absolutely destroy the White Mamba. But LeBron is a respectful man, so he'd let Scalabrine at least score a basket or two just to give the fans what they want.
End Results: LeBron James (16) Brian Scalabrine (1)
NBA fans are the real winners in this matchup, because after this, they will finally be able to put the "greatest of all-time" talk to rest. Beating Scalabrine would solidify LeBron as the best of the best in NBA history.