Cotton Bowl 2013: How Sooners Can Make Johnny Manziel Look Like a Freshman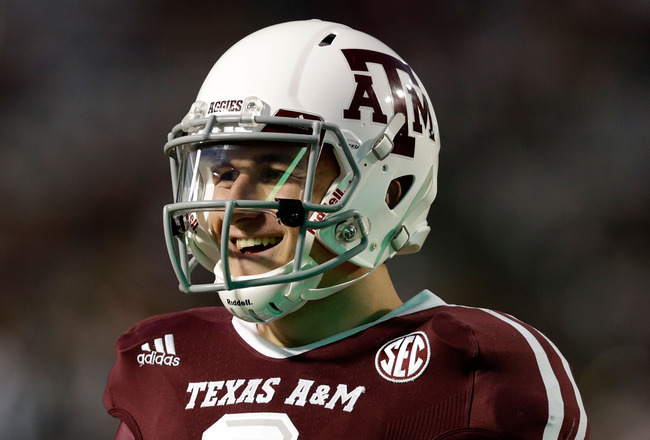 Scott Halleran/Getty Images
Johnny Manziel, the newly-minted Heisman Trophy winner, faces an unusual amount of pressure heading into the Cotton Bowl matchup against the Oklahoma Sooners.
Not only does he have to prove he deserved to win the Heisman; he also must show prove it's not a fluke a freshman won the coveted award over two seniors.
The Sooners certainly have their work cut out for them in facing the multi-threat signal-caller. But Oklahoma fans can at least be optimistic that their team's experienced defense can force the freshman into making mistakes.
Forcing Manziel out of his comfort zone requires a multifaceted approach for the Crimson and Cream. Here are five factors that will be important for Oklahoma to expose Manziel's inexperience and improve their chances of toppling the Aggies Jan. 4.
Pressure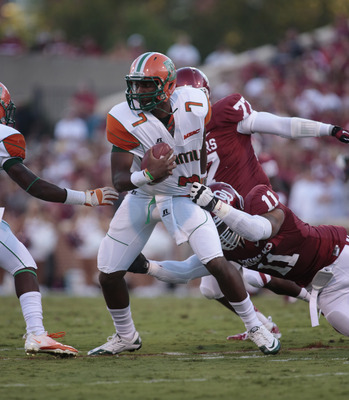 R.J. Washington (11)
Brett Deering/Getty Images
Key to stopping any offense is pressuring the quarterback. This game will be no different. If the Oklahoma defensive line is able to gain an advantage against the Texas A&M front, it will cause problems for Johnny Manziel.
It is also crucial, however, that the D-line keeps Manziel in the pocket. If he gets outside, he can inflict major damage, either on the ground or through the air. Therefore, OU defensive ends Chuka Ndulue and David King need to keep "Johnny Football" inside at all costs.
Another component is blitzing. Sooner defensive coordinator Mike Stoops will need to call a great game for his team to have a good chance to win. One facet of this play-calling will be calling the right blitzes at the right time to throw Manziel out of his comfort zone.
Ideally, Stoops should call for a variety of blitzes from both linebackers and defensive backs. Playmakers like Tom Wort, Tony Jefferson and Aaron Colvin, for instance, all have the potential to change the dynamic of the game by forcing turnovers or making momentum-generating stops.
If OU can pressure Manziel and keep him in the pocket, the chances are good he'll forces some passes, some of which could turn into interceptions. He could also fumble if the defense constantly harasses him.
In other words, pressuring Manziel could remove the magical halo he's earned by virtue of winning the Heisman and remind fans that he's still a young freshman with a relative lack of experience.
Take Away the Run
Scott Halleran/Getty Images
Secondly, the Sooners will need to make the A&M offense one-dimensional to keep the game from turning into a shootout (or potentially a blowout if the OU offense isn't clicking). This means taking away the Aggie run game.
As he's demonstrated this season, Manziel is a dangerous runner and can cause major problems for defenses if he's not contained. He leads the Aggies in rushing this season with 184 carries for 1,181 yards and 19 touchdowns, good for a 6.4-yard average per carry.
Behind Manziel, tailbacks Ben Malena and Christine Michael have logged a combined 218 carries for 1,169 yards and 19 rushing touchdowns.
A priority for OU should be doing whatever necessary to ensure Manziel and the Aggie tailbacks don't have success running the ball. Whether this is achieved by loading the box, assigning certain players to spy Manziel, varying defensive fronts and formations or any other method(s), it is essential.
Taking away the run game will make Texas A&M offense one-dimensional and limited. After all, Manziel's two lowest rushing outputs this season came in the Aggies two losses to Florida and LSU, and he won't be as threatening if he can't extend plays and improvise by buying time with his legs.
If he can't run, there's a greater chance Manziel will have greater difficulty throwing the ball against a capable OU secondary, and the Sooners will have a better opportunity to fool the freshman by disguising coverages and mixing up formations.
Shut Down Mike Evans and Ryan Swope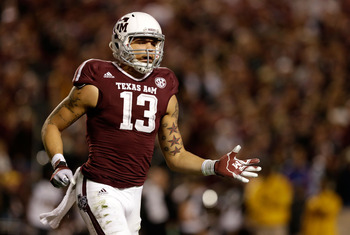 Mike Evans
Scott Halleran/Getty Images
Most quarterbacks have one or two favorite receivers. For Manziel this season, wideouts Mike Evans and Ryan Swope have been his top targets. The two have combined for 139 catches, 1,831 yards and 12 of Manziel's 24 passing touchdowns.
If the Sooner secondary focuses on making Evans and Swope non-factors, it will force Manziel out of his comfort zone by making him look for targets with which he is less comfortable. Again, because of his lack of experience, this will mean OU has a better chance of profiting from his rawness.
This point is applicable to all quarterbacks, regardless of their class. If you take away the top receiving targets, it creates a challenge for the signal-caller. Sooner defensive backs Tony Jefferson and co. need to make stopping Evans and Swope a priority. If they are successful in containing the wideouts, Manziel will struggle. Hopefully for Oklahoma, his relative lack of connections with other wideouts reflects a lack of chemistry.
Vary the Defense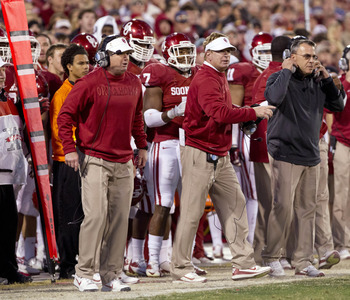 Bob Stoops (left) and Mike Stoops (middle)
Richard Rowe-USA TODAY Sports
Mixing up defensive schemes can be effective against a high-caliber offense. It could be especially fruitful for Oklahoma against Texas A&M because of Manziel's inexperience.
Mike Stoops should focus on employing a healthy diversity of defensive looks to try to limit A&M and prevent the offense from establishing rhythm. This could mean employing fronts ranging from three to five players, changing up personnel and packages and blitzing at opportune times.
Essentially, Oklahoma can't allow Manziel and his offense to establish rhythm and consistency. The Sooners need to make Manziel uncomfortable and confuse him with different line stunts, blitz schemes, coverages, etc. Doing so could fluster the freshman and cause him to struggle and make costly mistakes.
Ideal outcomes for the Sooners would be strip-sacks and interceptions. If they don't force any Aggie turnovers, they'll have their work cut out for them if they hope to win the game.
Keep the Game Close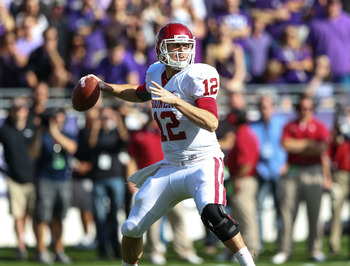 Landry Jones
Kevin Jairaj-USA TODAY Sports
Although it sounds obvious, keeping the score close is another must for OU in the Cotton Bowl. If the Sooners can keep pace with the Aggies, there will be a better chance Manziel's inexperience will eventually come through.
On the other hand, if the Aggies create separation and enjoy a comfortable lead, it's unlikely Manziel will err because he won't have to do as much for his team to maintain its advantage.
Sooner fans should hope Landry Jones is on his A-game. As a senior who has played in 52 games since 2009, he is much more seasoned than Manziel. Based on his performance this season, it's a logical bet Jones will maintain poise and composure in the latter stages of a close game.
The closer the game is in the fourth quarter and the more Manziel is required to deliver, the greater the chance the freshman's inexperience ultimately reveals itself. Oklahoma needs to focus on harassing him as much as possible to force him to make a mistake. And in a game like this, one or two mistakes could be the difference in the outcome.
Keep Reading

Oklahoma Sooners Football: Like this team?