Handing Out Game Balls for Every Game After NFL Week 15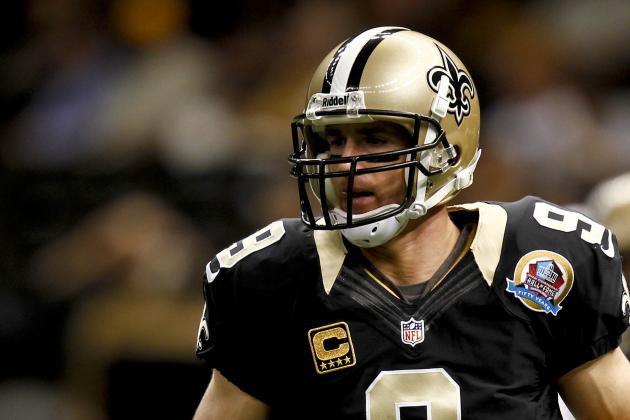 USA TODAY Sports

In every NFL Week 15 matchup (save one), one player stood out as the reason for victory. This player is naturally awarded with a game ball.
It's a custom in football to reward the most important player to his team's winning effort with the game ball. Sometimes it's obvious who is worthy. Other times it's more difficult to find.
You watched the games and saw the stats. But which player stood out as the most important for each winning team?
Begin Slideshow

»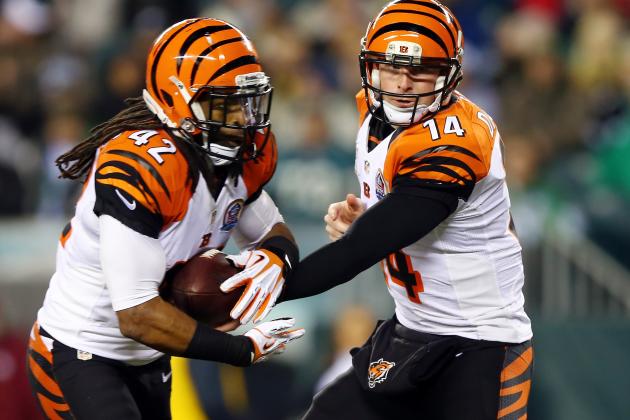 Elsa/Getty Images

Game Ball: BenJarvus Green-Ellis
With 25 carries for 106 yards and a touchdown, Green-Ellis was the obvious pick. No other Bengal did anything exceptional, and Green-Ellis carried Cincinnati's offense.
Quarterback Andy Dalton certainly wasn't anything special, throwing for just 127 yards. That led to a pedestrian outing for A.J. Green, who had 57 yards receiving and a touchdown.
The Law Firm wasn't brilliant, but he was easily the most deserving of any player.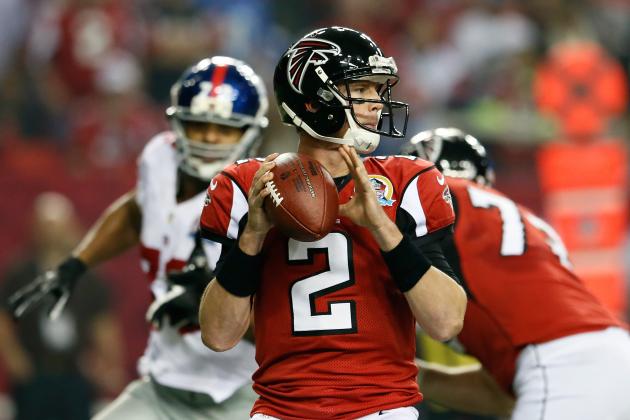 Kevin C. Cox/Getty Images

Game Ball: Matt Ryan
It's difficult to be more efficient than Ryan was against the Giants. The star quarterback completed 23 of his 28 passes for 270 yards, three touchdowns and zero interceptions.
Ryan spread the ball around like few can, with eight players catching passes and none catching more than six. In a game where the Falcons didn't have a dominant rushing attack, Ryan was clearly the most valuable player.
This was an easy win for Atlanta, and Ryan was the most important player in the blowout effort.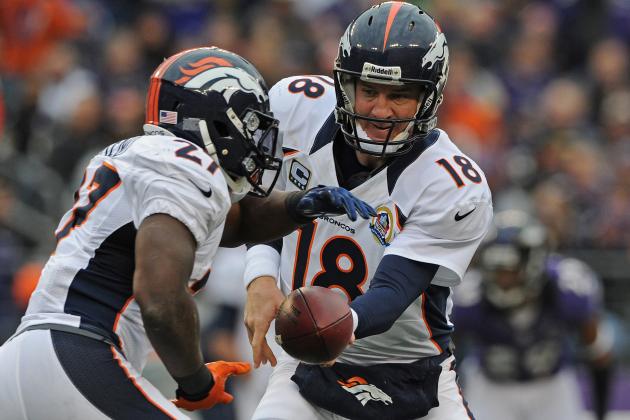 Patrick Smith/Getty Images

Game Ball: Knowshon Moreno
Moreno deserves the game ball. He rushed for 118 yards on just 22 carries, averaging 5.4 yards per carry.
Peyton Manning didn't have one of his better games, completing just over 60 percent of his passes. He was still good, but Moreno was the star of the game.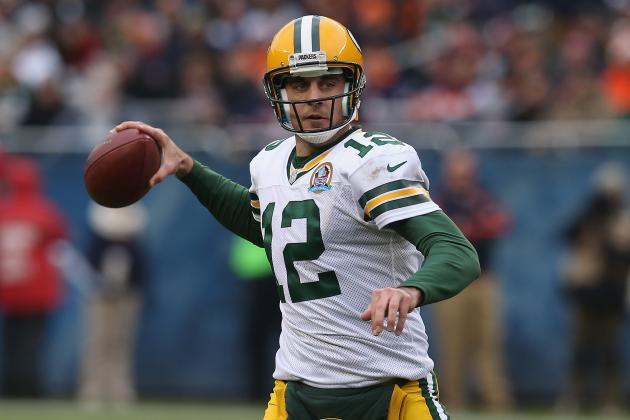 Jonathan Daniel/Getty Images

Game Ball: Aaron Rodgers
Both Rodgers and the Packers have been somewhat inconsistent in 2012, but this was a great game for both. With 291 yards, three touchdowns and no interceptions, Rodgers couldn't be stopped against the Bears.
In fact, Rodgers accounted for all 21 of Green Bay's points. He is usually the team's focal point, but this is taking that to an extreme.
Both James Jones and Randall Cobb also turned in big games, with Jones hauling in all three of Rodgers' touchdown passes. Cobb accounted for 115 receiving yards. Rodgers, however, was the key to Green Bay winning the game.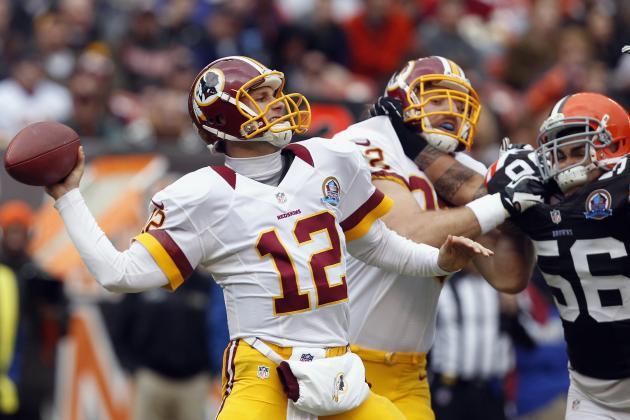 Matt Sullivan/Getty Images

Game Ball: Kirk Cousins
In the absence of Robert Griffin III, Washington needed Cousins to step up, and step up he did.
Cousins passed for 329 yards and two touchdowns, leading the Redskins to 38 points. Though he did throw one interception, Cousins took care of the ball and generally dominated the Cleveland defense.
The Browns had no answer for Cousins, and he won the Redskins this game. There was no clear favorite to win, but Cousins made the difference, outshining fellow rookie quarterback Brandon Weeden.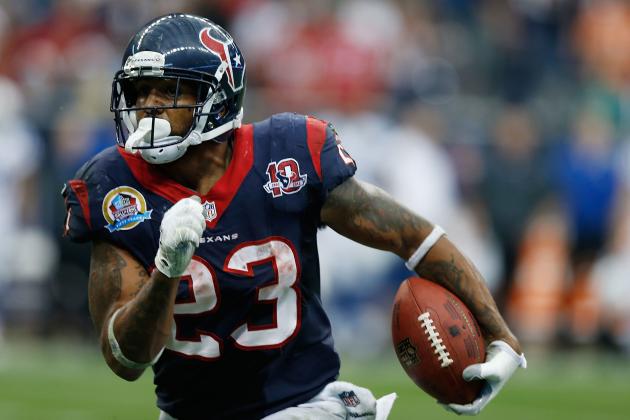 Scott Halleran/Getty Images

Game Ball: Arian Foster
Foster's 2012 season has been very strong, and so too was his performance against Indianapolis. With 165 yards on 27 carries, Foster was absolutely dominant.
He didn't reach the end zone, but Foster was responsible for Houston driving downfield with such ease.
Andre Johnson also turned in a terrific game, catching 11 passes for 151 yards and a touchdown. In the end, though, Foster was a little bit more crucial to Houston's victory.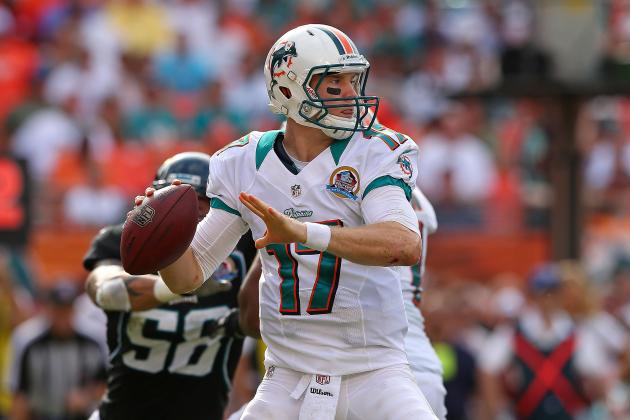 Mike Ehrmann/Getty Images

Game Ball: Ryan Tannehill
In a game that no one wanted to watch, Ryan Tannehill played excellently. On the game, he completed 22 of his 28 passes for 220 yards, two touchdowns and no interceptions.
It was an easy 21-point victory for Miami, and Tannehill's performance was instrumental. He completed passes for good yardage while avoiding any costly mistakes. Against a team as bad as Jacksonville, that's all he had to do.
Reggie Bush also turned in a big game, rushing for over 100 yards, but he wasn't as important to Miami's victory effort as was Tannehill.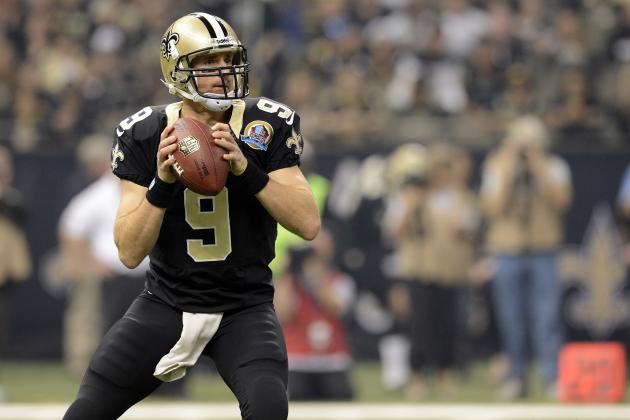 USA TODAY Sports

Game Ball: Drew Brees
It's no surprise that in a 41-0 blowout, Brees had a monstrous game. He completed 26 of his 39 passes for 307 yards with four touchdowns and no interceptions.
Playing against the NFL's worst pass defense, Brees put up the numbers he should have, but that doesn't make his performance any less important to the Saints' victory.
Mark Ingram also had a decent game, rushing for 90 yards and a touchdown. On defense, Jabari Greer came up big with two interceptions. However, neither player came close to replicating Brees' impact.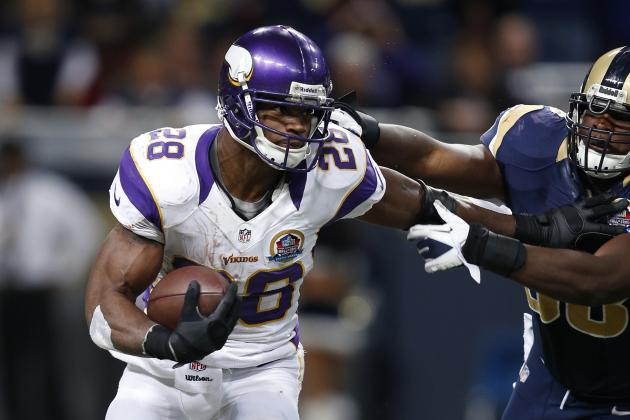 Joe Robbins/Getty Images

Game Ball: Adrian Peterson
As he continues to chase Eric Dickerson's single-season rushing record, Peterson once again dominated. His 212 yards on just 24 carries was the result of yet another mind-boggling performance.
This was an easy victory for the Vikings solely because of Peterson's dominance. He had 81 more rushing yards than quarterback Christian Ponder had passing.
Right now, Peterson is perhaps the most unstoppable player in the NFL. That showed here, as Minnesota once again rode him to victory.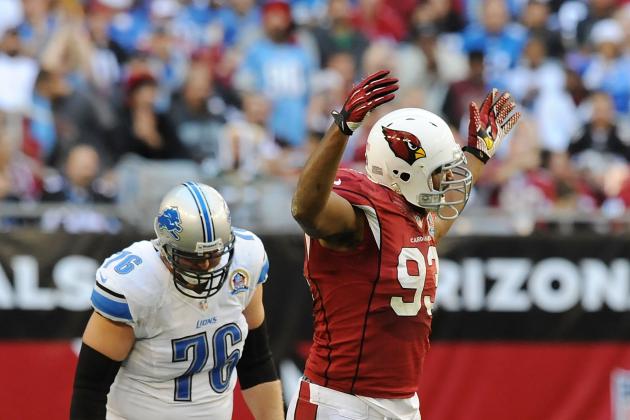 Norm Hall/Getty Images

Game Ball: Arizona Defense
This is the one game in which a single player didn't stand out. The Arizona defense as a whole did, however.
The Cardinals held the explosive Detroit offense to just 10 points while scoring two touchdowns itself. Detroit entered the contest with the NFL's No. 2 offense, but it gained just 312 yards.
This was simply an incredible defensive effort by the Cardinals.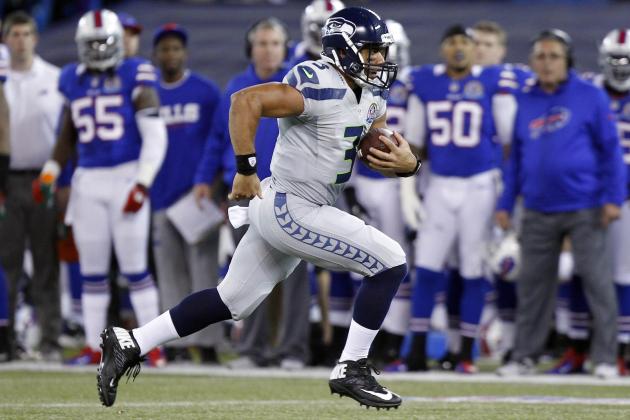 USA TODAY Sports

Game Ball: Russell Wilson
With 297 total yards and four touchdowns, Wilson carried the Seahawks to a 50-17 blowout. The rookie quarterback continued to limit mistakes while making plenty of big plays.
Though Marshawn Lynch also had a big game, Wilson was clearly the center of Seattle's offense, and he accounted for the great majority of the unit's points. There is no question who was the most key player here.
In what has been a great season for Seattle, Wilson has stood out as the main difference between this year's team and last year's. It showed once again against the Bills.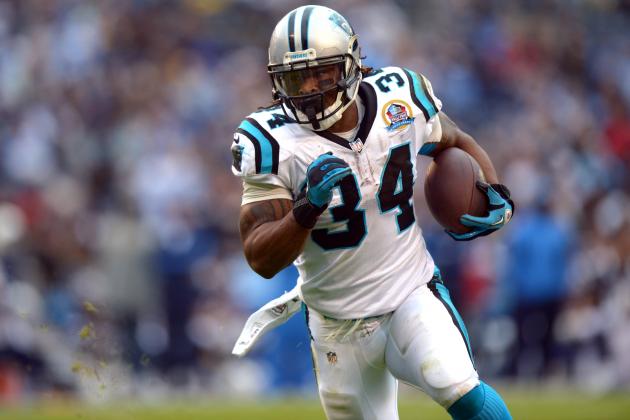 Jake Roth-USA TODAY Sports

Game Ball: DeAngelo Williams
With 144 total yards and a touchdown, Williams was a key part of Carolina's offense. He helped the Panthers drive downfield and also took a screen pass 45 yards for a touchdown.
It hasn't been a great year for Williams, but viewers of this game couldn't have possibly known. The star running back contributed in all aspects of the game as the Panthers blew out San Diego.
Cam Newton also played well, not turning the ball over and scoring twice. However, his numbers would have been significantly reduced in Williams' absence. Mike Tolbert's two touchdowns failed to make the same impact Williams' overall game did.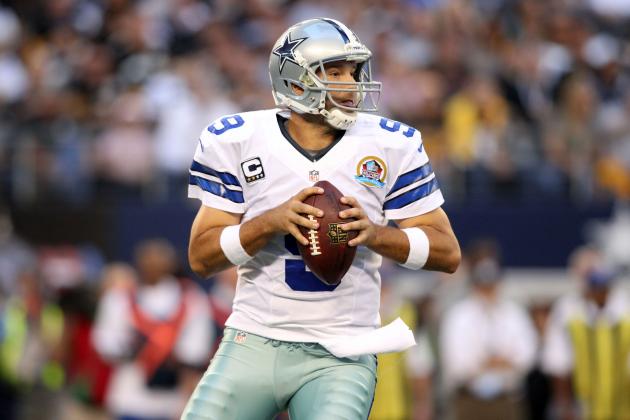 USA TODAY Sports

Game Ball: Tony Romo
Viewers of this game were privileged to see a fantastic performance courtesy of Romo. Completing 30 of his 42 passes for 341 yards, two touchdowns and no interceptions, Romo was nearly flawless.
Dallas didn't go on an offensive spree by any means, scoring 27 points, but the team's offense would have been much worse without Romo. Also, remember this came against the NFL's best defense.
Brandon Carr also deserves recognition, as he hauled in the game-winning interception in overtime. That was a huge play, but Romo's overall impact exceeded Carr's.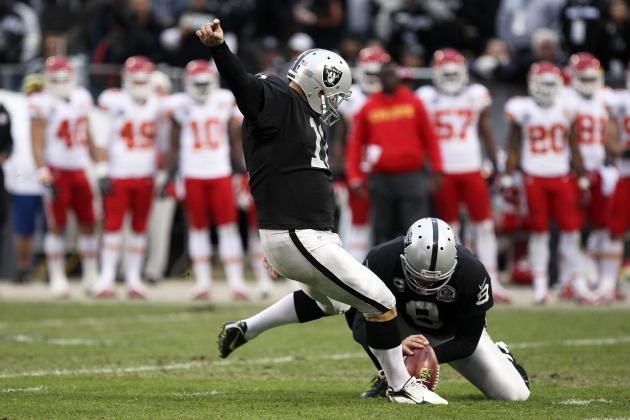 USA TODAY Sports

Game Ball: Sebastian Janikowski
When a player accounts for 100 percent of his team's points, he has to get the game ball, right?
Janikowski was good from 20, 50, 57, 30 and 41 as he scored all 15 of Oakland's points. If these had all been chip shots, it would be one thing, but Janikowski showed some serious range here.
If you're questioning the inclusion of a kicker, please point out a more deserving Raider. As was expected from a Kansas City-Oakland matchup, this was an ugly game with no real standouts on either side of the ball.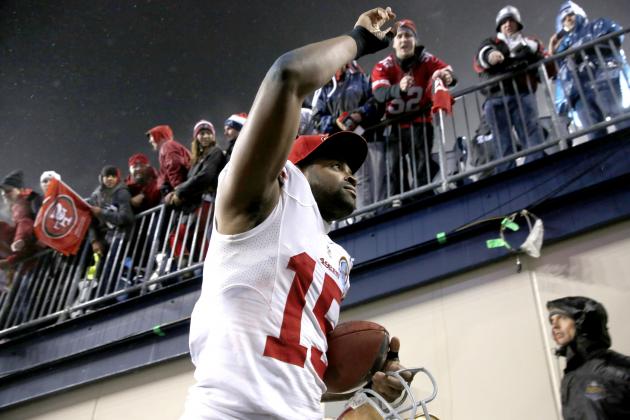 USA TODAY Sports

Game Ball: Michael Crabtree
In what was clearly the game of the week, Colin Kaepernick played excellently, but Crabtree was the real star. After all, Crabtree accounted for 107 of Kaepernick's 216 yards.
On two of the 49ers' touchdowns, Crabtree made fantastic plays, creating something when it seemed there was nothing. The former No. 10 overall pick is finally living up his draft status.
It's hard to overlook Kaepernick here, but Crabtree was more deserving. He made several terrific plays that were devastating to New England's attempted comeback.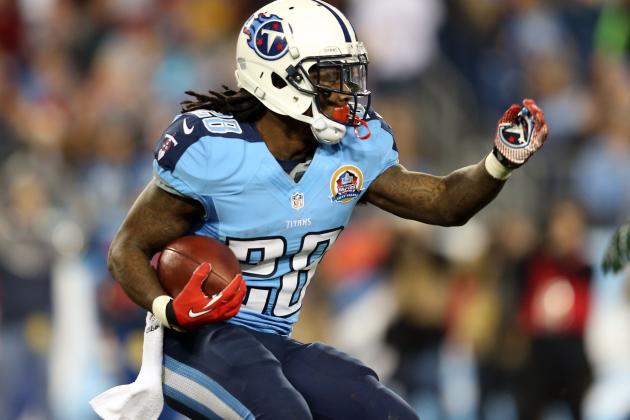 Andy Lyons/Getty Images

Game Ball: Chris Johnson
To nobody's surprise, this was a dreadful game, which afterwards, everyone wished he or she hadn't watched. Tennessee did pull out the victory, though, largely due to the efforts of Johnson.
Johnson actually had just one big play—94 of his 122 yards came on one run—but it was a big one, and it made the difference in the game.
It's tough to award anyone anything after such a dreadful game, but Johnson is the clear honoree here. No one else's impact came close to mirroring his.