WWE TLC 2012 Results: Winners and Losers from 2012's Final PPV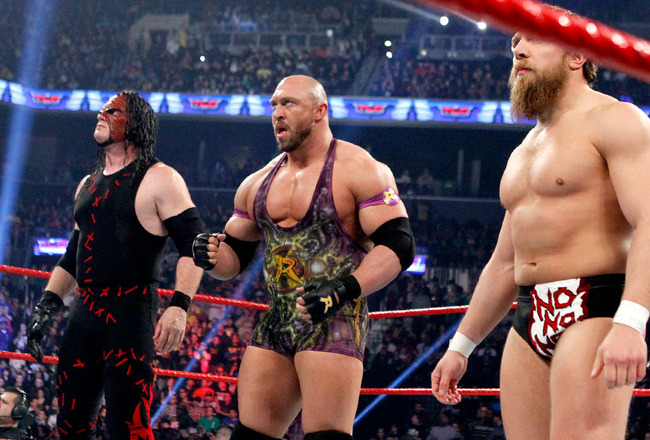 Photo courtesy of WWE

When TLC came to an end Sunday night, there were both winners and losers from all the matches on the card.
Some winners not only won their match but won by proving that they deserved to be pushed. Others not only lost their match but are still stuck at a midcard level, having lost their momentum.
Most of the matches on the card turned out to be solid bouts, and while there were both winners and losers, this ended up being a positive way to end the 2012 year.
One of the biggest winners of the night was Dolph Ziggler. Not only did he beat John Cena, he beat him and retained his Money in The Bank contract.
And while he had help from AJ Lee, it only makes things more interesting, and when things become more interesting the WWE fans win.
Here are some of the winners and losers from the TLC pay-per-view.
Loser: Diva's Division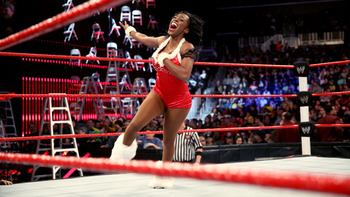 Photo courtesy of WWE
Naomi walks away with the win during the Diva's battle royal pre-show, and while it's a great win for her, she ended up losing to Eve in the same night on the TLC pay-per-view.
Outside of the battle royal, what ring experience did Naomi have?
And outside of being a funkadactyl, what else has she been involved in on Raw?
Now, a diva with little ring experience on RAW had been pushed to the No.1 contender spot and lost to Eve on the same night, while divas like Tamina and Kaitlyn have been sitting on the sideline, looking like they might receive a push.
The Diva's division has some potential, especially with wrestlers like Natalaya, but instead, a push was wasted on a funkadactyl.
The Diva's division continued to sink after TLC, and you have to wonder when the WWE will ever care for the Diva's division, or continue to let it slip.
Winner: Team Rhodes Scholars
Photo courtesy of WWE
Cody Rhodes, with his mustache, and Damien Sandow, managed to survive a tables match against the high-flying team of Rey Mysterio and Sin Cara.
Now Rhodes and Sandow are the No. 1 contenders, and get another shot at Kane and Daniel Bryan.
Clearly the WWE has big plans for Sandow and Rhodes, and will more than likely put the Tag Team champion belts on them.
Rey Mysterio and Sin Cara though, continue to slip. How much longer can the WWE keep these two paired up and continuously have them lose when they are so close to getting a title shot?
Rhodes and Sandow getting another chance to win the belts might eventually help Sin Cara and Mysterio get a shot at the titles as well.
Still, after coming back from injury, and growing a mustache that has people chanting, Cody Rhodes looked solid in this match. Sandow also looked impressive, and team Rhodes Scholars has played a huge part in helping revive the tag team division.
Cody Rhodes and Damien Sandow beat out Mysterio and Sin Cara at TLC. They won the No.1 contender spot, and will more than likely win the Tag Team titles in the future.
Loser: R-Truth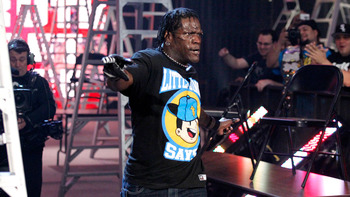 Photo courtesy of WWE
R-Truth lost against Antonio Cesaro at TLC, and while plenty of people could easily predict Truth losing, it's clear he is just being used to help push other wrestlers.
After splitting with Kofi Kingston, Truth was left with his invisible child friend Little Jimmy, while Kingston managed to win the Intercontinental title.
His Feud with Cesaro is average at best, and after losing to him at TLC, its clear Truth is on the back burner as far as getting pushed is concerned.
Truth had a solid performance at TLC, even though the match was relatively short.
Still, Truth is stuck at a mid-card level, even though he is entertaining, and solid in the ring. A heel turn could push Truth forward a little more, but in the end he is going to be stuck at mid-card status.
So yes, he did lose at TLC, but more importantly, it's becoming clear that he is just being used to push other wrestlers since coming out of his tag team with Kingston.
Truth and Kingston were used to help boost the tag team division, and now while Kingston moves forward, Truth goes nowhere.
Winner: Kofi Kingston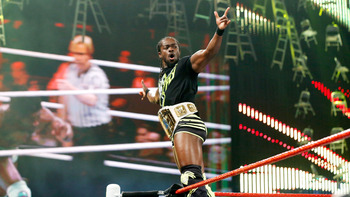 Photo courtesy of WWE
Kofi Kingston has gotten pushed in the WWE before, and it's never lasted too long.
After his win against Wade Barrett at TLC though, it looks like Kingston will continue to be pushed at the Intercontinental champion.
Wade Barrett himself is reportedly ready for a big push, yet didn't win on Sunday.
Kingston and Barrett had a solid match that could have gone either way, and while Barrett didn't win, their feud is probably still not over.
Which is good for Kofi.
As long as he continues to put on solid matches, and proves to be big with fans and great in the ring, the WWE has no reason not to push Kingston.
Keeping the belt on him is great because it sets up future matches of Kingston vs. Barrett.
Still, with Barrett supposedly ready for a big push, Kofi is the real winner at TLC. Not only did he literally win the match, but since he was going against Barrett, it looked like Kofi might lose the belt to help push Wade even more.
Instead, Kofi walked away with winner, and for the moment, looks like he is still being pushed forward.
Winner: The Shield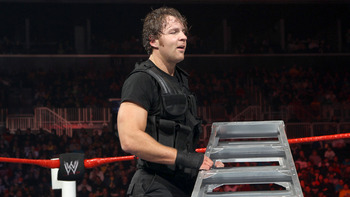 Photo courtesy of WWE
The Shield won against team Hell no and Ryback.
In more ways than one.
They managed to win the match, and had one of the best matches of the night. A lot was expected of them after CM Punk went down with an injury, and The Shield delivered.
From the bumps they took, like Rollins going through two tables, to their fantastic teamwork, the Shield was spot on and had a great debut match at TLC.
Bryan, Kane, and even Ryback looked solid in this match too. Kane and Bryan took some good bumps, like Daniel Bryan being power bombed through a table to end the match.
Ryback was his typical destroy everything self, and was met with the typical Goldberg chants. He performed well too, and really fit this type of match.
Still, the Shield were the real winners of TLC, and it was great to see the WWE push these three young wrestlers, and just as great to see them step up and deliver.
Now that The Shield can clearly wrestle, it's only natural to expect great things from them in the future.
Loser: Sheamus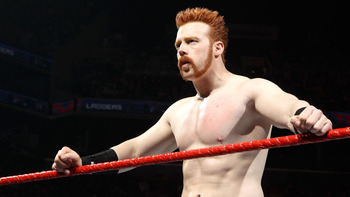 Photo courtesy of WWE
Sheamus took a shot to the back from a giant sized chair and couldn't kick out of the three count.
This was, after all, after he managed to kick out of a WMD and a chokeslam.
Sheamus has yet to beat the Big Show, and with WrestleMania getting closer, and rumors of Big Show facing Ryback at WrestleMania, what will the plans for Sheamus be?
Even though Show might be going in another direction soon, it's hard to see Sheamus struggle as of late.
When he held the World Heavyweight championship after all, we saw Alberto Del Rio thrown at him again and again, and the Great White constantly managed to retain the championship.
The Big Show seems like too much for Sheamus.
How many more chances will the Great White get, especially now that Dolph Ziggler has been on such a solid role?
TLC seemed like the chance for Sheamus to take back the World Heavyweight title, especially since it was a chairs match.
Instead, Big Show capitalized on the match stimulation, and was able to retain his title once again.
Where will Sheamus go from here?
Winner: Dolph Ziggler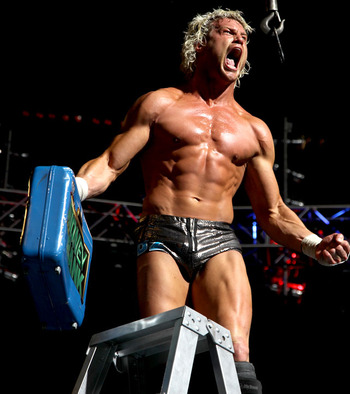 Photo courtesy of WWE
Dolph Ziggler is one of the biggest winners of TLC.
His match with Cena was main event worthy, and while WWE fans will always argue whether Cena should be in the main event so much, he did a great job at TLC, where he and Ziggler delivered.
Of course Ziggler did get help from AJ, but on a wrestling level Ziggler was spot on, and proved without a doubt that he is a main event wrestler.
Yes, after TLC Ziggler is one wrestler everyone should be talking about, and after looking great against one of the biggest names in WWE, Ziggler seems ready now more than ever to use his Heavyweight contract, and win the belt.
While AJ mimicking Cena's five moves of doom was a little hard to watch, maybe now after turning on Cena, Ziggler and AJ will team up?
Regardless of what the WWE decides to do with Ziggler and AJ, this is a huge win for Ziggler, and it was good to see the WWE push one of their younger wrestlers instead of give another win to Cena who clearly didn't need it.
Yes, the Shield had a huge win tonight, but so did Dolph Ziggler. Not only did he get put into the main event, he got a win over one of the WWE's most dominant wrestlers, and Ziggler has never looked better.
Keep Reading