The Most Exciting Player to Watch on Every NBA Team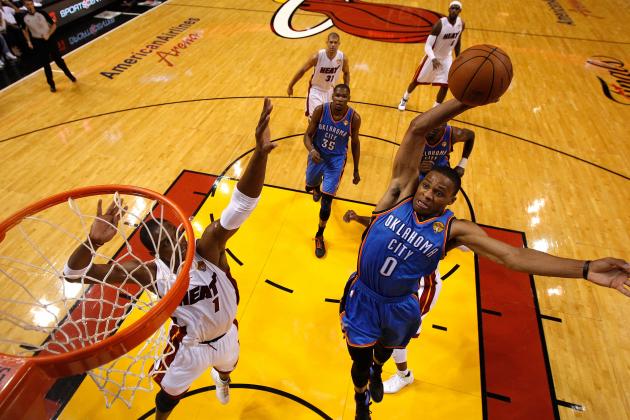 Pool/Getty Images

Every night in the NBA, it seems as if there is a play that makes fans say, "Wow! That is the play of the year!"
The NBA is home to some of the best athletes in the world. Luckily for us, they showcase it just about every night.
From dunks to passes to buzzer-beaters, there are always guys who are going to make you think you are watching a video game.
It is difficult to find the kind of excitement that you'll find on the hardwood anywhere else. With that being said, here is the most exciting player from every NBA team.
Begin Slideshow

»
Josh Smith has been turning heads with his athleticism every since he entered the NBA from high school.
The 6'9" forward can jump out of the gym, and is also one of the most ferocious shot blockers in the NBA.
Smith was the Slam Dunk Contest champion in his rookie year in 2005, and has been one of the most respected dunkers in the league ever since.
Smith is usually good for at least one highlight dunk a game, which earns him a spot on this list.
Rajon Rondo is one of those guys who you wish played for your team.
He is the definition of an exciting player: A guy who does something spectacular just about every single time he touches the ball.
Whether it be a no-look pass, a crossover dribble or a fake behind the back, Rondo is always getting fans out of their seats with his ridiculous moves.
He is easily one of the most fun guys to watch in the NBA. The scary part is, he's only getting better.
Gerald Wallace, or "Crash," has been one of the league's most exciting players since he entered in 2001.
Wallace is known for his aggressive style of play, launching himself into other players and is not afraid to take a leap into the stands.
He is also known for throwing down some ground-shaking dunks, finishing second in the 2002 Slam Dunk Contest behind Jason Richardson.
What really earns Wallace a spot on this list is his defense, which is among the NBA's best. Who doesn't love watching a great defender?
He may be young, but this pick seemed like a no-brainer.
Since entering the league a year ago, Kemba Walker has already put together a solid portfolio of highlight plays.
He keeps defenders on their toes with his quickness and speed. Everybody knows that the guy has ice in his veins.
Walker has been putting more and more fans in the seats since arriving in Charlotte. The future looks very bright for this former UConn Huskie.
If the start of this NBA season just doesn't feel quite complete, its because this guy hasn't seen any action yet.
Derrick Rose is arguably the most exciting player to watch in the entire NBA.
Rose is one of those few guys who can just do it all, whether it's passing, dribbling or throwing it down on helpless defenders.
He is the most exciting player that Chicago has seen since the great Michael Jordan, and has rejuvenated basketball in the Windy City.
Any player that has a highlight tape of his top 10 crossovers is worthy of a spot on this list.
Kyrie Irving is one of those young guys who can just burn you with his speed.
Irving attacks a defense from all angles, and can score from just about anywhere on the court.
It's hard to believe that Irving isn't even 21 yet, as he is already one of the NBA's elite point guards.
Irving will be turning heads for many years to come with his quick moves, and he alone gives fans a reason to watch the Cavaliers.
O.J. Mayo has been in the public eye ever since he was in high school, and his excitement factor hasn't changed a bit.
He hasn't quite lived up to the NBA superstar hype that surrounded him coming into the league, but he does have the gift of being able to change the course of a game with just one play.
Mayo is really coming into his own this year and has shown that he is more than just a highlight threat. This makes him even more exciting to watch.
Best of all, Mayo is only 25. So it's likely that he will be throwing down dunks for years to come.
When the name Andre Iguodala comes up in conversation, the first thing most people immediately think of is his leaping ability.
There is no shame in that.
Iguodala is easily one of the best dunkers the NBA has to offer, and became pretty famous for being "robbed" of the 2006 Slam Dunk Championship by Nate Robinson.
While Iguodala is always a threat to blow by a defender and throw it down, he is also a legitimate scorer who's averaged over 15.0 PPG during his career.
There hasn't been too much for the Detroit Pistons to smile about since they were a fixture at the top of the Eastern Conference in the mid-2000s.
Brandon Knight has given fans a reason to believe that the future could be bright again soon in Detroit.
The second year player out of Kentucky is one of the quickest in the game, and can beat defenders off the dribble or take them straight to the rack.
In what is otherwise a rebuilding year for the Pistons, Knight provides an element of surprise and flashiness that makes games a lot more exciting to watch.
Harrison Barnes is a young gun who is still working on finding his niche in the NBA, but dunks like this one makes me believe he will find it pretty quickly.
Anyone who can throw down like that automatically deserves a spot on this list.
This dunk by Harrison Barnes will be in the conversation for dunk of the year, and I have a feeling that he will be competing for that title for many seasons to come.
Barnes is already a fun player to watch, and will only continue to grow as he is only in his rookie season.
That's bad news for Nikola Pekovic and the rest of the NBA.
This "Bearded Assassin" was always a pretty exciting player to watch during his time with Oklahoma City.
Ever since being traded to Houston, the guy has just played out of his mind.
Harden is currently one of the league leaders in scoring, and has shown no signs of slowing down.
He has been a real treat to watch this year thanks to his amazing scoring numbers, plus he can also throw down like this if you aren't careful.
Gerald Green was one of the top recruits coming out of high school in 2005, and decided to jump the college level and go pro.
Green has bounced around the NBA, never quite living up to the player that people thought he would become.
Though his stats aren't mind-boggling, Green has made a name for himself in the NBA thanks to his dunking ability.
The 2007 Slam Dunk Champion is among the league leaders in at least one statistic—posterizations.
This one shouldn't cause much of a debate.
Griffin is arguably the best dunker in the entire league, and has put the Los Angeles Clippers back on the map with his "Lob City" campaign.
Blake, or "High Griffinition," is one of the most ferocious dunkers that the league has ever seen. Just ask Kendrick Perkins.
The only reason that Chris Paul should be upset about playing with Blake Griffin is that Blake took Paul's spot on this list.
We have seen some pretty amazing dunks from Blake Griffin, but his best should be yet to come.
You can make a case that Kobe Bryant is the most exciting player to watch in the history of basketball.
We as a whole are extremely fortunate that we have had the opportunity to watch Kobe throughout the course of his career, because players like him just don't come around that often.
Amazing shots, dunks, passes, crossovers and fadeaways: you name it, he's done it.
Every time there is a Lakers game, you know that there is always a chance that you could see something unforgettably special. That is what makes "the Black Mamba" so exciting.
Plus, anyone who has a YouTube video of his very own top 10 buzzer-beaters is on a level of his own.
Rudy Gay is one of those quiet superstars who may not get all of the attention he deserves because of the market that he plays in.
Gay is a fearless hustle player who can attack defenders in a multitude of different ways. And there's nothing that fans like to see more than a player who hustles, right?
Rudy, like many other players on this list, competed in the NBA's official Slam Dunk Contest a few years back.
Gay is only 26 years old, and will be providing the league with plenty of entertainment for years to come.
Let the debate begin.
Yes, three-time NBA MVP LeBron James plays on the same team as Dwyane Wade, but this pick is not a mistake.
As fun and impressive as LeBron is to watch, D-Wade has always had the advantage when it comes to the excitement factor.
Just think about the times before James was around. Wade was the king in Miami, making hustle plays and dunks every single night that made fans rewind their DVRs and watch twice.
The two obviously now play for the same team, which made this decision very difficult. But ultimately Wade's ruthlessness and hustle is what made the difference.
This is one of few categories where Wade has James beat, in my opinion.
Does basketball really get any more exciting than this game-winning play by D-Wade?
Monta Ellis has been one of the most respected scorers in the league since he entered in 2005, dropping 19.5 PPG for his career.
He is one of those players that is just flat out fun to watch.
It is pick your poison with Ellis, because he can score on you in so many different ways.
He could average 40.0 PPG if he wanted to, but then there's that whole passing/winning games thing that he has to worry about.
Ellis is one of the best pure scorers in the NBA, and watching him on a night that he is feeling it is a ton of fun.
Ricky Rubio is a different style of player than most of the other guys on this list.
Rubio isn't going to turn many heads with his scoring or leaping ability, but this guy has some of the best court vision there is.
Crazy shots and dunks are a blast to watch, don't get me wrong. But watching a nice between the legs or no-look pass is a beautiful thing.
Rubio has drawn comparisons to Steve Nash, one of the most exciting players the NBA has ever seen. So he must be doing something right.
It was hard to decide exactly who is the most exciting player to watch on this young Hornets team, but ultimately Al-Farouq Aminu was the go-to guy.
This could easily be subject to change within the next year or two with Anthony Davis and Austin Rivers in the picture. But until then, Aminu earns a spot on this list.
Aminu keeps fans and defenders on their toes with his surprise element. He isn't the best scorer out there, but he can embarrass you if you decide to take a play off.
There are a lot of exciting players to choose from on the New York Knicks, but it is hard to give this to anyone besides Carmelo Anthony.
Carmelo is one of the few guys in the NBA who can score from virtually anywhere, which is awesome to see.
Melo is averaging just under 25.0 PPG for his career, and has averaged over 20.0 PPG every year he has been in the NBA.
He also thrives off game-winning opportunities, as he loves having the ball in his hands with the game on the line.
Anyone who watched the 2012 Summer Olympics knows that this guy is just enjoyable to watch.
Everybody got a chance to see just how exciting Russell Westbrook is to watch during last season's NBA Playoffs.
Westbrook's quickness and speed always seems to have him a step ahead of every defender who tries to guard him.
Westbrook can score with the best of them, but also has the luxury of dumping the ball off to some very reliable options—most notably three-time scoring champion Kevin Durant.
Westbrook has been one of the most fun players to watch since he entered the league a few seasons ago, and playing in front of the craziest fans in the NBA makes his style of play that much more exciting.
Spirits are down in Orlando after the departure of Dwight Howard, but Jameer Nelson has given fans something to smile about.
Nelson was criticized as an NBA prospect for being undersized, but he has proven critics wrong throughout his career.
Nelson is a point guard who can hurt you in a couple of different ways. He does not get enough credit for his offensive ability.
Nelson is an above-average passer who also has the ability to score, and provides excitement for what is otherwise an average team.
Every basketball fan appreciates a true ankle-breaking move.
This is exactly what Jrue Holiday provides Philadelphia 76ers fans with on just about a nightly basis.
Holiday has a very dangerous style of play because he can take you right to the hoop, fake you out and pull up from the outside or dish out a nice assist.
His quick and unpredictable style of play plus his large repertoire of moves earns him a spot on this list.
The theme of quick point guards continues.
Goran Dragic is by no means a household name around the NBA, but he is starting to make a name for himself with plays like this.
Dragic has some of the best court vision around. He always seems to find the open man, and is fantastic on the fast break.
Anybody who passes the ball between someone's legs like that is a winner in my book.
Damian Lillard is only one of two rookies on this list, and for good reason.
Lillard has taken the NBA by storm during the first quarter of his rookie campaign and doesn't appear to be slowing down.
The 22-year-old out of Weber State is making a solid early case for Rookie of the Year, and it's hard to argue against that if you've ever watched him play.
The way that Lillard has re-energized the Portland Trail Blazers, along with his sheer potential, makes him one of the most exciting players to watch right now.
The Kings are another franchise that hasn't had much too smile about over the past few seasons.
Isaiah Thomas is a little glimmer of hope for Kings fans everywhere.
The 5'9" guard can burn you with his speed, and has no problem attacking the rim with a full head of steam.
Kings games aren't always easy to watch. But if you do find yourself watching one, you may just see this guy do something that will make it worth your while.
Another former slam dunk contest participant, DeRozan is a different breed than the long list of point guards I've previously described.
DeMar DeRozan can just flat out dunk the basketball.
The Raptors are another team that may not be too exciting to watch, but you can always count on DeRozan to make it worth your while.
DeRozan is 0-2 in his NBA Slam Dunk Contest career, but as long as he keeps competing that should change fairly soon.
Jeremy Evans is a player who many NBA fans probably don't even know about.
Anyone who watches Utah Jazz games can probably agree that they aren't the most exciting team to watch.
Enter Jeremy Evans, who has the ability to make plays like this one, which is basically the definition of an exciting play.
A guy with that kind of wingspan who can throw down like that definitely earns a spot on this list.
With John Wall not playing a game yet this season, it seemed difficult to give him the title of the most exciting player on the super-exciting Washington Wizards.
Although the Wizards aren't flooded with extremely talented players, they do have at least one guy who has the ability to change the game with a single play: Jordan Crawford.
Crawford is an explosive wingman who isn't afraid to get up there and throw down.
If there's any reason to watch a Wizard's game right now, it's Crawford.