College Football: 10 Bowl Games That Should Call It Quits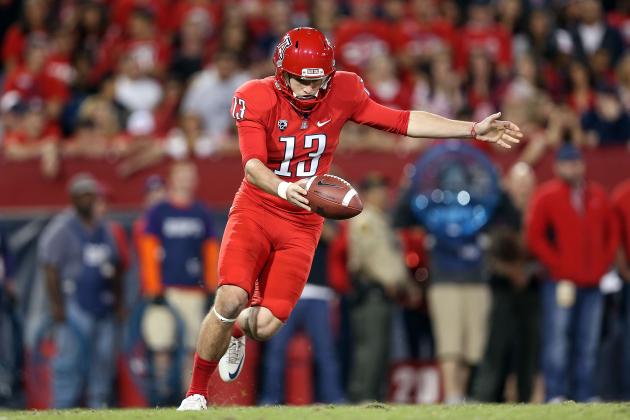 Christian Petersen/Getty Images

There is no question that there are certainly a few too many bowl games. While they do allow more teams to continue their season, is it really necessary to play 35 of them?
Wouldn't the games be more competitive and the teams much better if there were only 25?
That might be the case, but a lot of teams would definitely not be happy.
If we could get rid of a few bowl games, just which ones would they be?
Here are 10 bowl games most of the college football landscape can certainly do without.
Begin Slideshow

»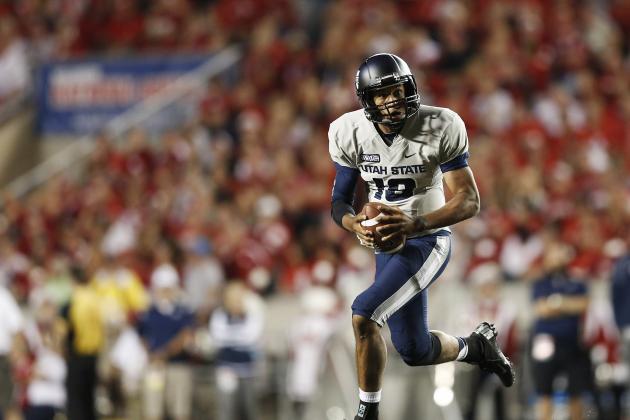 Tom Lynn/Getty Images

Even though this year might have been a different story, the Idaho Potato Bowl typically is not a noteworthy game.
It typically features teams from the MAC and WAC. This season, Toledo and Utah State turned out to be very talented teams, but that is not common.
This is one of the earliest bowl games and is definitely one of the 10 fans could do without.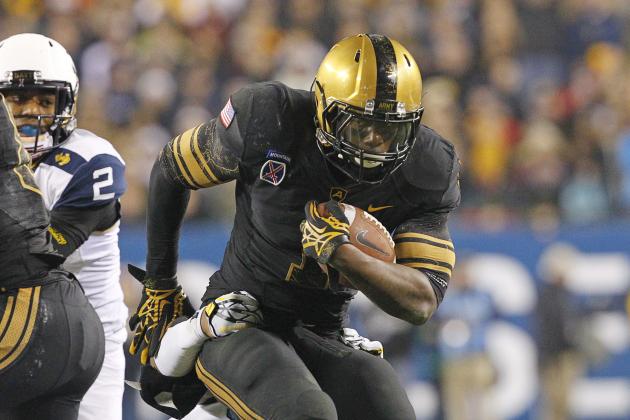 Hunter Martin/Getty Images

If everything plays out right, the Military Bowl typically features Army against the eighth-place team from the ACC.
As it stands this year, Army is not bowl-eligible and there are certainly not eight teams from the ACC playing in bowl games.
That is not unusual as this year Bowling Green and San Jose State will be doing battle.
This may actually be a more popular game than the alternative.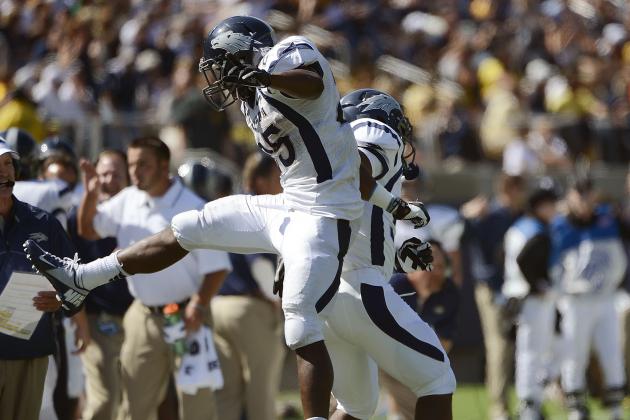 Thearon W. Henderson/Getty Images

This year's New Mexico Bowl was certainly much better than anticipated as Arizona and Nevada played a thriller that will be hard to duplicate by the remaining 33 bowl games.
That does not mean this bowl game needs to stay around.
It is another game that features teams from out west and typically includes a Pac-12 team and either a team from the Mountain West or the WAC.
Do not expect this game ever to be as good as it was in 2012.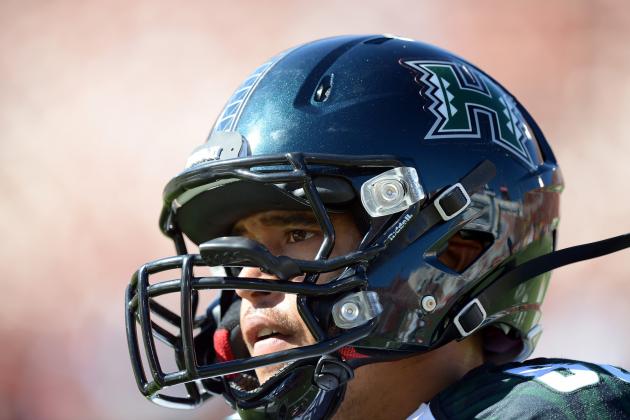 Harry How/Getty Images

In years past, this bowl game featured Hawaii if the Warriors were bowl-eligible.
Now it usually pits a Conference USA team that almost nobody wants to watch against a team from the WAC or Mountain West.
Conference USA has not been consistently good in a long time, and it is only going to get worse.
The only thing going for this game is it is on Christmas Eve and there are no other sporting events to compete with it.
A better bowl game could easily replace it.
Al Messerschmidt/Getty Images

The New Orleans Bowl is often the destination for the winner of the Sun Belt. This year it is the second-place team from the league, Louisiana-Lafayette.
Typically the other team in the game is chosen from Conference USA.
This year the opponent of the Rajin' Cajuns is East Carolina. Certainly not a game many fans are going to tune in for.
This bowl definitely needs to go.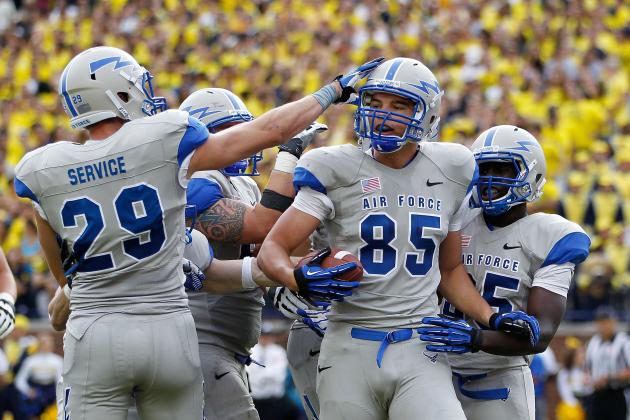 Gregory Shamus/Getty Images

There is no question that bowl games such as the Military and Armed Forces have added meaning, but they certainly do not feature teams a lot of fans want to watch.
This year it will be Air Force and Rice playing in a game not a lot of people are going to want to see.
Both teams are 6-6 and not the most entertaining to watch. The game almost always has teams from the Mountain West and Conference USA.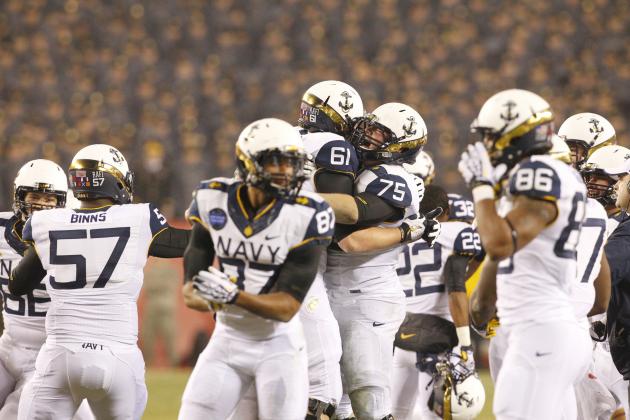 Hunter Martin/Getty Images

Everybody remembers this bowl game last year as two teams with a combined 12-13 record coming in did battle.
Illinois came out on top against UCLA. This year the game does not appear to be too much better.
Navy is in the game as it usually is when it is bowl-eligible. This year its opponent is Arizona State. The Sun Devils are the Pac-12 representative.
Hopefully they can do a better job than UCLA did a year ago.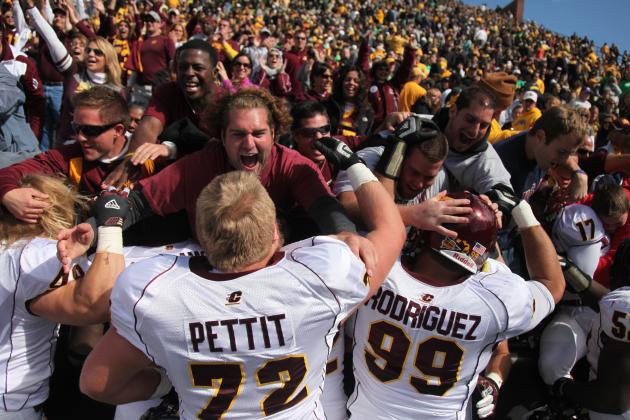 Matthew Holst/Getty Images

The Little Caesars Bowl has a great name, but that is about it.
It is a chance for the MAC to take center stage, and this year that will be the case as Central Michigan takes on Western Kentucky.
The Hilltoppers are here partly because the Big Ten does not have enough teams bowl-eligible.
Even it it did, this is not a game that is very highly anticipated.
Brett Deering/Getty Images

This bowl game has seemingly been renamed every year and is one of the earliest games of the bowl season.
It is another featuring a team from Conference USA. Sometimes it is the loser of the championship game, and this year that is the case.
Central Florida takes on Ball State.
This is a game that sometimes features the sixth-place team from the Big East. How often does the sixth-place team qualify for a bowl game, though?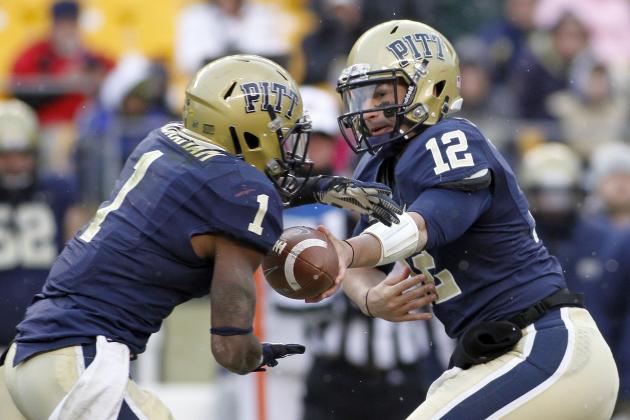 Justin K. Aller/Getty Images

This bowl game is so late in the season that not many people really even notice it.
It takes place on the Saturday before the national championship game and on the same day as the beginning of the NFL playoffs.
Like many other bowl games, it has been renamed a few times and almost always includes the fifth-place team from the Big East against an SEC or Conference USA squad.
This year Ole Miss will be taking on Pittsburgh in a game that might be better than it has in years past.