Dolphins vs. Jaguars: Miami's Biggest Winners and Losers from Week 15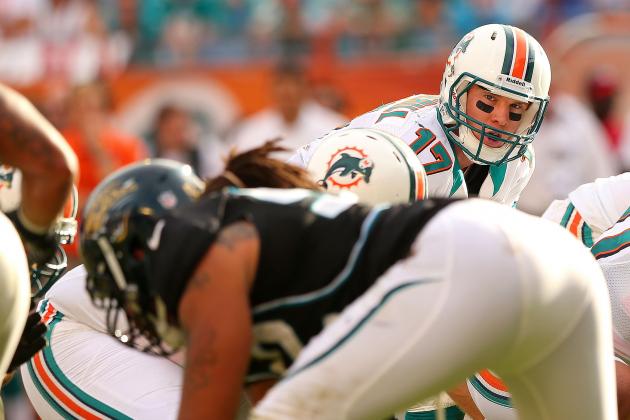 Mike Ehrmann/Getty Images

The Miami Dolphins snapped a two-game losing streak with a 24-3 victory against the Jacksonville Jaguars in Sun Life Stadium.
Miami looked like the better team throughout the game and was able to control the ball defensively and offensively. Miami was able to keep the defense honest by having success running and passing the ball.
The Dolphin defense looked sharp, as usual, and was able to hold Jacksonville to only a field goal. The Dolphins currently stand at 6-8 and are looking to finish the season on a strong note and finishing at .500 with two games to go.
There was a lot of positives throughout the day as well as a few negatives.
Here are some winners and losers from Miami's Week 15 victory.
Begin Slideshow

»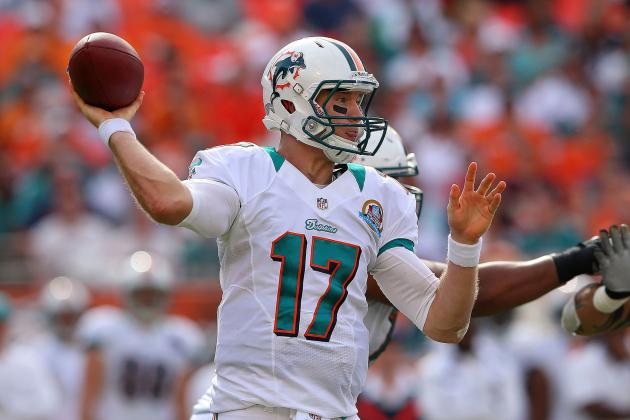 Mike Ehrmann/Getty Images

After being in a slump in Miami's last few games, Ryan Tannehill played one of his best games of the season.
Tannehill threw for 220 yards and two touchdowns with a 78.6 percent completion rate. He was essentially mistake-free (his only hiccup was on the fumble, when he held on to the ball for too long) and showed why Miami made him the eighth-overall selection in last year's draft.
He also showcased his athleticism—something we all knew he had, but had not seen it yet. Tannehill ran for 52 yards, including a 30-yard run. He proved he can be a dual-threat quarterback then can run when the pocket breaks down.
This was Tannehill's most complete game as he showed us what he's capable of doing both, in the pocket and on the run. Some doubt had been creeping into some people's minds with the lackluster performances he's had the last few weeks. Jacksonville is not a very good defensive team, but Tannehill looked comfortable and threw the ball accurately.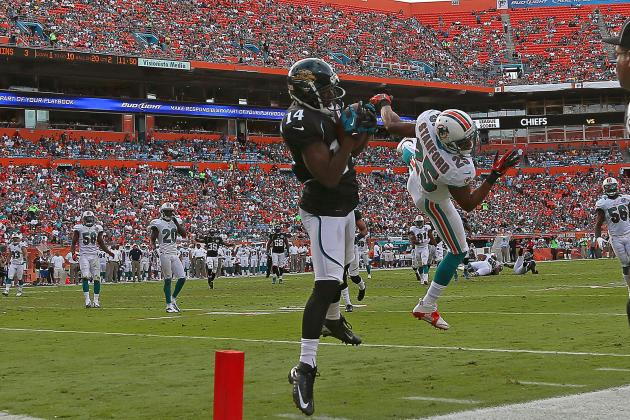 Mike Ehrmann/Getty Images

It's become clear that you can't really expect too much from this secondary.
Aside from Reshad Jones and at times, including today, Chris Clemons, the Dolphins secondary is not very good. It allowed one of the worst passing offenses in the league to complete passes left and right.
It allowed Cecil Shorts and Justin Blackmon to catch for 101 and 93 yards respectively. It basically did whatever they wanted and made the secondary look lost and unprepared.
Sean Smith will be a free agent this year, and with his inconsistent performances throughout his time in Miami, the Dolphins front office will be thinking twice about re-signing him. Nolan Carroll is not starting material, and it has shown throughout the year and R.J. Stanford should not be getting so much playing time.
Miami has a few needs for this offseason and the draft, and cornerback has to be at the top of the list.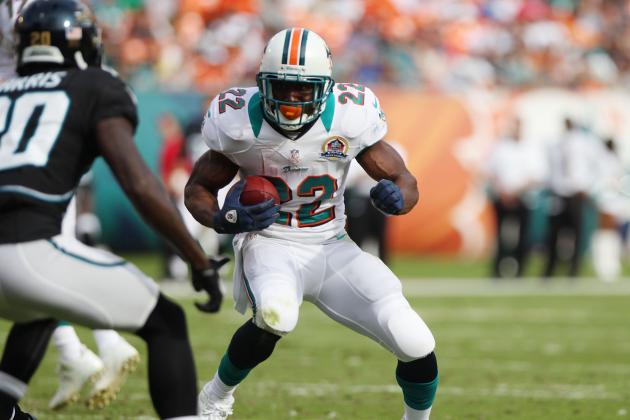 Marc Serota/Getty Images

The Reggie Bush we saw in the first two games of the season finally showed up once again.
Bush looked like a feature back throughout the game and Jacksonville had a tough time stopping him. He was making people miss and looked determined running the ball.
Bush rushed for 104 yards on 21 carries, including a 52-yard run that showed his ability. His running ability allowed Miami's passing game to open up and Miami was able to run a more balanced offense.
It is unclear if Bush will be re-signed or not, but he's playing his last few games before he hits free agency. He might be trying to make a case in staying in Miami or trying to prove to other teams that he can still be a playmaker. Either way, he was a key contributor to Miami's victory.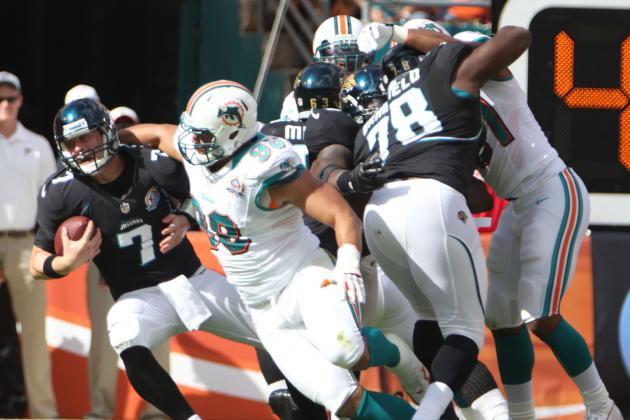 Marc Serota/Getty Images

Once again, Dolphins fans saw first hand what Chad Henne can do, or better yet, can't do. Henne was his usual checkdown self throughout the game and was unable to go deep to his receivers.
Henne's record in Miami stood at 0-10 coming in. As a starter in the NFL, there's no way you can go winless as a starter and expect to keep your job. Well, nothing changed today. This time, Henne came in as the starter of the Jaguars and was still unable to come out with a win.
He was only able to help his offense score three points on the opening drive, but he was non-existent after that. Field goals were a staple of the Chad Henne era in Miami, and it appears that nothing has changed now that he's in Jacksonville.
Miami's record at Sun Life Stadium is terrible, and it will probably hunt him in his dreams.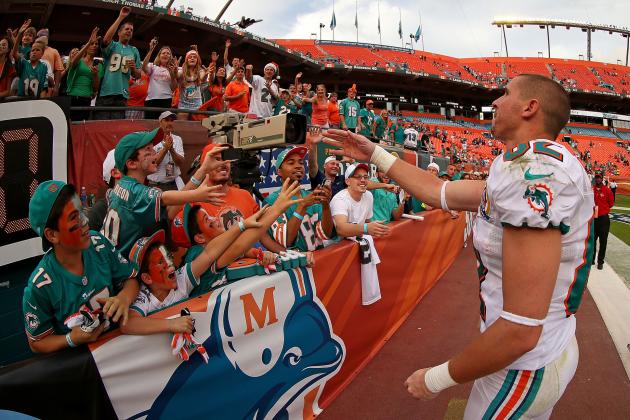 Mike Ehrmann/Getty Images

Brian Hartline didn't have his best game of the season. He was his usual reliable self, but he didn't do anything out of the ordinary.
Hartline has been Miami's best receiver throughout the season and is undeniable that he's Tannehill's favorite receiver. Miami lacks an elite receiver, but Hartline has been a great contributor on a team very thin at the position.
He makes the list as a winner mostly because he became only the eighth player in Miami Dolphin's history to reach 1,000 yards receiving. This proves Hartline's consistency as a receiver and the rapport he has built with Tannehill.
As an impending free agent when the season finishes, Hartline is making a strong case for himself to be compensated rather generously. What he has shown as the No.1 receiver can translate well to a No. 2 receiver, and he's making sure other teams know that.